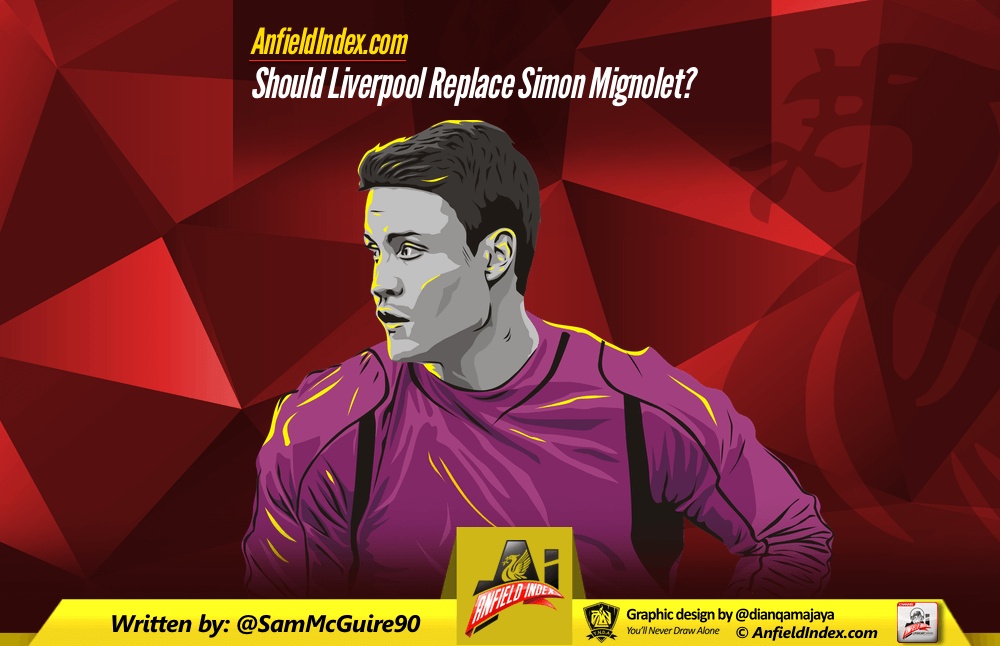 Should Liverpool Replace Simon Mignolet?

The average sandwich
Liverpool have many recurring problems that previous management failed to address. As a team we're grossly misbalanced. Many frailties have been overlooked. We're buying potential and not supporting them with talented players, instead we're heaping the pressure on their shoulders and asking them to do something special. Average, functional players sandwiched in-between potential.
We're in a position at the moment in which every other week we as fans are debating about why a position in the team needs attention first come the January transfer window. You can put forward arguments for the need for a defensive midfielder and why it's a necessity. There are plenty who'd back the club if their first signing in January was a right sided centre-back. However, one position that keeps rearing it's ugly head is the goalkeeping situation.
For as long as Simon Mignolet has been at the club I've defended him. As an ex-goalkeeper myself I feel like I'm defending myself at times. People don't understand the pressures and the psychology of a goalkeeper. It's not as black and white as just saving shots and the technical side of it all is often overlooked.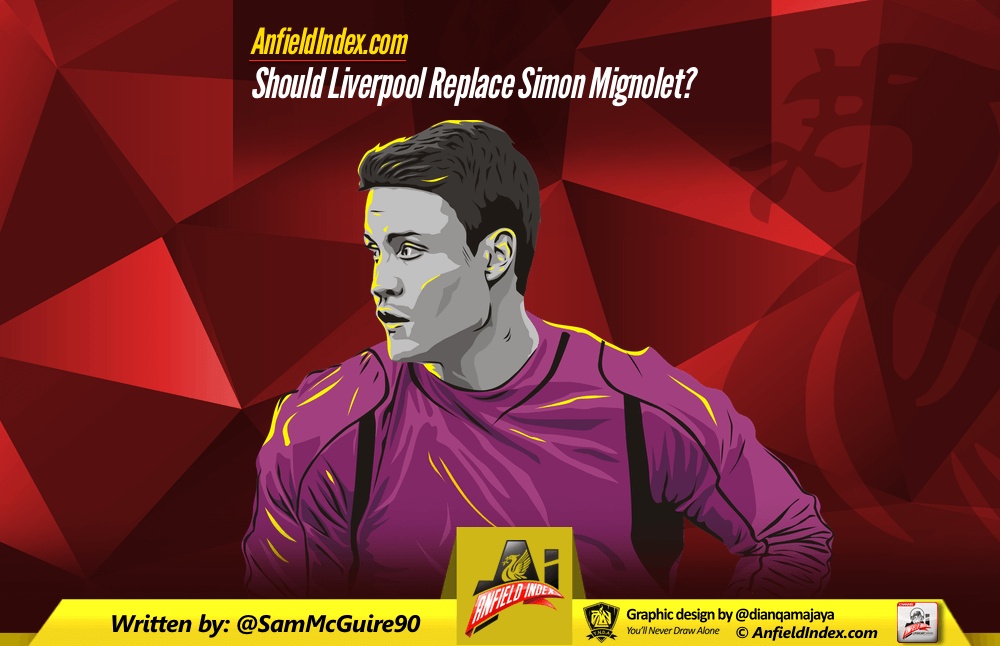 Yeah but..
"He's poor at kicking."
"Yeah but his primary job is shot stopping and he's good at it."
"He doesn't command his area."
"Yeah but he's not playing behind a settled defence. You need to be familiar with your defence."
"He punches the ball far too often and it puts us under pressure."
"Yeah but it's how he was coached. It's what he's comfortable with so changing it could have a negative impact on him."
You get the picture. I'd excuse most things and be thankful when he would pull off a worldie. It was as though my faith in him was justified. I'm ashamed to say I was a Simon Mignolet apologist.
Old Habits Die Hard
My patience with the Belgian stopper is wearing thin though. I could go into the psychology of a goalkeeper and how if he's playing behind a defender he doesn't trust his concentration levels will fluctuate and mistakes will happen. That I could perhaps excuse. We saw this against Ludogarets at Anfield last season I believe when Mignolet rushes out thinking Dejan Lovren isn't getting the ball and the away side score a simple goal.
I could also go into how when being coached in different ways, you'll tend to make more mistakes whilst you adjust between two different styles. The latter could be associated with Mignolet against Manchester City at the Etihad last season when he's trying to have a higher starting position and this in turn means he manages to get his angles completely wrong and Sergio Aguero is able to literally pass the ball past Mignolet due to the fact he's left a gaping gap at his near post.
So what's changed?
Well, Liverpool as a defensive unit are becoming a little more structured and resilient. Of course they aren't perfect, Jurgen Klopp has only had them for a month and it's still the same personnel as we had under Brendan Rodgers. Klopp is no miracle worker. There has been obvious signs of improvement though in the likes of Alberto Moreno, Nathanial Clyne, Lucas Leiva and to some extent Martin Skrtel. Once again I'd reiterate they're by no means perfect but it's an improvement to what we'd had the misfortune of watching previously.
Simon Mignolet on the other hand, his performances have stayed the same. Functional. He does a job. For every good save he makes there are two awkward moments, the sort that makes you forget to breathe for a few seconds. His form pre and post Rodgers can't be differentiated and this is wherein lies the problem. This is Simon Mignolet's level. His ceiling.
This season alone we've seen our number 22 cost us points at Anfield. Against Norwich he flapped and allowed Russell Martin to delicately loft the ball over him and then against Crystal Palace I watched in horror as he punched the ball into the danger zone when I honestly think he could've caught the ball and killed off the attack. Keepers make mistakes but should such an experienced keeper be making rudimentary mistakes on a regular basis? We're 12 games into the season and in those two games alone that's 4 points worse off.
You could argue he's saved us in games so it equals itself out but I don't want a par goalkeeper. His form is bipolar. The club needs a consistent goalkeeper to challenge.
The Premier League is by no means the best in the world. An average defence can survive if they have a top keeper (Manchester United 14/15) and likewise an average keeper can be protected by a decent defence (Arsenal for the past few seasons). Our problem is we have neither as things stand. Simon Mignolet is a slightly above average keeper, because his great saves are balanced out by his inconsistent everything else, so as things stand to protect him we need to improve the defence and the midfield.
Why Change Now?
On paper it's cheaper and easier to sign a goalkeeper. As Dinesh Hardayal mention in his piece about Bundesliga keepers here there are plenty available and they'd cost less than an upgrade at centre-back and defensive midfield. I'm not saying ignore them like the old regime but let's get our priorities right this time round.
I think signing a goalkeeper in January would allow the new number 1 time to bed in and form relationships with his back four and the team would kick on from game one of the new season. Not only would it have a positive long term impact we'd also potentially see short term gains with Mignolet upping his game due to the arrival of a genuine threat to his number 1 spot.
If Liverpool aspire to be a top 4 club then sadly Simon Mignolet should be nothing more than a squad player for The Reds.