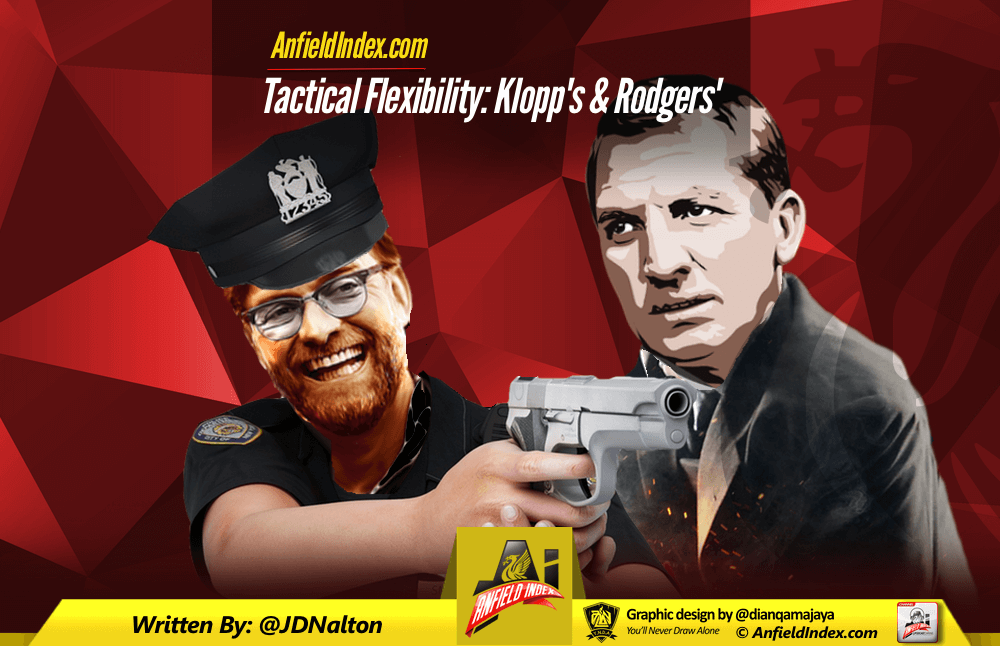 Tactical Flexibility: Klopp's and Rodgers'

Jürgen Klopp was showered with praise on his arrival at Liverpool Football Club. The charismatic former Borussia Dortmund and Mainz 05 coach was lauded for his compelling style of football and infectious enthusiasm for the game.
Despite the generally buoyant reception, there were – perhaps sensibly – some commentators who warned that the man isn't perfect.
Klopp himself said as much as the media fawned over him in his first press-conference as Liverpool manager.
"Does anyone in this room think I can do wonders?" No, so let me work. I'm a totally normal guy," he said.
One of the main concerns from those who issued these warnings were a lack of tactical flexibility.
What follows is a look at why this shouldn't be a matter of concern, and how the German's own demonstrations of tactical flexibility differ to those of his predecessor.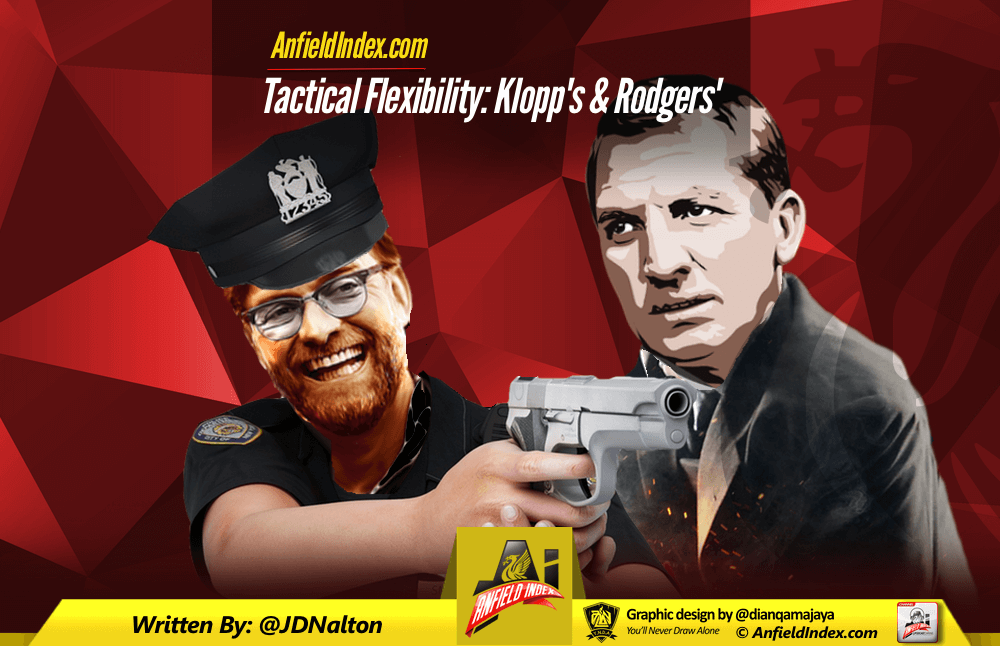 ---
When it came to formation and shape, Brendan Rodgers was arguably one of the most tactically versatile coaches to ever manage Liverpool. While this could sometimes be as much of a hindrance as it was a help, he was almost always interesting to analyse from a tactical point of view. But tactics are a lot more than just a formation…
The 2013/14 season will go down in history thanks to the emergence of two genuine world-class players at the club in Luis Suarez and Daniel Sturridge. Philippe Coutinho, Steven Gerrard, and Raheem Sterling also played a part, and were able to thanks to the manager's formations – a diamond or a 4-3-3 – which could accommodate them all.
Rodgers also implemented a system of pressing which suited an energetic forward like Suarez down to the ground. Sturridge blocked defenders' pass options up front, while Suarez, Coutinho, Sterling, and Jordan Henderson buzzed around behind him. Liverpool's football in that season was spoken of as some of the best in Europe despite them not being in any of the continental competitions.
On the flipside, the FA Cup Semi-Final against Aston Villa the following season was an example of this tactical tinkering backfiring. Numerous formations were used throughout the game, but each was just a sticking-plaster fix to the holes in the previous system.
When Rodgers changed to a back three during the 2014/15 season, it led to a slight improvement on the pitch, but again this change was covering for weaknesses rather than building on strengths.
The introduction of a third centre-back made up for deficiencies at right centre-back, goalkeeper, and defensive midfield. These three positions should and could have been strengthened in one of the several transfer windows Rodgers had, or by better using the players available to him..
Suarez departed to Barcelona, Sturridge departed to the treatment table, and the tactical shape which had served Liverpool so well was abandoned inexplicably, leading to a drastic drop in performance levels.
Rodgers became stubborn in his ways, appearing to favour certain players regardless of form, and playing others out of position.
Lazar Markovic was shunted to wing-back, as was Jordon Ibe, Emre Can played numerous positions but rarely played in midfield, and Roberto Firmino was stuck on the right of midfield on joining the club. Putting square pegs in round holes isn't being tactically flexible.
Tactics should evolve and be proactive, but the Northern Irishman could be very reactive. This led to discontent within both the club and the fan-base. Fingers were pointed in all directions to apportion blame for the drastic drop in the club's fortunes. The fans in Anfield, the owners, the recruitment team, and the coaches were all amongst those blamed.
Liverpool had lost their way and were stuck in a rut. Rodgers had run out of sticking plasters, and lost his job due to the fact he was always looking for a cure, rather than preventing ills at their root cause.
---
Enter Jürgen Klopp, to considerable fanfare. Enough to make those who'd followed him during his years at Mainz 05 and Borussia Dortmund worry that this optimistic blowing of trumpets on his arrival would be anticlimactic.
The wave of optimism, which snowballed during the international break prior to Klopp's debut as Liverpool manager, prompted calls for patience, realism, and a few reminders that the German isn't perfect.
One area singled out as a weak point was his tactical flexibility, or rather a lack of it.
While a more conventional, staid approach to tactics might have been just what Liverpool needed, especially when it came to playing players in their actual positions, claims that Klopp is tactically one-dimensional are wide of the mark.
Rather than describe him as tactically stubborn, it's more accurate to say that Klopp has full belief in his own game plans and full confidence in the work of his assistants Željko Buvač and Peter Krawietz.
Krawietz – "the eyes" –  provides valuable insight into the opposition – something which was apparently lacking or ignored during Rodgers' reign. Buvač – "the brain" – devises ways to improve the team's own tactical understanding. Both are a big part of Klopp's tactical flexibility.
Formations are only one part of a tactical set-up, and Klopp is a manager whose own philosophy is built around timing, awareness, positioning, and an ability to perform certain actions at certain points in a game. He'll use various shapes and systems to execute the plan, which he and his assistants will decide ahead of each game.
His favoured formation at Dortmund was the 4-2-3-1, but he also utilised variations of a 4-2-2-2, a 4-4-2 (including a diamond), and a 4-4-1-1 during his time there.
At Liverpool he's used a system which is a cross between 4-3-2-1 and 4-2-3-1. James Milner has been an important part of this shape, as his decision of whether to join the attacking midfielders or the central midfielders often determines the formation.
Emre Can has been similarly important on the other side of midfield to help mould this new look, while Lucas Leiva is experiencing his umpteenth renaissance at the club in an important central midfield role, wandering from in front of the back four to the edge of the final third.
This isn't a 4-3-3, and despite using them as a base it's not quite a 4-2-3-1 or 4-3-2-1. It's flexible. The game against Southampton was particularly notable for the elasticity of the formation, and the willingness to change it.
Then, against Chelsea at Stamford Bridge, the manager proved his tactical flexibility again by pitching a Roberto Firmino shaped curveball.
This lineup demonstrated perfectly how the new-look Liverpool prepare for each game as it comes, rather than merely sticking to something which worked last time and hoping for the best.
The influence of Krawietz and Buvač was there for all to see as Roberto Firmino and Adam Lallana operated in-between Chelsea's back four and deep lying midfielders. Their starting position wasn't always in the hole as both (but mostly Firmino) operated as a false nine at times, using the passes into them to help turn away from opposition players.
It was a system which matched Lallana's strengths perfectly, and saw one of Roberto Firmino's most impressive displays in a Liverpool shirt so far. It might best be described as a 4-2-4-0.
In all of these formations, the use of a back four and the compression of space – influenced directly or indirectly by Arrigo Sacchi's Milan and Victor Maslov's Dynamo Kiev – gives players freedom to press aggressively when the time is right. When not in possession, these compact systems mean that a team-mate is never far away when players stray from their starting position in order to press.
When in possession of the ball, however, the side will often look to stretch the pitch, with wide players hugging the touchline before assuming their natural role (Coutinho drifting inside, or Ibe looking to beat a man – for example).
But it's the pressing and counter-pressing off the ball which is the most talked about weapon in Klopp's tactical armoury.
Pressing isn't just about running more and closing down more often. While it will often lead to players covering greater distances in a game, and naturally to more closing down, it's more about the whole unit. It's about not wasting energy closing down individually, but being efficient by maintaining a disciplined shape and smothering the opposition with one blanket press. For the opposition, it's not a particularly comfortable blanket.
An example of this could be seen in the League Cup game against Bournemouth, when the German manager was constantly giving directions to the inexperienced Joao Teixeira, even when the ball was nowhere near him. He was pushing Teixeira to maintain a shape, be constantly immersed in the game, and to be ready when the opposition came his way or the ball broke for him to counter.
When Klopp is asked about his tactical outlook, he'll often describe it as being as much about the heart as it is the head. In an interview with the BBC in February 2013 he commented that:
"Our game is very emotional, very fast, very strong – not boring, no chess. It is tactical but with a big heart. Tactical things are so important, but the emotion makes the difference."
Here there are more echoes of Sacchi and Maslov; a hard-working team driven by the emotion of their fans, their team-mates, and a connection with their manager.
Some of Maslov's players referred to him as Granddad or Grandpa, and the creation of a family atmosphere can be seen already at Liverpool in Klopp's actions towards his players after a game.
Sacchi once said that "the manager has to fill his player's head with as many scenarios, tools, movements, with as much information as possible. The player then makes decisions based on that."  He added that the player needs "the spirit to put that intelligence to the service of the team."
All of the above, plus numerous training the sessions without the ball to improve both physical fitness tactical understanding, come together to produce a tactical athleticism which gives players the mental and physical attributes to carry out the manager's game plan.
The success of Liverpool's new manager will be judged over a longer period, but his proactive rather than reactive tactical flexibility can be seen after just seven games. Mihail Vladimirov of The Tomkins Times even praised the tactics in the recent loss at home to Crystal Palace. It's easy to praise tactics after a win, but the fact they're being praised after the scrutiny brought by a loss suggests a further step forward. 
When asked recently about the type of systems he will use at Liverpool, Klopp said:
"I do not only have one vision. What we played at Dortmund was the way we thought best to be more successful than before, that's all. If you are not in the best situation, we have to change and the first thing we have to change is to do more. If you try to be more intelligent, it's not possible, but if you try to do more, try to learn more, try to invest more, that's possible."
Klopp's words and the evidence to support them show that as well as displaying the mental and psychological aspects of management he's known for, he is also tactically flexible. It remains to be seen whether this will be enough to get Liverpool back into the big time.