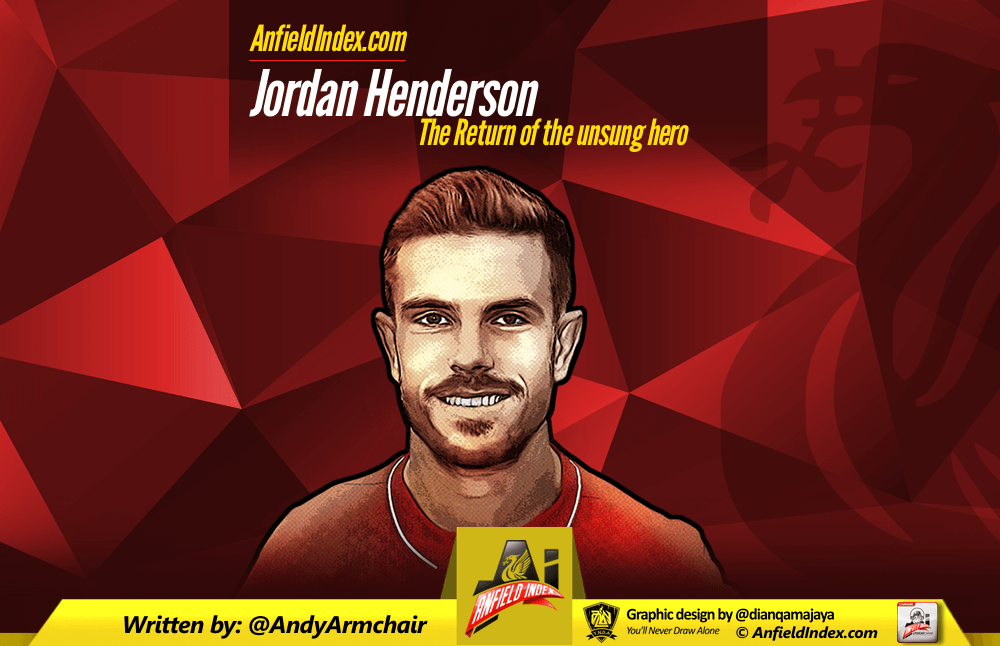 Jordan Henderson | Return of the unsung hero
Not so long ago, he was the butt of many an opposition fan and a few too many journalists as well; sometimes even sections of our own fans. Moving to England's most successful club is a lot of pressure for any player, let alone as a 20 year old with a £16m price tag on his head. The transfer fee may not be the players fault, but they are often judged against it and the early signs were that it was weighing heavy on the shoulders of Jordan Henderson. Despite a difficult first year, when he did get opportunities to play in central midfield, there were some positive signs for the future if you knew where to look.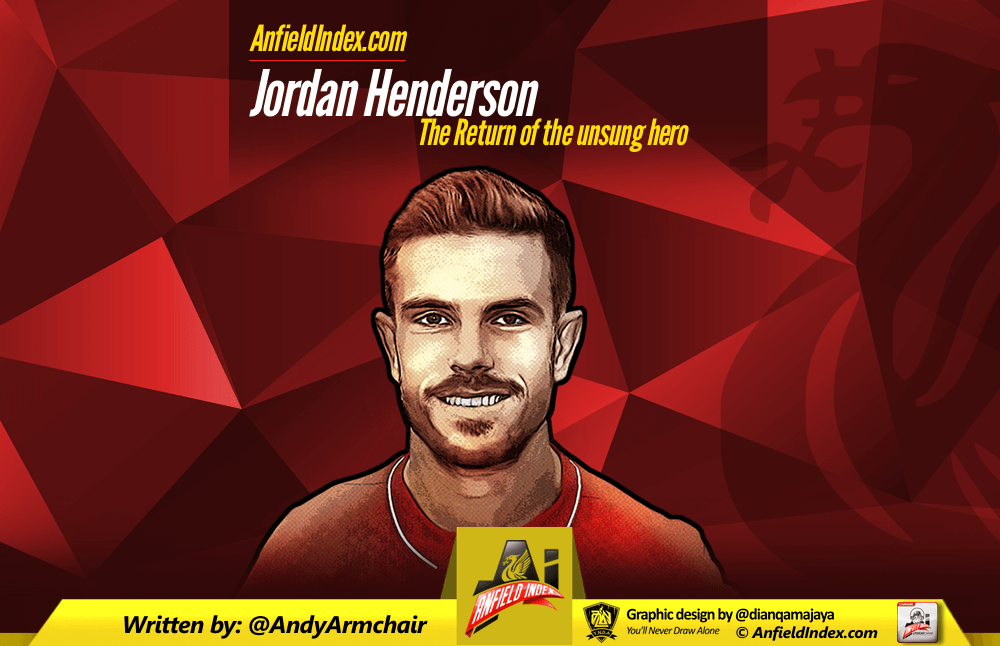 With the change of Manager at Liverpool, his future at Anfield looked in the balance for some time. However, after starting the 3-0 home win against QPR on December 30th 2012, Henderson went on to make a further 16 starts out of Liverpool's remaining 22 games that campaign; playing an important role in the Reds improved form during the second half of the 2012/13 season. The highlight of which, was his excellent performance in the 6-0 win away at Newcastle, which included 2 goals and an assist. It also provided evidence, if needed, of his incredible pressing and improved off the ball movement that became an important part of Liverpool's attacking play.

In the 2013/14 campaign, Henderson was a virtual ever present in Liverpool's memorable Premier League campaign, with his good form not only continuing on from the end of the previous season, but becoming more prevalent as his confidence grew. This culminated in a scintillating performance at White Hart Lane in the 5-0 thrashing of Tottenham. Whilst, at the time, it was known as the match that cost Andre Villas Boas his job, it should be remembered as the game when Henderson stepped up in the absence of the injured Steven Gerrard to run the midfield. He seemed to relish the increased responsibility, opening the game up by switching the play and demonstrating his growing confidence. During this calendar year, the coaching staff's work on his tactical pressing, movement and forward runs became evident on the pitch and paid dividends for Liverpool.
After that match, Mark Lawrenson made a comment on Match Of The Day 2 that he'd watched Henderson a lot and thought "yes, he's a great athlete, yes he covers the ground, yes he very works hard, but what does he do?" It said more about Lawrenson as a pundit than it did about Henderson as a footballer.
Consistency became as much of a trademark in Henderson's game as his attitude and work-rate, but even his game suffered during the early months of a disappointing 2014/15 campaign. Despite this, his 6 goals and 9 assists in the Premier League were his best to date and helped quantify his growing influence in the side; perhaps most notably when he captained the side and scored the winning goal in a pulsating victory over Man City. He'd also stepped up to become vice-captain and took to the responsibility positively, visibly growing in stature as Steven Gerrard's ability to influence matters on the pitch was sadly on the wane.
Taking over the arm-band from a legend such as Gerrard is no easy task, but Henderson has shown in his passion, desire, commitment and attitude just to succeed at Liverpool alone, that he has the character to step up to the task. He's also shown his quality, not just his pressing and forward runs, but his passing range that is so often ignored or simply not recognised by some, even now.
His injury so early this season was a blow and make no mistake, the team has missed him for so many different reasons. Of course, whilst he's been on the sidelines, Brendan Rodgers has departed and Jürgen Klopp appointed in his place. Liverpool have already made some subtle and some not-so subtle changes under Klopp. Whilst Henderson became a lynch-pin of the Rodgers team, his future under is unlikely to be under threat. Indeed, he's likely to be as important to Klopp as he was to Rodgers, with his quality on and off the ball. Klopp has already quashed any speculation that Henderson's position as club captain could be under consideration, or even discussion.
So, the impending return of Jordan Henderson should most certainly be seen as a big positive for Liverpool and whilst he'll probably still be something of an unsung hero, Jürgen Klopp will be well aware of his contribution and ready to sing his praises.