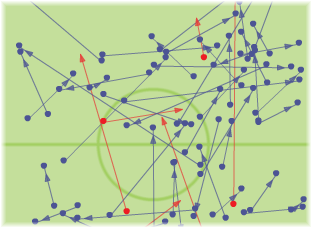 Lucas - He doesn't pass it forward, does he?
The longest myth going about Lucas, has been that he only plays the simple pass, and this is mainly sideways, or  back-wards. This brief post is aimed to demonstrate he really doesn't, and I have taken 3 randomly selected games from this season which Lucas featured in to help explain.
I will show his passing statistics for those games (from Opta AnfieldIndex stats), as well as the chalk boards (from The Guardian).
The 3 games were totally selected at random. But it is nice to have a mix of home/away and wins/losses. Any percentages in brackets (xx%) are the percentage of passes that were forward/backwards/sideways/attacking half. These percentages are not pass completion.

Note: The Opta Stats and Chalkboard passes don't always match up, but they are 99% the same. Also, the Chalk-Boards are embedded (not image files) so may take a few moments to load up).
V Blackburn Rovers (H) – 24/10/2011
Pass completion – 85%
Total passes – 55
Total forward – 40 (73% of passes)
Total backwards – 3 (5%)
Total sideways – 12 (22%)
Attacking half passes – 39 (70%)
Of the randomly selected matches, without doubt his best "attacking" performance. A large percentage of his passes were in the attacking half, and nearly 3/4's were forwards. This game wont alone wont dispel the myth, but it isn't a bad start.
V Everton (H) – 16/01/2011
Pass completion – 84%
Total passes – 50
Total forward – 25 (50%)
Total backwards – 9 (18%)
Total sideways – 18 (36%)
Attacking half passes – 24 (48%)
Not quiet as "attacking" as it was against Blackburn (a game we won), but in a Derby, it is a very, very different game. We drew 2-2 this time. Lucas was clearly, much deeper (look where his passes were being made from in the main) when compared with above. This is likely why less of his passes were not forwards. But still, half of them were, and half of them (nearly) were in the attacking half.
V West Ham (A) – 27/02/2011
Pass completion – 85%
Total passes – 67
Total forward – 46 (69%)
Total backwards – 5 (7%)
Total sideways – 16 (24%)
Attacking half passes – 34(50%)
A game which we lost, but Lucas still maintained his excellent pass completion again. Also, most of his passes were forward, yet again, dispelling the myth. Another interesting random stat for you, he never was caught in possession of the ball. The whole game. (So, the only time he surrendered possession, was with one of his uncompleted passes. A rarity).
So, there you have it…
Lucas doesn't just pass it side-ways. He retains ball possession brilliantly, he is constantly looking for the forward pass, and while now seen as a "defensive" midfielder, a lot of his work can come in the attacking half.
His role in the team will be key going forward. No, he isn't there to unlock a defence with a killer pass, but he does  constantly keep the ball moving, and rarely gives it away. If he can find Gerrard, Mereiles, Johnson, Kelly, or whoever, he can then allow them to do what they do. If the ball is moving constantly (and successfully), it makes it a lot easier for the creative players.
So Lucas doesn't just pass it sideways and backwards, does he.
This will be updated for the full season to date, when the AnfieldIndex update comes with accumulative statistics, and hopefully the "full season stats" will show similar to what I have shown here. And if you want to investigate yourselves, check the Guardian Chalkboards out.