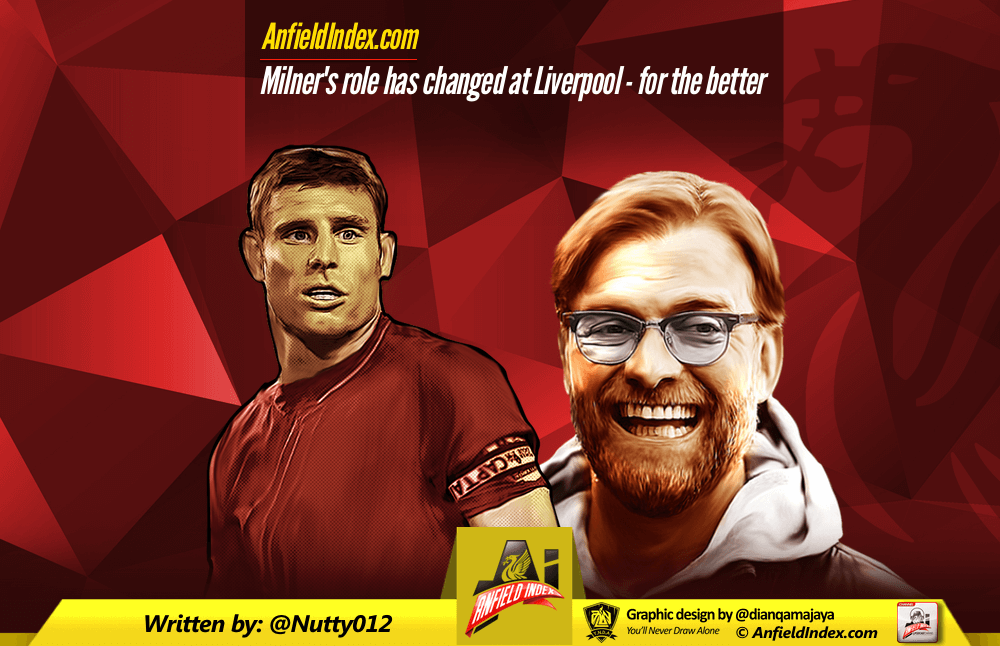 Milner's role has changed at Liverpool - for the better
When James Milner's arrival was announced almost half a year ago, there was a general acceptance that both Liverpool and Milner had struck an excellent deal, at the expense of Manchester City who had lost both an excellent player who was immensely loved by the fans, but crucially a player who both made up the home-grown quota and was of sufficient quality to play with City's array of international stars.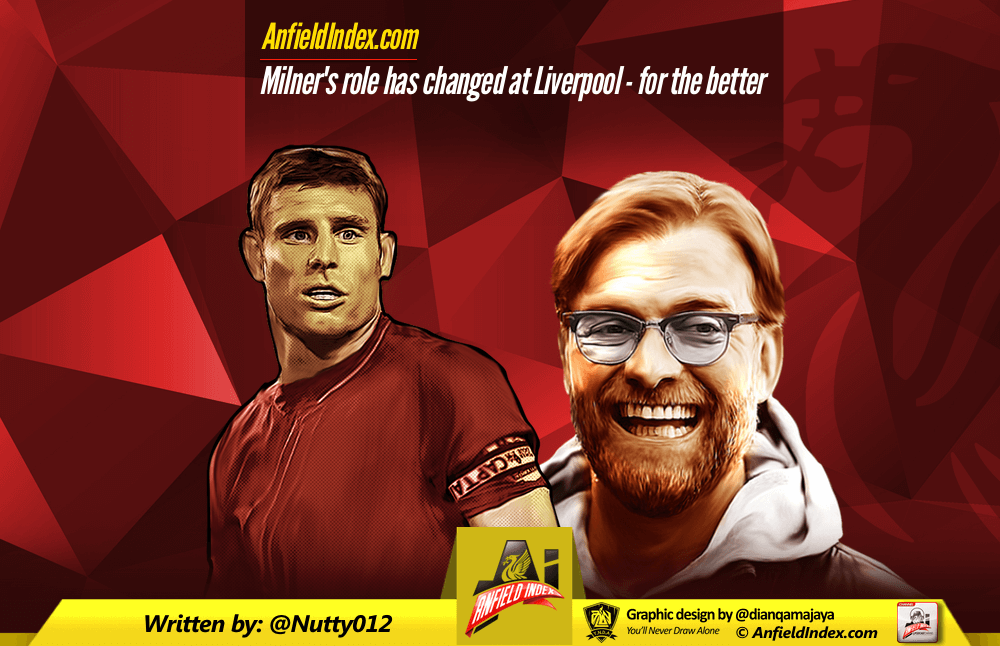 Milner had spoken at Manchester City about how he wanted to play more games in his preferred position in the centre of the pitch, and at the age of 29 he was frustrated that even good form in his favoured position was not enough to secure him a starting spot at a top club. He spoke about how Brendan Rodgers had played a "massive part" in his decision to move to Liverpool. One imagines that at Liverpool, Milner was promised a solution to all his previous problems: he could play under a manager who respected his quality, played him in his favoured position as a central midfielder and gave him responsibility within the squad.

During pre-season and the first few games, Liverpool would have also felt very vindicated in their conviction to sign Milner. In his favoured central berth, he had performed well in pre-season, getting on the scoresheet and playing lots of minutes (against admittedly poor opposition). Liverpool then picked up 7 points from their first three Premier League games, with Milner's experience shining through.
Things then severely dropped off for both Milner and Liverpool; whilst Milner's place in the team did not come under threat whilst Rodgers was at the club, the lack of creativity in the team started to become more apparent to fans. Considering Brendan Rodgers' convictions at the start of his Liverpool tenure about how football was meant to be played, it was surprising and worrying that Liverpool's midfield could be so devoid of creativity and technical ability.
Since Brendan Rodgers was sacked and replaced with Jurgen Klopp, the German has had a lot to say about Milner, describing him as "the complete football player, the perfect professional" and dismissing any suggestion that he wasn't technically up to scratch.  However, Klopp has also said that it doesn't matter who is captain on the pitch when it comes to making substitutions, after he subbed Milner off against Chelsea at a key moment in the match. It is clear that Milner's place in the team, like every Liverpool player, is now purely on merit rather than promises or politics, as it seemed in the final days of Rodgers.
Milner's performances had improved under Klopp though. He has the skills to play on the right flank because of his tremendous energy and tactical discipline, which means that he is perhaps most comfortable of our wide players charging around as part of Klopp's 'gegenpressing'. Milner is also one of Liverpool's few excellent crossers of the ball, so by playing him out wide we are finally able to get more service to Christian Benteke's head in the box. So whilst Milner has had his status as a key player eroded, no longer assured of a start in his favoured central midfield role, perhaps it is because Klopp has found a more effective way of using Milner.
Whilst it may be harsh on Milner, a lesser squad role might be a healthier arrangement for Liverpool; fans were questioning under Rodgers whether Milner and Henderson was a midfield partnership that could work for Liverpool. Given that both of their strengths involve making forward runs and neither are a traditional playmaker or defensive midfielder, it was only natural to question whether Liverpool need both players on the pitch at the same time, especially if they are playing next to each other.
In many ways, James Milner has shown at Liverpool that he is is the player that Jordan Henderson was always been criticised for being; both are rightly considered the cliché 'model professional', exemplified by strong personalities and incredible work ethics that saw Henderson cover the most ground last season of a player in the top 8 clubs, and Milner cover the most ground this season of any player. It would be wrong to pretend that these attributes do not contribute to the complete footballing profile of every player.
However, Henderson seems to have an edge over Milner in terms of footballing ability. In the middle of the pitch you need to have a technique and passing ability that can be put under immense pressure, and in this regard Henderson nicks it. Henderson managed 7 goals and 10 assists (=6th in the Premier League) from central midfield last season, showing his improving but still unheralded creativity and end product. This was all the more remarkable given how poor Henderson's team had performed offensively that season. James Milner managed 5 goals and 7 assists in a far stronger attacking outfit, admittedly playing less minutes.
Henderson's passing success is between 84-87% most seasons, a decent return for a central midfielder who has a relatively direct passing game; on the other hand, James Milner has only had 2 premier league seasons in the past six where he has broken 81% pass completion, which shows alarmingly average general passing ability for a central midfielder at a club challenging for Champions League qualification.
Given Henderson's technical edge and his captaincy of the team, James Milner's place in Liverpool's starting XI will be under more threat now that Klopp has assumed charge and eliminated any selection-by-politics. However, Klopp has also been effusive in his praise of Milner, and it seems extremely unlikely that Milner will end up a peripheral figure at Liverpool, at least for this season. Milner may find though that he has to compromise on some of his original reasons for coming to Liverpool. It is likely that Milner will have to be asked to play more often in his less-favoured wide-role, and may see himself benched for the occasional game. Whilst this may be tough on Milner, I would argue that this is a much healthier arrangement for Liverpool, and hopefully it will see Liverpool and Klopp get the best out of the England man.