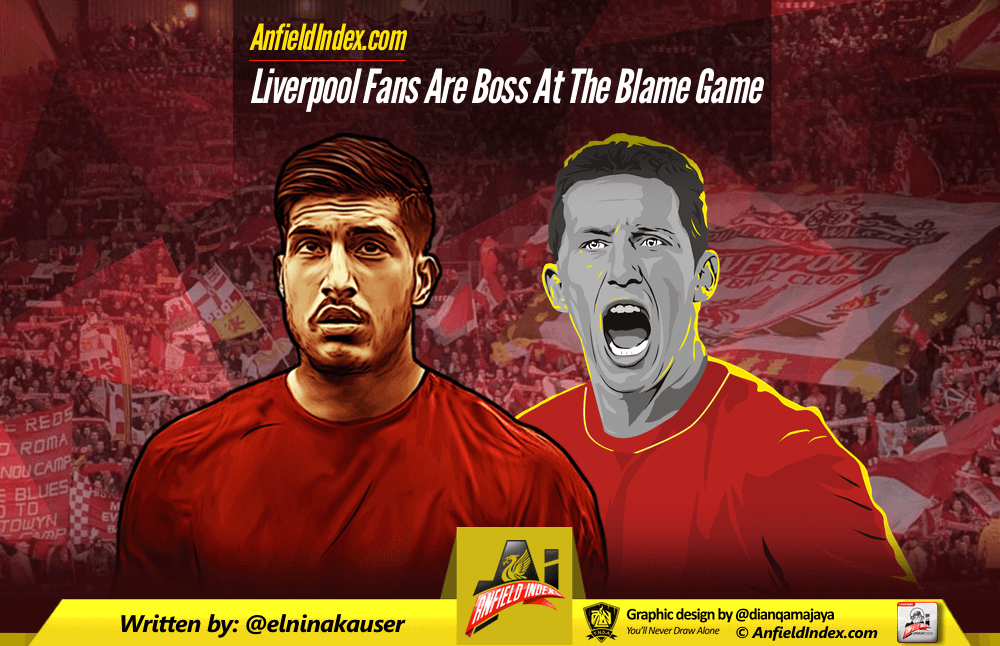 Liverpool Fans Are Boss At The Blame Game
It's natural for football fans to lash out after a defeat, you lose all sense of rational thought and blaming an official or an opposition player often makes the bitter pill of a loss easier to swallow. It's like you need some closure from the game, you've lost, blame someone and move on till you face them next time, and if you're gracious you'll admit your team was outclassed and on the day the better team won. But those are special cases.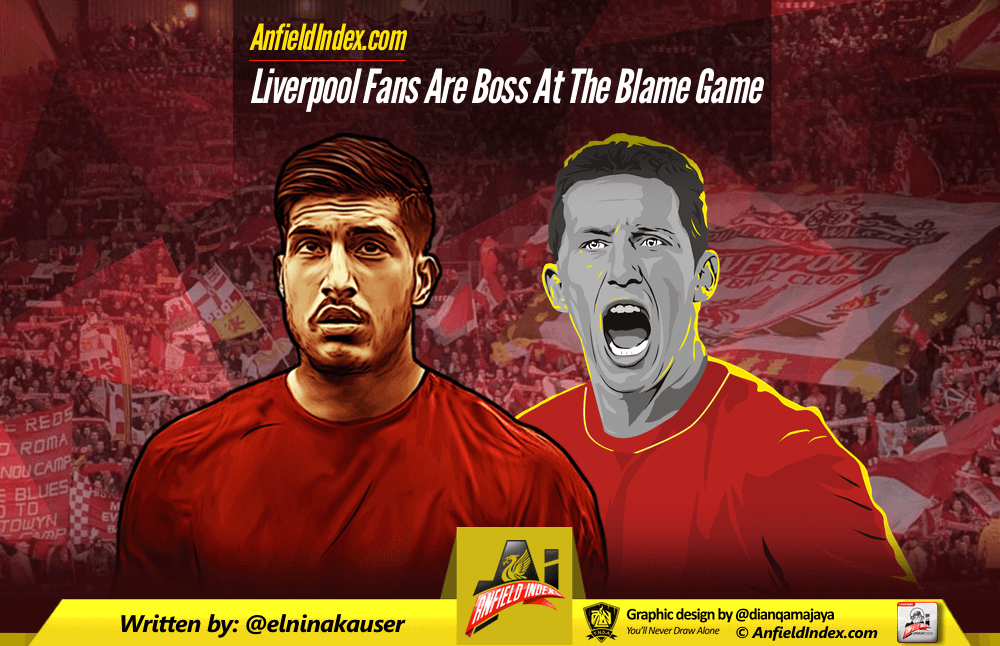 On the other hand, a majority of Liverpool fans are a different kettle of fish. We take it to a different level altogether. We don't take our anger or frustrations out on the other team or the match officials. Where's the logic in that? Surely it's more productive to scrutinise your own players week in week out and then expect them to screw up so we can keep the vicious cycle going? Many replay the footage multiple times until they can pin the blame on someone for that goal Liverpool conceded. That seems to be the done thing amongst a part of the fan base, blinded by negative bias.

The two players that really divide opinion are Lucas Leiva and Emre Can both have their loyal supporters and their harshest critics. The Can fans believe the youngster is a future star and Klopp should build his midfield around the German. Despite his performances being inconsistent largely due to him finally playing in his natural position and the amount of minutes he's played. It's natural for players to go off the boil but those who avidly back his corner will pardon this due to his potential and rightly so, only a few months ago he was playing for the German Under 21's! Meanwhile they perceive Lucas to be clumsy, reckless and often guilty of conceding a free kick in a dangerous position. Which is true but at the same time they fail to acknowledge that he's been vital to Klopp's system and has offered support to the defense. Lucas, has also relished the prospect of playing under Klopp and his game has certainly improved. But that doesn't matter, to his critics he's not the ideal defensive midfielder and there are better options on the market. Failing to see the positives that Klopp plays a DM and Lucas has stepped up. For sure there might be better out there but at Liverpool we only have one, he may not be Mr Right in the long run but he's Mr Right at this moment in time, and Mr Right, right now, isn't too shoddy.
On the flip side you have the Lucas lovers. The ones that laud all the praise on Lucas, for his passion and commitment to never say die attitude he brings when he's on the pitch. He's a leader, although that's easy with the current crop of young players Liverpool have in their team. However, they too are blinded because Lucas has been unfortunate with injuries throughout his career and what he brings to the game is the bare essentials of what a defensive midfielder does. The Brazilian is notorious for fizzling out around the 70th minute mark and that's when the untimely challenges come flooding in. But they too will make excuses for him because he's been mismanaged in the past and he's a cult hero and when he makes a mistake, they'll point the finger to player next to him. That person in recent times is Emre Can. Can is the complete contrast to Lucas, who unlike Lucas can play in multiple positions, he's dynamic and the sky really is the limit for the young German. However, his critics perceive him as more of a squad player or the stick him into the right centre back position, which is where former manager Brendan Rodgers played him last season when Liverpool played a 3 man defence. All they see is a liability. A ticking time bomb waiting to explode so they can feel vindicated in their fume over the player. Forgetting that he is only 21 and is prone to making an odd error losing all perspective over how he's still adjusting into playing in his natural position. Something he wasn't able to do for the best part of last season.
I genuinely can't fathom the tribalism over these two players because I rate them both and want them both to succeed because they play for my club. Yes, I see the pros and cons in them both but stewing over individual errors of each respective player so you can say "told you he was rubbish" is a little far fetched for me. We all have players we prefer above others, but you must give credit where it's due or criticize your favorite player if he's at fault. I'm not the best supporter, far from it but even I praised Balotelli last season when he did six of those things really well.