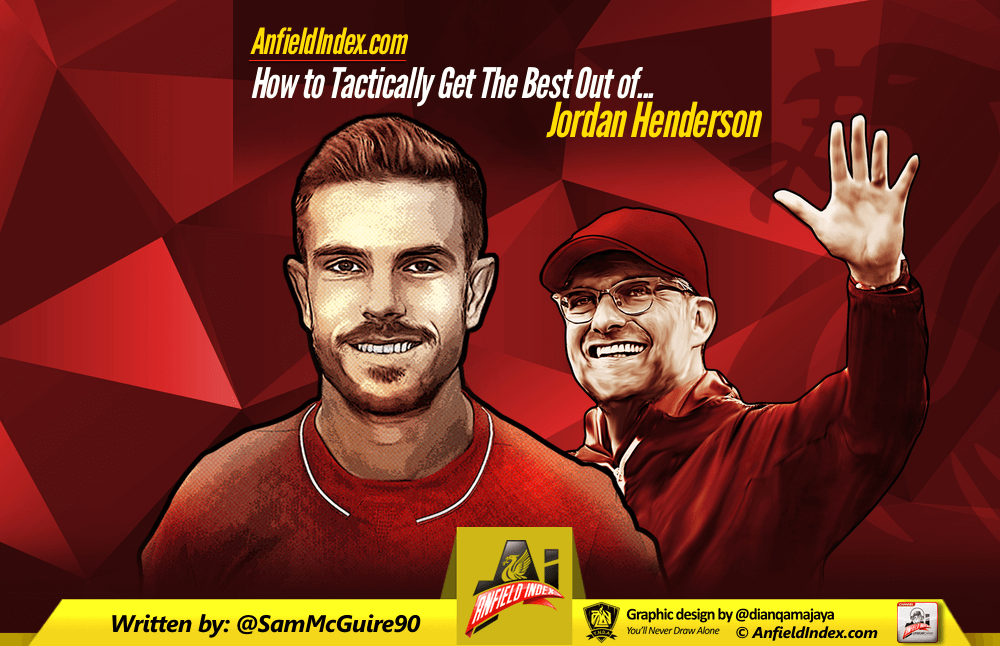 How to Tactically Get The Best Out of Jordan Henderson
Jordan Henderson's impending return has been greeted with open arms by a large part of the Liverpool fan base. The captain has been missing since the 1-0 victory against Bournemouth way back in the second match of the season and during his extended absence his importance to the team has grown by the week. Absence makes the heart grow fonder.  
The Reds' midfield this season, and by midfield I mean centre-midfielders so I'm not classing Roberto Firmino and Philippe Coutinho as midfielders, have lacked goals. They lack creativity. They lack much needed concentration at times. The team as a whole lack that midfielder that would, and could, make these late runs into the oppositions penalty area that just give them this extra dimension in attack. On paper you could say Jordan Henderson gives you all of that.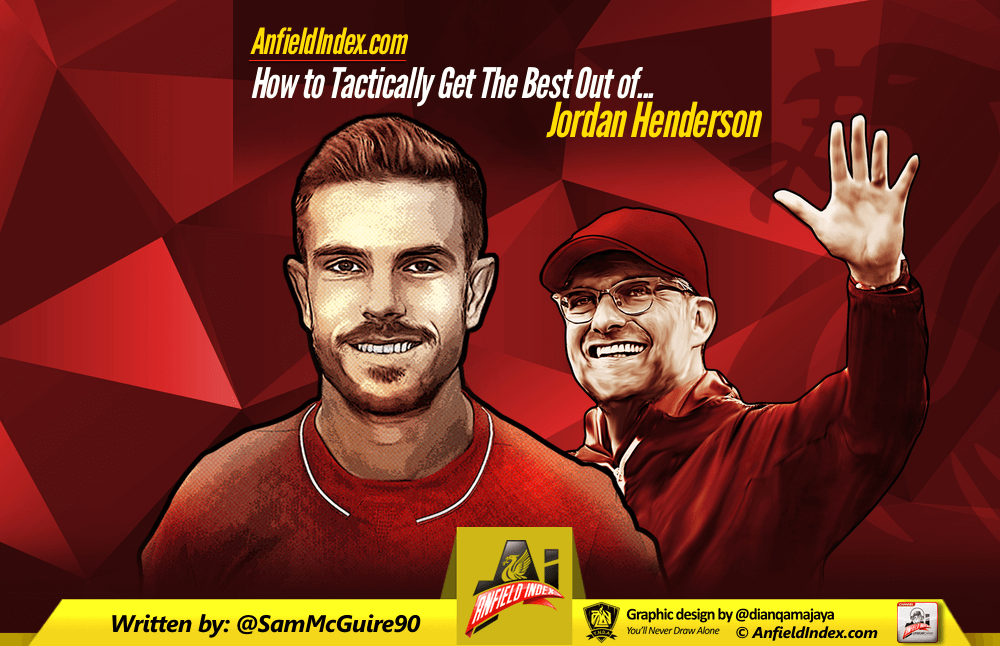 The Liverpool number 14 does add goals and assists to this Liverpool midfield. Since signing from Sunderland in 2011-2012 he's managed 24 assists and 19 goals. His first season at the club was a bedding in year and since then his output has been comparable with the best midfielders in the league. In the 2012/13 season he chipped in with 6 goals and 6 assists. In the 2013/14 season he contributed 4 goals and 7 assists and finally last season, 2014/15, he was responsible for 7 goals and 9 assists. It's also worth noting he's scored against Manchester City, Spurs, Chelsea and Arsenal. So he's the type to deliver in a big game.
He is the type of midfielder that makes those late bursts into the oppositions area. He's always been more of a Frank Lampard as opposed to a Steven Gerrard in terms of style. You just have to look at his goals against Aston Villa in 2013, Notts County in the League Cup, Chelsea at Anfield under Kenny and Swansea on a few occasions to see that's what he's effective at.
He's the 2015 stereotypical Liverpool player. Half the fans overrate him and half the fans underrate him.
If you ask a selection of Liverpool fans about Jordan Henderson they'll have you believe he's more mythical, and rarer, than a Unicorn. Do these lofty expectations need to be grounded? Likewise, do those fans saying he can barely pass wind need to start giving the Liverpool captain a little more credit?
My biggest concern is whether Jordan has the discipline and the stature necessary  to play as part of a two man midfield that many expect Jurgen Klopp to use. Can you see him taking the game by the scruff of the neck?
He's shown in a midfield three he can contribute to the team but as part of a two in a 4231 he's always flattered to deceive. I can't recall any matches in which Henderson was part of a midfield two and Liverpool have won that midfield battle. It's easy to lay the blame at the feet of the aforementioned three but sometimes Henderson was at fault for a goal and you can't be sure if it was because he was the legs for Gerrard or if he'd just switched off.
Some may say the 2-1 victory against Manchester City in February when he scored a worldie, but that was as a two ahead of a defensive three which is completely different. There's less ground to cover as you don't have to be as deep and there's less need to be positionally switched on as there is an extra sweeper behind.
We don't want another Steven Gerrard situation. We can't have a player playing in a midfield two just because he's captain if it's detrimental to the team. I'm not saying he will be but it's a genuine possibility.
How can we get the best out of Henderson?
My solution would be to use Henderson on the right of the three behind the striker, in this instance Christian Benteke. This allows Liverpool to keep the midfield two of Lucas Leiva and Emre Can, for now. These two seem to have formed an understanding and although Emre Can's on the ball work has been questionable lately his off the ball work has allowed Lucas to flourish in many ways. He's also done a superb job clogging up the left hand side and offering Alberto Moreno protection.
Klopp likes goals from players behind the striker. Henderson offers that
.
This position puts Henderson where he is most effective for Liverpool; in the final third. He's able to drift inside when the likes of Benteke and Firmino create space, much like the latter did so well against Rubin with Jordon Ibe taking advantage of it in that instance. He'd support Christian Benteke and he's the sort to gamble when Benteke goes up for a header. A better Kevin Nolan in many ways with Benteke being the Carroll in this scenario.
This position would also make use of Jordan's quality when out wide. He's not the sort to just look for the big man with crosses, he likes to vary his crosses and those fizzed ones he puts across goal are the kinds you'd expect to see Firmino attacking.
Klopp likes his team to press, especially those in attacking positions. We've already see this season how Coutinho and Firmino have aided the press high up the pitch and positioning Henderson up there will add to that.
He's the sort that will press the left-back or the left sided centre-back, not just as a token gesture but really press them in the hope of winning the ball back in an attacking position. He's also switched on enough to make the most of an opportunity if he wins the ball back and can start a counter or create a shooting opportunity. I can't recall the opponent but Henderson presses and wins the ball back before putting Luis Suarez in instantly who scores. Not many are that aware of their surroundings and able to execute it. He won't dawdle on the ball.
Then of course when Klopp wants to make the team difficult to breakdown he can tweak the tactics and have Henderson as part of a three man midfield like he's been using Milner at times this season. Making the most of the stamina this player has to not only aid the full-back but also offer the width on the right even though he's starting more centrally. This is how we could see Jordan Henderson used to get the best out of his attributes.
We'd also see him as part of the midfield two if Klopp changed to the 4141 formation we've seen from time to time this season. His versatility makes him a Jurgen Klopp type player. A utility man with value but more ability than James Milner.