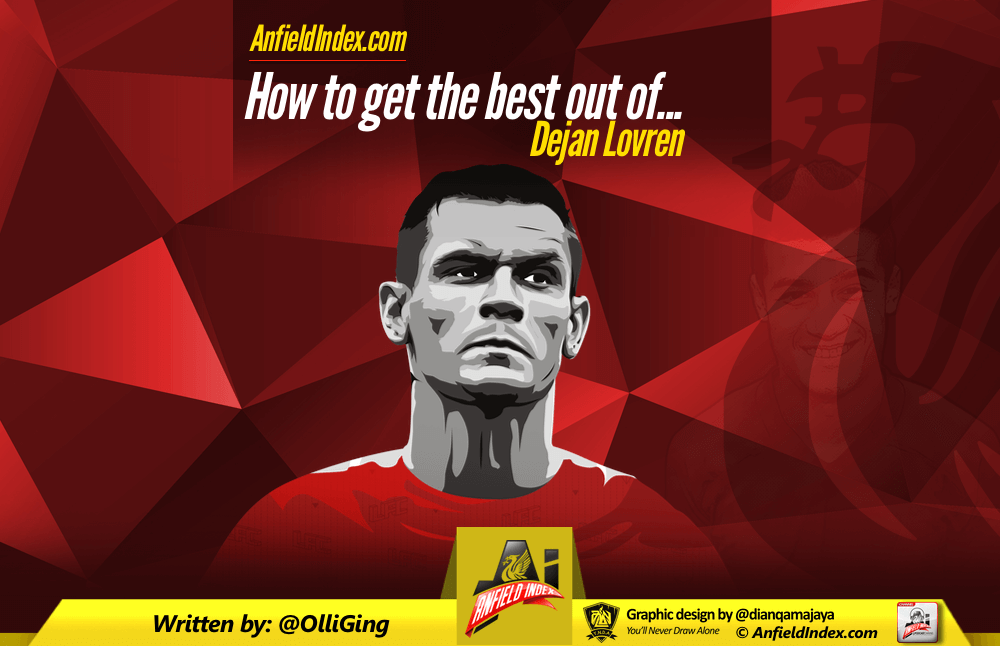 How To Get The Best Out Of: Dejan Lovren
Anger, bitterness, sadness. Just three emotions that greeted the majority of fans when it was announced that our beloved Mamadou Sakho would be out for around eight weeks, ruling the Frenchman out until the new year. However, these were only mild emotions, when compared to those when the fanbase realised who will most likely be stepping in for Sakho during his absence – Dejan Lovren.
"No, no… there's got to be someone else?" That seems like a realistic reaction for some, possibly followed by a few expletives, but a mix of transfer naivety and injury woes have left the Reds with limited options.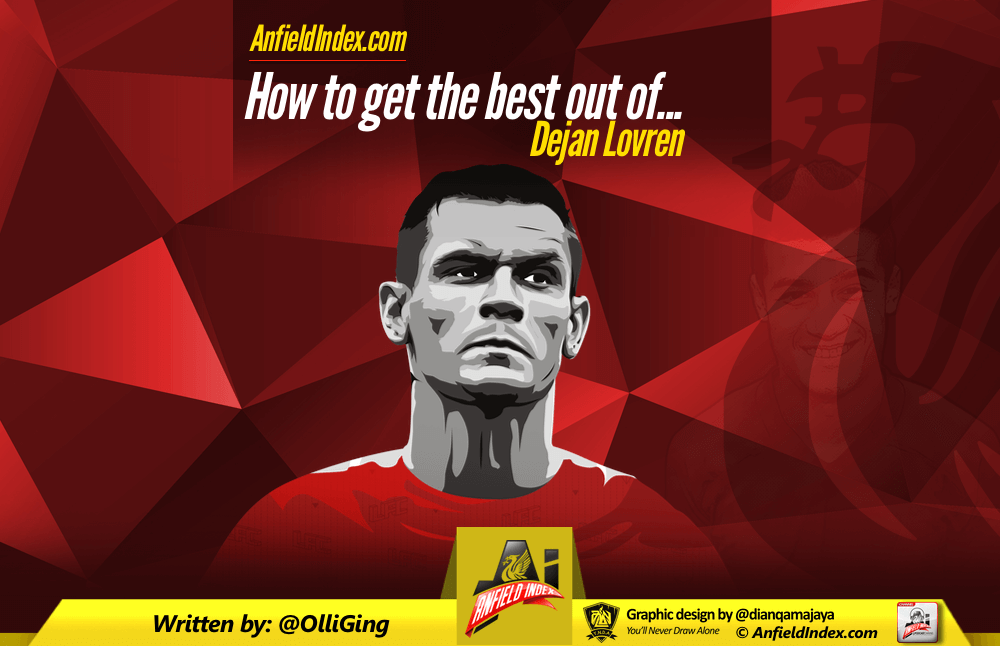 Joe Gomez is out injured himself, whilst Tiago Ilori is still rotting in the reserves at Aston Villa, for some unknown reason. If you add Liverpool's failure to buy another centre-back during the summer, and you're left with a straight choice between our man Dejan and king Kolo Toure, and his 70 year old legs.
Now, it is likely that Toure will get some minutes, but we're going to be seeing lots of Lovren, purely for the reason that Liverpool have 10 games between now and January 1st. So, knowing that he's going to play, how do we get him to play well?
A few, a slim few, would suggest that he was playing well. I mean, three clean sheets in consecutive games looks all well and good doesn't it? That's what he helped Liverpool to at the start of the season, before the walls came tumbling down with six goals conceded in two games against West Ham and Manchester United.
Looking at those three games in isolation though, and he wasn't great, nor was Martin Skrtel. Arsenal hit the post, Bournemouth had a goal wrongly ruled out, and everybody's favourite Glen Johnson spurned a golden opportunity for Stoke City. Despite this though, Lovren was performing at a more acceptable level than last season, and this may be the best that Reds fans can hope for in the coming months.
A big part of the improved performances was that Joe Gomez, rightly or wrongly, started at left-back. Gomez's lack of attacking threat aided Lovren greatly, as he stayed back and covered him, meaning that the Croatian was scarcely exposed in one-on-one situations, where he hadn't exactly made a name for himself (we're all thinking about Yannick Bolasie at this point).
You can't even have the idea of putting Gomez back there, due to the season ending injury he suffered in Klopp's first week at the helm. Even if he hadn't, it would make little sense anyway. Alberto Moreno is in flying form at left-back, and is adding a huge amount to Liverpool going forward at the moment, especially given the lack of width Brendan Rodgers left behind.
There has been paper talk of Jose Enrique, a naturally more defensive full-back than Moreno, being handed another chance on L4, having been in the doldrums for the best part of 12 months. Unfortunately though, he's nowhere near Moreno's level, so it'd likely he'd only be played in games where Klopp was looking to rest players, games where Toure could well come in at centre-back.
Moving on from that suggestion, which can't readily work at the moment, it's a good idea to look at how Lovren made Liverpool spalsh out £20million for him, with good performances at Southampton. He was, for a better word, babysat by the midfield pairing of Victor Wanyama and Morgan Schneiderlin.
These two are by nature defensive midfield players, with Schneiderlin slightly more attacking, but still an excellent defender. It'd be very difficult for Liverpool to recreate anything like this pair, especially without making new signings. Lucas Leiva is Liverpool's only natural senior defensive midfielder, and he's not much to shout about. At least, not when compared to the likes of Wanyama and Schneiderlin.
Emre Can has the potential to become a defensive midfielder, one that surpasses the level of Wanyama and Schneiderlin, but he can't do this in eight weeks. Plus, even if he did, he's more likely to be a deep lying playmaker, due to his impressive offensive skills. This wouldn't be of as much use to Lovren, who would prefer more of an anchor man to sit in front of him.
There could be signings made to fill this void at defensive midfield, and there's been no shortage of names linked, nor no shortage of Liverpool fans begging for the club to sign a player in that position. However, it's two months until the transfer window opens again, and two months until Sakho is back… you see what I'm getting at? Whilst buying a defensive midfielder could be great for the team, it might not affect Lovren either in the long run or now when we need him most.
Looking at that, it looks like there isn't much hope for Lovren. There's little chance of us playing a defensive left-back, as it'd be of detriment to the team anyway, and we don't have the quality in defensive midfield to make him look better than he is. Something which has been overlooked though, is the benefit that our manager could have on him.
It's already been noted that Jürgen Klopp has improved Liverpool's backline, despite only being in the job for a month, with the team having only conceded five goals in his first seven games, keeping three clean sheets in that process. The individual errors haven't been eradicated quite yet, but they're not so easy to manage, and some can happen based on bad luck. Due to this, the hope is that Lovren could benefit from a more stable defence around him, and that his habit of individual errors will slowly fade away.
Whether that does happen or not, it's certainly going to be a crucial couple of months for the Croat, as he fights for his Liverpool future, whilst the team fight to stay in the race for Champions League football.