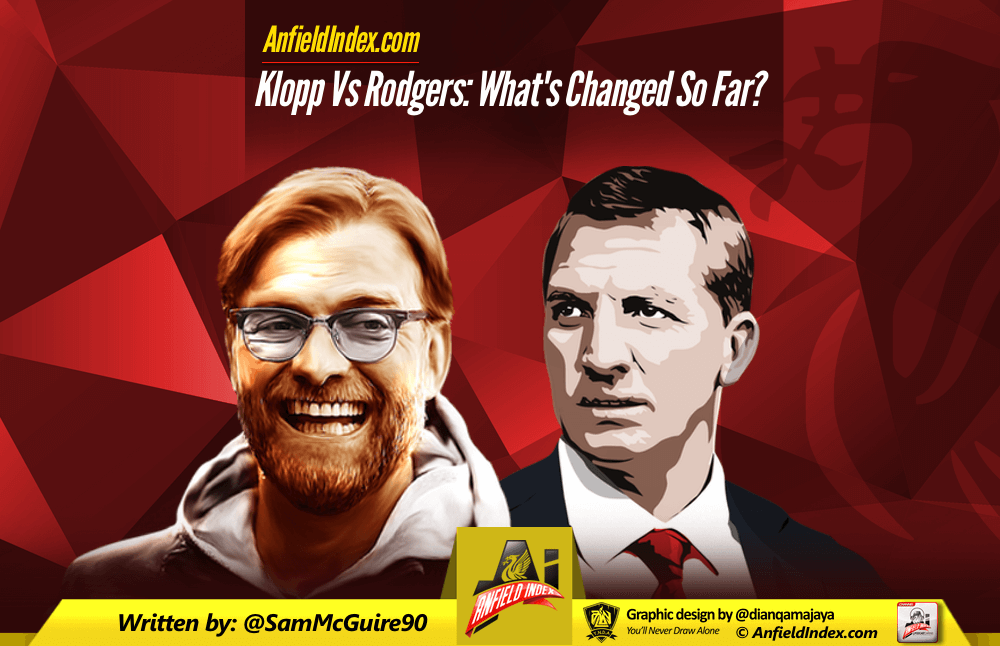 Klopp vs Rodgers - What's Changed So Far?
It feels odd for me to write this but Jurgen Klopp's appointment as Liverpool manager wasn't welcomed by everybody. Some fans still felt Brendan Rodgers had it in him to turn it around. The media and pundits, well they didn't welcome a foreign coach replacing a 'bright, young, British talent" at a historically big club in England. Klopp had his doubters with many waiting circling like vultures wanting to pick at a carcass.
In those seven matches between international breaks Liverpool picked up three wins, three draws and fell to a solitary defeat. Looking at that on paper you couldn't really ask for much more could you? A new manager coming in and having to reinvigorate crestfallen players. Not only that though, he had to deal with injuries to his three of his first choice strikers, he's not been able to pick his captain and he's had to select Martin Skrtel through no fault of his own.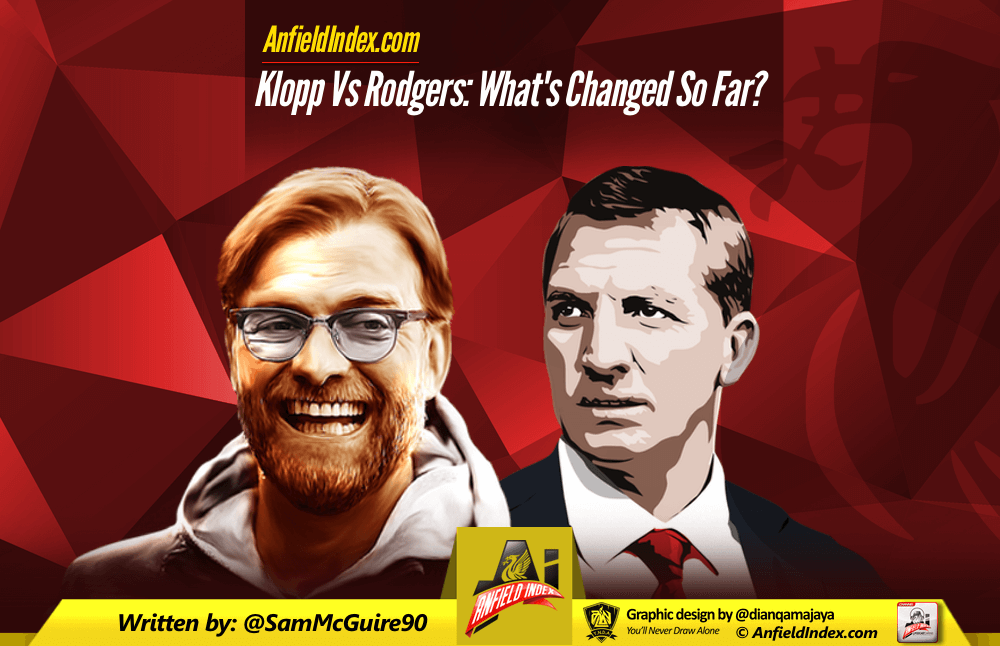 All the while he's had every single newspaper, journalist, pundit and fan micro analyse his performance as manager.
"Brendan Rodgers would've been crucified for such a performance."
"It's an average squad so it wasn't Brendan's fault."
"Gegenpressing, pfft. It's just running. He's not reinvented the wheel." 
It's been an uphill struggle for the German manager. The Brendan Rodgers bad habits still linger and these are the things used to beat Klopp with, you know because he's not managed to rid the players of this mentality in the few weeks he's been here…
I decided to look at Brendan Rodgers' last seven games in charge of Liverpool and Jurgen Klopp's first seven to see the differences, if any, stood out because basically I'm bored of hearing about how it's all still the same. It isn't. It's getting tiresome hearing about the gegenpress being nothing when we've not actually seen that tactic being used properly yet. We've had a short trailer of what it could be like.
In those final games as Liverpool manager, Rodgers faced Everton, Bordeaux and United away and FC Sion, Aston Villa, Carlisle and Norwich at Anfield.
Klopp's tenure has seen Liverpool face Rubin, Southampton, Bournemouth and Palace at home whilst we've had matches against Chelsea, Rubin and Spurs away from home.
| | | |
| --- | --- | --- |
| | Rodgers | Klopp |
| Average Possession % | 56.8 | 60.7 |
| Average Pass Success % | 83 | 83 |
Jurgen Klopp's Liverpool average more possession in games than Brendan Rodgers' Liverpool. Who would've guessed it? The difference of course is Klopp's style has Liverpool playing a lot more direct so we're not seeing Martin Skrtel, Dejan Lovren and Simon Mignolet form a triangle and pass the ball around. Instead we've been witnessing Mamadou Sakho acting as a deep lying playmaker and starting attacks off from centre-back. One pass and the ball is at the feet of our attacking players.
You can have a death by football mentality with the primary objective being not to bore the opposition into submission.
| | | |
| --- | --- | --- |
| | Rodgers | Klopp |
| Average Shots | 21 | 19 |
| Average Shots on target | 8 | 4 |
| Average Shots faced | 9 | 8 |
| Average Shots faced on target | 3 | 3 |
| Goals Scored | 9 | 8 |
| Goals Against | 10 | 5 |
| Clean Sheets | 0 | 3 |
The average shots stat is swayed for both managers. Liverpool under Rodgers peppered the Carlisle goal, likewise Liverpool under Klopp has an obscene amount of shots against Rubin when facing them at Anfield.
A surprising stat is the shots on target. Rodgers' Reds had double the amount of shots on target yet only scored one more goal. You also have to remember that Rodgers could call on the likes of Christian Benteke, Daniel Sturridge and Danny Ings in these games whereas Klopp has had to use Divock Origi and Benteke when the latter returned from injury.
Klopp's Liverpool are more efficient in front of goal. Similarly when looking at the side defensively it seems he's made us harder to break down. They face the same amount of shots as when Rodgers was in charge but they've conceded five fewer goals and kept three more clean sheets.
Rodgers
| | | |
| --- | --- | --- |
| Opponent | Percentage of the match in opponents final third | Percentage of match in our defensive third |
| Everton | 28 | 29 |
| Sion | 27 | 24 |
| Villa | 39 | 19 |
| Norwich | 33 | 23 |
| Bordeaux | 22 | 30 |
| Manchester United | 22 | 28 |
| Carlisle | N/A | |
Klopp
| | | |
| --- | --- | --- |
| Opponent | Percentage of the match in opponents final third | Percentage of match in our defensive third |
| Palace | 37 | 27 |
| Rubin away | 33 | 18 |
| Chelsea | 24 | 24 |
| Southampton | 28 | 31 |
| Rubin home | 42 | 17 |
| Spurs | 32 | 26 |
| Bournemouth | N/A | |
The tables above show the percentage of the match spent in the opponents' final third and what percentage of the match our opponents spent in our defensive third. I think this is a telling stat as it indicates how positive the team is and how they manage the match.
We as fans got used to seeing a Liverpool side with a back three and then two midfielders shielding these three centre-backs. There was then a 30/40 yard space before you'd stumble upon an isolated striker. This meant it was hard to get a foothold in the opposition's final third and this kind of shows in the stats for Brendan Rodgers' last six games (I couldn't find the stats for the League Cup game). In half of these matches the opposition spent more time in our defensive third than we did in their defensive third. It's easy at this point to say in an away match you're bound to have less of the ball in the final third yet this isn't the case with Jurgen Klopp.
Under the German Liverpool have only spent less time in their opponents final third than their own defensive third in one match. The one at home to Southampton. Klopp's side are compact and work as a team. The distance between the strikers and the centre-backs is often no-more than 30 yards and this means Liverpool are able to play a higher line without being exposed and are able to almost camp in the opposition's half which in turn helps their pressing game.
It's also interesting to note in these six matches Liverpool recorded 30% or more in the opponent's final third on four occasions whilst under Rodgers this happened only twice despite facing some may say inferior opposition.
Football isn't all about stats and numbers but looking at everything above you can't ignore the influence Klopp has had since taking over. It's evident in the stats and in the actual games. We've all witnessed the compact shape used. We've all had the pleasure of witnessing the gegenpress tease every now and then. We've seen Liverpool not only dominate the ball but do this in the opponents half.
As we're constantly reminded football is a results driven game and Klopp's seven matches have yielded three victories and three draws compared to Brendan Rodgers' one win and five draws. Results and performances have improved under Klopp. It's as simple as that.