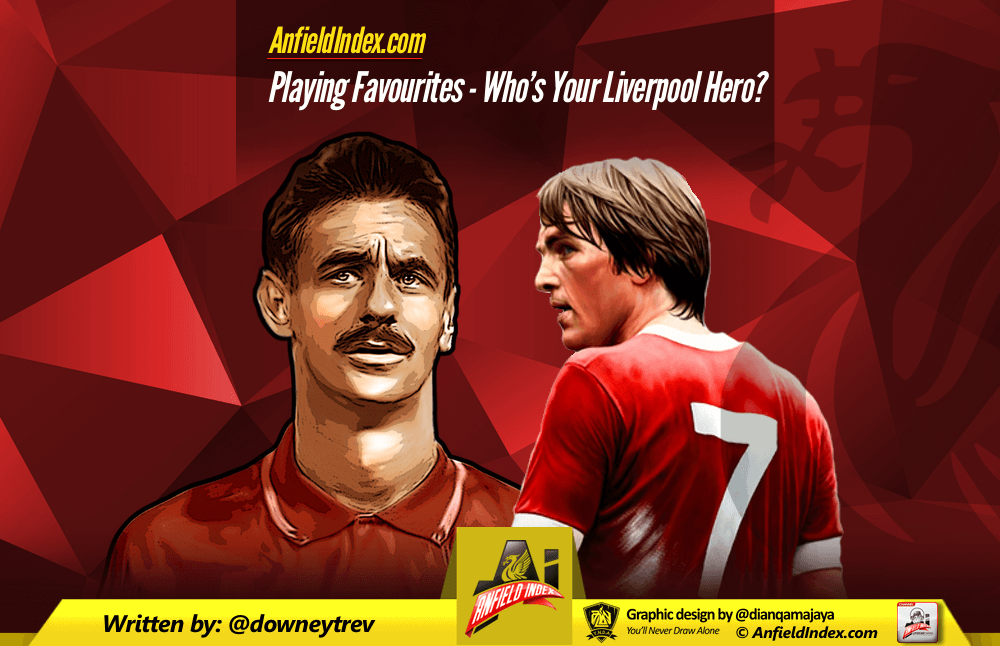 Playing Favourites - Who's Your Liverpool Hero?

"He's the hero Gotham deserves, but not the one it needs right now."
James Gordon, The Dark Knight Rises

"I'm normally not a praying man, but if you're up there, please save me Superman."
Homer Simpson
Favouritism, in this politically correct world obsessed with always presenting a veneer of egalitarianism, can be a bit of a dirty word. However, when it comes to football and friendship, partisanship is something in which we all engage openly and without fear of censure. None of us would ever want it known that we prefer, for example, one granny over another or that we consider the food of a particular region to be inedible detritus, and yet we will quite happily arrange to meet our best mate at the match and sing lustily about our favourite players.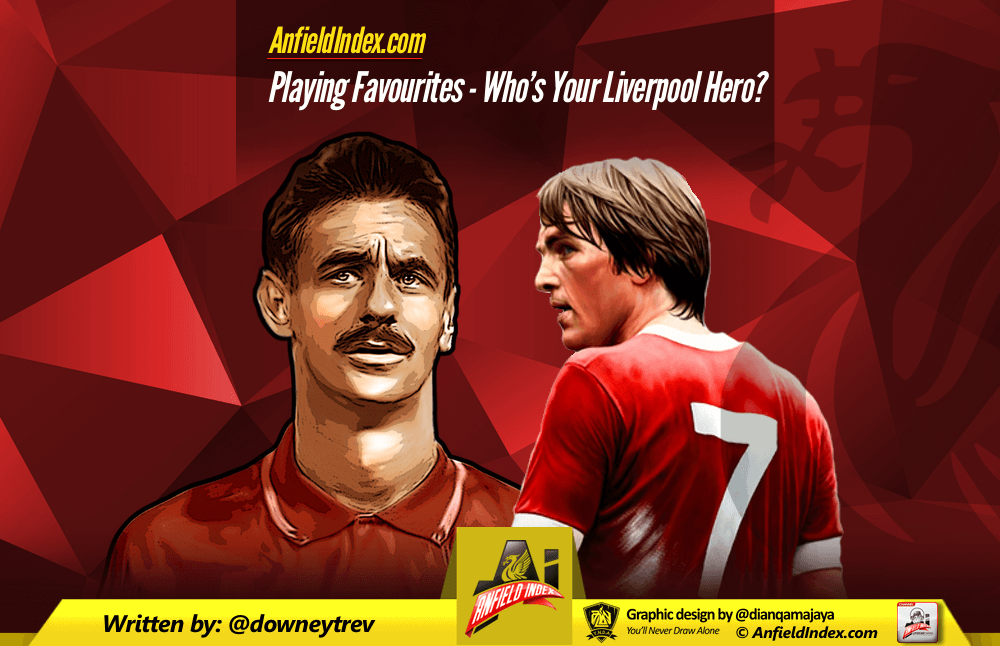 That jaundiced cynicism through which we normally view the world seems to partially vanish when football is concerned and grown adults readily lionize other grown adults. Indeed, such is the transformative power of the game that even the most emotionally stunted and reticent creatures are rendered loquacious by the topic of their heroes. Although, to be fair, multiple pints may also fuel that effusiveness.
When it comes to football, I've been picking favourites since the late Seventies. My first choice, the capo di tutti capi, remains Kenneth Mathieson Dalglish. Kenny's the only real hero I've ever had, apart from Mohammed Ali and my old man. This is not the place for a paean to my father (that particular Irishman warrants a novel I am determined but ill-equipped to pen) and, at 42, I'm too young (no YOU shut up) to have enjoyed Ali's great years, so it was Dalglish who captured my very young imagination.
Christ, the things that man could do with a football. I may have been a tad biased, but as the early Eighties edged glacially onwards under the constant threat of nuclear annihilation, I thought he was the best in the world. Bestriding pitches across Europe in the wonderful kits of the era, Dalglish was a footballing visionary. Whether threading impossible passes or curling into the net with either foot, the Scot was a real-life version of the eponymous hero from my weekly Roy of the Rovers comic.
An anxious and overly analytical youngster, I was driven to balance the joyous whimsy of my comics by reading about the horror of nuclear winter and wondering why even harmless TV fluff like Benson and Silver Spoons seemed to have an episode about The Bomb. So, as Reagan and Andropov did the apocalypse shuffle, football was the soothing balm to my youthful angst. Michel Platini, Karl Heinz Rummenigge and Zbigniew Boniek were the world stars of the day and did their thing in the more fashionable Italian league, whilst scooping most of the plaudits. But for this scribbler, Kenny Dalglish was better than them all.
A deceptively hardy bastard, Dalglish's brain was always that bit quicker than his opponent's and his vision made him the finest passer of a ball one could wish to see. He could shield the ball and arse his way back into non-existent space, a low centre of gravity affording him unique balance and poise, which he used to tear teams apart. But it was the goals that defined him, so many wonderful goals, and yet one stands out for me ahead of any other.
European Cup victories in 1984 in Rome and eight years ago in Istanbul are high on the list of most Reds' favourite football moments, but it was amidst the infinitely more prosaic surroundings of the old Stamford Bridge, in 1986, that I had my spiritual peak as a Liverpool fan. On that May day, as I approached my thirteenth birthday, Alan Hansen led out a Liverpool team which featured a thirty six year old Dalglish returned by himself to the first eleven out of necessity, as the side faltered in his absence during his first campaign as player/manager. Inspired by the great man, Liverpool had rallied to peg back a ten point Manchester United lead and found themselves facing Chelsea on the final day of the campaign, knowing a win would seal the title and a crack at the coveted Double on the following Saturday against Everton at Wembley. What followed eclipsed even the most reality-stretching plot involving the aforementioned Roy Race.
Kenny wore the long sleeved version of that classic adidas kit (my dad bought me the knock-off version afterwards – I've never loved him more) as he jogged out, all wary grimaces and decade-straddling barnet. Around him that day were the likes of Jan Molby, Ronnie Whelan and Ian Rush, the man with whom he had formed the most lethal partnership in Europe. The creativity on this occasion came from a different source, however.
On twenty three minutes, having had his shot blocked, Whelan stretched to head-on the rebound. It fell to Jim Beglin on the edge of the D, who'd remained in attack following his earlier effort. His first time volleyed pass was cushioned expertly onwards for Dalglish, who'd drifted in from the left. As he approached the corner of the six yard box, the Scot took the ball on his chest and, without breaking stride, allowed it to drop to his right foot, before volleying past Tony Godden in the Chelsea goal. Cue the biggest grin in football, the megawatt beam that we all got to revel in again as it was reprised, a few years ago, in the dugouts of the Premier League.
The rest of the game is a blur. Dalglish's strike had been enough. Only weeks previously, it looked like that lot from across the park were going to take a second successive title and now, on the last day, Liverpool were champions again. For the sixteenth time, no less. Think of it. Think of the impact of that on a twelve year old boy. It was spirit-shocking, defining, inspirational. I had moist eyes as I revelled in the pathetically brief coverage that night. Every Sunday paper was bought without question, as my dad, a dyed-in-the-wool Manc, stretched the meagre family budget so that my brother and I could have every possible report and image for our posters and scrap-books.
The whole delightful routine was repeated the following Sunday after Kenny et al had beaten Everton to win the Double in his first season as player/manager. As darkness descended on the summer evenings that followed, I pulled older brother rank many times and forced my beleaguered sibling to dink pass after Beglinesque pass into my path so I could recreate my hero's finest hour. Each time the ball nestled in the back of our home-made nets, I felt the very same visceral thrill, the very same frisson of connection with my hero.
In these cynical and world-weary times, it can be dangerous to elevate anyone to hero-status. Media saturation means that no weakness, foible or ill-advised life-choice is unscrutinised. You're only as safe as your last tweet. Very few things have hurt me as much as the public vilification Kenny Dalglish endured during the 2011/2012 season. When he came back, ending the soul-destroying tenure of Henry Winter's beloved Roy Hodgson, my instinct was to hope he would walk away in the summer. I couldn't bear to see my hero tarnish his unblemished legacy.
Like everyone else, however, I was beguiled by the return of The King and the re-emergence of pass-and-move football. Sadly, the season was a huge disappointment. Dalglish and Damien Comolli saddled the club with overpriced and under-performing talent and the fallout from the Suarez scandal made the manager an increasingly belligerent and marginalised presence in the national media. People have drawn their own conclusions about how the great man's second spell was ended, but ended it was, and my initial misgivings were proved to be sapient ones.
The most saddening aspect of Kenny's last spell as manager is the justification it gave to some fans to display a total lack of respect and knowledge. It became a kind of badge of honour for some to point out the bleedin' obvious and say that things had gone awry under Dalglish's stewardship. That was devastatingly clear and it was being said even by those who revered the man as much as I. How depressing it was to hear fans speak of Kenny Dalglish in the same bile-filled way they had bitched about his lamentable predecessor.
For these children of the Benítez era, the legacy of the club's finest ever player was ignored as they failed to temper their abuse with a modicum of deference. Honesty is possible without descending to ignorant name-calling. It was a difficult topic and needed talking about but, around me, you had best watch your mouth when you speak about what Kenny Dalglish has done for Liverpool; the city, its people and the football club.
The last few years have made this particular scribbler less willing than ever to embrace heroes. People, you see, will quite often be awful, let you down, break your heart or steal your faith. The purity of a young boy's hero-worship is not something that can realistically transmute intact into adulthood. Wary cynicism prevents it.
By the time we class ourselves as grown-ups, we have suffered too many disappointments and endured too many of life's slings and arrows to place anyone on a pedestal. And yet, I swear, when the older Kenny, in that oversized match coat, turned to the fans and celebrated a goal with that unmistakable grin, I felt that all of that familiar unqualified joy flooding back into my heart. Cynicism be damned, I was a boy again and Kenny Dalglish was, and will always be, my hero. Who's yours?
https://youtu.be/EumByzigwkA