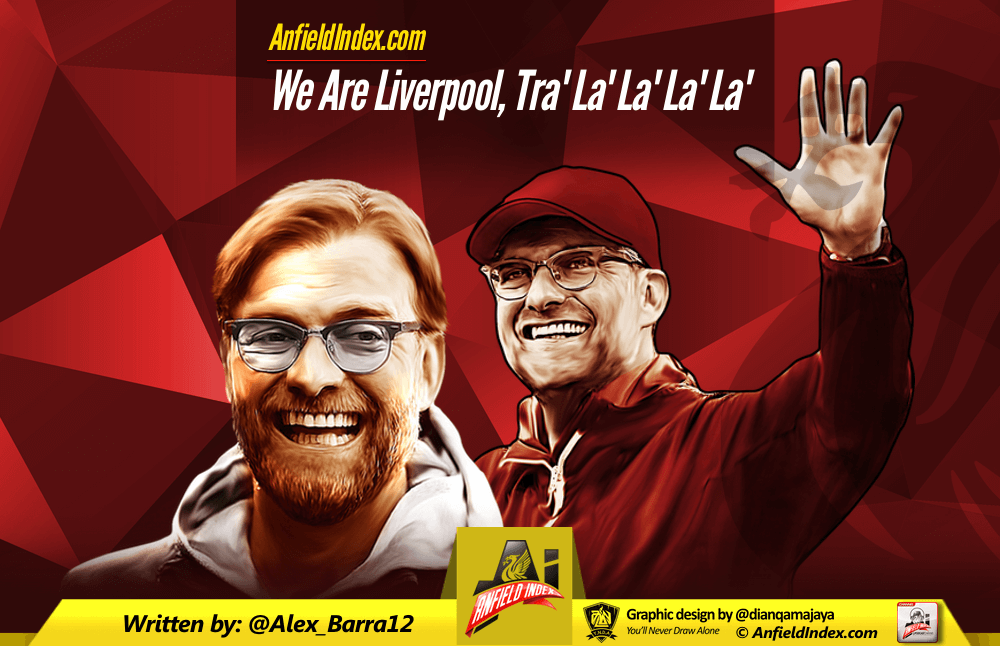 We Are Liverpool, Tra' La' La' La' La'

Don't deny it, you felt it too.
Amidst all the delirium, the chaotic and synergetic euphoria of having Jürgen Klopp traipse around the halls of Melwood in his Liverbird encrusted tracksuit, the bitter disappointment of his first home loss to Crystal Palace brought a lot of the Reds' faithful down to earth, for a brief moment. But we'll recover; Klopp is a tremendous coach, one of the best in Europe in fact, and his style of football will soon become more and more apparent as the players spend more time with their mercurial German.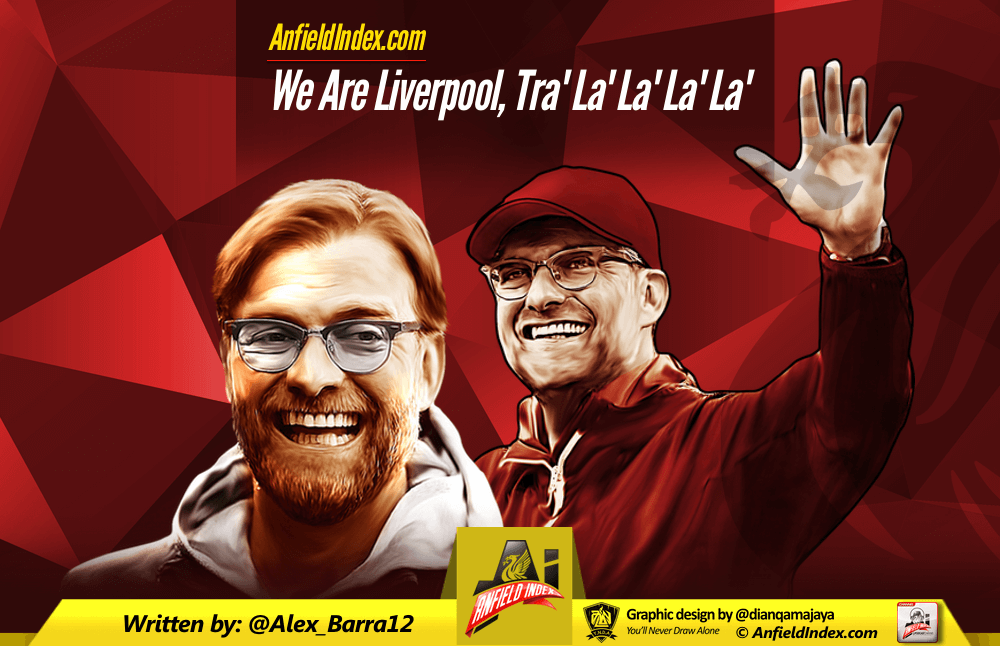 The worst part was that sinking feeling we all felt when we heard Jürgen's painful exclamation.
"I felt very alone in this moment."
Now, the business of condemnation is not one that needs to be reignited; this is, in fact, of the opposite intentions. There should no longer be a time for scuffles on Twitter, for disagreements that lead to bitterness and fractures between a fanbase. No, this is a time for unification, to rid our minds of what is now the past and build what can become the future. We have the manager. We have a capable squad. We have the time, the infrastructure and the funds to build what we all so desperately desire.
But that's not enough.
In his first ever interview as Liverpool manager, encapsulating a global fanbase with his charming yet slightly goofy smile and infectious laugh, he let out a cry to the masses; asking, pleading even, for the people who once made Anfield a fortress to change from their state of perennial trepidation to a rallying force of support. From doubter to believer, from nervous, cynical wrecks to passionate, empowered supporters. It's even in the word. We are supporters. Supporters of our manager, supporters of our club, supporters of our identity.
So how about we start supporting.
Obviously the past half a dozen years has left the majority of the fanbase scarred. The days of Hodgson, of Hicks and Gillett and the state of constant cynicism left the bulk of the fanbase scarred. Yet, ask anyone outside of England what Anfield is famous for and they'll tell you about the atmosphere. They'll light up, speak to you about how You'll Never Walk Alone is the ignition for the Red fire, the Liverpool faithful's call to arms.
Nowadays, however, most would be disappointed in us.
We no longer accept the responsibility to instigate something in our players, we merely demand to be entertained. Perhaps the magic of the 2013/14 season spoiled us, yet we're graced with a manager and squad better than the one that beat Manchester City 3-2 to storm into the running for a ground-breaking Premier League title. The first in 25 years. That excited us. That created an atmosphere around Liverpool football club, that we could be invincible.
Jürgen Klopp walked out of the tunnel and onto the Signal Iduna Park every second week to the rapturous chanting and a fierce yellow blaze; and he had a fire light up within him. A thunderous rendition of Anfield's famous anthem would resound from the yellow wall, and the players would look their opponents' dead in the eye and know they already had a man advantage: it was 12 vs. 11, every time.
Of course this piece is surrounded by circumstance. Yes, we've only just stepped out of a time of darkness and been introduced to the light. Yes, everything takes time, and if Jürgen Klopp is going to take time to build his Liverpool side, then the fans should take time to regain their life.
But come on. Walking out at the 86th minute because the traffic might be a bit heavy. That's pathetic.
Perhaps it's a sense of entitlement; that they deserve to be at a point where we're not losing to Crystal Palace. And departing four minutes early gives no real chance of that scoreline changing, doesn't it? If the fans have lost all faith, why should the players or manager have any?
Again, circumstances run rife. Yes, Anfield has become an attraction to tourists. But any sane man would see dozens of others around him on their feet, chanting their heads off, and join in the same. Yes, Liverpool fans have endured tough times recently, but they should be playing their part in trying to change that. Yes, we currently sit in eighth position, but then so did Dortmund last season. And the rapturous thunder never stopped. The singing, the chanting, the rally cries in the dying embers of a game seemingly destined for defeat never stopped. Yes, German football fans are a testament to football's wondrous atmosphere, but then we're not asking for Liverpool to sudden become German. All we're asking is that Liverpool become Liverpool again.
They tell stories about us you know. The European nights at Anfield. The war-cry that goes out after every rendition of our famous anthem. The thunder that accompanied that phenomenal time in 2014. It's what drew the calibre of manager that Jürgen Klopp is to Anfield in the first place, and it's what drew Jürgen Klopp to us. To think of the incredible reception that Klopp got when he arrived, to hear the words "I felt very alone" is almost unfathomable.
There's always circumstances. There's always an issue. But who cares? Who cares whether it's 1-0, 1-1, or 2-1? Who cares whether it's a Champions League night or a visit from Stoke? We all believe in Jürgen Klopp.
It's now time for Jürgen Klopp to believe in us.
We are Liverpool. Tra La La La La.