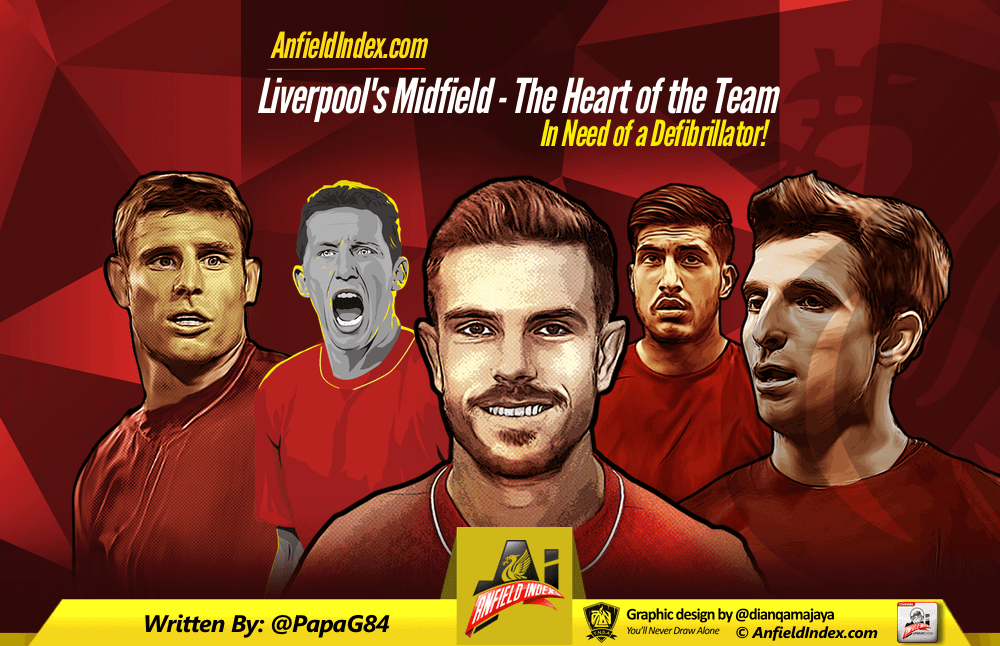 Liverpool's Midfield - The Heart of the Team, in Need of a Defibrillator!
Editor's note: This article was written prior to Liverpool's win against Manchester City at Etihad on Saturday
I've always believed that the competitive games are won and lost, by the battle in midfield. It's the area of a team so influential to the style, tempo, control and competitiveness of a team. A good midfield will win you games no doubt, but a truly great one wins titles and tournaments.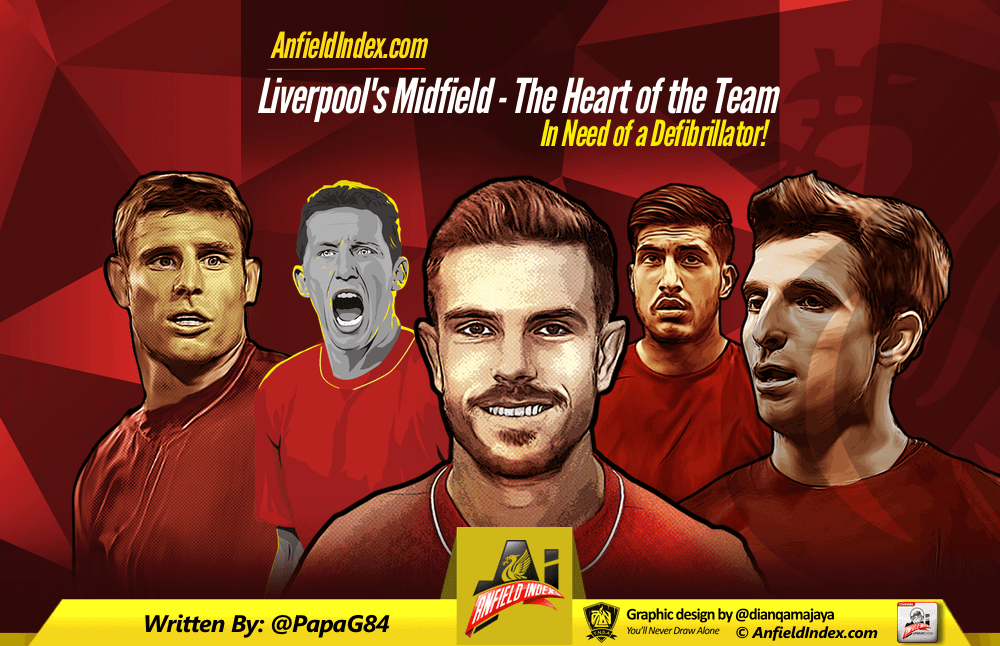 Attacking players will always command the highest transfer fees in world football, they're the ones idolised and adored by the masses. Since I was a boy, I've never felt the same. I look at a truly world class midfielder and just sit back and enjoy the spectacle. The players who appear to play in slow motion always creating time and space. The ones who can control and dictate a game single handily. Those rare breed of footballer are the ones I idolise, the ones I grew up wanting to become and the ones I believe turn a good team into a great one.
The word I'd use to describe Liverpool's current set of midfielders is limited. There are strengths to their respective games, but some rudimentary flaws, which need to be addressed. All too often our midfield is bypassed, whether that be when starting attacks or defending them. They're peripheral figures on the pitch, when they should be central to all we do. Right now we don't have two players capable of playing in a top team consistently, which competes at the business end of the table and in Europe's top tournament. If fortunes are to change on the pitch, this is one of the first areas that needs to be addressed.
In a preferred Jürgen Klopp system of 4-2-3-1, just two places are up for grabs. Those two players first and foremost need to complement each other and become a formidable pair. They're so integral to the system that they need to eat, sleep and breathe in all of Jürgen's philosophies. They'll need to combine strength, tenacity and stamina, with tactical discipline, composure and the ability to dictate the tempo and pace of the game. The players need to deeply understand the game, to know when to speed up or slow down the transition and even when it's wise to take a tactical yellow. That pair needs be the intelligence on the pitch, smarter, wiser and more cunning than the opposition.
A successful midfield balances all that's good about setting up a teams' attack, with all that's good in preventing the opposition from doing the same. It's an area of the pitch, I can't stress the importance of and one that this article will hopefully highlight the needs for changes within this current squad.
The Current
Joe Allen for me, is the first player I'd sacrifice. I've rarely seen Joe's quality in a Liverpool shirt, with the exception of his first handful of games at the club. Whenever he begins to look like the Allen of Swansea, an injury halts his progress. He is good at the simple things, but not dynamic or strong enough to stake a claim for me. He was brought to fit a system we've long since abandoned and I would see him leave, with a more suitable player replace him.
Jordan Henderson is a player who is remarkably underrated and overrated at the same time. It's clear that we've missed his presence this season. I once doubted his leadership, but I'd grown to see the importance of him within the side. Everyone applauds his engine, tactical discipline and stamina, but he's far more creative and technically able than he's given credit. He's often been shackled under previous management and I'm excited to see what Klopp has in store for Jordan moving forward.
A resurgent Lucas Leiva has been revived under Jürgen's brief reign. A player who has always divided the fanbase. Lucas is showing form many thought were lost through a series of damaging injuries, which have disrupted his career. Playing with energy, purpose and control, I admit I've been impressed. Whilst he shouldn't be first choice, he's more than earn't a place to remain in the squad.
Emre Can has the brightest of futures ahead of him. Authoritative, commanding and powerful yet also controlled. He plays the game in such a positive and decisive way. He has all the qualities required to succeed in midfield, however his flexibility may see another role in the future. Still developing his decision-making and prone to an error in the defensive third, there are areas to develop. But any who can't see his potential truly astound me. Jürgen is clearly delighted to have Emre, perhaps it's time all supporters were too?!
Finally James Milner, whose enjoyed a less than successful time since joining the club. Most were confident LFC were getting an experienced player, who would bring the right qualities to the squad. What they didn't bargain on was the signing on fee and exuberant wages, plus a vice-captaincy he didn't earn or his history justified. One thing's for certain he's not a central midfielder, nor would I cry if he departed. It would free up his wages for a player who exceeds his quality, potential and suitability to this Klopp side.
The Future
Jordan Rossiter a player who is controlled, positive and tenacious. At just 18, he may not be yet fully grown or developed, but I have fears that his stature may be key to him never achieving what's expected of him. Highly rated throughout all youth levels, many felt our future midfield hopes lay at his feet. Personally I'm yet to be fully convinced. He clearly has a calm control to his game, but he doesn't seem to have the passing range or physicality required to take one of those 2 spots, at least not yet.
Pedro Chirivella is described as the best young player to break out of Valencia's academy in recent years. Pedro was a coup, for Liverpool's academy. A player of intelligence, with strong technical ability and control. A great passing range, both short and long, with great temperament. Pedro is naturally a deep lying playmaker, with strong positional discipline. I'm very hopeful he has enough to his game to not only impress Jürgen, but also go on to competing within the first team, within a year or two.
Cameron Brannagan excites me. Physically stronger than Rossiter, he looks much more ready for first team football. A player who plays the game simply, but effectively. Has an eye for a pass and also for a goal. I'm not 100% sure of his best position, but I do see a bright future for the player, whose recently signed a new deal at the club.
The Potential
Rubén Neves has been strongly linked with the club in recent months. The 18 year old Portuguese star has taken many by surprise with his performances domestically for Porto, but also in the Champions League. A player who loves to dictate and create from deep, he plays with a maturity and level of calm so impressive already, in his short career. His stock is high and Porto notoriously drive a hard bargain. He wouldn't come cheap, but is an outstanding prospect.
Ilkay Gundogan is a player Jürgen Klopp would love to be united with, which I'm sure is music to all Liverpool supporters ears. The Dortmund star, still only 25, has all the required qualities to transform our midfield fortunes. Tactically flexible to play in almost any midfield role, he's effortlessly good at times and such a joy to watch. Creative, incisive and quick with the mind and body, he really is an excellent player. Contracted for another 18 months, Ilkay could well be available next summer. Without doubt we'd not be the only club interested. Although his injury record does make him a risk, to some cautious clubs. I for one would be delighted for LFC to take that chance.
Christoph Kramer is an athlete. At 6″3 he'd add some much needed presence to our midfield, with added strength and power. He's a player you look at and marvel at the quality he has on the ball. Technically sound, with excellent passing and control. He's a very focused player, something others in our team could benefit from. He'd add a much stronger shield in front of our defence and honestly be an excellent signing.
William Carvalho a player whose stock was firmly on the rise, after being player of the tournament at the Euro U21 last summer. Consistently linked with LFC and other EPL clubs over the last few years, only a long term injury in the summer cost him a dream move. Still only 23, the Portuguese enforcer would add some much needed physicality and raw power to our midfield. Disciplined and positionally astute, with confidence and control on the ball. He'd be an excellent signing for the club and a statement of intent.
Finally Xabi Alonso, a man that needs no introduction to Liverpool supporters. In my personal opinion, Xabi has unfinished business at the club. At 34, he is in the twilight of his illustrious career, but a player of his undoubted quality cannot be ignored. When I described my midfield idols, this man sits firmly among them. He's oozes class, can dictate play like few others and would be a wonderful mentor for the likes of Chirivella and if he were to sign Neves.
The Changes
I expect changes in midfield, but perhaps not as wholesale as I first expected to happen under a new manager. Jürgen is clearly open to give each player an opportunity, but don't let that fool you into thinking he won't be ruthless to change it, if he sees fit.
The Defensive Midfielder
Lucas is the only one we have in the squad. Right now he's there on merit but clearly needs competition at the minimum, or ideally a replacement. Kramer would be my choice from the list above, athletic and strong ideally suited to the league. But if not him perhaps Carvalho comes into thought, as he looks a natural fit and has the ability to make an instant difference. It's fair to say neither of the above may arrive and another player from the Bundesliga may be sought. It's a division full of strong, disciplined and physical players and I'm sure we'll see one arrive in due course.
The Box to Box
Henderson and Can are likely to compete for this position, but both have flexibility to play in different roles and different formations, if Jürgen wants to add a third player to his midfield. Henderson as captain likely takes the role, he's also more influential with goals and assists than Can, at this current time. But there is room for both and maybe one more. Ilkay Gundogan, a player whose role is hard to define. He's flexible in the sense that he can dictate from deep, but create further forward. He really has it all and despite the injury issues, would be an ideal fit at the club and a real coup.
Deep Lying Playmaker (DLP)
What we lack is a deep lying playmaker. Whilst Chirivella may eventually fill that role, looking at those linked above you can see that's something on the managers mind. Joe Allen is the only current player technically able to fill that role, but I can't see a resurgence to the levels required. The longer term choice is Neves, who undoubtably will be top class one day (very soon). But Xabi may work perfectly in the interim and still has enough to his game, to compete at EPL level.
My Hopes
If we're to ever have hopes of competing within the Premier League consistently and against Europe's elite, we need a midfield of a much higher calibre. In Lucas, Henderson and Can we have 3 of a possible 6 we require, when you consider the number of games we play over the course of a season, injuries, suspensions and depth for tactical flexibility. Under Rodgers I'd worry about managing six midfielders, but Klopp knows how to rotate and motivate. When and why to use individual members of the squad, depending on the opposition.
In an ideal world we raid the Buli for Kramer and Gundogan, two players who could form a formidable partnership. Those two to me offer the greatest flexibility and an instant return at reasonable fees, allowing funds to be utilised in other key areas. Add Chirivella over time as a DLP and you complete the midfield with the right mix and strength in depth.
Equally I see merit to buy Rubén Neves, whilst also bringing in Alonso to not only play, but mentor the young Portuguese star and develop his undoubted world class potential. That leaves us a DM short, but if we could afford to raid the Primeira Liga a second time for Carvalho, then Jürgen could build an exciting midfield with the players at his disposal. Again this is a good mix of youth and experience, adding some key balance.
All in all, I must say I'm relishing who comes, as the calibre of players linked excites me. You can see Klopp knows that changes are required and it's only a matter of time, before we see a much needed injection of quality into the midfield. Since Xabi Alonso and Javier Mascherano departed, we've simply not had a strong enough pair to truly dictate and control a game, against an elite side. If we're to bring success back to the club, this is the area I'd address first, swiftly and decisively. Once we do that, you'll start to see the managers philosophies further implemented and that can only be good for the club in the short and long term.