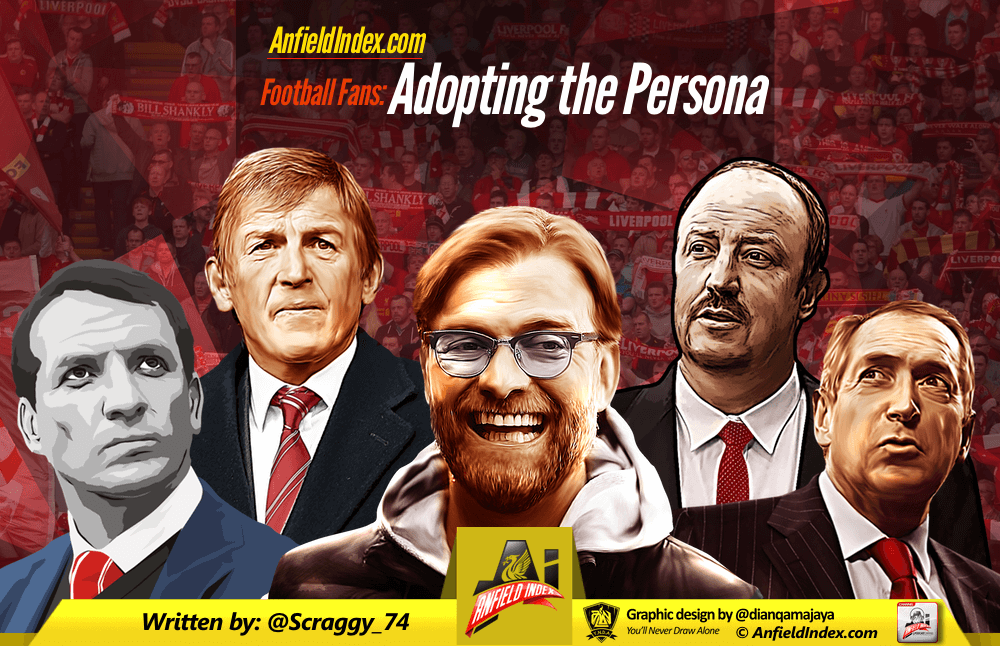 Football Fans: Adopting the Persona

I'm a great believer in the theory that some football fans subconsciously adopt the persona of the manager that leads their club of choice. How the mentality and outlook of the man that picks the team, the man that holds the fans very mood for the rest of the week in his hands, will be transmitted into the psyche of the fans within a relatively short period of time. Football fans basically want to buy into the product the manager is trying to sell to them.
Football fans want to 'get with the programme'. They want to see through the looking glass, to view their club through the eyes of the man that pulls the day-to-day on pitch strings. Football fans will absorb the complexities of the manager more and more in a bid to be able to second guess what is going to happen next. The manager represents the club and so do the supporters. It all becomes a symbiotic relationship, or at least it does until the manager loses the dressing room and/or the supporters.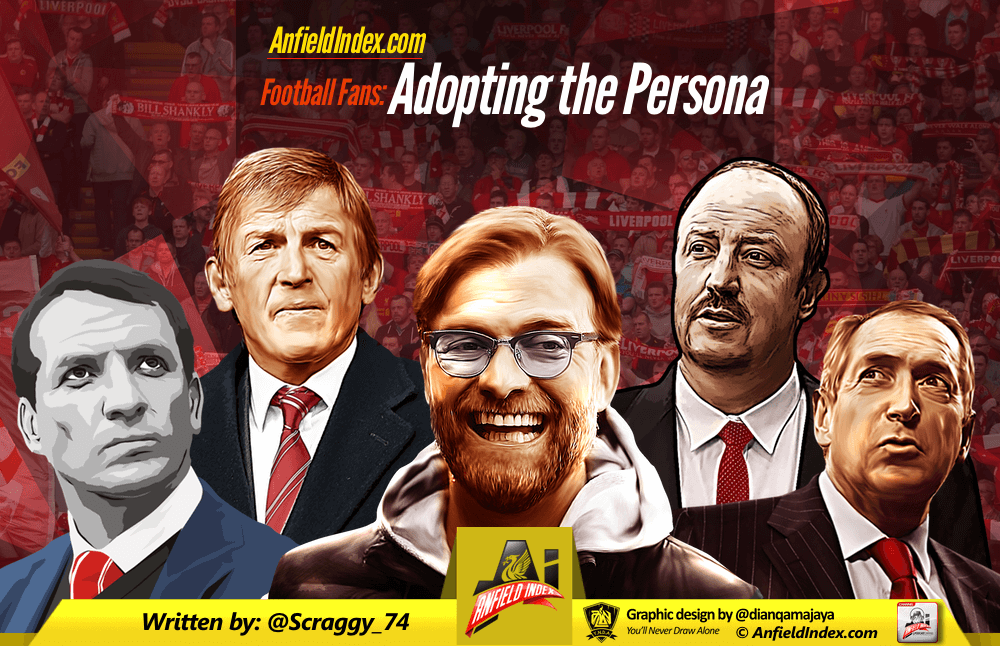 Adopting the persona isn't an exclusive concept to just one set of football fans; it is very much a universal ideal. Arsenal fans, once a pragmatic set of people throughout the 1970s and '80s then grew to become trophy hungry yet functional and practical under the George Graham era. By the time Arsene Wenger rolled into Islington their fans became the standard bearers of the beautiful game as far as London clubs go, in a quantum shift that saw them grab that traditional 'holier than thou' position from Tottenham Hotspur fans. Arsenal and flair football were never really associated with one another prior to the dawning of Wenger. It had always been that droning mantra of "one nil, to the Arsenal".
Chelsea fans, like Tottenham fans, had had their occasional flirtations with flair during the 1960s and early '70s, but by the 1980s had become the angry little man of English football. They were held at bay by the taller kids by use of an outstretched arm and hand to the forehead, while the angry little man Chelsea swung punches that wouldn't land. The flair version of them returned during the mid to late-1990s under Ruud Gullit and then Gianluca Vialli, wrestling the London style council role from White Hart Lane for a while until Wenger's Arsenal mugged them both.
Chelsea's fans followed their managers. Stylish football brought notions of stylish personas. Suddenly the whole Kings Road ideology resurfaced for the first time since around 1972. Chelsea fans had shaken their Millwall'esqe aura of electric fences and pitch invasions. Then in came Jose Mourinho and he turned them all into a gang of successful insufferables.
Everton fans, apart from that four season span of success during the mid-1980s, have matched the vast majority of their managers in playing on the down-trodden, older but less successful sibling, to their younger, smarter and more attractive little brother across Stanley Park.
Down the wrong end of the East Lancs Road, Manchester City fans struck the chord of the weather beaten, seen every disappointment in the book several times over and invented a few new ones for good measure hue to perfection. Managers came and went on a regular basis, but the rain cloud never blew away. Even with the arrival of middle-east riches, old habits insisted on dying hard. Manchester City fans have essentially had to stop thinking like Manchester City fans. 'Typical Citeh' still lurks beneath the new born outer boastfulness even now.
At Old Trafford in pre-Alex Ferguson days, there was a personality that exuded an overblown sense of entitlement. They felt they should be winning league titles, but they couldn't win league titles. Tommy Docherty, Dave Sexton and Ron Atkinson all talked the talk, but failed to walk the walk. The fans followed suit. Ferguson was travelling the same path until he stumbled on the right formula eventually. Manchester United fans went from having that sense of denied entitlement to Ferguson's full-on arrogant bastard mode.
Then there's us.
Liverpool fans of the 1960s and '70s bought so deeply into the teachings of Bill Shankly that he succeeded in not just simply building the foundations of a footballing empire, or not only shaping an enduring footballing ethos, he also won the hearts and minds of anyone who listened to him.
Shankly was emperor of all he surveyed. For a true feeling of this, Google up some images of the homecoming from the 1971 FA Cup final. An estimated 250,000 people took to the streets to welcome Shankly and his team home from a cup final they lost. As far as crowd control goes, Shankly had his audience in the palm of his hand. He could have told the assembled fans to march on Highbury and reclaim the famous old trophy and they would have willingly done it for him. In essence, Shankly was a preacher and Liverpool fans were his adoring congregation.
Shankly was a socialist. Not a party political socialist, but a community socialist by nature. If someone was in need of help then he would reach out a hand. Shankly was confident, he was brash and brutal when the occasion required it, he was firm, but fair. He demanded much from the people in his domain, but he gave back to them in triplicate. Shankly wasn't made within the city of Liverpool, but he was made for the city of Liverpool. It was an easy transition for Liverpool fans to become the embodiment of Bill Shankly. He wanted "to conquer the bloody world" and his disciples on the Kop believed he would do so.
The spirit of Shankly lived on beyond his departure from the manager's job in July 1974, even beyond his unexpected death in September 1981. For those who lived through that era and even for those of the following generation who were brought up and educated in the ways of Shankly, that spirit still flickers under the surface somewhere.
When Bob Paisley took over from Shankly the confidence and swagger of his predecessor remained within the fans, when instead of becoming an army of strong, often silent and unassuming, but ruthless and clinical flat-cap wearers, the fans instead kept much of Shankly and simply added a sprinkling of Paisley to the mix. Everyone became that little bit sharper of minds eye, everyone became an expert on the tactics and beauty of simplicity. We all evolved into a Shankly-Paisley hybrid. Eventually the wise cracks and put downs of Joe Fagan were tagged on to the list of inner soul ingredients.
By the time Kenny Dalglish took over as manager we hit the eye of the storm. In 1987/88 we had achieved the position of god-like genius. We were all not just one step ahead of the game, but two, three, four of five steps ahead. We believed ourselves to be unimpeachable, immortal even.
Then, along came winter.
Graeme Souness, a man who should have been well-versed in what was required to continue the seamless continuation of this bastion of invincibility didn't seem to 'get us' at all.
Souness was confident, he was abrasive. He was brash and brutal, yet often when the occasion didn't require it. He was firm, but at times unfair. He demanded much from the people in his domain and he wanted to give back to them in triplicate, but despite being presented with a club slipping into reverse gear he changed too much, too soon. Suddenly, Souness was adding antagonism into the equation. This was worrying and uncharted territory for those of us born into a world of annual Liverpool success. Souness was imbibed with much anger and it came to pass that so became Liverpool's fans too. We became Souness the manager. We became bitter and resentful as time wore on. The mirror image theory struck again, just not in the manner we expected.
Along came Roy Evans, who thought he could turn back the clock. For a while we, the fans, thought we could too. However, little had either party considered that what we needed to be doing was looking forwards rather than backwards? The old world order was in its dying days and a new dawn was creeping onto the horizon. Evans was the vision of hopefulness, at least in his early seasons in charge. The fans, in turn embraced hope too. Hope has since become the most painful thing a Liverpool fan can be put through.
Next, came Gerard Houllier, and the embracing of the new, of turning out to sea and imbibing new ideas and experiences. We became European adventurers and we prepared for greatness, we twirled our scarves and older fans spoke of it all feeling a bit like the early to mid-1960s again. We found our voices and our pride once more, we went gathering cups in May and made the Millennium Stadium the new Anfield South, but we fell short in pursuit of that elusive league title. We embraced it all with a Gallic shrug.
Rafael Benitez carried on with the concept, as we climbed even higher European mountains, swapping our French flags for Spanish ones and expanding our minds from what was at times the conservative approach of Houllier. Benitez was Zen-like, almost a footballing Yoda. We all became technical experts in ways none of us had previously really been. Football had always been a simplistic entity and now we were reading between the lines, we saw things unfold in slow motion. We cracked the matrix. We mixed Benitez-like academia with unbridled passion at times in the stands. It was the one disparity really. As Benitez kept his cool on nights like Chelsea in the Champions League semi-final, we raised the roof. Eventually the promised land of the league title appeared, and then it vanished once again. By the time Benitez departed we had become a part of him as much as he had become a part of us.
Since the days of Benitez, we've mirrored Roy Hodgson's curmudgeoning manner, Kenny Dalglish's intolerance of the modern game and the media circus which surrounds it and Brendan Rodgers near unsubstantiated optimism and belief that mountains can be moved. In 2013/14 he really believed in Christmas and so did we. It might have been in part a PT Barnum act with Rodgers, but we again adopted the persona.
And so on to Jürgen Klopp we move. He punches the air; he speaks his mind and pulls no punches in doing so, he bollocks players for a lack of urgency, or for not being ready to go on to the field of play as a substitute. Klopp doesn't accept a lost cause. He has many scouse overtones already. We, as fans are inevitably going to adopt his persona. There are already many signs of it appearing and we'll do it all over again with whoever succeeds Klopp too. For now though, we're all going to be turning just a little bit Germanic.