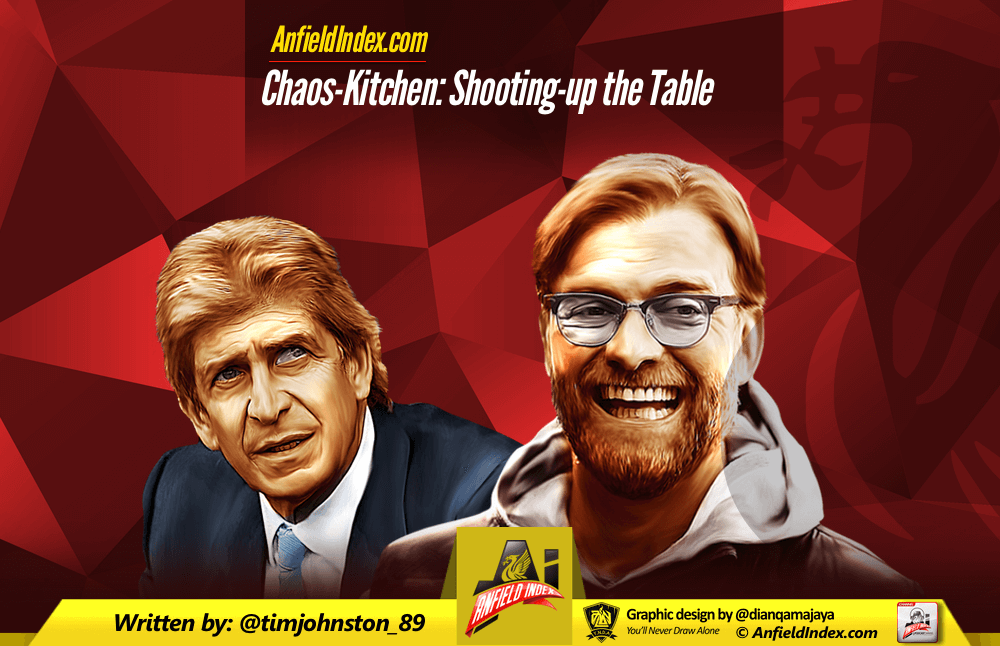 Chaos-Kitchen: Shooting-up the Table

Delicate. Intricate. Profligate. Manchester City's candy-cane tower has come crumbling down.
Forget City's Soufflé-style of calculated luxury: we've entered Jürgen's Black Forest Gateau of Mayhem.
High-class  pomp has been decimated by working-class passion as the Moneyball-marauding FSG out-bought City's billions in all areas.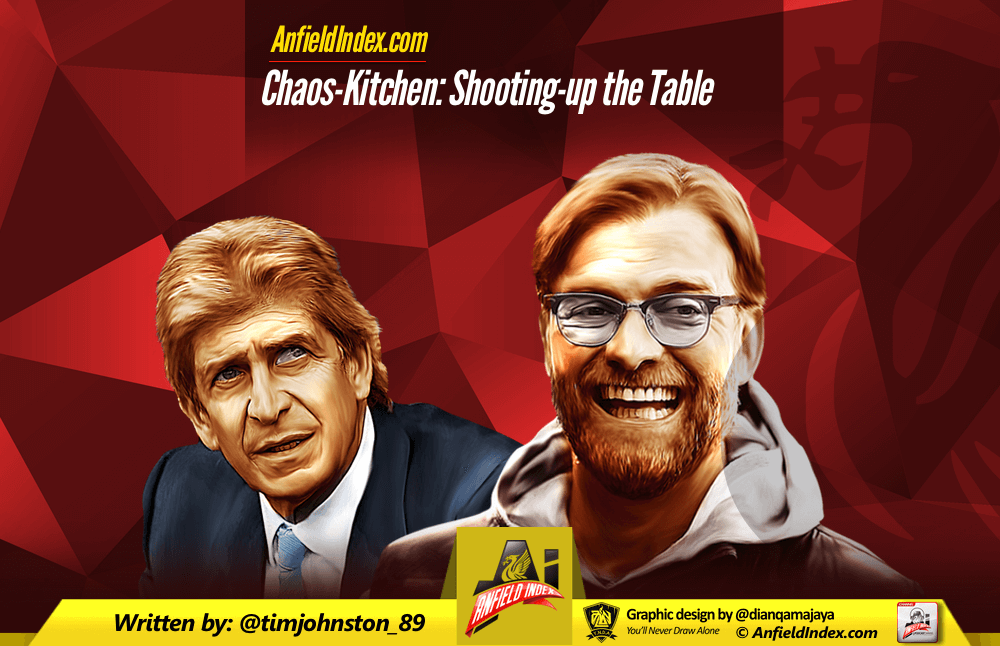 On sponsors alone, Liverpool's Subway, Gatorade and Dunkin' Donuts deals dwarf against the likes of City's Nike, Aabar and Etihad Airlines. Put this against a backdrop of City's £150-million-spend in summer 2015 alone and Liverpool's victory was more than a football match: it was a triumph of ideas.
Dunkin' Donuts was replaced by the "Fuckin' Go-Nuts" philosophy of a 90-minute annihilation exercise; pay-back for the £49 million transfer of Raheem Sterling just three months earlier.
But it won't just have been Sterling who cried himself to sleep on Saturday.
Pellegrini was "more than angry," finding it "difficult to understand why we should play so badly – not just one name but a complete team in defending or attacking possession." Denial after a performance like this is natural.
But let's be clear: Manchester City were only made to look average because Liverpool made them look average.
A first-choice Man City team (minus Kompany), versus a Liverpool team with three of its key players missing in Sturridge, Henderson and Sakho. Add the home advantage for City, the Sterling factor and a rejuvenated Aguero; there is no way to look at this victory other than Liverpool simply being too good for them.
The truth of the matter is this: Liverpool find themselves 8 points off first-place, having gone to Man City, Man United, Chelsea, Tottenham, Everton, Arsenal and Stoke.
In a month where current League-leaders Leicester play Man United, Swansea, Chelsea, Everton, Liverpool and Man City, the Foxes could be about to see a huge drop-off in form. We may not yet be at the "golden" 2 points-per-game 'needed' to qualify for the Champion's League; but win our next 5/6 games and we could be 1st by New Year; conceivable given the teams we will be playing (with a fit Daniel Sturridge and Jordan Henderson).
It would have been easy for Liverpool go have gone-out to the Etihad with a focus on defending and sneaking a goal if lucky. After all, we had Daniel Sturridge and Christian Benteke on the bench – an easy solution 'should the worst' happen. But we played as if they weren't there. And this was what was truly impressive.
Klopp said "we could do better", and he was right. We will do better. Not just because of key players returning from injury, but because we have shown that we are getting better, regardless of who's playing and who isn't.
The Crystal Palace game should be viewed in relative isolation. We have been on an upward trajectory since Klopp came in, and there is no reason to think this will stop.
A victory like this will give the players and the fans more belief in what Klopp is doing, and will improve performances and results.
The rest of the season will not be a cake-walk. But three weeks ago we made a Mess of Eton; Saturday we trashed the kitchen.
Jurgen's Home-Wreckers have left the stove on; Sturridge is about to light the match… and we'll be shooting-up the table in no time.