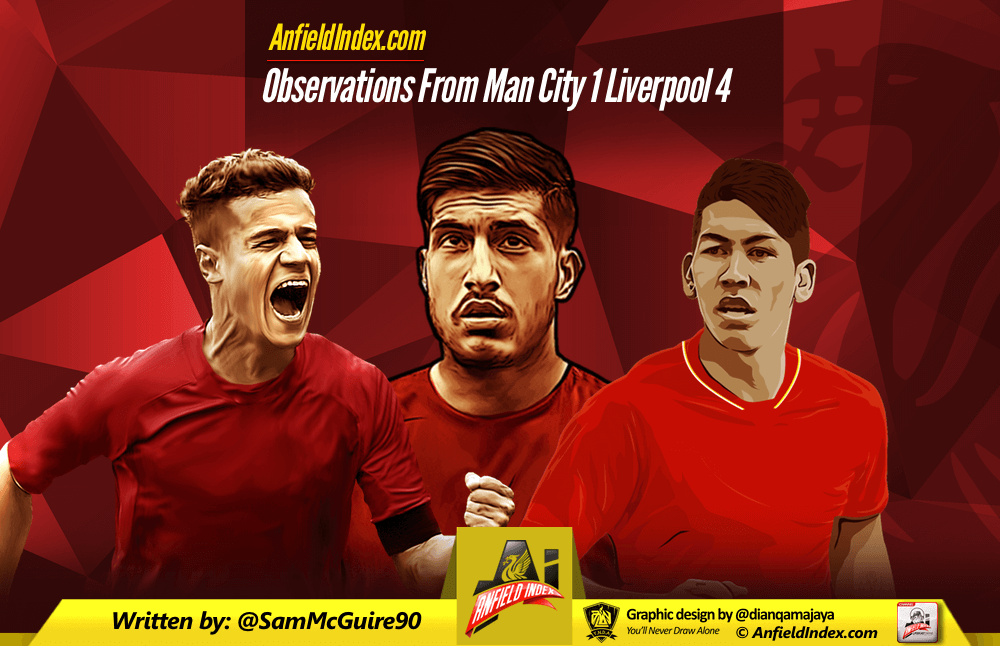 Man City 1 Liverpool 4 - Observations from the huge win!

Resounding. Frightful. Adjectives you don't usually see used for an away side at the Etihad in a positive manner. Liverpool bucked the trend.
I have seen many compare the mauling of Manchester City to the dismantling of Chelsea a few weeks back. On the surface of course there are similarities. Liverpool turn up in somebody else's backyard, mark their scent all over and come away looking as smug as Coutinho did, sliding away on his knees celebrating his goal making Liverpool fans forget all about that icy chill.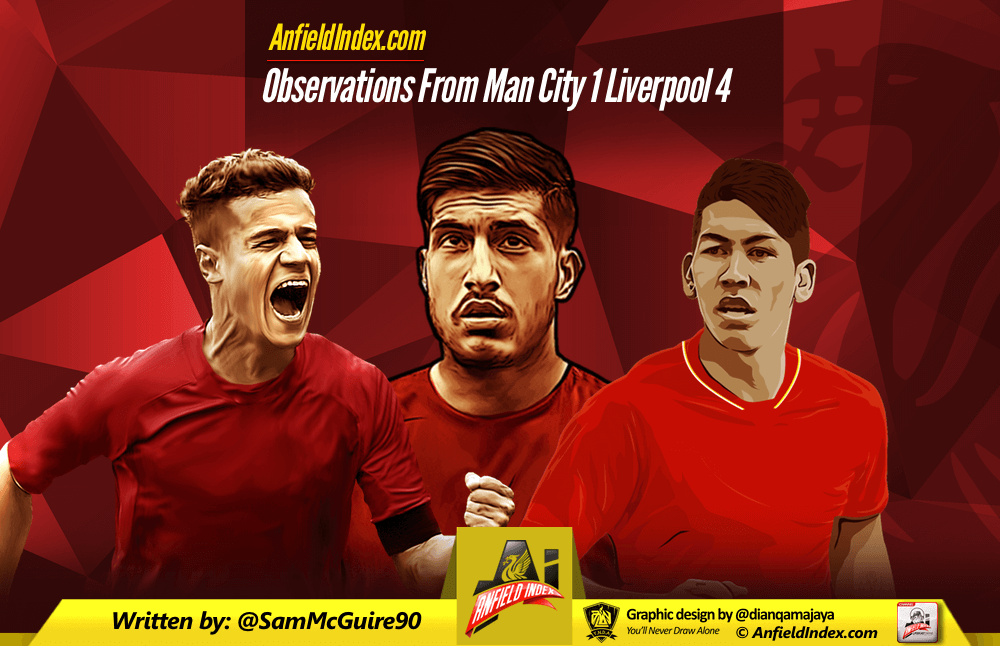 Scratch below the surface though and you'll see these two performances weren't alike. I would go as far as to say that they were completely different.  Liverpool didn't dominate the ball against City like they did at Chelsea. By default that meant Liverpool didn't dominate the ball like they did in the match against the latter. Instead the Reds played like ultimate opportunists. They pounced on mistakes and ravaged City on the turnover in play which saw the home side chasing shadows whenever they brilliantly broke on the counter. It was as if Dortmund had changed their famous yellow kits to a shade of red of for the evening.
Roberto Firmino was instrumental in this emphatic victory. Liverpool's newest Brazilian helped himself to two assists, a solitary goal and a lot more admirers after that performance. On another day Firmino could have had three or more goals had Joe Hart not been in inspired form despite conceding four goals.
The Liverpool number 11 has been slowly finding his Hoffenheim form since the appointment of Jurgen Klopp. Flashes of brilliance becoming a weekly occurrence. If he continues like this, we will revert to the Luis Suarez days of being disappointed if he only has one jaw dropping moment per ninety minutes. I still find myself a little dazed after his pass to James Milner against Rubin. Liverpool fans need to get used to this sort of player.
However, it wasn't just Firmino as he had help from friends. It was a brilliant team performance but the standouts for me were Philippe Coutinho, Emre Can and an honourable mention for Lucas Leiva. Liverpool now have the fortune of Brazilian flair and German efficiency in their side, but not in the conventional way. It was the Brazilian boys showing off their efficiency and the German showing off his flair. The first goal arrived after Coutinho hassled and harried  Sagna into a mistake. Emre Can's extraordinary vision and skill to execute a backheel that had the City defence doing their best impressions of school children looking inside an empty magicians hat after the rabbit disappears for the third.
It was very much the definition of a team performance.
Playing away from home is a phrase used when somebody is cheating on a loved one. In a way that's what Liverpool are doing lately. They're enjoying themselves away from Anfield. Many hoped we would see a fortress style Anfield, but it could be our away form that fires us into the top four at the end of the season.
The onus is on the home side to attack. By default there will be more space for Liverpool to exploit and we have seen this against Spurs, Chelsea and now City. Three tough away games and Liverpool are undefeated picking up seven points. Away from home, with teams a little more stretched, it allows Liverpool to isolate players, press effectively and win the ball in an attacking area and not have two lines of four to break through.
"Bouncebackability". Liverpool lost their last match against Crystal Palace putting in an underwhelming performance. There was a real possibility Klopp's record as Liverpool manager could have read played eight, won three, drawn three and lost two and they would only have been three points above Chelsea. Manchester City had been rampant in the absence of star player Sergio Aguero, his return yesterday had many City fans expecting a big win. Klopp showed though that he is changing the mentality of the players at Liverpool, the pressure was on. The bottler tag with Liverpool is something we have become used to but Kloppis gradually changing fans and players into believers. We had to win and we did so emphatically.
Football is a simple game and that's exactly how we're playing it. Simple yet effective. It's not often a side goes to Stamford Bridge and the Etihad without their captain, their best striker, their £32 million striker (and their best centre-back against City) and come away having scored seven and only conceded two. 
Mamadou Sakho spoke about being a caged lion during his time out of the starting XI. This Liverpool side is playing like a team that has finally been unleashed.