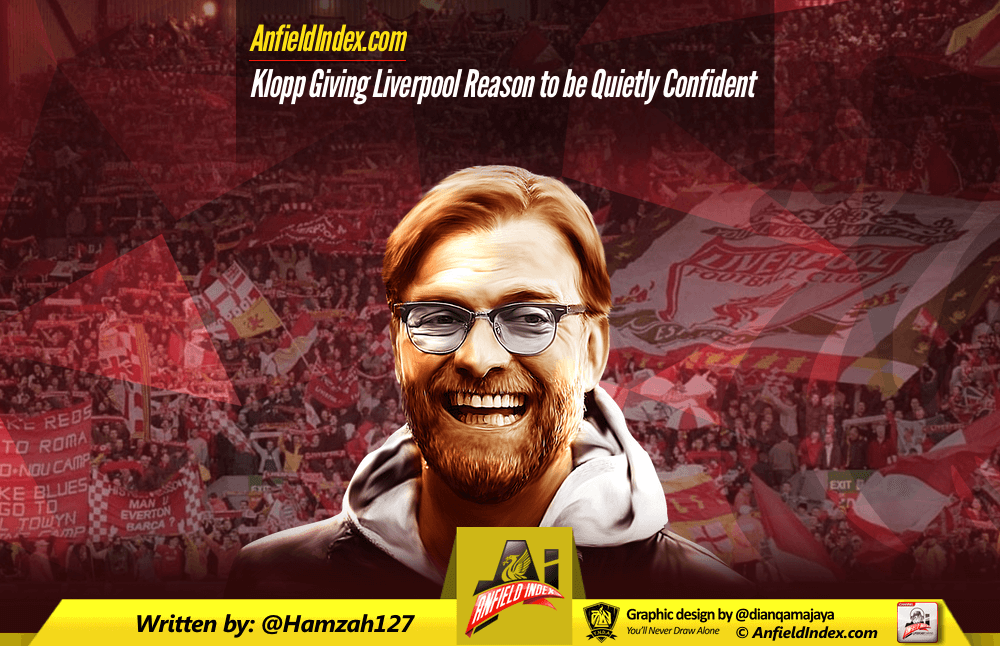 Klopp Giving Liverpool Reason to be Quietly Confident

Glorious, swift, stunning, prepotent, magnificent. I could go on. The performance against Manchester City on Saturday evening was one thoroughly enjoyed by the entire fanbase; the current title favourites were dispatched in their own stadium by a rampant Liverpool side that could have easily ended up with seven goals. Having seen off all of the major contenders for the top six spots away from home and suffering only one loss, there is reason to be quietly confident.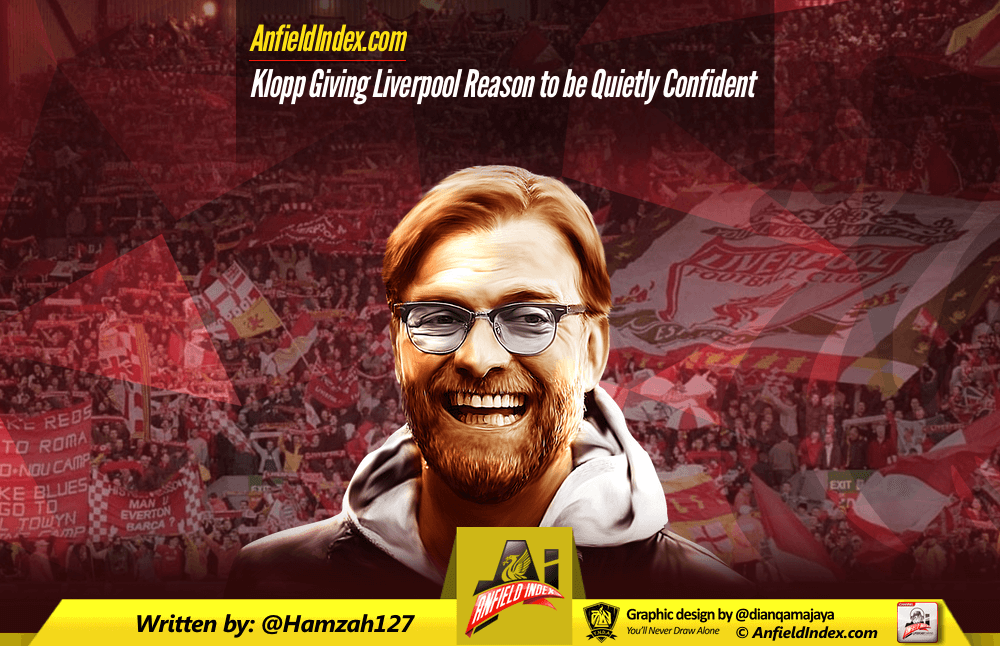 In the 2012/13 season, Manchester United waltzed to the title, with an 11 point gap over their nearest competitors, Manchester City; in fact calling Manchester City competitors that season is disrespectful to United, as that season there really was no competition at all for the title, with all the major teams that season, barring United, vying to be the worst competitors in recent history. Why bring up the 2012/13 season you wonder? It's simply because there are parallels here that are hard to ignore.
The current champions Chelsea are well off the pace, much like City were in 2012/13, and right now there is no clear favourite for the title, with both Arsenal and City suffering unexpected setbacks, handing United the impetus. This season, with most of the major teams struggling with injuries and performances means that the winners this season may not be the most impressive team in the league, but simply the least worst. Currently, the least worst team looks like United, who, despite poor performances, have only lost two games and managed to sit happily in second place behind the in-form Leicester. With the major teams in the league looking rather poor, all it takes is one fairly strong team to knit together a string of results in order to pull ahead.
The league may yet be shaken up though; Liverpool under Klopp right now look a scary prospect, dismembering both Chelsea and Manchester City away from home, whilst missing vital players such as Sturridge, Henderson and more recently Sakho, and having Benteke not at full fitness. With these players to come back, Liverpool could certainly push on in the way they did in 2013/14.
Indeed, the way Liverpool sliced City open on Saturday was reminiscent of one of the greatest Liverpool performances in recent years, the 5-1 demolition of Arsenal in 13/14; Liverpool pressed relentlessly, and created an endless number of chances, and only a combination of poor finishing and good goalkeeping stopped the scoreline from sending out an even more ominous message of intent to the title contenders.
To most, talk of the title is ridiculous and premature, but often the best opportunities for a title – like in 13/14 – is when the pressure is off teams like Liverpool, and pressure about winning the league is placed on competitors such as Arsenal, Chelsea and Manchester City, all of whom have showed signs of the pressure getting to them even now. Manchester United have certainly benefitted from little pressure being placed on them as title contenders, and back in 2012/13, the pressure of defending a title was too much for City, who crumbled and let United comfortably roll to the title.
Klopp has a vibrant, youthful & energetic squad that are looking to follow his instructions to the letter, and with both Sturridge and Henderson looking to make a return to first XI football in the c0ming weeks and with the next six league fixtures comprised of Swansea, Newcastle, West Brom, Watford, Leicester, and Sunderland, there is an opportunity to claim a decent amount of points to propel Liverpool up the table.
People will naturally point to the loss against Crystal Palace as a clear indicator that title talk or talk of anything beyond top four ambitions is premature, but during that match Liverpool played fantastic after conceding, applying pressure onto Palace and making numerous chances; only the fine performances of players such as Delaney and Dann stopped Liverpool from scoring as well as the missed chances of notably Benteke, amongst others. During that game, Liverpool played with authority and deserved at least a draw, but only poor set-piece defending – a simple aspect that can be rectified in training – denied Liverpool at least a point, during a period in which Liverpool were trying to chase a match winner; and even during the middle period of the game there was a palpable sense around the ground that not only were Liverpool creating decent chances, but with a bit of luck Liverpool could have scored a couple. To their credit, Palace were clinical, but in almost any season, all clubs will suffer setbacks in games such as the Palace one, but with no team currently emerging as the clear favourites, and all of them regularly dropping points, there is still a reasonable margin of points that can be clawed back, and in fact if Liverpool won against Palace, they would be sitting cosy in fifth place.
Regardless, with teams such as United and Arsenal due to visit Anfield in January, the earliest of those two matches on the 13th, Klopp and the committee have just under two weeks in the transfer window to strengthen the squad, before these important matches. A few additions to the squad, just to add both quality and depth would certainly be welcome, and would stand the team in good stead for next season too.
I would like to make clear that I do not at all expect Liverpool to win the league this season, but I find it reasonable to recognise the opportunity presented at the moment, with title competitors all dropping points and having goalscoring issues – whilst Liverpool now have goal scorers from midfield chipping in, alongside two recognised, consistent Premier League goal scorers about to come into the fore. If the performances that we have seen against City and Chelsea continue, there is certainly a chance for Liverpool to vie at the top this season, a fairly slim one, but one that need not be discounted so early. There are parallels with the 13/14 season, and whilst Liverpool may no longer possess the talents of Luis Suarez, it appears evident that Klopp has found a solution for the ultimate failure in the 13/14 season – the defensive deficiencies.
Players like Coutinho and Firmino are developing into match-winning talents, that will make a difference in this league; and as mentioned earlier, I may not expect us to win the league this season, or maybe even challenge, but the signs for the future are promising, with the foundations being laid for Klopp's promise of delivering a league title in his first four years. The point of this article is that I only ask that you acknowledge the opportunity that this season has presented, and with long-shot odds of 40/1, just consider sticking a quiet five pounds on.
Indeed, Jürgen Klopp's first objective of making us believe is approaching completion, what next for the man who can seem to do no wrong?