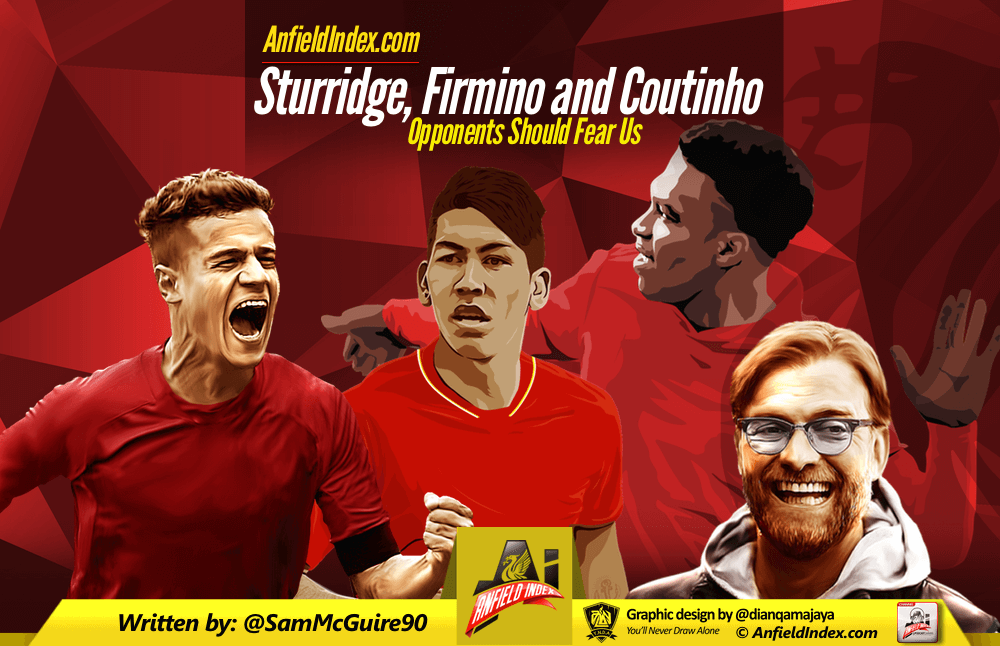 Sturridge, Firmino and Coutinho - Opponents Should Fear Us
"Where are the goals going to come from?" was probably amongst the top five questions Liverpool fans have asked in 2015. It's not like there wasn't cause for concern either, saying the Reds looked blunt up front would've been polite. The toothless attack is a mixture of Daniel Sturridge having shares in the injury table market, Brendan Rodgers playing systems that isolated strikers and latterly the misfortune of having injuries to Christian Benteke and Danny Ings.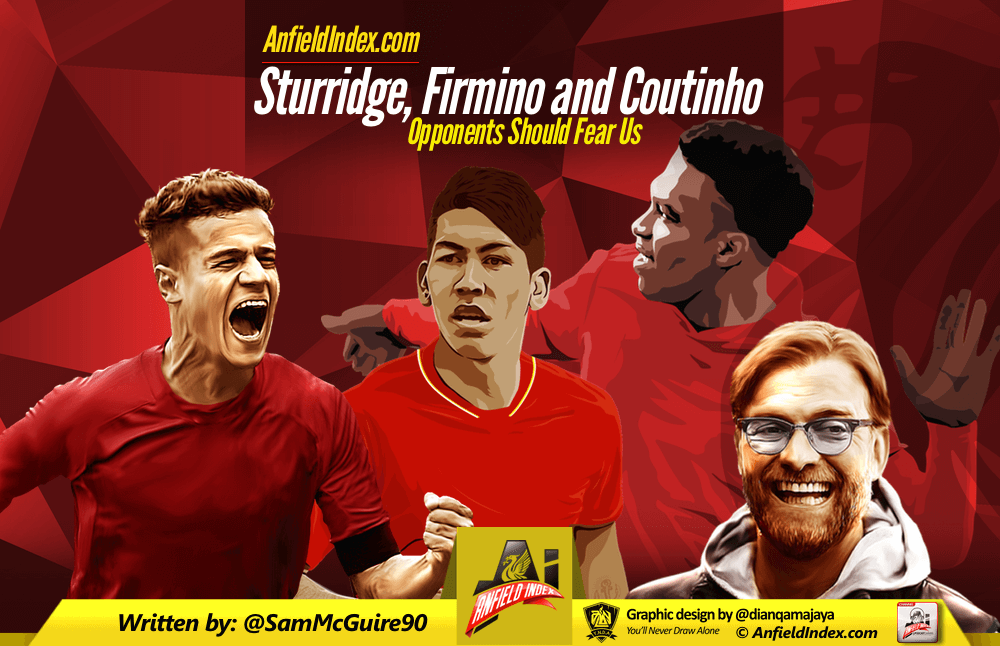 Liverpool have scored a worrying 17 league goals this season. To add some context to this the current league leaders, Leicester, have amassed a surprising total of 28 goals this season already. Depending which way you view this next stat it can be seen as a positive or a negative, in the last three weeks Liverpool have scored 8 of those 17 goals.

If you're positive you could say this is a good sign, the fact we're finding the net on a regular basis coming into the festive period means we have the momentum to go on a run of sorts. If you're a glass half empty type of person then you could be looking at the games prior to those last three and feel a little concerned about the fact we'd only scored 9 in those 10 games.
The two most encouraging performances under Jurgen Klopp have been away from Anfield and with the same attacking trio starting: Adam Lallana, Philippe Coutinho and Roberto Firmino. In these two matches Liverpool scored 7 goals with Philippe Coutinho getting on the score sheet on three occasions. It's the Liverpool number 10 that's been getting all of the plaudits as of late but it's very much a team effort. Adam Lallana is impressing and Roberto Firmino has been a revelation.
From almost retiring John Terry to tormenting Eliaquim Mangala, Firmino's presence in the final third has been instrumental in putting the opposition to the sword.  I'm not exaggerating when I say he's quickly turning into a Luis Suarez lite. His movement, his work rate, his creativeness and his overall class is evident when he's putting in man of the match performances against the teams that are favourites for the title nearly every single season. Our number 11 seems to get the best out of those around him.
Lallana is benefitting from having the two Brazilians beside him. His trademark Cruyff turn has been replaced with a new trick; the dummy. We witnessed it twice against Chelsea, kind of once against Palace and then once against City. He's stopped dallying on the ball and he's finally realising less is more. Less tricks and less touches has equated to more assists and more involvement in Liverpool's counter attacks.
*Ignore the Emre Can pass which is timed to perfection*   In the Vine you can clearly see Lallana glance to Firmino on two occasions so he knows where he is before bursting into the space and dragging the City left-back, Kolarov, centrally. He's switched on enough to dummy that ball due to checking where Firmino was moments earlier and Firmino is able to attack the space Lallana has created and get the shot away. This is a new Lallana under Jurgen Klopp.   Adam Lallana's selfless running plays a huge part in creating that chance and that's a common theme in the match against City. Lallana, Coutinho and Firmino all worked for one another.
Another example of selfless running, this time by Firmino. The movement from the attacking midfielder is something you'd expect to see from a seasoned striker. Watch him look up on three different occasions to check the line and to see the position of Kolarov and Mangala. It's almost eerie how similar it is to Suarez. Back to the point at hand, it's not often you'd see a striker make a run that takes him away from goal like Firmino did there but it's that bit of movement to cut across the unfortunate Mangala that leaves the Frenchman all at sea. that makes the goal as without it Coutinho is running into City bodies.
Trouble comes in three
These three are linking up, they're seemingly on the same wavelength, they're all contributing and they're all working hard for the team. If it isn't broke does it need fixing? No. Can it evolve? Yes.
A certain Mr. Daniel Sturridge is back once again and it's his inclusion that could take Liverpool to a completely different level. What he lacks in off the ball work he more than makes up for when he's in front of goal. It's this cutting edge that may change these comfortable wins into actual routs. Not only does he bring goals to the team, he gives them that pace in behind and he also brings the Sturridge factor. Teams will look at our line up and think "Shit. Sturridge, Coutinho and Firmino. Think I've pulled a hamstring boss…". By default the inclusion of these three will create space for the other two. We've seen what all three can do in space, you're then adding Lallana, Emre Can and Jordan Henderson into the mix and we all of a sudden have an abundance of options. We'll soon be asking where the goals won't be coming from. Jurgen Klopp's title winning side had seven players score five or more league goals, three of which hit double figures. This looks to be something he will want/expect from his Liverpool side and it actually looks like we have the players capable of doing it.
Daniel Sturridge isn't a static striker. He may not do much work off of the ball but he does like to drift and take up positions out wide, almost acting as a false 9 himself. This would be ideal if Liverpool played Firmino as a 10 and he was allowed to get beyond the striker.
As shown in the above Vines, Firmino wouldn't be your stereotypical 10 that tries to link the play and be the guy that grabs the assist. He's the sort to get into the area and is just as likely to grab as a goal as he is to set a goal up.
With a few tweaks and a few additions this Liverpool attack could be on the brink of something special. Teams in the Premier League aren't exactly famed for their defence so they should be fearful of facing Jurgen Klopp's Liverpool. All this without even throwing Christian Benteke into the mix. Let's not get ahead of ourselves but *whisper it* top four is very much on the table.