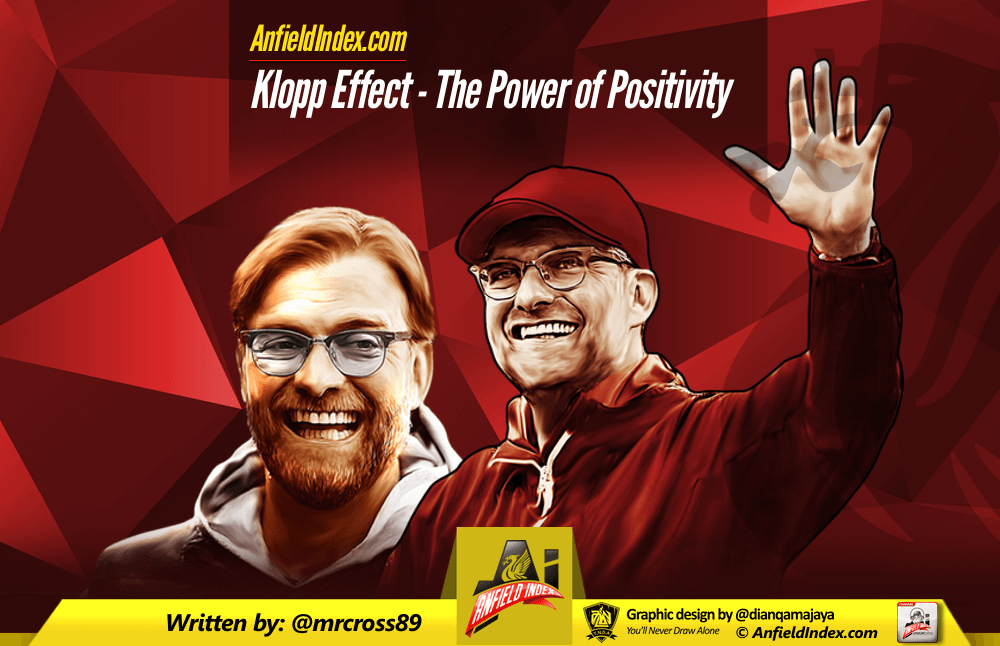 Klopp Effect - The Power Of Positivity
The Shackles are off Ladies and Gentlemen; our young guns are flying again!
Jurgen Klopp may have been right in putting the brakes on expectation, but how can you not be excited by what is unfolding before our very eyes?
1-6 at St Marys, 1-4 at the Etihad and 1-3 at Stamford Bridge are the kind of results dreams that send fans into dreamland. Even the most optimistic of fans would never have believed we would have come away with results and performances like that against three of the best teams in the league.

But under Klopp, anything is possible.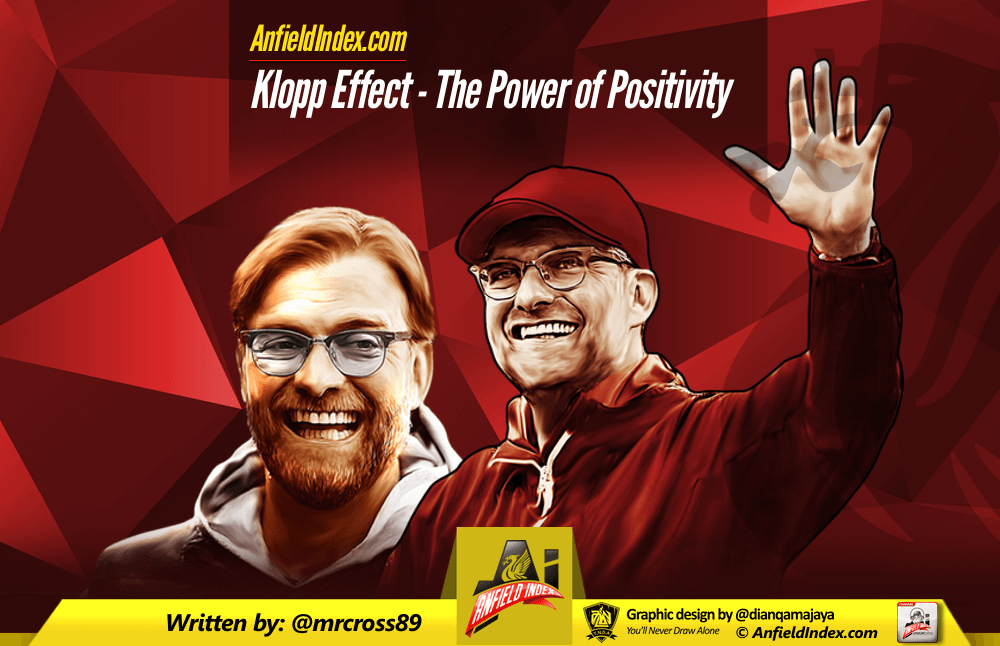 One defeat in 11 for Liverpool- six points off top spot- a cup semi-final and out best players returning from injury has put Liverpool in pole position to mount a serious challenge for a top-four place and silverware. The self-belief so lacking in this squad before Klopp's arrival has returned in ways that even Mystic Meg could not have foreseen.
It is no surprise that the players lacked self-belief before Klopp's arrival.
The scars of heartbreaks and deserters from the previous regime still lived fresh in the memory. One to many setbacks saw Rodgers sacked, and the players abilities brought into the spotlight. Many pundits ripped into Liverpool's performances, and many more agreed that they were not good enough to wear the shirt.
It can't have been easy for the players to have the media feed streams of negative opinions about their performances and manager. The debate about who was a transfer committee signing and who was a Brendan Rodgers signing sent out a message that there were players in the squad who were not good enough. Despite the criticism levelled at the team, they have shown excellent team spirit and have become a match made in heaven with Klopp.
The ever brilliant Gags discussed on his podcast after the City game about how good Liverpool were in their pressing game in the final third. Praise should rightly go to Jurgen Klopp for putting the plan together, but it could only work if the players believed they are good enough to dominate City. There were similar signs in the first 30 minutes against Swansea where Liverpool dominated the ball but when they lost possession, they regained it immediately keeping the pressure on their opponents from Wales.
What we are now seeing is a team that fears no one, and the players are injecting this confidence into the fans, who now believe we won't lose until the fat lady sings.
It has now become apparent that Liverpool's squad may not be so bad after all.  Jurgen Klopp has inherited a group of young, talented and hungry individuals who have yet to taste success as a team. When combined with the passion, energy and brilliance of Jurgen Klopp's managerial skills, it is a match made in heaven. The 6-1 demolition of Southampton is a perfect example that Liverpool's strength in depth is starting to come to fruition.
One of the key differences noticed about this team already is that they are beginning to make decisions more naturally, instead of overthinking. The game against Southampton was a perfect example of this Liverpool team evolving from a bunch of anxious youngsters, into cold killers.
Emre Can's recent assist before the assist against  Manchester City and his delightful assist against Southampton are a testament to that statement. A few weeks ago, Can would have thought twice before making the passes he made to set up Sturridge against Southampton and that back heel against City. The young German international was guilty of holding the ball up for too long and killing the rhythm of the attack, but now his decision making is improving at an incredible rate.
Adam Lallana looks like a player reborn under Klopp. His pressing decisions are far sharper than before Klopp's arrival. He also makes less Cruyff turns and more key passes to help the rhythm of the attack. Such is the belief Klopp has instilled in his team; the players are making the right decisions at the right time to devastating effect.
Jordan Ibe- who I previously discussed in my piece Ibe-lieve in Jordan– looks like the golden boy we all thought he was capable of being. And when Divock Origi, who even under Klopp's early days, was suffering from a lack of confidence, scores a hat-trick, the mind wanders on just how good this Liverpool team can be
Whether it's pressing, dropping deep, passing accuracy or forward runs, the players are starting to believe that they can perform their duty to the level required to compete with the top teams. Although we must praise our young guns, we must also accept that improvements can and must be made, for example, Emre Can making lung-busting runs with his heart when his legs cannot carry him any longer and thus getting caught out of position as rightly pointed out by Klopp after the City game;
'Emre is a young lad, he's full of emotion and everything but when you are tired in a game, then if you cannot make the way back, please don't make the way forward'- Jurgen Klopp for NBC
The hallmarks are there that at their sharp, clinical and decisive best, this squad can take on all-comers. But we must not get carried away and burden our team with pressure and expectation, but instead, inject them with hope and belief that these men are the men to take the club forward.
The power of positivity is a beautiful thing!