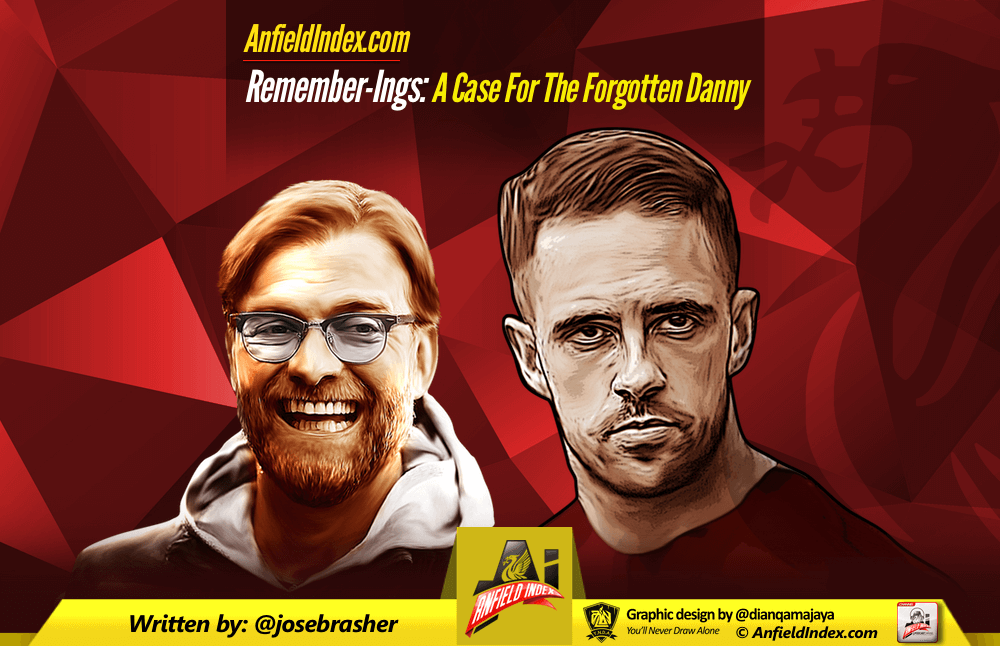 Remember-Ings: A Case for the Forgotten Danny
As the party raged in Merseyside and around the world in the week leading up to Klopp's first game, one small, bearded balloon silently wandered from the festivities, slowly deflated and then popped, lost to obscurity. Danny Ings, filled with confidence and swagger coming off his first English cap, limped back to the locker room at Melwood after just his first day of training with the German maestro, only to find out later that his ACL was torn and his season lost. In all the ups and downs of the last few months, and all the hysteria built around another certain injured Danny, we've all but forgotten about our impish, bearded workhorse that was a lone bright spot in many games under the last regime, at a time when there was very little to cheer about.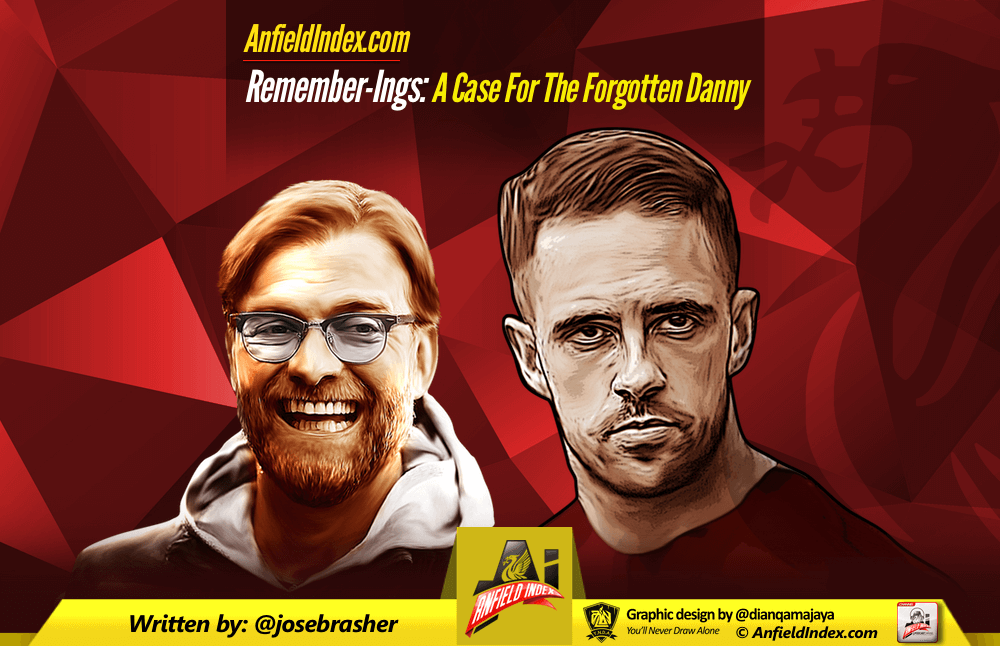 At Liverpool, we long for heroes. Heroes that will fight and bleed for the shirt, that will give their all and most importantly, that will score lots of goals.  Whether it be Hunt, Keegan, Daglish, Rush, Fowler or Stevie G himself, we love a good story to go with our good guys and a slowly simmering storyline at the beginning of the season was the revelation of one Danny Ings. A throwaway signing from a relegated side, there was little fanfare when Ings signed from Burnley. He was an afterthought to many, as we chewed our nails waiting for Sturridge to come back and debated over whether Benteke was the reincarnation of Andy Carroll. And to be fair, Danny didn't light the world ablaze in his first few games (though everyone seemed to be misfiring in those last days of Rodgers, even usually dependable Phil Coutinho), but what Ings did show was a fire to win and a motor that wreaked havoc on opposing lines. He poached his few goals and showed the confidence of a striker that acted as if he should score in every game he plays. The former Burnley man even had his first ever full England call up and we all held our collective breath as potential witnesses to the start of a possible meteoric (see Vardy-like) rise of a previously unknown English striker.

With the hire of Jurgen Klopp, Ings was the first name on many people's lips when it came to who was seen as a "Klopp player". Tenacious, pacey in streaks, with a knack for being in the right place at the right time (SEE inexplicable header against Everton), many (including myself) were extremely excited to see what Ings could offer in this reborn Liverpool side. And then in a moment of muscles pulling and tissue tearing, it all came crashing down. The possibilities shelved for at least another year, leaving many of us wondering what could have been.
Now from an objective perspective, stylistically Ings isn't a luxury player or even an especially skillful one. He won't dazzle anyone with his footwork or flare on the ball, but what he gives you is blue-collar footballer that works his balls off up and down the pitch (the first commandment for anyone in Klopp's starting XI), puts constant pressure on the defence, has sneaky-good, efficient technical ability around the box and a nose for finding the net. While risking sounding ridiculous, he at times this season reminded me of a bargain store version of Luis Suarez, or maybe a more apt and realistic comparison, a hairier version of Jamie Vardy. When Danny got his few chances under Rodgers, he often capitalised and was a constant nuisance to any sleepy centre-back or lackadaisical midfielder who crossed his path. We often hear the cliché and, at times, over-used rhetoric about the "weight of the shirt" but for an English striker coming to a club like Liverpool from a side that was just relegated, Ingsy seemed like he's always been here. Like he just came up from the ground with the #28 shirt on, ready to play. At the onset, after his first and magnificent goal against Norwich City, one might even had said he had a brashness and poise to his game that we hadn't seen in a Liverpool striker since a certain big-teethed arm biter roamed the grounds at Anfield.
A few months ago, in the last days of that other manager, there was a certain Vine that made its way around Twitter after the Aston Villa game. The short clip showed a diminutive red blur sprinting full on 70 yards to tackle an opposition midfielder, who was carrying the ball unimpeded, and helped flip the possession back to the good guys. While many people were praising the effort and heart that Ings showed in this small snippet of time, others downplayed the significance of the clip, saying "all he does is run" as if that was somehow a slight on him as footballer. Now, don't get me wrong, nobody is going to mistake Ings for Aguero, or even our own Sturridge when it comes to technical ability, but can you imagine Studge making a run like that after losing possession? Or our flat-footed grizzly bear upfront, Benteke? Ings brings something to the table that neither of them do: fight, effort, and an iron-clad stubborn determination. Klopp wants players that will open up their chest and play with their hearts and though anyone can run hard, most don't, but Ings does, and that's why he'd fit beautifully into this Jurgen side.
Now, moving forward and probably into next season after a few signings, once Ings should be primed for return, Klopp would eventually like to play his preferred 4-2-3-1, featuring a dynamic and pacey front 4 of heavy-metal hell raisers constantly pushing up field. Now I am not a tactician, nor the son of one, but when Klopp first signed I read every article I could find on his tactics at Dortmund and tried to project as to how they would translate over to our Redmen. From the little I do understand, the front attacking 4 in Klopp's formation should be extremely fluid and thrive off one-touch passing and intricate movement. The "wide" players in the three actually ideally stay tucked in and work on the interplay with the other two attackers. Meaning true width, if necessary, is provided by disciplined full-backs and not consistently from the attackers themselves. That's why I believe it's a bit of a misnomer to call these wider players in Klopp's system "wingers" because in the traditional sense they are not. They actually play more practically as two attacking mids, which is why we saw the likes of Marco Reus playing that role at Dortmund, and have seen Lallana and Coutinho patrolling those positions since Klopp's arrival at Liverpool.
With that in mind, there are two positions I could see Danny Ings potentially slotting into in Klopp's ideal formation. One, is of course the line leader and the out-and-out striker. We've seen Firmino successfully play this role that some have called a "false-9",  which calls for a player that can make runs in behind the defence and be the first one up the pitch putting pressure on the backline when we don't have possession. My fear with our current striking options, for the sake of time we'll just limit to Benteke and Sturridge, is that neither is truly willing to do the work needed or has the attributes necessary to be successful long term in this role. Benteke being too slow and lumbering and Strurridge perhaps unlikely to put in the extra leg work off the ball on a game by game basis. Ings, in this position, could give defences heartburn, running at them with the likes of Coutinho, Firmino, Lallana, Can and Henderson in tow. Realistically I do think we'll eventually sign a proper out-and-out striker who has the ability to hold up the ball at times, ultimately replacing Sturridge, who's injury record and questionable work rate off the ball will keep him from being a reliable first team choice. With that in mind, the position that could suit Danny "down the to the ground", as my English friends might say, is the spot right behind the striker, the number 10 if you will. Though I believe that too is misleading, as the role of this player in Klopp's system is not that of a traditional playmaker but that of a deeper striker, ready to make supporting runs into the box and play balls in from his deeper two midfielders. From that position Ings would have the ability to press all over the park and to also pick up the ball just in front of the box on counters, to then work interplays with whoever is running with him or in front, all without necessarily being the focal point of the attack. This position could fit Danny's strengths and cover his weaknesses and would tactically give the Reds more teeth up front.
Though we've had just a small sample size, Ings, when playing, reminded me of a what a "Liverpool player" should look like, and what made me fall in love with this club all those years ago. Heart, determination, scrappy-fight, the kind of never say die attitude that Bill Shankly would have loved, all were there for a flicker of time, only to be snuffed out by a cruel combination of chance and fate. All this to say, is Ings a world-class player? No, not right now and probably not ever, but what the 23 year old does have is the tools, work rate, skills and attitude to make for a perfect marriage between player and playing system, a situation in which Klopp has the opportunity to draw out the very best version of Danny Ings possible. Ings was made to play in this Klopp system and its the best chance for the young striker of reaching his true potential, wherever that ceiling might be.
So with this season, we've loved and lost. I'm not sure how it would have panned out if Ings hadn't of gotten hurt or if now, with two transfer windows in between him and his return, if he'll even have a chance to prove himself (though Klopp seems keen to give everybody a fair shake). But at the end of the day, Ings is a Klopp kind of player and Kop kind of player, the kind fans would love to get behind. All hustle and spit, he could fit perfectly into the kind of free-flying, balls-out approach that Klopp wants to implement at the club and has the potential to be a productive member of this team (and possibly starting XI) for years to come.
So for now, Ing-sanity is on pause, but as he recovers and into next year, Klopp should do his best to get what he can from this other Danny, one massive, bearded, German, bear hug at a time.