In America, there are essentially three types of holidays: 1) Those where we eat until we hate ourselves, 2) Those where we give overpriced gifts to each other, to later return them, and 3) Those where we don't know what else to do, so we blow things up.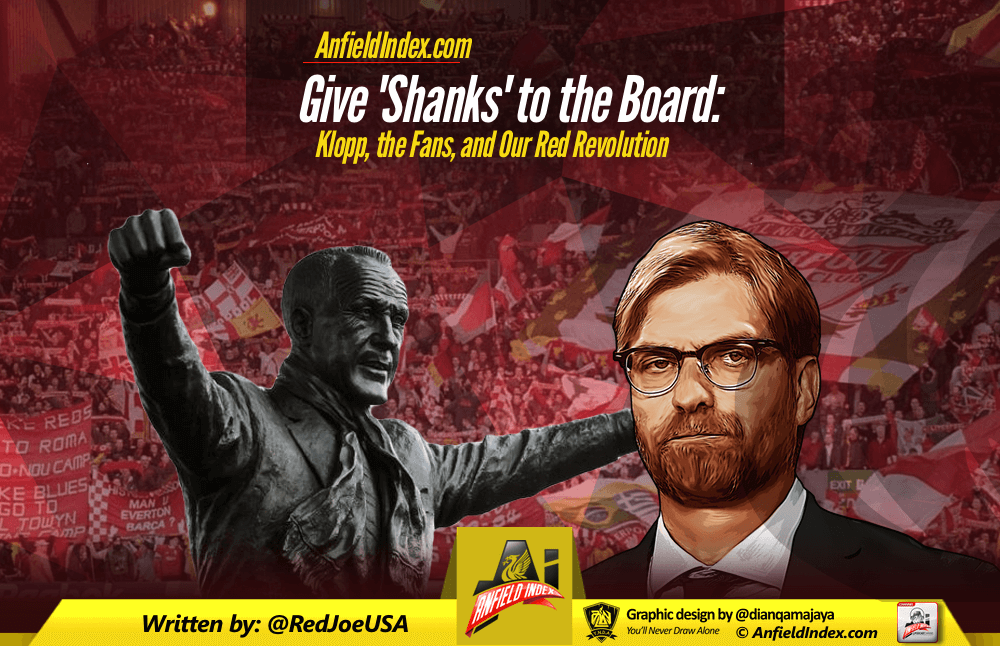 At present, we are closest to a holiday of the #1 variety, Thanksgiving; a day where we eat to celebrate the arrival and survival of our strangely dressed forefathers on these golden shores. As legend has it, they were welcomed and taken care of by hospitable Native Americans, who were in turn rewarded by being practically wiped off the face of the earth, but that's a story for another article. Whether this age-old tale is true or not has been debated, but it frankly is irrelevant because despite all the gluttony of the holiday, its principle and purposes are timeless: Let us be thankful for what we have, spend a day to putting things in perspective, and take a deep breath.

That's why I would like to inaugurate an international Liverpool fan day of giving thanks, a "Shanks-giving" if you like, a time for Reds the world over to take a deep breath, put things in perspective and count their blessings.
By way of personal narrative, I have not been a Liverpool fan my entire life. Growing up in America, I caught the early wave of enthusiasm about world football in early 2000s, and really latched on to the Reds during those confusing days of Rafa's exit and Uncle Woy's reign.  I never saw the glory days of our beloved team; the rise of Shankly's giants, the domination of Paisley's army, even missing out on Rafa's early European success.
Though I never saw these days, I have access to Youtube and Amazon just like everyone else, and have read about those Shankly teams and watched those grainy video of those 1980s squads rampaging up and down the pitch. I feel myself becoming nostalgic for something I never saw and couldn't have possibly been a part of. I imagine what it would be like to sit in the Kop and see Bill Shankly himself come roaming toward the stand with his arms held high, or what it would have been like to see Kenny Dalglish or Ian Rush score another brace to beat yet another team, knowing that you were watching history in motion. These are our memories, you Reds, and part of being involved in something as big as a club that has spanned the better part of 120 years is that those memories are collective and belong to us all in different respects.
So we, of course, first should be thankful for our storied and rich history, but that is not the aim of this wondrous and outrageous first-ever "Shanks-giving". No, because as one wise man once said, with a wild grin on his face and a thick German accent on his tongue, "History is great, but only to remember".  So we can look to the past and smile, but what of the future? Can we muster up the energy to be thankful, or even, dare I say, optimistic about what's to come?
Liverpool fans have gotten a reputation, of late, for our overall negative and pessimistic attitudes, being weighed down by the misfortunes of the present and the memories of the past. Always seeing the glass half empty, we're constantly looking for someone to blame or something to complain about, or as AI's own Manchester-based Scouser, Nina Kauser, put it in her last article, "Liverpool Fans Are Boss at the Blame Game".
I think one thing we have to be aware of as fans is that our new manager is not just here to train the players and rebuild the culture inside of Melwood. Klopp is also, slowly yet surely, retraining and reprograming us, the fan base, as well. When he said in his first ever interview that we need to turn from "doubters to believers" for Klopp this wasn't just some catchy tagline he could say and punctuate with a corny finger-point, it was a look into the heart of his overall philosophy. Klopp believes that for a club to be really successful that the players, manager and fans all have to be on the same page and moving in the same direction, with the board and owners only aiding to better this three-way relationship. Sound familiar? It should because it echoes the attitude of Father Shankly himself, who saw the "holy trinity" of players, manager, and fans as practically the only thing that mattered in football.
So as we see progress on the pitch, there will be stalls and stops, steps forward and steps back, but we have to understand that, in part, Klopp is changing us, the fans, as well. Klopp talked early on about the player's lack of belief in themselves, but also hinted that this problem extended to the stands as well. After some fans response to the heartbreaker against Crystal Palace, he stated that he "felt very alone at this moment". A man always careful with his word choice, even in a second language, it surely wasn't lost on Klopp what song we sing before each match, where we promise the players and manager that they'll never walk alone.
So for me and for all of us on this glorious, new "Shanks-giving" let us be thankful for the past. That we, as Liverpool Football Club, are the most successful team in English football history and have a trophy room bigger than Jose Mourinho's ego, containing more awards than Jose Enrique has selfies (which is more than you'd like to imagine). But let's also take a second and be thankful for the future, thankful that we have a manager that cares about his fans and wants us to improve just as much as his players. Let's also keep things in perspective, that this first year will be a journey, with just as many Crystal Palace's at home as Manchester City's away. Understanding too, that the players will progress and digress, and we as fans will likely follow the same path, with surges of belief and moments of doubt, only this time, the arrow will always be pointing up, always improving, always getting better, always sure under Klopp's steady hand. For me, I really don't care if we finish 10th this year and crash out of competitions because I believe in this man who is leading this club and know that he will get us where we need to go. So let's take a deep, collective breath redmen. We have to realize that the process really is everything to Klopp, because as he changes and revitalizes the team into a heavy-metal hell raiser, we too will be restored. I can see down the road that famous Anfield atmosphere, that many of us have never truly seen, returning and we'll walk on, with heavy metal in our hearts because we'll know once again that indeed "This is Anfield". Those opposing team will again fear those all-red kits that Bill Shankly once told his captain, Ron Yeats, made him look "7 feet tall", but all in good time, my fellow reds. Until then, let's just be thankful that the captain of our destiny is a crazy German bastard that cares about football as much as we do, and truly wants to see this team restored. Take a deep breath people, in Klopp we have something to truly be thankful for.
Here's to the future, you global Reds, Happy Shanks-giving, one and all.