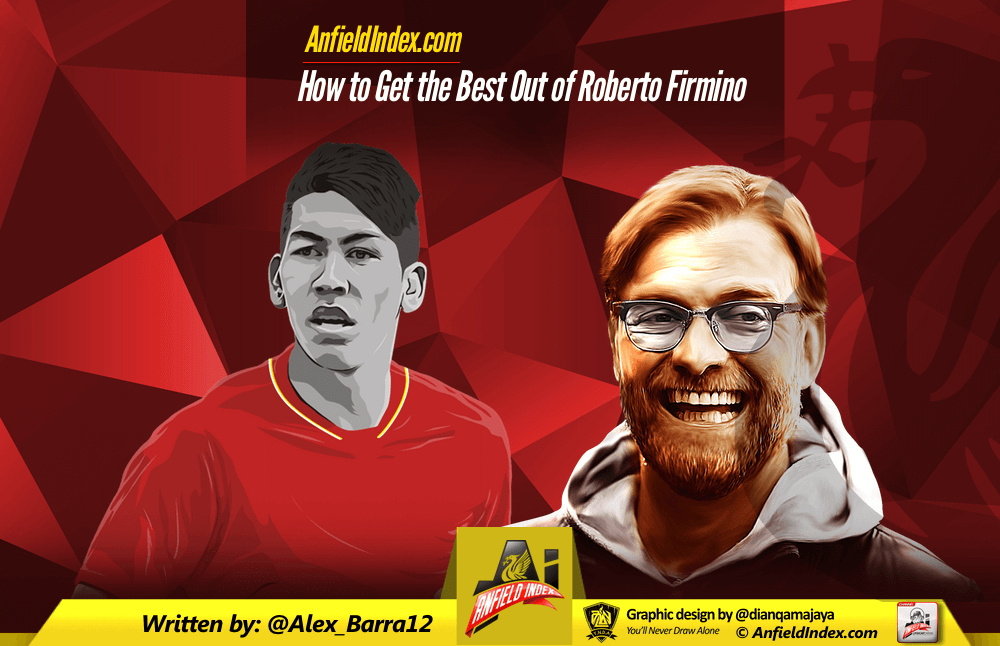 How to Get the Best Out of Roberto Firmino

Perhaps the most tantalising, definitely the most exciting, and overall the most mouth-watering prospect to come out of this season has been Roberto Firmino and his integration first into Liverpool, and subsequently into Jürgen Klopp's Liverpool. The pace, the guile, and the grace with which the Brazilian ace glides across the pitch with the ball have showed his promise, and the weekend's game against Manchester City displayed just how good Roberto Firmino can be.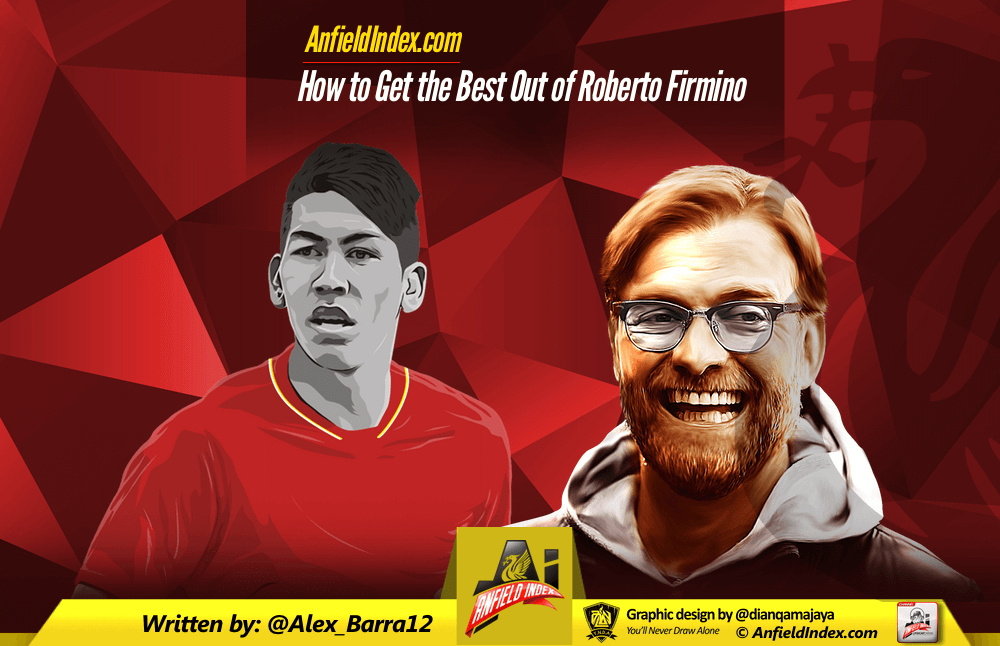 The signs are immensely promising. He's been in Liverpool's "best players" category consistently since Jürgen Klopp's arrival on Merseyside, and is finally seeing proper game time after former manager Brendan Rodgers was tentative to start him. Cameos off of the bench in his first two games were followed by a start at Arsenal; one where he immediately proved his worth. As near an assist as one could possible get; denied by marvel of a save from Petr Cech as Christian Benteke's strike was denied its passage into the back of the net, coupled with an impressive collection of statistics including three key passes, four out of five completed dribbles and three tackles showed Liverpool fans exactly how good Firmino could be.
Fast forward to the Jürgen Klopp era, and Firmino looks to be the chief benefactor of the German's arrival. From the infectious passion he displays on the touchline, evident in the bearhugs given to Firmino on multiple occasions, to his track record in developing promising young talents, the stage is set for Roberto Firmino to be a key figure under Jürgen Klopp, and he's already begun to demonstrate that very fact.
Should you need a second opinion on that fact, Martin Demichelis and Eliaqium Mangala would surely echo the statement.
The Pressing Maniac
You can imagine being a City defender and seeing Bobby Firmino charging at you, that maniacal glint in his eye, and you'd be slightly unsettled. Now imagine that happening once every 1.75 minutes, with less than a 1 in 5 chance of it failing. You'd be harrowed, scared to keep possession anywhere near him, and the performance in itself was enough to show the world what Roberto Firmino is capable of. Creating two chances, with a goal and an own-goal assist to his name, Firmino flourished when he was unleashed by Jurgen Klopp's high-intensity away tactics, and this was him acting as a centre forward, where more often than not he was the outlet when the ball was recovered. Deploued in his more pivotal role as the number 10, he could cause even more mayhem.
The Pivotal Role
Under Markus Gisdol, Hoffenheim's now deposed manager, Roberto Firmino flourished when deployed as the key figure of the attack. Whether it be as the main striker himself, playing behind Anthony Modeste or Adam Szalai in the Number 10 or pushed further wide opposite Kevin Volland, he was key to every move Hoffenheim made going forward, and the evidence is clear for all to see. 16 goals and 11 assists in a sublime 2013/14 campaign, and a further 7 goals to his name in 2014/15, with 10 assists to boot.
The outputs all stemmed from Firmino's proficiency and desire to be the figurehead of Hoffenheim's attack. His manic, berserk ability to press and tackle made him a perfect pivot on the counter attack; linking the play from striker to inside forward; he himself often getting on the end of attacks more often than those around him. So how can that translate to Klopp's Liverpool side? Most importantly, he needs to be made the pivotal attacker in Liverpool's front three, or four, depending on how we line up.
The partnership he's garnered with fellow Brazilian magician Phillipe Coutinho has manifested itself into something glorious to watch already; only six games into Jurgen Klopp's tenure. He was simply marvellous to watch; maniacally pressing the two centre halves who looked shell-shocked from being bombarded with such an intense level of scrutiny; the first, second and third goals all coming from some form of press. It was enough to remind nostalgic and desperate Liverpool supporters of a certain mercurial Uruguayan. The way he moves, the way he presses, even the lethal, incisive pass to set up Phil Coutinho, all offset by the fantastic movement he displayed as the tip of Liverpool's menacing, counter-attacking spear.
Utilise his Phenomenal Movement
Firmino's movement is terribly underrated https://t.co/QBE3frsNt6

— Sam McGuire (@SamMcGuire90) November 23, 2015
Firmino's talent is abundantly clear on the ball, yet it's his movement which has been the most sublime in his short term under Jurgen Klopp. Jordon Ibe's goal against Rubin Kazan, for example, was chiefly created by Firmino's movement. For every eye-catching run with the ball at his feet there's a diagonal channel being carved out in support of the man on the ball. For the first goal, he not only times his run extremely well; breaking using the space between City's centre halves, but with Coutinho's run occupying Demichelis' attention, Mangala's left with a choice to make, and Firmino's pace and movement is enough to ensure Mangala can't follow Firmino and ends up making the fatal mistake which ignited Liverpool's rampage.
In a similar vein, the ability to start central and confuse centre halves with a run either side of them on the counter-attack was displayed with one of the numerous chances Firmino carved out with his movement; Lallana's dummy in this instance providing a tremendous opportunity. Though his finish is slightly too close to Hart, the creation of the opportunity emblemised Firmino's efforts on the night.
Clever from both Lallana, to let the ball go, and Firmino to peel to the back. https://t.co/kYfqH1izCD

— Sam McGuire (@SamMcGuire90) November 23, 2015
Get him another Striker to Combine with
Perhaps the best thing about Firmino's performance was the idea of him being able to replicate this on a consistent basis; with a more effective role as the number 10. Coutinho's starting positions mostly came from wider on the pitch, where he could occupy the space on the counter attack vacated by City's eager fullbacks. Imagine what Firmino could do with the space in front of him if Daniel Sturridge had the two centre halves' attention. Just imagine.
Since the arrival of Jurgen Klopp, Coutinho and Firmino have combined 5 goals and 6 assist between them. The Brazilian combination, added with the finishing technique and additional flair of Sturridge, would only reap more goals. This is good, because prior to Klopp's arrival Liverpool scored more than once on one occasion; against Aston Villa, and scored only 9 goals in 10 games under their former Ulsterman. With a new philosophy, new confidence, and an impassioned front line, they look like a new team, completely reinvigorated. Add a certain Daniel Sturridge to that, whose movement mirrors that of Roberto Firmino, and the dynamism and excitement of the trio would have defenders paralysed with fear: just like the City defenders when Firmino ghosted through them like the phantom of the night.
Firmino literally ghosts past a static City defence. https://t.co/oOFGaMNHYT

— Sam McGuire (@SamMcGuire90) November 23, 2015
Should this happen, we could be looking at another talisman to get us off our seats, cheering maniacally, like we do best.