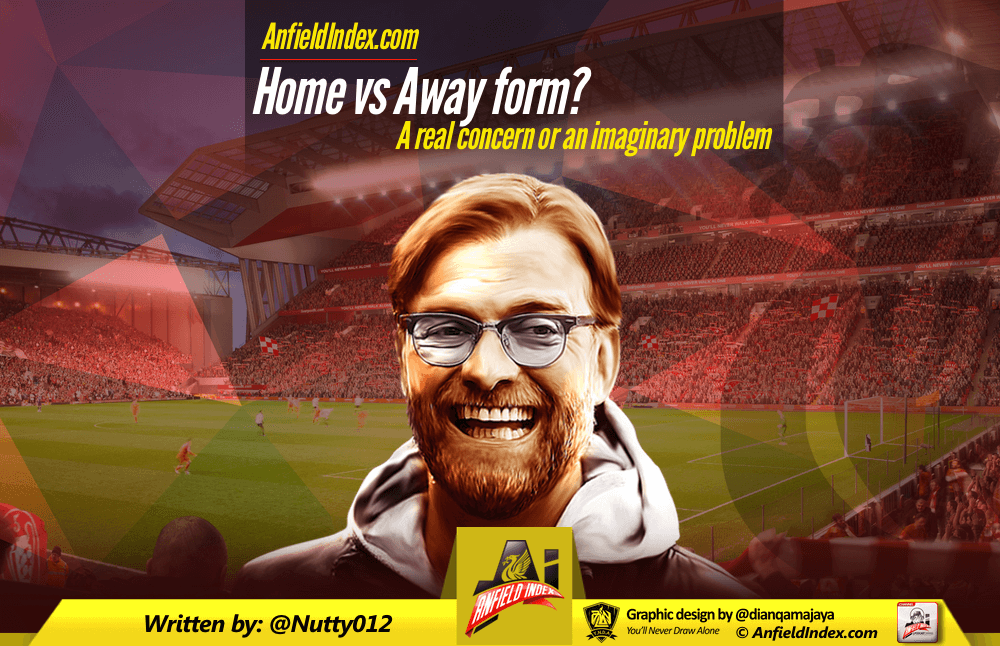 Home vs away form? A real concern or an imaginary problem
On Saturday, Jürgen Klopp's blitzkrieg offence claimed its latest high-profile away victim in Manchester City. After battering an already-broken Chelsea 3-1 a few weeks back, Liverpool could approach the far more difficult proposition of an Etihad away day with renewed hope, a hope that was certainly not misplaced. By the end of the game, City's defence was left a rabble, after a brutal demolition job from the trifecta of Coutinho, Firmino and Lallana. The 4-1 victory over City was better than any Liverpool fan could have imagined – the scoreline if anything failing to reflect Manchester City's complete annihilation at the hands of a performance that Jamie Carragher argued was one of the best in the Premier League era.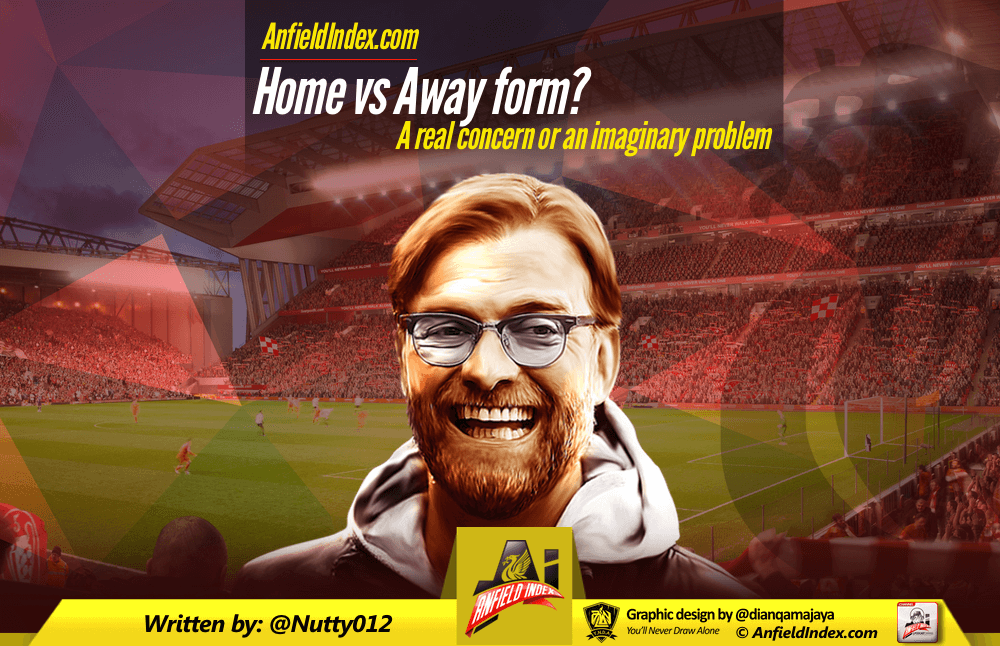 Along with the Chelsea victory, Klopp's Liverpool have now also nullified Tottenham's in form attack with a 0-0 draw at White Hart Lane, and put in a fantastic European away performance at Rubin Kazan to pick up a 1-0 win: three wins and a draw in four tough away games. The away record is contrasted though by distinctly average home form: draws against Kazan, Southampton and a loss to Palace are only offset by a 1-0 victory over Bournemouth. The trend seems to indicate that performances are better away from home than at home. However, I am going to try to thoroughly understand whether there is reason for Liverpool to be concerned with this phenomenon, or whether we can expect it to naturally improve over time.

Jürgen Klopp himself did not come seem particularly concerned in his press-conference on Wednesday morning with home form. He argued that home performances were improving, saying "there is not a big difference between home and away games, we're on the way to playing better at home." Is this true though, or should Liverpool be concerned with the pattern of worse home performances?
Against Manchester City, Klopp may have claimed that the performance wasn't universally perfect, but his wry grin and understated description of his side's counter-attacking as "pretty nice" was evident that in at least attacking terms, Klopp couldn't be more satisfied. If Klopp wants to replicate this style of football though, he may find it more difficult at Anfield than away at Manchester City. At home, teams are more attacking and thus commit greater numbers forward when they are playing at home and expected to win. This leaves space behind the midfield for players like Coutinho and Lallana to operate in, and space behind defenders that intelligent runners like Sturridge and Firmino can exploit.
If it is possible to replicate the counter-attacking that we saw against Manchester City at home, then it will be difficult – many lesser teams come to Anfield and are content to sit deep with numbers behind the ball, thus eradicating space for rapid counter-attacking football. The 2013/14 season may offer some answers in this regards: by taking the lead early in the game with high intensity football and pressing, before opponents had the time to settle into a defensive routine, visiting teams were forced to come out of their defensive shell and leave the spaces in behind that the likes of Suarez and Sterling could operate in. That pattern of play was particularly evident against Manchester City in the second half, when their defensive high line facilitated clear-cut chances for Firmino and Benteke.
Offensively, it is not like Liverpool are not blessed with other options. Sometimes the battering ram of Christian Benteke will be called into action, with the hopes of smashing through any parked buses. The natural width of our full-backs, or Jordon Ibe, will also help stretch teams sitting deep; technically adept midfielders like Lallana and Coutinho are more than good enough to play in tight areas in front of the defence, regardless of how deep a team sit; the likes of Henderson, Milner and Can will all put dangerous crosses and passes into the box, if not get in their themselves. Liverpool have a variety of ways that they can try to attack teams, so should not feel limited by the need to counter-attack, however good they may be at it.
Defensively there is little concern with home form, even if clean sheets have been lacking. By sitting deep, teams recognise that many of their chances will come from exploiting Liverpool's seemingly chronic inability to defend set-pieces. Klopp himself said that "most goals we have conceded [at home] are set plays. It's not easy to create chances against us". Klopp is right, but the individual defensive errors that the likes of Skrtel, Lovren, Moreno and Mignolet are prone to will always make Liverpool susceptible to conceding the odd goal, unless Klopp can do what Brendan Rodgers could not in terms of coaching out mistakes. It is possible, but we shouldn't expect too much too soon in this regard. It is more important in the short-term that the Stuttgart-born Klopp rediscovers Liverpool's attacking mojo, than overly invest in fixing an average but adequate defence.
The reason that the Klopp himself cited for a lesser performance against Crystal Palace was simply a hectic schedule: "The intensity of this number of tournaments, it's sometimes the price you have to pay – Palace was because of that. We have to learn how to handle this.". Perhaps the German has found himself in a no-win situation. The team he selected against Manchester City was selected because it contained players who had trained together for the longest; the implication of this is that rotating in players who haven't trained much would inhibit the development of performances. However, by not rotating his squad, the "intensity of the number of tournaments" will eventually catch up with players, resulting in poor performances anyway. Therefore, its likely that this is a problem that will gradually dissipate over time, as the whole squad becomes greater accustomed to the German's way of working, and Klopp becomes more comfortable rotating players to alleviate the problematic fatigue.
It seems that the rush to dichotomise Liverpool's home and away form has overlooked some of the contextual messiness of football. Whilst a counter-attacking system that suits playing away-from-home has been most effective so far, it is not to say that Liverpool do not have the personnel to play other ways. As the team grows more accustomed to Klopp's methods and demands, we can expect greater rotation, a greater variety of attacking systems, and a greater ability to adapt to our opposition. Klopp can't effect the international break, or the schedule of club fixtures, or injuries, or suspensions, all of which have effected home performances. What Klopp can do though, he is doing very well – that is, growing Liverpool into a formidable team again. We need not worry for solutions to imaginary problems like this, as Jurgen Klopp is the man with the answers.