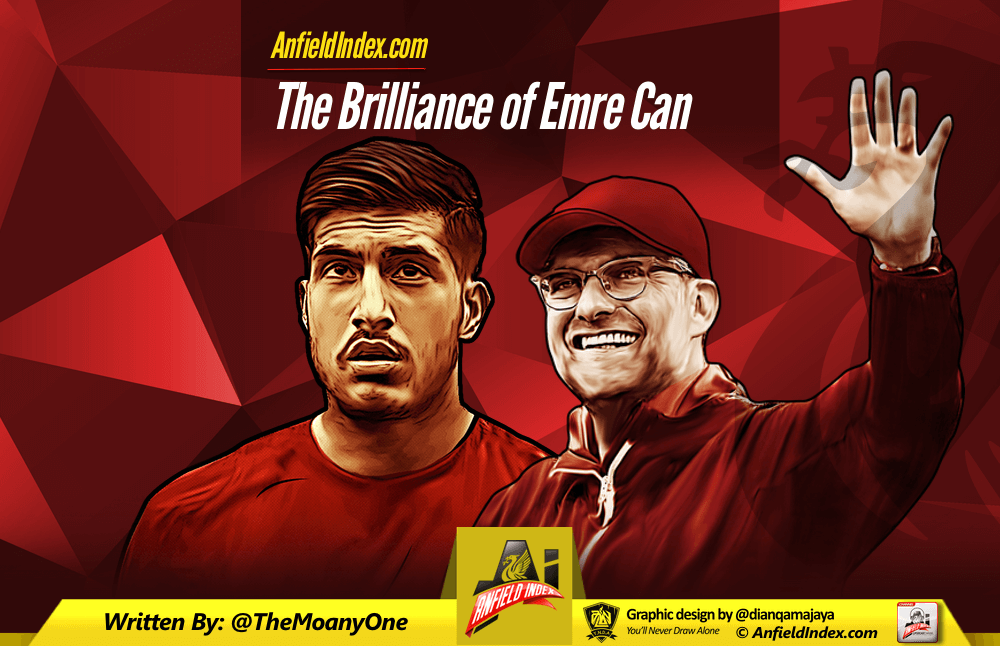 The Brilliance Of Emre Can
Emre Can, what can I say about him?
He's one of the brightest stars currently in the Liverpool team. His ability to play a number of positions, whether it be wasted in defence, ala the Brendan Rodgers era or in his more natural midfield position makes him an invaluable member of the LiverpooI set up. This was shown last season, when Brendan Rodgers utilised him as a centre back to give Martin Skrtel and Dejan Lovren a dig out and a right back (shudders). Such was the impact of him playing in the Liverpool defence, almost straight away the defence improved. Liverpool went on an unbeaten run with Can marshaling the defence. But as we all know by now Can's best and most natural position on the pitch is in the centre of midfield. Look at his performances so far this season there especially under Jürgen Klopp, he's set up goals and scored goals himself, he's even making Lucas Levia look good. (I will admit though Lucas has improved under Jürgen)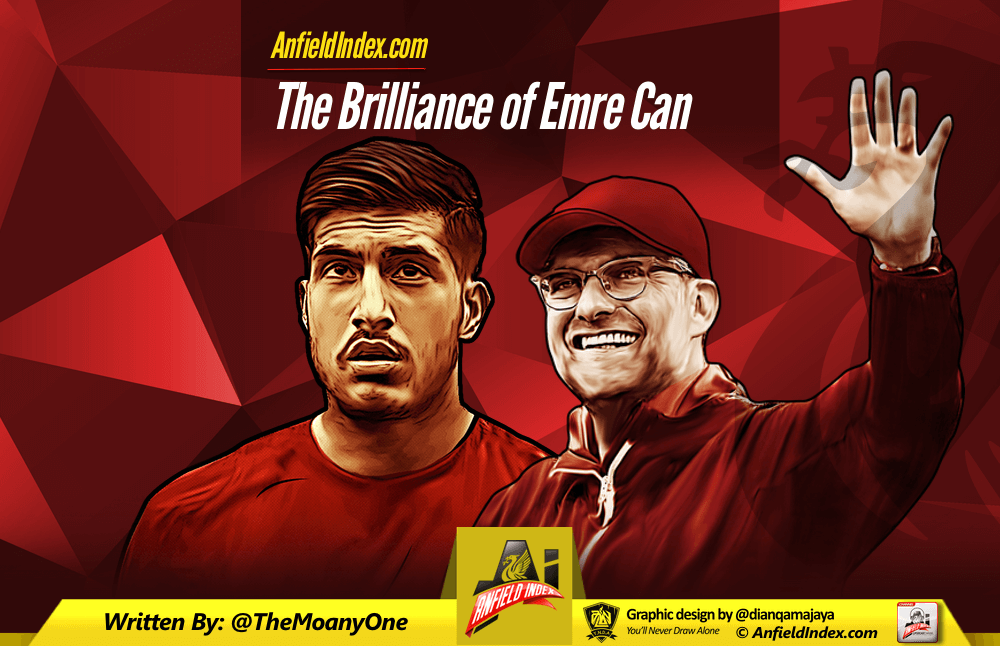 When he first signed for Liverpool and came into the team, there was little fuss from pundits, media and fans alike, as he was a relative unknown in the UK, unknown to all bar @Saki_LFC who has an intimate knowledge of the Bundesliga. He was quite excited by Can's arrival at Liverpool. The transfer of Can was a massive coup for Liverpool when they signed him in 2013 and has only been outdone for me last summer when Liverpool signed Firmino. For Can it was a big gamble to move to Liverpool away from Germany, he would be out of the spotlight for the German national team and the mighty Bayern Munich were also chasing his signature albeit they wanted him to sign twelve months later.
For years, so many players who came to Liverpool were touted as the replacement for the aging Steven Gerrard, players like Conor Coady, Jay Spearing from the Academy and even current captain Jordan Henderson was touted as a possible Gerrard replacement, and these comparisons were unfair on those players, the pressure the tag as the next Gerrard put added pressure on them to make it at Liverpool especially the players who were Liverpool born and breed. Sadly though for Conor Coady (whom I was a massive fan of) and Jay Spearing, this added pressure to succeed at Liverpool added to their inevitable down fall and release from the club.
But in Emre Can I genuinely feel that Liverpool have a long term successor to the role played by Gerrard, not for Gerrard himself, he'll never be replaced but his role within the team. Can is a box to box midfielder not a Defensive Midfielder as some have touted him to be. He is at ease breaking up attacks as he is at launching them. For me, Can is growing into one of Liverpool's most important players on the pitch. He has shown leadership qualities on the pitch in the absence of current captain Jordan Henderson and at times on the pitch, even stand in captain James Milner has looked to him for advice.
But like so many other players currently on the books at Liverpool, Can needs improvement. But he has age on his side as well as a certain German maestro managing him, who will get the best out of him.
For the last eighteen or so months I've proudly shouted loud and proud I'm a massive Emre Can fan. I could see the potential he has. Even when he played in defence he was a better centre back than both Martin Skrtel and Dejan Lovren. He was a rock who gave confidence to those around him and I was looking forward to seeing him play in his natural position for Liverpool. He was the standout player at last summers U21 Championships for me. He bossed the German midfield and to be honest left me giddy at the thoughts of him and Jordan Henderson in midfield. But my giddiness turned to dismay when Henderson got injured early this season and it looked like Can was doomed to be a make shift centre back again this season.
But recently he has excelled in midfield and my giddiness has returned, with the prospect of Jordan Henderson coming back into the team to partner him at the heart of the team. I'm hoping that Jürgen Klopp sees James Milner as more of an attacking player and builds the team around both Can and Henderson. Bar one game, the defeat by Crystal Palace, Can has been fantastic. That game he looked tired and shook and I saw some fans give him stick, but those that did, need to go back to January 2015 and count how many games Can has played for club and country. I bet you'll be surprised at the number of games he's played and I'll also bet you'll be surprised that he is able to maintain his stamina after playing so many games.
As I already stated I fully expect Can to fill the role vacated by Gerrard. I also have a sneaky feeling that he'll probably do it better than Gerrard and when he leaves Liverpool (I'm not going to pretend he's going to stay in England for the next ten years) it will take the club a long time to fill the void his departure will leave. And I'm also fully convinced that those who said he was rubbish will be the ones shouting the loudest about how great a player he was and what a loss he is to Liverpool.
For now though I'm delighted he is a Liverpool player and I'm going to sit back and enjoy his excellence on the pitch everytime he pulls on the Red jersey