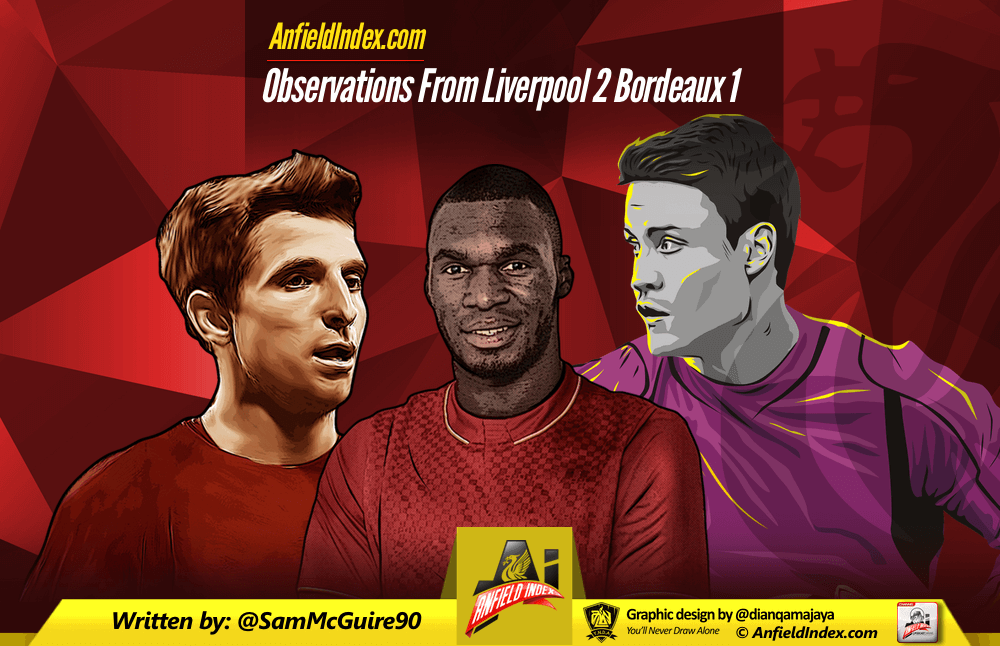 Job Done! Observations from Liverpool's win vs Bordeaux
It wasn't straightforward. That wouldn't be the Liverpool way and why would we have it any other way?
It was a far cry from the demolition of Manchester City on Saturday, but Liverpool picked up all three points against Bordeaux on Thursday evening. It was a victory which guaranteed the Reds qualification from the Europa League group stages without having actually performed that well in any of the five games to date.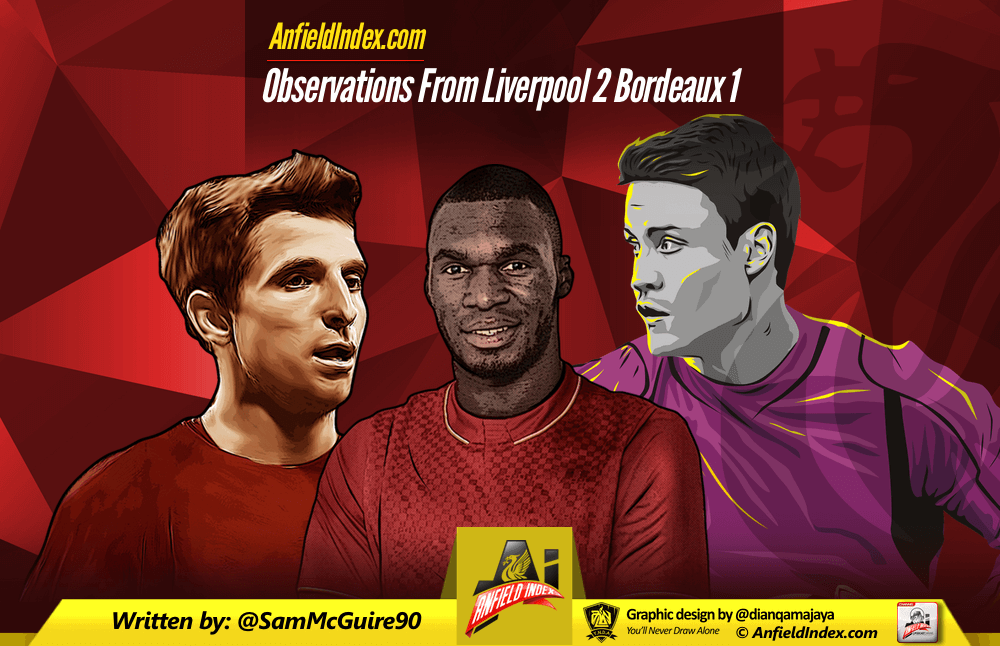 To be rather blunt, Liverpool clung on against the French side after taking the lead shortly before the half-time whistle. Fans expected Liverpool to come out in the second-half and impose themselves on the opposition and to make the most of our superiority, but after a dominant ten minute spell it was the visitors that looked more likely to score.
But what did we learn from this game? Can any positives be taken from it despite recording another victory?
Simon Mignolet has to be on thin ice after another big mistake. His monumental gaff is one you would expect to see from a Sunday league keeper, not from a keeper that is currently first choice for the number one ranked national side in the world. It's just another error to add to the scrapbook and it's getting harder to defend him.
Fans, myself included, seem to make a big deal out of the most standard of saves because we are so used to seeing him make mistakes. It's not as bad as this but it's similar to when you have a pet dog and you are trying to teach them to sit. You are supposed to go over the top with praise whenever they do something well in the hope they continue to do so and don't revert back to ignoring you. Positive reinforcement.
Before you ask, no I'm not bitter about my puppy continuously ignoring me.
Christian Benteke is an enigma. He scored what turned out to be the winner, won the penalty that James Milner dispatched with relative ease, had two goals disallowed and yet I can't help but feel he's missing something.
His goal record since joining Liverpool can't be argued with; he's delivering in that respect.  However, there is an issue when he is scoring great goals and yet missing the easier opportunities. When does it become a legitimate concern? At the beginning of the season, it was seen as a positive that he was getting into the right areas but the game against Bordeaux is the sixth game he has missed a guilt-edged chance in; the sort you would expect a £32 million striker to be finishing.
Not only this, his overall involvement in play when he starts seems to be a spectre of what it is when he comes on off the bench. It's a slight concern for me. This isn't an agenda either, I was against his signing but when he has performed well I have given him credit for it.
Joe Allen is a good squad player to have. His association with Brendan Rodgers means Allen is often overly criticised. My Twitter timeline was filled with Allen hate tonight but I thought he did well. He has taken the whole hipster look too far now but his unkempt appearance didn't go hand in hand with his tidy performance.
He's not a player you'd build your midfield around but as a squad player, why not keep him around?
Job done. We can play a weakened side against FC Sion. It's only one game but being able to rest key  players against Sion in the build up to the busy festive period could be a blessing for Klopp. We all witnessed what a rest could do for the likes of Coutinho and Firmino when they faced Manchester City fresh from the international break. I would not even fly those two to Switzerland, as the Premier League should (and probably will) take priority now, until the knock-out stages of the Europa League starts.