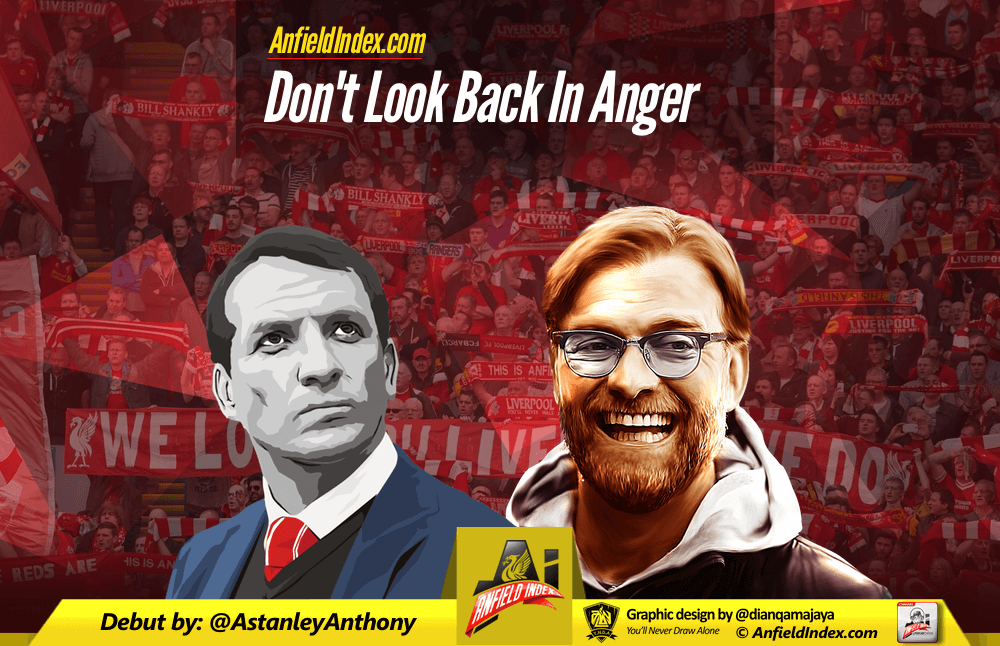 Don't Look Back in Anger

Almost exactly two years ago Liverpool fans witnessed a genuine watershed moment, a highlight in a season of giddy and vertigo inducing highs.  Now, just to be clear, we're not going to dwell on history here; enough people tell us that we take nostalgia to unhealthy levels.  But just bear with me for a second, just take a step with me, arm in arm, as we briefly look at our very recent past.  It's only around the corner and we'll quickly be back in the present – a present that, suddenly, and in stark contrast to the first few weeks of the season, is dripping with optimism and good cheer.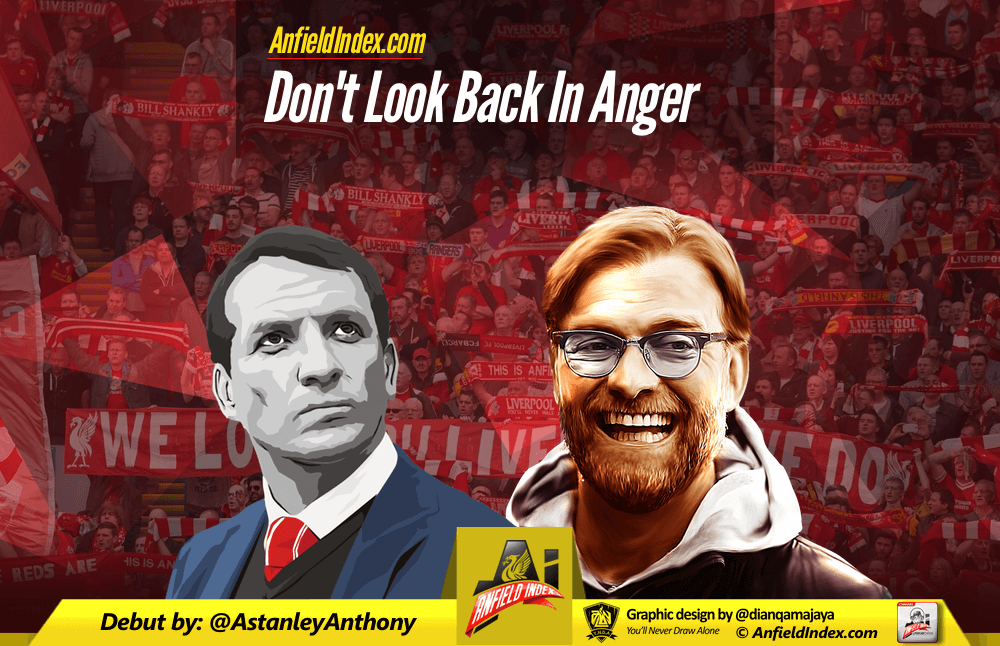 Still with me?  Cheers.  The date I wish to fleetingly visit was December 15th, 2013 and an emphatic 5-0 hammering of Spurs at White Hart Lane.  Remember that?  Remember Flanagan's searing volley whacking off the bar on its way to gloriously nestling in the net?  Remember Henderson's role and Coutinho's deftly executed touches?  Allow yourself a pang to remember the genius that was Suarez as he terrorized and tormented the entire Tottenham side.
In many ways this result was the harbinger of joy, the realisation that you'd best strap yourself in for a wild, crazy ride.  The first time, in what felt like decades, where Liverpool went to a genuine rival and beat them – and just for good measure, we absolutely obliterated them.  Us Reds don't do half measures.
You probably see where this is going.
I'm not claiming that Klopp's Reds can follow the trajectory of that side and the glorious season that followed.  But the last two league games away from Anfield were huge, momentous results; the spanking of the Premier League champions and the dismantling of the favourites for the throne showed that we should hold our heads up against any opposition.  There may be some dissenting voices out there – even among Liverpool fans – and there may be a hesitant whisper or a sibilant suggestion that West Ham have delivered some devastating away wins themselves this season.  But there's a difference: the Hammers are not Liverpool and the magical and miraculous coalescing of the unlikely is not in their DNA.
Even a cursory glance at the current league table highlights the major difference between the Liverpool of 13/14 and the current iteration: our home form.  At this stage of that wonderful campaign, the Reds had only tasted defeat once at Anfield and had won every game apart from that surprise reverse to Southampton.  We were routinely handing out spankings and carving teams apart with sumptuous ease.  That hasn't exactly happened so far this season; frustration and angst has reigned supreme thus far as we've looked on from the stands in Liverpool.  But that is about to change.
Some are reading these words and are maybe shaking their head, mouthing, with a wry smile, that we had Suarez that year.  Yep, we did, we had a world class striker and the Grim Reaper to so many Premier League teams.  Well, right now we have Jurgen Klopp.  In their respective fields, the Uruguayan and the German are roughly neck and neck; our manager is certainly in the top five in the world, perhaps higher with only one or two being able to claim a higher place on the managerial hierarchy.  But the manager, no matter his ability, can't transform a team in the way that the ceaseless energy and blistering chaos that was Suarez did, you may say, and can't sound the death knell to a Premier League side's chances of beating us.  Tell that to Mourinho and Pellegrini.
With the departure of Steven Gerrard, many fans feared that there was a vacuum of world class ability at the club, a lack of a 'pull' or a big name to attract other players and to crystalise the talent that is currently at the club.  With a single stroke, FSG solved that problem when they appointed Klopp.  Perhaps 'transform' is too strong; just as 13/14 was not all about Suarez, so too this season will not be just about our manager.  Rather, it is his ability to take base materials and, like some medieval alchemical genius, transform them into gold.  And make no mistake, these base ingredients are laced with gold dust.
So let's juxtapose the two campaigns again; and wonder can lightning, in fact, strike twice?  I know, I promised that I'd keep historic sojourns to the minimum; I also claimed that we couldn't repeat 13/14.  You see, like many fans, I'm full of it.
Ask yourself this: is Sakho, who only intermittently featured two years ago, an upgrade on Agger?  The Frenchman, as many shrewd judges of a player have claimed, is well on his way to becoming world class.  What about Clyne, is he an improvement on Johnson? Or Moreno on Flannagan?  Working our way through the team, let's take a look at Emre Can and Jordan Henderson, who is two years further down his own evolutionary road.  Is Lucas a better fit in the current squad and how important is he in protecting the back four?  What about the indefatigable Milner, who, as a provider of chances, is actually underrated.  Is Coutinho, orchestrator of so many magic moments in 13/14, a better and more effective player right now? Sterling is gone but how good can Firmino be?  Can he replicate the current Manchester City winger's brilliant form in the second half of the season?  Like all of these hypothetical questions, draw your own conclusions but I'd argue that stranger things have happened on a football field.
Then there's Sturridge and Benteke.  The England forward is the wild card, the genie in the bottle, the great unknown to a degree.  Okay, we know his goalscoring ability and his undoubted pedigree (probably second only to Aguero in the Premier League striker's rankings).  But his fitness could well be the deciding factor in what the Reds could achieve this year.  Say he manages to play in twenty of the remaining twenty five games.  How many goals can he score and how many points will that translate into?  Quite a few, in this fan's humble opinion.  Benteke may split opinion but it's probably safe to say the Belgian is an upgrade on Iago Aspas.  That's slightly tongue in cheek as in reality the giant forward will also contribute hugely this season and is a perfect example of the disparate options that Klopp has at his disposal.
If Liverpool can sort out their home form, there is no ceiling to what we achieve.  Top four would be brilliant, of course it would.  But that's a glass ceiling that we can smash through if, as Jurgen has said, we believe enough.
Believe now, right now, this instant.  In 13/14, we started to believe from around the Sunderland game at Anfield, just as spring started to firmly banish winter and usher in bright nights.  That was when, following a number of games away, the Reds returned to the hallowed turf of home and were greeted by a red tide of feverish belief.  Let's not get sidetracked into the whole leaving early thing but we, as fans, have to get on board.  We have to head every ball, kick every clearance, cheer every through ball, grow delirious with every shot, scream in triumph with every goal.  Have no regrets, don't mind the cycle of triumph and despair that has been our recent history.
Believe and don't look back in anger.