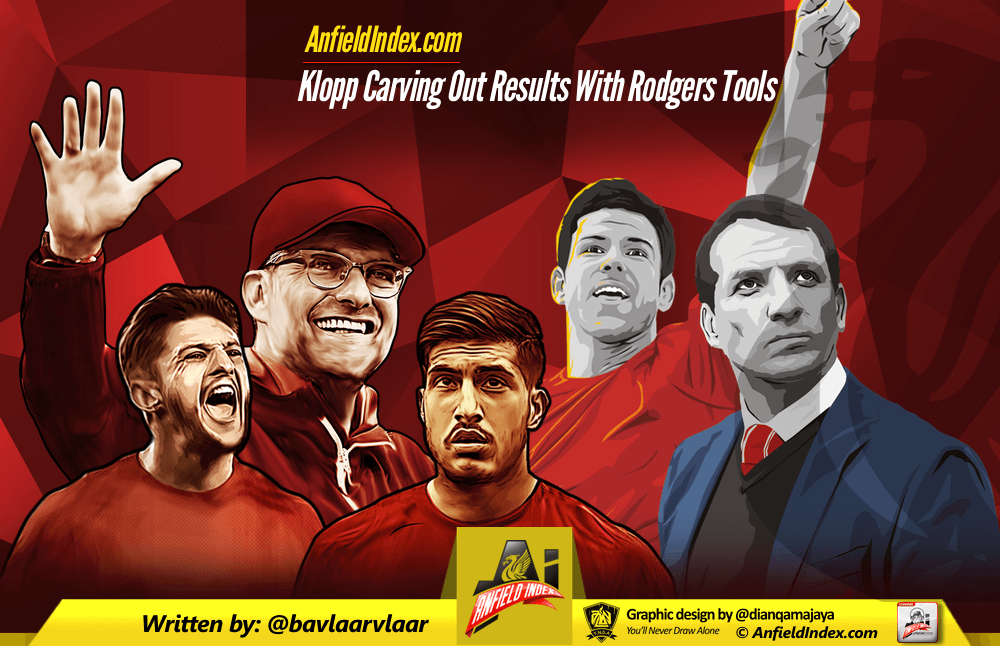 Klopp Carving Out Results With Rodgers Tools
Does He Really Need New Pliers?
When interviewed following his third from last game in charge of Liverpool, Brendan Rodgers identified a lack of quality 'tools' as the reason for his poor managerial record in 2015. "Give me the tools, I'll do the work" were his exact words in the aftermath of September's 3-2 victory over relegation-threatened Aston Villa.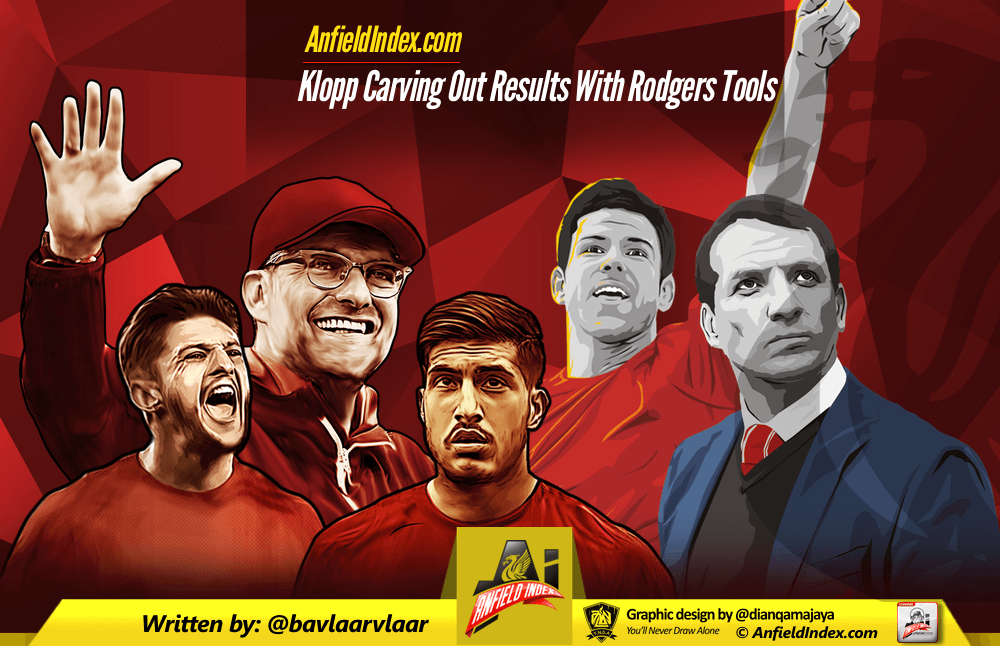 There was a particular implement in question: the brilliant Daniel Sturridge, whose brace had just extended Rodgers' doomed reign into what would prove its final week. In effect, the former Swansea boss had implied that despite spending around £80m on centre-forwards that were not Sturridge (this figure ignores Danny Ings' unestablished tribunal fee), his success as manager relied disproportionately on the fitness of the fragile number 15.
Two months on, under a new authority, Liverpool march into Sunday's home clash with Swansea on the back of five wins in six games, none of which have involved their elusive England international. Thursday's battling win over Bordeaux and last weekend's feast of goals at the Etihad prevented news of Sturridge's latest setback – a foot injury – from souring the mood on Merseyside.
Of course, now is not the time to rejoice – it would be absurdly premature to use Klopp's early record as a stick with which to beat his predecessor. Liverpool were tenth when Rodgers departed, they're currently ninth, and although the German's intelligence and magnanimity have unified a flagging squad, it's common for players to outdo themselves during the first few weeks under a shiny new boss (ask Sunderland fans for evidence of this).
Despite those facts, most Reds seem convinced of an impending golden period under Klopp. Sure, we're drunk on optimism and love for our gegenpressing German goofball gaffer, but we've also observed concrete changes to the way things are managed. Training hours have increased, the importance of a holding midfielder is fully recognised (Lucas' status has never been greater), and the team look defensively competent for the first time in years.
The formation evolves week by week, and several players have experienced encouraging upturns in form, most of which relate to positional changes. Take as an example Roberto Firmino and Adam Lallana: unhappy as makeshift wingers under Rodgers, they shimmered as two thirds of a narrow front three in Manchester. Nathaniel Clyne, Emre Can, Jordon Ibe and Alberto Moreno have also blossomed in returns to what are widely considered their 'natural' roles.
This brings us to the main point of discussion: for all the talk of Rodgers' transfer failings, he seems to have left behind a squad capable of far better results than those achieved in the closing chapters of his stewardship. Many British pundits predicted that Klopp would need to spend heavily in order to infiltrate the Premier League's top four – meanwhile, former Anfield employees Gérard Houllier and Damien Comoli warned that the club's habit of constant personnel overhaul was harming its fortunes.
Recent evidence provides reason to favour the latter perspective. Below I take a stab at evaluating each area of Klopp's squad in an effort to determine which positions (if any) require reinforcement.
GOALKEEPERS:
Shot-stopper extraordinaire Simon Mignolet salvaged half-respectable results from the jaws of humiliation countless times under Rodgers. But while the 27-year-old's reflexes make for Oscar-worthy viewing, his efforts in possession deserve censorship, and many Kopites feel the Anfield net would be more secure under the supervision of a cultured footballer.
If Klopp reaches the same conclusion, he might consider tossing a coin into the pool of promising young 'keepers emerging from his native Germany. The talented (and wonderfully named) trio of Bernd Leno, Loris Karius and Timo Horn, contracted to Bayer Leverkusen, Mainz and FC Köln respectively, all harbour lofty ambitions.
However, before requesting the FSG chequebook, Klopp should consider two more pairs of safe hands on the club's books. Hungarian Adam Bogdan has impressed in a couple of competitive starts since signing from Bolton, and excitement continues to build around 22-year-old Welshman Danny Ward, whose displays on loan at Aberdeen have seen him compared to a young Hugo Lloris by Dons fans.
Verdict: Mignolet has recovered from the calamities of last Autumn to become a fairly reliable team member. Nonetheless, he will never suit a team with ambitions to challenge the world's best. Next season Ward might fancy his chances of emulating Joe Hart and Thibaut Courtois by returning from a loan to claim his parent club's number one jersey, but Horn and Karius represent surer bets.
FULL-BACKS:
If injuries did not exist, Melwood's training pitches would overflow with viable left and right backs. But with auxiliary option Joe Gomez ruled out for the season and both Jose Enrique and Jon Flanagan struggling for fitness following long absences, untested youngster Connor Randall has emerged as Klopp's only alternative to first choice pair Alberto Moreno and Nathaniel Clyne.
According to rumour, the boss desires a reunion with his former Dortmund charge Erik Durm, whose ability to operate on either side of defence would provide valuable cover. Australian international left-back Brad Smith rejoined the club this month after leaving in the summer, and may now sneak into contention.
Verdict: An injury to one of Moreno or Clyne would pose an unwelcome problem for Klopp, and time is running out for the backup players to prove themselves. If none of Randall, Flanagan, Enrique or Smith can make an impression before January, the arrival of a reliable figure such as Durm will be on the cards.
CENTRAL DEFENDERS:
With Liverpool's best centre-back Mamadou Sakho sidelined until late December by a knee injury, the next few games will indicate whether Dejan Lovren can light up the Klopp era (having darkened the age of Rodgers). However, even if the Croatian begins belatedly justifying his £20m price tag, Sakho's tendency to break down and the occasional errors of stalwart Martin Skrtel might nudge Klopp into the market.
Veteran fourth choice Kolo Toure produced a steady performance against Bordeaux, but is best used sparingly, and though some fans still yearn for Portuguese youngster Tiago Ilori to be handed an opportunity, his failure to make an impact on loan at Aston Villa does not bode well. Joe Gomez will need to be eased back into action after injury.
Verdict: Once upon a time, Rafa Benitez turned Steven Finnan from a Houllier flop into the league's best right-back, transformed Jamie Carragher from an unadventurous utility man into a figure of Scouse legend, and rejuvenated an aging Sami Hyypia – all within a few months of his appointment. A bid for a defender of Benedikt Höwedes' stature remains likely, but we shouldn't underestimate Klopp's power to inspire.
CENTRAL MIDFIELDERS:
Since his appointment, the new manager has favoured a midfield three in which the defensive-minded Lucas Leiva sits between an energetic pairing of Emre Can and James Milner. This has yielded some success: against adventurous opponents such as Chelsea and Man City, their industry formed an effective channel between defence and attack, allowing more gifted forward players to focus on counter-attacking.
But the recent defeat against a less ambitious side – Alan Pardew's Crystal Palace – showed that Klopp's preferred trio do not excel at picking their way through congested half-pitches. In games where Liverpool's pursuit of victory requires them to play a high line, a greater level of craft is needed.
Familiar faces Joe Allen and Jordan Henderson might fare better than Milner in that regard, but neither provides copious flair, and in the coming weeks it would come as no surprise to see technically proficient youngsters like Cameron Brannagan and Joao Carlos Teixeira thrown into the mix. Alternatively, the more forward thinking Adam Lallana could drop back to inject guile into the Reds' passing.
Verdict: As one of the main beneficiaries of Klopp's revitalising aura, Lucas appears to have the troublesome defensive midfield position sewn up for now, and the return from injury of teenage scouser Jordan Rossiter will add depth to the squad. But with Milner's use of the ball a growing concern, the likes of Ilkay Gundogan and Miralem Pjanic will surely stray on to Klopp's radar.
ATTACKING MIDFIELDERS:
Rodgers left the squad nicely stocked with 'number tens', and his successor will be more concerned with keeping Philippe Coutinho and Roberto Firmino from the clutches of Real Madrid and Barcelona than adding to the collection. Should the boys from Brazil succumb to injury, apparent Klopp favourite Adam Lallana constitutes a perfectly strong stopgap.
Wide attacking options are less convincing, and that's why the formation used in recent big games features a relatively narrow offensive trident, relying on full-backs to reach the byline at every opportunity. Although Jordon Ibe has found form in recent games, his age (19, soon to be 20), makes him too young to be relied on as the Reds' only winger. The experienced James Milner may prefer a central role, but tends to perform better when hugging the touchline, albeit as more of a defensive shield than a penetrative threat.
Short of shunting players into unfamiliar positions, that concludes the list of wide-men currently available to Klopp. However, with next season in mind he will keep one eye trained on the five wing starlets currently farmed out as part of the previous regime's loan programme.
Academy quartet Sheyi Ojo, Ryan Kent, Sergi Canos and Harry Wilson have so far experienced mixed levels of success during their spells in the lower divisions, whilst £20m signing Lazar Marković has sparkled between injuries for Turkish club Fenerbahçe and looks set to bolster the 2016/17 squad.
Verdict: The five loanees mentioned above are all sufficiently talented to warrant the manager's attention, and with luck a couple might break into the first-team picture before long. But if Klopp plans to revert to the 4-2-3-1 formation he used regularly at Dortmund, he'll almost certainly look to sign another winger with top-level experience. Schalke's Leroy Sané and Porto's Christian Tello are linked.
STRIKERS:
Another area in which the Reds' theoretical 'strength in depth' is undermined by persistent injuries and inexperience. Since joining from Aston Villa, Christian Benteke's knack of producing spectacular goals in tight games has swelled his fan club, but doubters argue that the attack cannot press effectively with the Belgian at its tip. After starting as substitute in the wins over Man City and Chelsea, he must demonstrate that he offers enough skill and movement to become more than an excellent 'Plan B'.
Daniel Sturridge's never-ending occupation of the treatment room makes him impossible to rely on, and Divock Origi's forlorn twin has done away with the warrior who laid siege to defences at the 2014 World Cup. The indefatigable Danny Ings, who would surely have thrived in Klopp's high-energy harrying machine, will be lucky to play again this season after injuring his cruciate ligament.
From the chaos, the aforementioned Firmino has emerged as Liverpool's ace in the hole. His showing as a 'false nine' in the thrashing of Man City drew comparisons with Luis Suárez, and afterwards Klopp labelled the former Hoffenheim player "a striker who can sometimes be a midfielder – not a midfielder who is sometimes a striker". However, with a single goal in 15 appearances this season, the Brazilian is yet to fully validate his manager's hypothesis.
Verdict: Does Jürgen need another striker to hug? Had a certain foot survived the week, this writer might have answered with an insanely optimistic 'no'. But in the absence of Sturridge and the unfortunate Ings, Klopp lacks a nippy centre-forward who will frighten defences with pace and movement. Rapier marksmen such as Pierre-Emerick Aubameyang or Alexandre Lacazette might command large transfer fees, but would deliver even larger rewards.