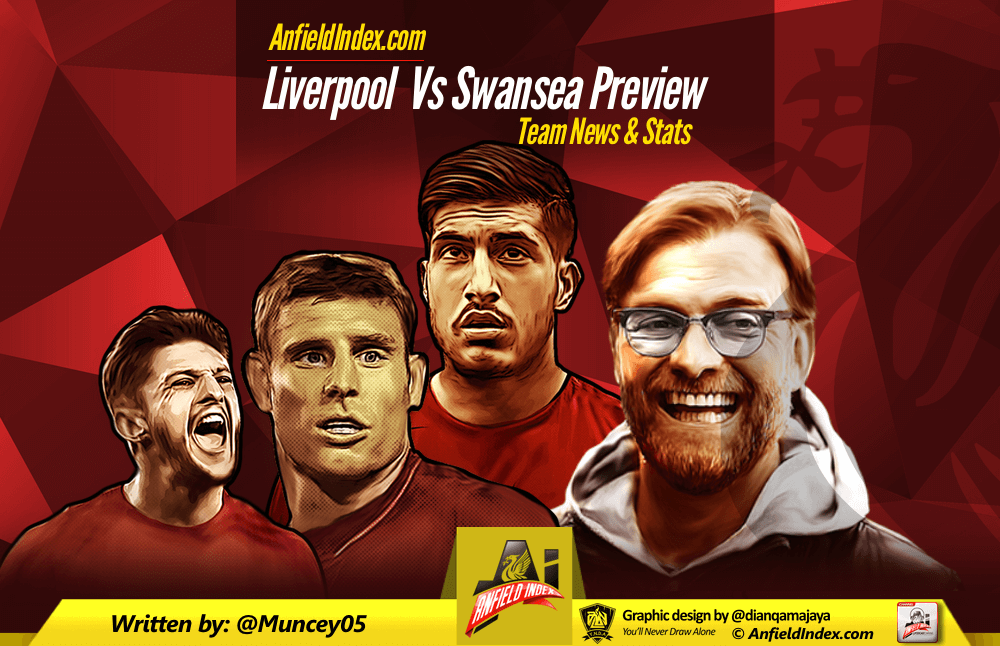 Liverpool vs Swansea City | Match Preview

After two wins on the bounce we now have Swansea City in our sights. The Swans have a number of links with Liverpool FC such as John Toshack, Tommy Smith, Colin Irwin, Brendan Rodgers, Colin Pascoe, Jonjo Shelvey and Joe Allen amongst others, and promises to be a good game.
According to reports, Jordan Henderson and Jordan Rossiter are close to fitness, so do they risk playing these two in the upcoming league match?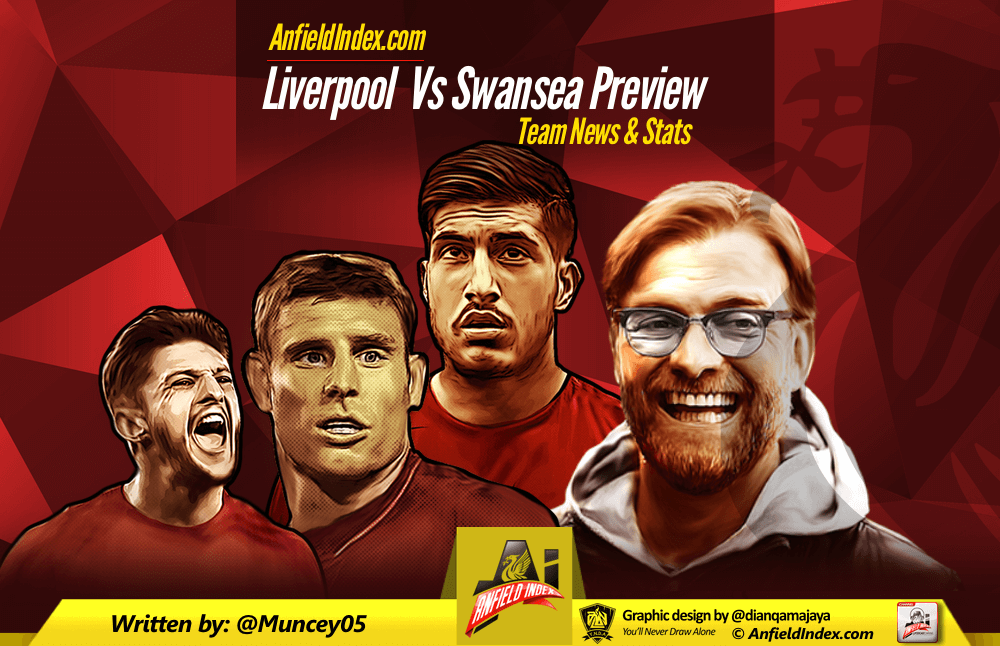 For me, Liverpool do not need to change too much since the last fantastic league performance especially if Phillippe Coutinho is fit, as the way we played going forward was fantastic, interchanging of positions, so fluid everything slotted in and made sense. We raved about Sturridge, Suarez and Sterling, plus I know this was only one game but it has the potential to be as good.
The Reds will be missing Lucas Leiva who misses the game due to suspension, and his loss will be missed by Liverpool, as he breaks up opposition play and is still by far the best defensive midfielder at the club. Yes there are better technical footballers but nobody stops the opposition playing better than Lucas.
Simon Mignolet has also taken some criticism especially following Thursday night and the goal conceded against Bordeaux.  I am not one to jump on a band wagon, I have had concerns about Mignolet since last season, yes he is a good shot stopper no arguments there, but he is not a commanding presence and has no authority and is easily pressurised.  I would prefer Bogdan in goals, who is better on set pieces and a better more vocal commanding presence and would be my goalkeeper.
Swansea have had a stumbling start to the season, but with players such as Ashley Williams, Jonjo Shelvey, Leon Britton, Wayne Routledge and Andre Ayew they have dangerous players, who are technically good, players who can cause Liverpool major problems.
Liverpool need to be careful on Sunday and stop their technical players playing, they need to get on the front foot and make players such as Britton and Yeung Ki do the uglier side of midfield play, make them track runners, defend in front of their back four, battle for the second ball etc.
Therefore my preferred team line up for Saturday bearing in mind who is available is the following:
GK – Adam Bogdan
RB – Nathaniel Clyne
LB – Alberto Moreno
CB – Martin Skrtel
CB – Dejan Lovren
RM – James Milner
CM – Joe Allen
LM – Emre Can
AM – Adam Lallana
AM – Philippe Coutinho
CF – Roberto Firmino
Bench:
S Mignolet, K Toure, J Henderson, J Ibe, C Benteke, J Teixeira, D Origi
Team Stats:
Attacking
Defending:
Player Stats:
(Swansea's full season attacking numbers)
Liverpool's Last Four Matches:
Prediction:
Liverpool 2 Swansea 0
Hopefully, just a few days following the death of Gerry Byrne, an ex Liverpool player, the club can gain three points in his memory and move closer to the top four that we all cherish. RIP Gerry and condolences to his family.