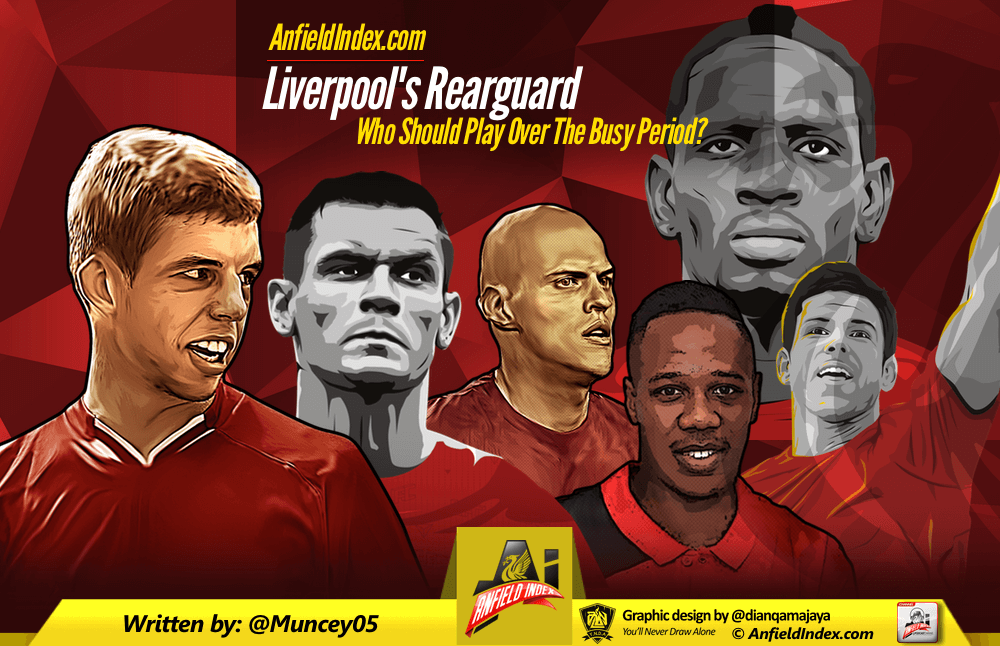 Liverpool's Rearguard - Who Should Play Over The Busy Period?
Fourteen league matches into the season, fifteen goals conceded, the largely criticised defence has improved over the last few weeks, but we still see individual errors. But come January, Jon Flanagan and Mamadou Sakho should be fit enough to return to the playing field.  This article looks at the best defensive lineup Liverpool can put out on the football pitch when they both return.
I do not have a crystal ball and rumours persist about Liverpool being in the market for a new goalkeeper with Timo Horn and Markus Krauss having been linked. According to the rumour mill, Liverpool are also looking at centre-back, Neven Subotic. However,  for the purposes of this article, I will stick to the players who are on Liverpool's playing staff including the central defender who is hardly ever seen at Melwood, Tiago Ilori.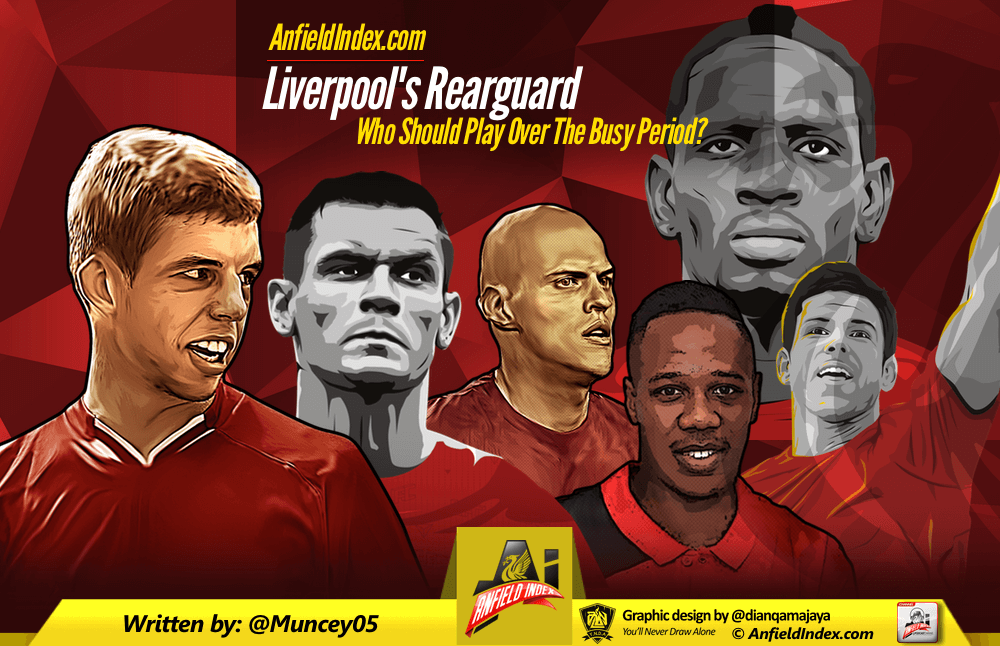 The current back four in place are Nathaniel Clyne, Martin Skrtel, Dejan Lovren and Alberto Moreno with Simon Mignolet between the sticks.  All of these players have their own strengths and weaknesses. The two full-backs are good athletes with good recovery speed and both are good footballers who are better going forward than when called into action defensively.  Current choice at keeper is Mignolet, a good shot stopper with quick reflexes, but is not a commanding presence nor a great communicator. Set pieces comes across nervy and his distribution leaves a lot to be desired, especially with his feet.  Centre-back, Martin Skrtel, is a defender who likes contact with a striker, has decent pace, but needs more patience and tries to win challenges he has no chance of winning. His partner, Dejan Lovren, is a decent footballer, who likes to play football from the back but is battling with confidence issues and still trying to find his feet at Liverpool football club.
So the contenders for the current defence? Jon Flanagan, before his injury in the summer of 2014, was the best right back in the country, in my opinion. Secure enough in possession, his biggest strength was in defence, making crucial interceptions, whole hearted challenges, a real application to defend and for the team not to concede.  Flanagan is working his way back and if he can find that form again, he will be a real asset to the playing squad.  Another full-back in the squad is Jose Enrique who, when he was at Newcastle United, looked to be a quality full-back. He has lost his way at Liverpool not helped by a few injuries, but if any manager can get the player to return to form it is Jurgen Klopp.  Enrique, like Moreno, is better going forward, and I would argue played his best football for the club when was pushed into a left midfield role.
Mamadou Sakho is a real fan favourite. Fans love his attitude to defending and his total commitment to the football club.  He has a decent left foot and is very strong aerially. He, like Skrtel, does worry me in that sometimes he tries to win the ball when he just has no opportunity to win it cleanly, hence conceding free kicks and potential yellow cards.  Sakho can be clumsy in possession, but has made some improvements recently. At times, his movement looks cumbersome, but he can cover the ground quickly.  Some fans see Sakho as future club captain and is close already to almost cult status, with his interaction on media sites.
Tiago Ilori is a cultured defender, who has been loaned out a number of times. No doubt he is a good technical footballer, but the fact that even when we have struggled defensively he has not been recalled, speaks volumes. He cannot break into an Aston Villa side (who he is currently loaned out to) even though they are struggling massively at the moment. This is not a good sign for a player wanting to make the breakthrough at Liverpool FC.
Kolo Toure has been an excellent defender, especially in a very good Arsenal side. However, this was a number of years ago which is undoubtedly when his best years were. I see Kolo's first team appearances being very few and far between, but he certainly has a role to play within the squad providing a positive impact in the dressing room.  Andre Wisdom (currently on loan at Norwich City) is a young defender who has real pace and power. When he burst onto the scene a few years ago at right-back, he  looked like a real find.  However, he has had a few loan deals with WBA, Derby and now Norwich and despite signing a long term deal with Liverpool, one wonders if his long term future is at the club. Time will tell.
Joe Gomez will not be fit for many months but looks a real star for Liverpool FC for the future.  He has pace, can defend and is comfortable on the ball.  And bearing in mind his tender age, the fact that the club were happy to play him at left-back (completely out of his natural centre-back position) shows the high esteem the club hold him in.  Next season, I fully expect him to push for a first team shirt at centre-back.
This leaves me with the goalkeeper contender for Mignolet's shirt; Adam Bogdan.  I like this keeper. He is more vocal and commanding than Mignolet, a bigger presence in goal and is also a good shot-stopper.  I wrote an article at the start of the season in which I said he was a real challenger to the goalkeeping position, and I have seen nothing in Mignolet's performances this year to make me change my mind.
So there you have it; the contenders for the defensive positions come Christmas/early 2016. My choices would be the following, and I know many fans out there will not be in agreement:
GK – Adam Bogdan
RB – Jon Flanagan (assuming he's back)
LB – Alberto Moreno
CB – Dejan Lovren
CB – Mamadou Sakho (assuming he's back)
With Flanagan in the side, there is more solidity on the right side of defence than Clyne. Lovren is a two-footed defender who played for Southampton on the right side of the back four alongside Jose Fonte. I see Lovren better suited to playing alongside Sakho, who likes to attack the ball, therefore Lovren is more adaptable to play off that, sweep up and bring the ball out and play, which I see as a better fit than Skrtel. Bogdan gives me more confidence than Mignolet, has a bigger frame and is safer on set pieces which has proven to be a real problem area for this team.