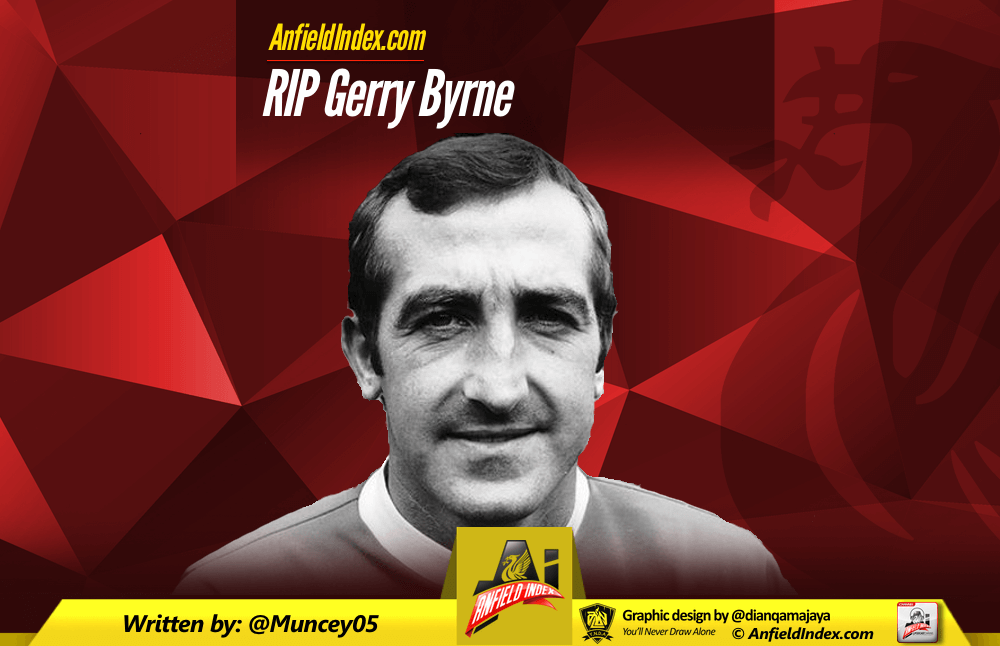 RIP Gerry Byrne
Sad news this weekend following the death of ex-Liverpool and England full-back Gerry Byrne.  This article looks at the player and the man, and hopefully reads as a glowing tribute to the player nicknamed "Crunch".
Gerry Byrne was a right footed player, who played his whole career as a left back, he was an aggressive player who did not shirk any challenge.  Even though Byrne had a reputation and rightly so as a tough defender in his whole career he never received one red card.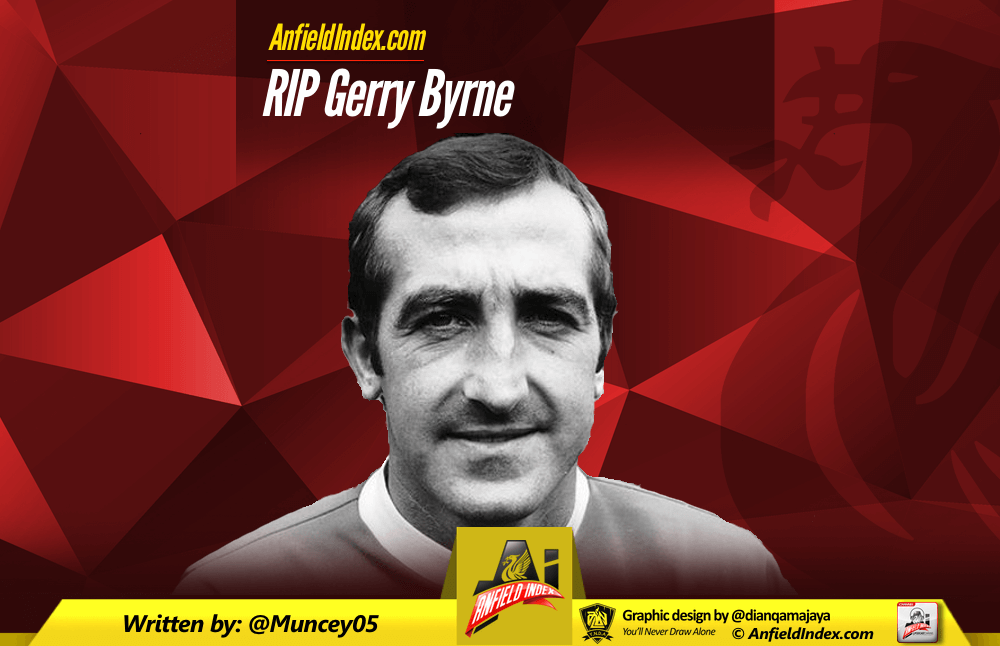 Liverpool born, Byrne was a quiet man, but his quietness should not be mistaken for shy, timid or a walkover as "The Anfield Iron", Tommy Smith, found out to his cost.  In a practice match, a young Smith trying to impress his more experienced colleagues, nutmegged Byrne, the next time Smith and Byrne came together Byrne head butted Smith, Shankly calmly walked over and stood over Smith saying: "Lesson number one, don't think you can nutmeg Gerry Byrne and get away with it."
Gerry Byrne made his debut for Liverpool when he was 19 years of age in 1957 in a match against Charlton Athletic, it was not the most auspicious of starts, as Byrne scored an own goal with a misplaced back pass in a 5-1 loss. Over the next three seasons, Byrne only played half a dozen matches, he could not dislodge Ronnie Moran from the number 3 shirt, Byrne was placed on the transfer list, and then in December 1959, his career at Liverpool was about to change with the recruitment of Bill Shankly as manager.
In 1962, Byrne played in every league match, ending with Liverpool winning the Second Division, in 1964. Byrne played a massive part in Liverpool winning the First Division title.  In 1965, Liverpool played Leeds United in the FA Cup Final at Wembley Stadium, after just three minutes, Bobby Collins clattered Byrne and he went down in a heap, after inspection from Liverpool physio Bob Paisley, Byrne was diagnosed as having broke his collarbone, at that time there were still no substitutions allowed, Byrne pleaded to stay on, and stay on he did for two further hours as the game ended in extra-time, with Liverpool winning the FA Cup.  It was Byrne's cross from the byline that Roger Hunt finished that put Liverpool one up.  A great testament to the player's desire to play on.
In 1966, he yet again showed his bravery whilst playing in a match against Glasgow Celtic, with a dislocated elbow.  In 1969 Byrne picked up an injury whilst playing against Leicester City and was forced to retire at only 30 years of age with a knee injury.  He finished his playing career on 333 appearances for Liverpool, the one and only club he played for… With two England caps, Byrne was in the 1966 World Cup winning England squad but was unable to displace Ray Wilson during his football career.
Bill Shankly summed up the player and the man in an interview with the following words:
"I've had many skilful men," observed Shankly in 1975, "but the best professional of the lot was Gerry Byrne. He wasn't flashy and he wouldn't score you goals. But he was hard and skilful and gave you everything he had. More than that he was totally honest. Which is the greatest quality of all."
RIP Gerry Byrne, 29th August 1938 to 28 November 2015, my condolences to his family and friends.