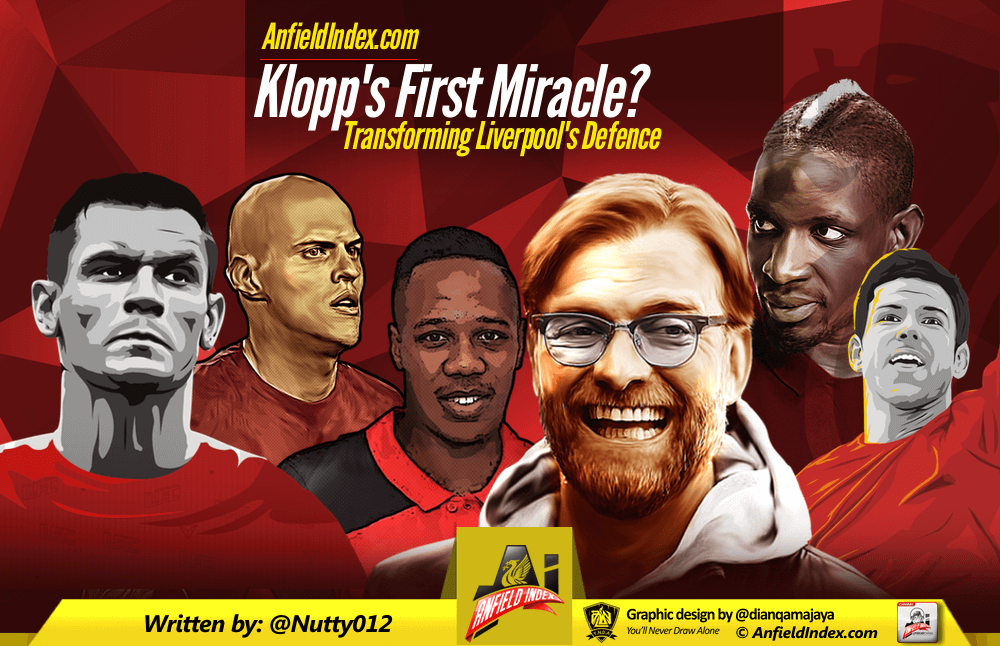 Klopp's First Miracle? Transforming Liverpool's Defence
Liverpool secured their third win of the week against Swansea, and in doing so extended their time without conceding a goal to 226 minutes. The clean sheet highlights perhaps the most surprising aspect of change since Klopp's arrival – the sudden sturdiness of Liverpool's defence. Whilst there have been strong attacking performances, particularly against Manchester City and Chelsea, it has been far more impressive how Liverpool conceded only two goals across three away fixtures against City, Chelsea and Tottenham.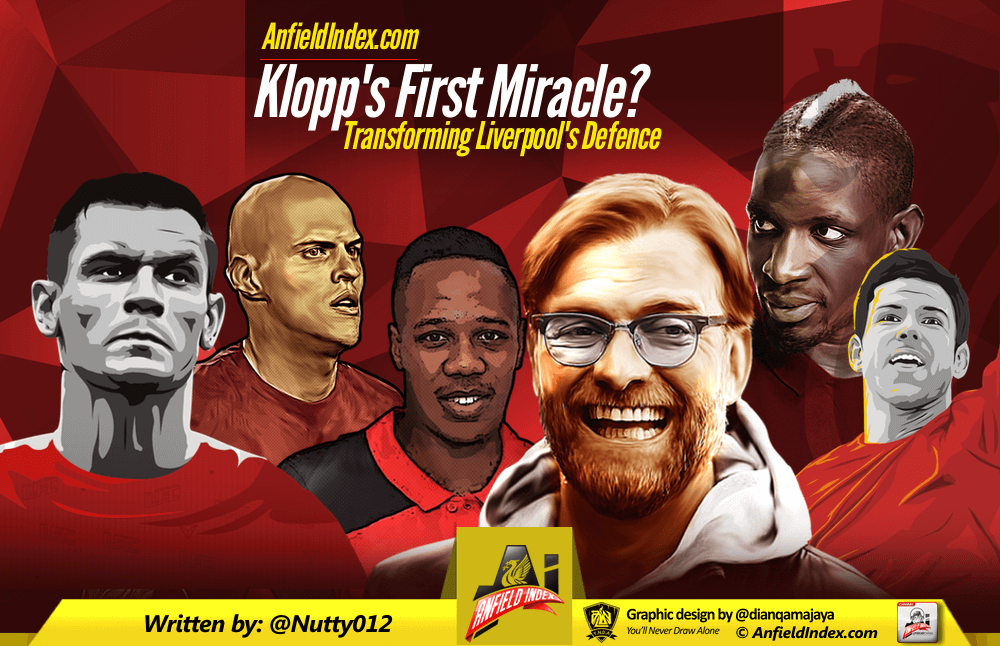 The statistics show that Liverpool's defensive displays are not flattered by poor finishing by the opposition. According to Opta, Liverpool have conceded only 42 shots on target this season, the fewest of any team in the Premier League. On Sunday against Swansea, a dominant defensive display was the base from which a disjointed attack was able to drag us over the line, as Daniel Rhodes showed on Twitter:
The 'perfect' clean sheet by LFC yesterday: No goals conceded, no big chances, no shots on target and no defensive errors. It's been a while

— Sports Analysis (@AnalyseSport) November 30, 2015
Brendan Rodgers must take some of the credit for the total number of shots conceded, as he was manager for over half the games played. Klopp, however, has completely revolutionised how Liverpool defend. Liverpool managed to limit the opposition to zero shots on target four times in 166 games under Brendan Rodgers – 2.4% of games. Under Jurgen Klopp it has happened twice in 10 games – 20% of games, or around ten times more often than under Rodgers.
Klopp has done two things to engineer this upturn in defensive form. Firstly, Liverpool are able to defend far higher up the pitch under the gegenpressing regime. When the attacking players press the opposition deep in their half, Liverpool's defence is required to step up to the halfway line in order to limit any vertical space for the opposition to escape into. By encouraging defenders to defend on the front foot, and by maximising the naturally eager runners in midfield and attack, there are simply less occasions where Liverpool defenders have been under pressure in dangerous areas.
Klopp has also managed to bring out the best form in a number of Liverpool defenders, through the confidence he inspires in them as a manager, and by simply playing them in a system that suits them. Obviously Mamadou Sakho started so fantastically well, proving himself to be our best defender beyond all doubt, but we should not overlook how the performances of Dejan Lovren and Alberto Moreno have also significantly improved. In the past, both could be rightly accused of being far too anxious in their defensive efforts, but Klopp's system actually demands an eagerness to go and get the ball, even of its centre-halves. Every Liverpool fan would rather see Lovren committing the odd foul on the half-way line trying to nip the ball off the striker than seeing him panicking in our box under a high-punt downfield, or being woefully exposed with a ball into the channel behind an out-of-position Alberto Moreno.
I really never thought I would see the day where I was comfortable with Skrtel, Lovren, Moreno and Mignolet in the same team, but Klopp has managed miracles in accomplishing that very feat. Suddenly, an injury ravaged side – without Sakho, Henderson, Coutinho and Sturridge in the starting lineup on Sunday – can be confident and patient if things aren't quite clicking in attack; there is no longer an urgency or panic when Liverpool don't manage to get a goal in the first half an hour, as players and fans subconsciously do not expect to concede goals anymore.
This new confident and competent Liverpool defence now raises questions in a completely different light. Does the form of Lovren and Moreno ease the need for defensive reinforcements in January? How limited will Jon Flannagan's chances be now he is returning from injury? How will Tiago Ilori and Andre Wisdom fit into Klopp's plans, if at all? Will Jurgen Klopp stick with Martin Skrtel or eventually try and find an upgrade? The positive thing for Liverpool fans is that despite there still being questions over defence, for the first time in a few years, Liverpool have a manager who actually has some answers.