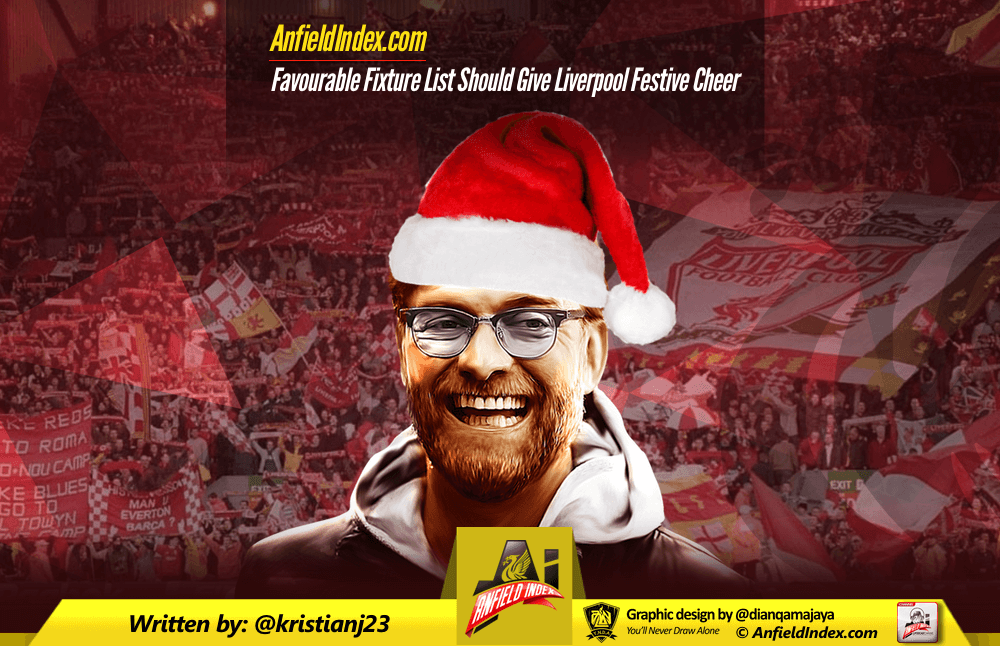 Favourable Fixture List Should Give Liverpool Festive Cheer

Sunday's game was a typical post-Europa League performance – sluggish, lethargic, scrappy – but for the first time this season, Liverpool won after their travails in Europe. While others dropped points, we picked up three and saw important players return to the side. With our passage to the last 32 of the Europa League already assured, we can now focus our efforts solely on climbing up the Premier League table.
Although there's still one match left, the 2-1 win over Bordeaux saw us scramble out of Group B with a game to spare. What's more, a draw in Sion will be enough for Liverpool to top the group, which may entice Jurgen Klopp into resting a number of first-team players in Switzerland.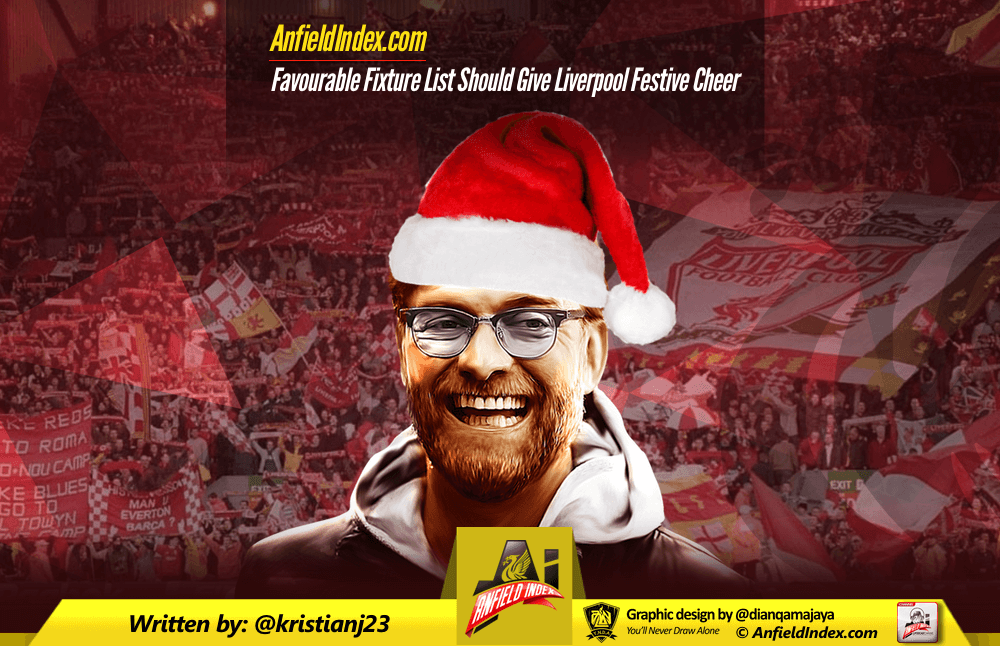 The slump in league performances after a European excursion has been evident this season as the Reds averaged less than a point per game in the immediate aftermath of their first four Europa League matches. The Swansea win has broken down a barrier which was fast becoming a mental obstacle as much as a physical one.
Beating Swansea may not have been as entertaining as the demolition of Manchester City a week earlier, but it was equally as important, especially as Arsenal, Spurs, Chelsea, Manchester United and Leicester City all dropped points.
I'm sure we've all stared intently at the league table in the past couple of days, but here it is again. We've overcome our tricky set of away fixtures and are just six points off the top. Drink it in.
Most importantly, the win was Liverpool's third in a week and could provide the Reds with some serious momentum ahead of the festive period.
Our next six Premier League fixtures are as follows: Newcastle United (A), West Bromwich Albion (H), Watford (A), Leicester City (H), Sunderland (A), West Ham United (A).
Every single one of those games is eminently winnable. Although four of the next six in the league are away from home, we shouldn't fear anybody on the road when you consider the Reds' recent successes away at Chelsea and Man City. And while the two home fixtures are no gimmes either, we'd all be frustrated if we didn't take maximum points against West Brom and Leicester at Anfield.
If I were to pick an arbitrary figure out of the air, I'd be disappointed with fewer than 16 points from that run of games. It may sound optimistic, but now is the time for Liverpool to capitalise.
Although we play again in midweek (away to Southampton in the League Cup), a Wednesday fixture gives Klopp an extra day of training before we face Newcastle at St James' Park on Sunday.
It's only another session or two on the training pitch compared to a Thursday-Sunday turnaround, but the 4-1 win at Man City was a staggering example of how much impact Klopp can have when he is afforded time to coach his players.
As well as the Europa League campaign winding down until mid-February, Liverpool will be able to add fresh legs to the side as first-team names return from injury. Jordan Henderson will undoubtedly be back in the starting XI before long and will be incredibly fresh having only played 168 minutes of football all season. Daniel Sturridge eventually made his first appearance under Klopp against Swansea too and if he can stay fit (granted it's a big if), he'll be hoping to make up for lost time.
Mamadou Sakho and Jon Flanagan could also return early in the New Year, adding competition for places and fresh legs in the back four.
The past few weeks have seen a surge of positivity and confidence surge through the club, which will only grow if we are able to string a series of wins together.
The weekend results elsewhere seem to suggest that no-one else wants to win the league this season. It might as well be us.