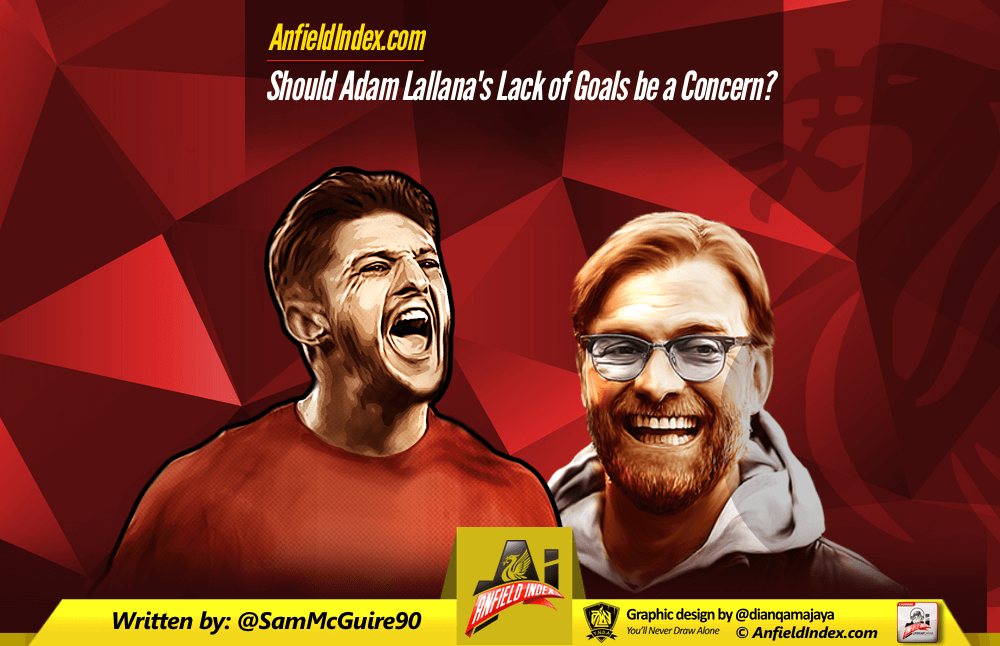 Should Adam Lallana's Lack of Goals be a Concern?

It's considered the norm these days for Liverpool players to divide fan opinion. Reds manager Jurgen Klopp was supposed to unite a fractured fanbase but if you scan Twitter you'll find fans squabbling over players. There are consequences to not rating a player. You could state in December you think x player is okay but can be upgraded and then when they score in May you get people retweeting your five month old tweet and calling you delusional. It's always fun.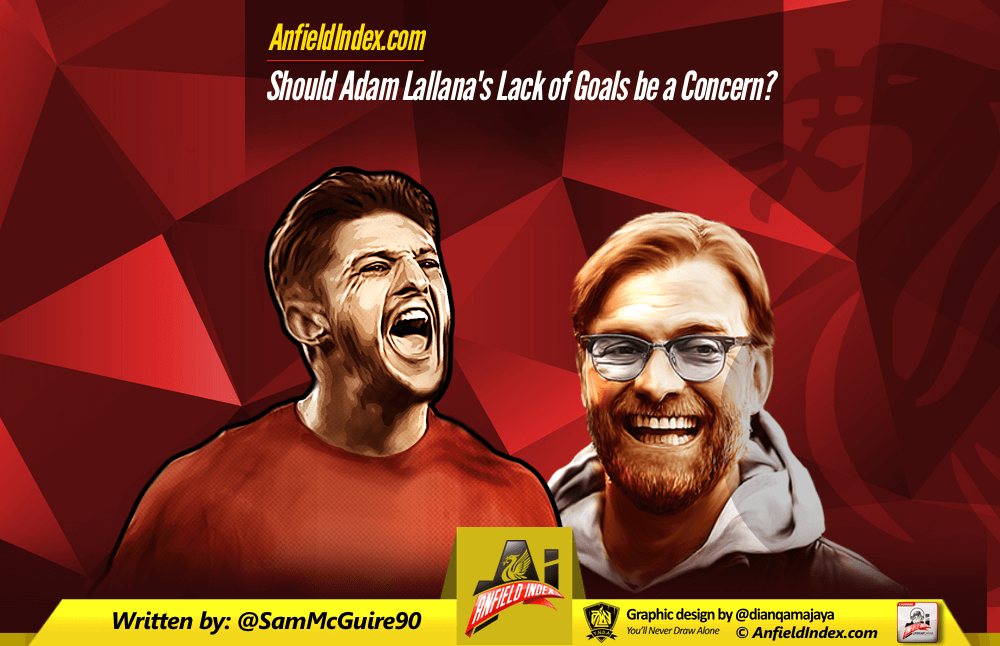 There are a lot of underlying factors when they judge a player. Did this player sign for a manager they didn't like? Was their fee more than you would've paid? Where there cheaper alternative options out there at the time? If there's even a sniff that you feel the answer to one of those is yes then you have an agenda against the player and your opinion of them means very little on Twitter. Even if you raise valid concerns over a player it's overlooked.
Take for example Adam Lallana. I wasn't too pleased when he signed for £23 million in the summer of 2014 from Southampton. I thought it was £10 million overpriced. However, he doesn't set his transfer fee so that shouldn't be a factor when judging him, should it? Towards the end of the Rodgers reign he seemed to be doing interviews every other day so by default you associate Lallana with Rodgers, and this can sway some people when judging the former. Were cheaper alternatives out there at the time? Almost certainly.
I think all of that and yet I'm capable of saying under Klopp his performances have improved, but is that a by product of the team looking organised and more fluid so Lallana is looking better when in fact he's performing the same as he always was? That's another debate in itself. The Liverpool number 20 seems to have struck up a partnership with our Brazilians, Philippe Coutinho and Roberto Firmino, and he's played a key role in the big wins against both Chelsea and Manchester City. He seems to be involved with the attacks on a regular basis, which is why it shocked me to see in the calendar year of 2015 (this is written just after the Swansea match) he'd scored a single Premier League goal, against Crystal Palace in Steven Gerrard's last Anfield game.
This from a player that's primarily an attacking midfielder and has also played as a false 9.
I don't put much weight into the assists stat these days but for those who do Adam Lallana has four Premier League assists according to whoscored.com. This includes the fortunate assist against Crystal Palace a few weeks back which I'd consider extremely generous. This stat also doesn't factor in how Lallana has created space and goals with his off the ball movement.
A closer look reveals Lallana has featured 37 times for Liverpool in the league scoring 5 goals and playing 2480 minutes which equates to 27.5 full matches. This means he averages a goal every 496 minutes (1 goal every 5.5 matches). He then gets an assist every 6.8 games.
Philippe Coutinho, in the same period, has played 47 league games which comes to a total of 3785 minutes, (roughly 42 full games) he has 10 goals to his name and 8 assists. Our number 10 averages a goal every 378 minutes which works out to be a goal every 4.2 games and an assist every 5.2 games.
Looking at the stats side by side you see Lallana needs 1.3 more games for every goal he scores and 1.6 more games for every assist he manages. Coutinho's critics label him as inconsistent and not contributing enough and yet he still dwarfs Lallana's numbers.
This isn't a Lallana vs Coutinho debate, the Coutinho stats are included to add some context to the Lallana numbers. It's clear both have different instructions and both have very different traits but looking at it optionally both are attacking midfielders. In a Jurgen Klopp side the attacking midfielders have to contribute in the goals column of the table as well as working off of the ball. It's no good doing one without the other.
During his time at Dortmund there was an emphasis on being an attacking unit and not just relying on the striker.
2010/11
| | |
| --- | --- |
| Player | Number of league goals scored |
| Shinji Kagawa | 8 |
| Mario Goetze | 8 |
| Kevin Grosskreutz | 8 |
| Robert Lewandowski | 8 |
| Lucas Barrios | 16 |
Goals from attacking midfielders: 24
2011/12
| | |
| --- | --- |
| Player | Number of league goals scored |
| Shinji Kagawa | 12 |
| Kevin Grosskreutz | 7 |
| Kuba | 4 |
| Ivan Perisic | 5 |
| Mario Goetze | 5 |
| Robert Lewandowski | 22 |
Goals from attacking midfielders: 33
2012/13
| | |
| --- | --- |
| Player | Number of league goals scored |
| Kevin Grosskreutz | 2 |
| Ivan Perisic (left) | 2 |
| Mario Goetze | 10 |
| Kuba | 11 |
| Marco Reus | 14 |
| Robert Lewandowski | 24 |
Goals from attacking midfielders: 39
2013/14
| | |
| --- | --- |
| Player | Number of league goals scored |
| Jonas Hoffman | 2 in 4 games |
| Milos Jojic | 4 in 14 games |
| Kuba | 2 |
| Mkhitaryan | 9 |
| Aubameyang | 13 |
| Marco Reus | 16 |
| Robert Lewandowski | 20 |
Goals from attacking midfielders: 46
Goals from midfield are a key part of Klopp's tactics, if you aren't contributing it must surely be a matter of time before you lose your position in the team?
Since Jurgen Klopp replaced Brendan Rodgers, Adam Lallana has played 508 minutes and managed 1 assist, Phil Coutinho has appeared in 417 minutes scoring 4 goals and getting 1 assist and Roberto Firmino has amassed 265 league minutes scoring 1 and assisting 2 goals. Adam Lallana is the only one not to score as of yet.
Ignoring his fee, his affiliation with Rodgers and your previous thoughts on Lallana, is one Premier League goal in 2015 good enough? His performances may have improved under Klopp, he may be the third muskateer to Coutinho and Firmino, Klopp is certainly making the most of his energy by having him involved in plenty of the pressing actions but without adding goals to his game is it just a matter of when and not if he loses his place in the starting XI?