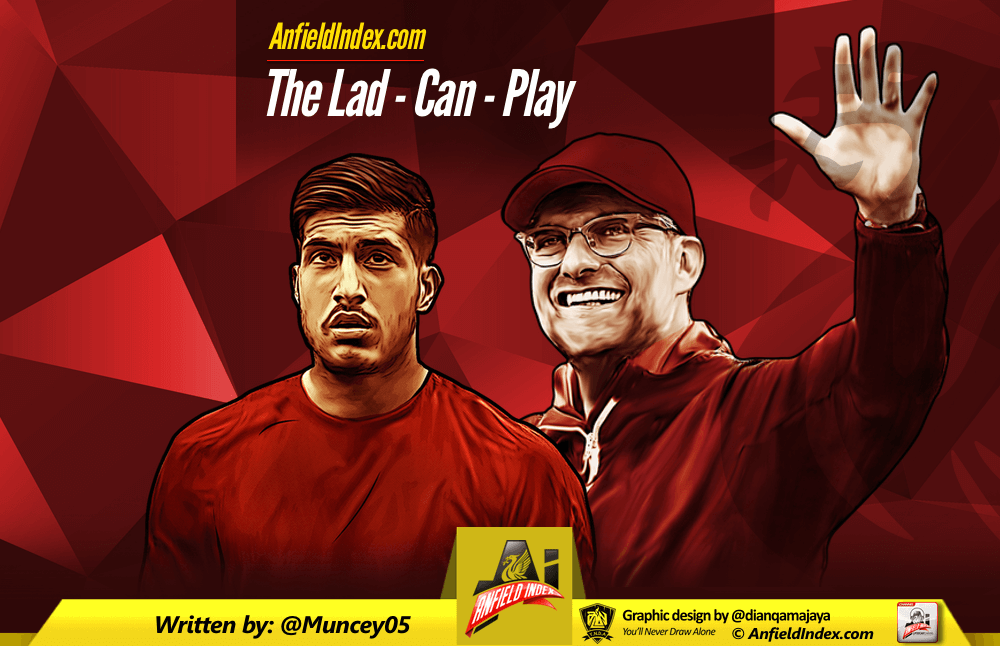 The Lad - Can - Play
Ruud Gullit on Match Of The Day 2, was very critical of Emre Can's midfield performance on the weekend, stating the young German spent too much time in his own half, swapping passes with his defenders rather than trying to build up play himself and setting the tempo of the pace of the attacking play.  This piece looks at my thoughts on the young midfielder and where I feel is his best position for the Mighty Reds.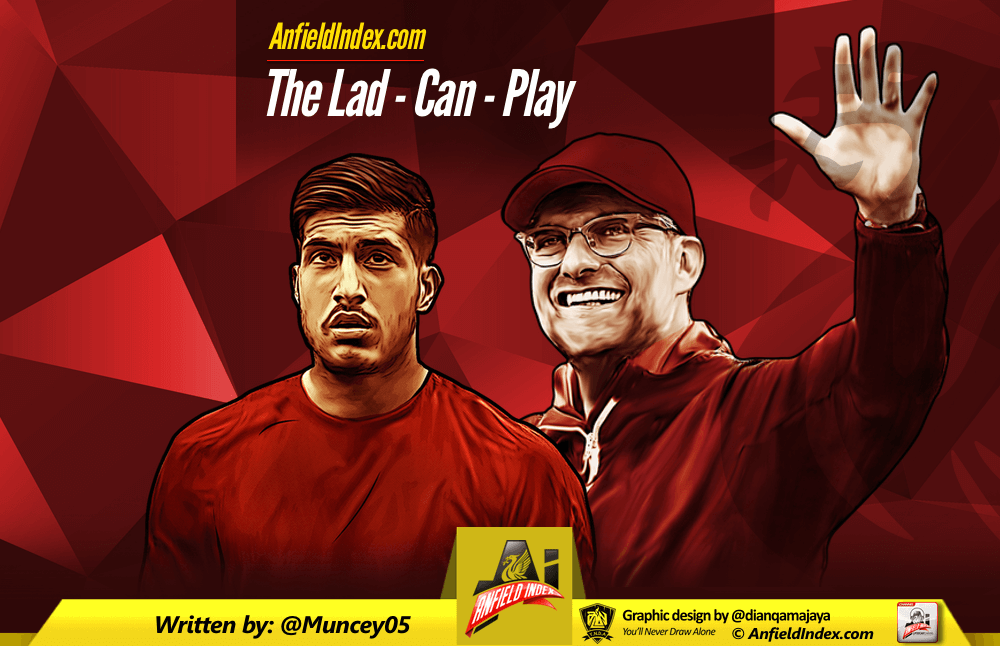 Emre Can is 21 years of age, and from a very young age was highly rated by Bayern Munich, he moved to Bayer Leverkusen where Liverpool purchased him in 2014 for a reported £10 million pounds.  The player to date has made only 106 appearances in his professional career, with 7 goals and has already represented his national team, Germany.

When I first heard Liverpool were paying a decent amount of cash for the player I have to say I thought it was a lot of money for a young player who I had only seen once or twice in the German League, however, I am very impressed.  He does not look in awe on this stage at all, is very comfortable on the ball and covers the ground quickly, he is still developing as a player, but has attributes to be a top player in this league.
Last season I did feel sorry for him, due to limitations and weaknesses of other players he ended up playing a number of different positions, he had games at right-back, centre-back when played in a three, defensive midfield, in a left sided starting position in a three man midfield,  right sided starting position in a midfield three and in a more advanced central midfield role.  I appreciate there is nothing wrong with a young player playing in various roles to help his development, but I would like to see him develop in his strongest position, question is what is that?
Gullit's analysis came after a game where Can played as the most defensive player in the midfield, the pivot if you will, and Can completed 83% of his passes, 67 passes completed out of 81 attempted.  In that role, a player will get a large amount of touches especially in a side who like to play a lot of possession football.  The best type of possession-based defensive midfielders such as Pirlo, Alonso and Busquets regularly have higher percentage completion rates than that showed by Can on Saturday, however I would argue Can is a completely different type of midfielder than any of those three mentioned.
Emre Can last night showed another key attribute – creativity – and when you have this in your locker you have to applaud the vision and pass made to create Sturridge's second goal against Southampton,
For me when I watch Emre Can play, his main attributes are composure in possession, he exudes confidence, his athleticism, strength and his ability to cover the ground quickly, he is excellent at pressing players in possession, he always likes to run with the ball, power on from midfield into more advanced roles; his weaknesses as I see it, is that he sometimes tries to play an impossible pass, a killer pass when it is not on, he does have a good range of passing as his through ball to Benteke demonstrated last weekend, however, he needs to be more disciplined in possession, have more patience and wait for the opportunity to come.
Taking those strengths into consideration, do they fit a defensive midfielder? I would say no, especially in a single pivot defensive position which is what Alonso, Pirlo and Busquets play.  If Liverpool were to play a double pivot, so two who predominantly sit, which is how Borussia Dortmund played under their successful period with Jurgen Klopp, then yes Can could easily play alongside say a Lucas Leiva or a Jordan Henderson, as the other player can sit while he advances, giving more flexibility and reassurance, so a safeguard/reassurance in place and vice versa with both players.
However, with Liverpool's current squad of players, is a double pivot the best option? As then trying to fit 4 advanced positions with Benteke, Sturridge, Ibe, Lallana, Coutinho, Milner and Firmino, is not easy. It is positive though that we now do have competition for places in midfield and attacking roles and gives Klopp plenty of options.
For me Liverpool's best options in midfield are Lucas Leiva holding with Jordan Henderson in a more advanced slightly right starting position and then Emre Can in a slightly more advanced starting position on the left, as all these players can interchange into any of the positions.
In closing if he keeps progressing as a player I really believe Liverpool have a real midfield star on their hands, a player who over time and with more experience could become a complete midfielder, and I look forward to seeing it happen as a Liverpool fan.