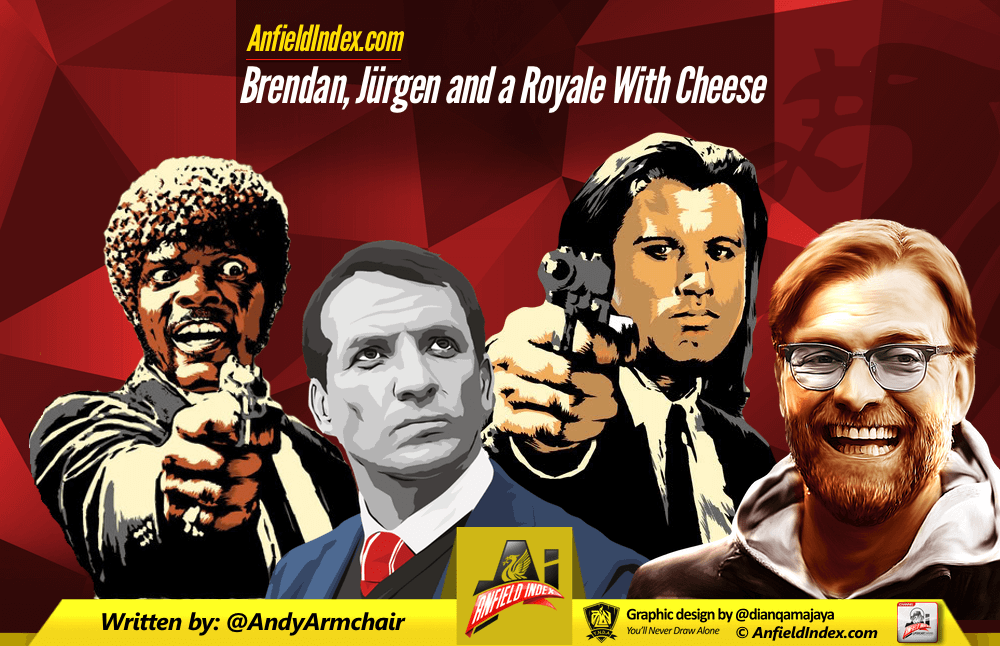 Brendan, Jürgen and a Royale With Cheese

Before I really get going here, I ask you to bear with me and cast your minds back to a scene from the movie Pulp Fiction. It's the scene where Samuel L Jackson's character Jules and his partner in the movie, John Travolta, are in a room with punks who've attempted to rip off Jule's employer, Marsellus Wallace. It's a classic scene and unless you're from Mars and haven't seen the movie, I'm sure you remember it. A particular section of dialogue was as follows:
Jules: What does Marsellus Wallace look like?
Brett: What?
Jules: What country are you from?
Brett: What? What? Wh – ?
Jules: "What" ain't no country I've ever heard of. They speak English in What?
Brett: What?
Jules: English, motherf***er, do you speak it?
Brett: Yes! Yes!
Jules: Then you know what I'm sayin'!
Brett: Yes!
Jules: Describe what Marsellus Wallace looks like!
Brett: What?
Jules: Say 'what' again. Say 'what' again, I dare you, I double dare you motherf***er, say what one more Goddamn time!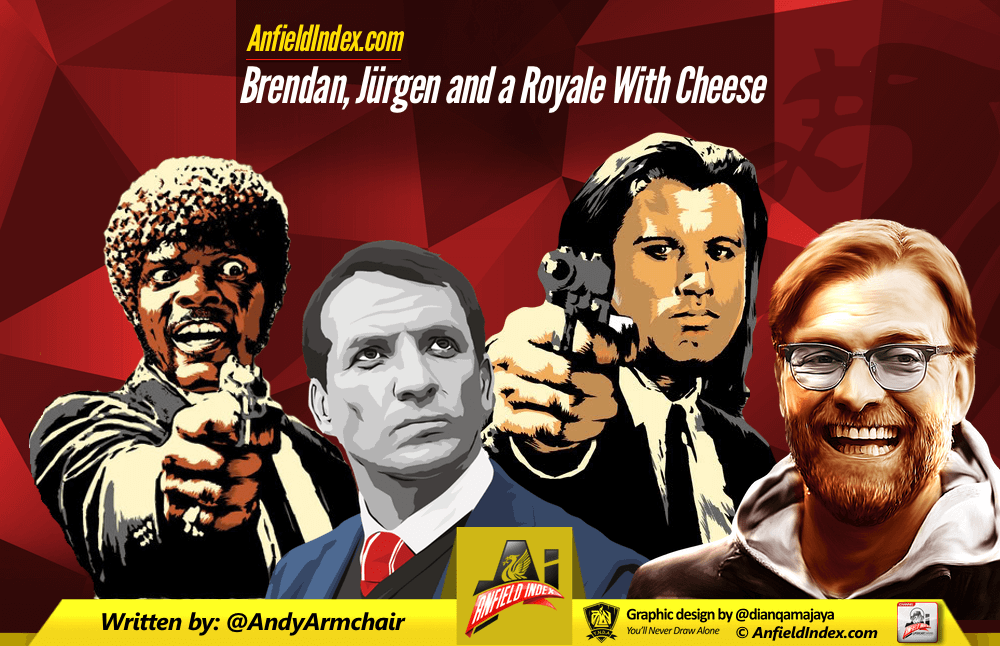 I recalled that scene when listening to the BT Sport commentators and pundits back during our Europa League match at home to Rubin Kazan. "Imagine this had been a Brendan Rodgers performance", "what if this performance had been under Brendan Rodgers?"
If I had hair, I'd have been tearing it out! It wasn't just that match either, ever since Brendan Rodgers got the bullet, there's been this underlying narrative in some sections of the British media about British managers. Those bloody foreigners, coming over here and taking our jobs! Like something TV character Alf Garnett would say, but at least writer Johnny Speight created him with deliberate irony and to be the buffoon and butt of jokes.
I can understand people in the UK wanting to see more home-grown players and managers in the Premier League, but the fundamental issues behind that are a self-inflicted consequence of what the money-obsessed Premier League is. However, that's an issue all of its own and something I'm not going to delve into here. The fact is, with the amount of money in the Premier League, the desire for success and the players and managers it can attract, why on earth would you stick with someone who is simply not up to the standard you attain to be?
The UK media love to talk up manager's being under pressure when results are astray, speculate on their future and discuss what the odds are at the bookies on who might replace them. Yet, after talking for countless weeks about why a manager is under pressure, then spend weeks in utter disbelief and dismay if a British manager is out of work.
Thankfully, the period of denial is beginning to dissipate because Jürgen Klopp is not just some over-hyped Johnny-foreigner and the realisation is perhaps setting in that he is not a German Tim Sherwood; he's a top level coach whose track record was no fluke. With the manner of victories over Chelsea and Man City, along with us becoming a much more solid side make it increasing difficult for Brendan Rodgers name to be muttered in discontent by those disappointed by his departure.
Like a man gazing at an ex-girlfriend who is now married with children, just move on. Those in and around the media still pining for Brendan have to move on like the fans have moved on and the club has moved on. Those early performances under Jürgen Klopp were still reminiscent of the last 18 months of Brendan Rodgers' reign because Klopp had only been in the job 5 minutes! Things were never going to change completely overnight, despite some encouraging signs in those first few games under him. He's still only very early into his reign here and although things are improving, we're not the finished article or in full Klopp-mode, if you will.
Even looking back at Klopp's much celebrated tenure at Dortmund, although they won the Bundesliga in just his third season in charge, becoming movers and shakers in European football wasn't instantaneous. In fact, it wasn't until the 2012/13 season that they found relative success in the Champions League; that was his fifth season in charge there. He has demonstrated that he is a manager that learns and develops and despite making a positive difference almost immediately, it takes some time to fully implement his system. We must also remember that he is essentially working with someone else's squad at present. There may be many that will suit him long term and there will be some that he is simply making the best use he can of them until he inevitably makes some signings of his own.
So, when Klopp has HIS squad and had the time to fully implement his style, that'll be the time to make true comparisons and judge whether or not Brendan was hard done by. But, until then, be cool honey bunny, be cool.