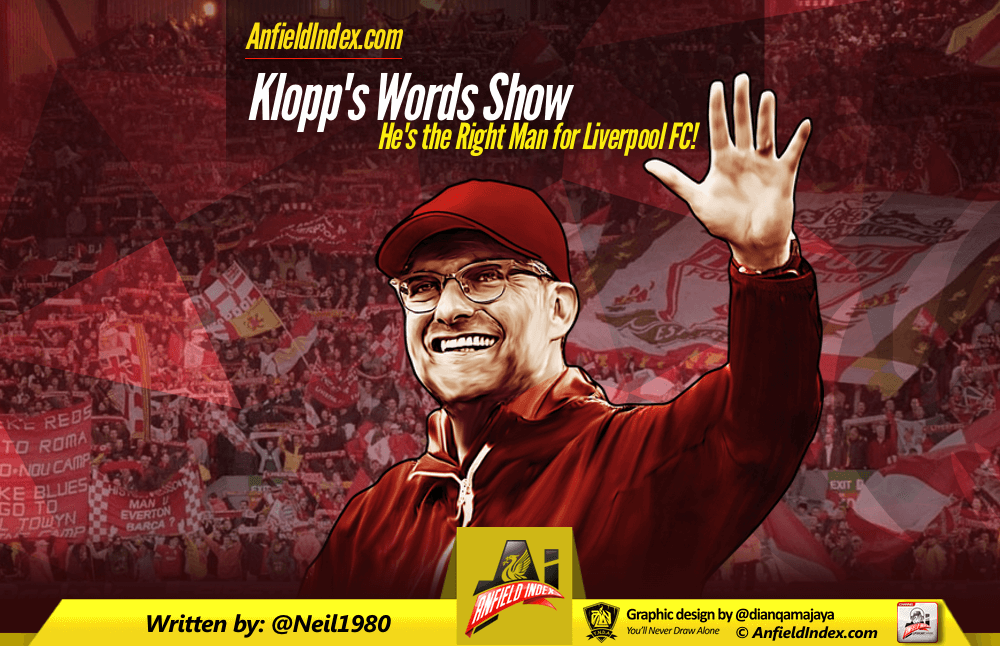 Klopp's Words Show he's the Right Man for Liverpool FC!
"I'd really like to change my personality but I can't forget this fucking lose (loss) against Crystal Palace"
The words above exclaimed by Jürgen Klopp when pushed on how he thinks his opening spell at Liverpool has begun. "Until now, it's been ok ….. if we had won this, maybe I would have said that it was more than ok." That's why he's the perfect man to take the Liverpool forward: the right man, at the right time, for the right club.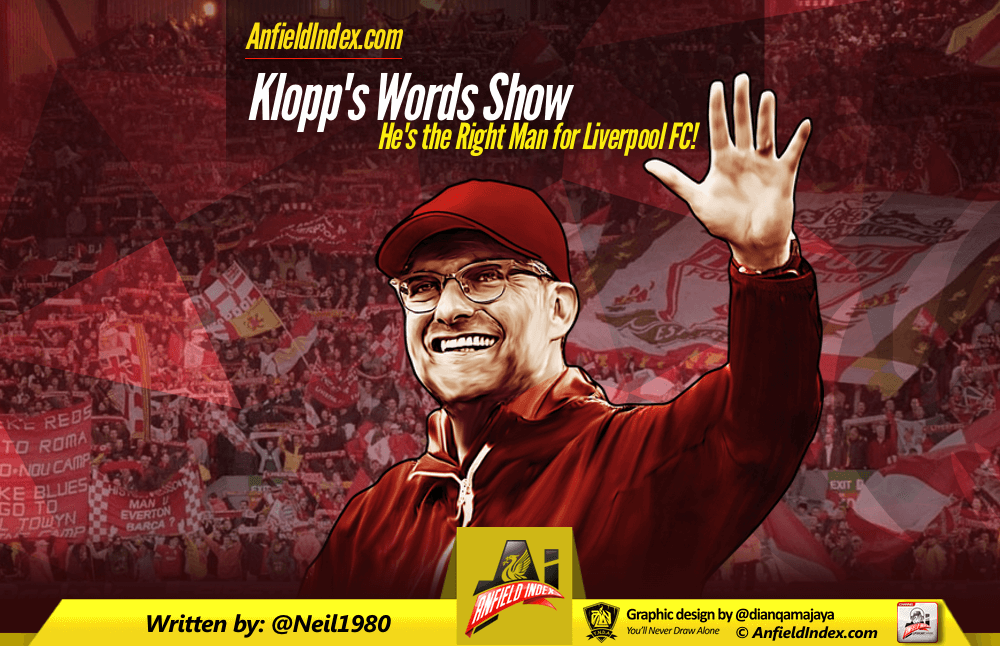 One defeat in ten; six wins in the last seven games (in all competitions), and three wins in a week, but Klopp's biggest concern: the defeat at Anfield against Crystal Palace. Ten games into his Liverpool career he already knows and, what's more, fully understands, that a club like Liverpool can't lose at home to Crystal Palace – and if it does, steps have to be taken to ensure that the situation is never repeated. A certain someone that we know too well, failed to grasp that fact in 40 months at the helm of one of football's most famous and successful institutions.

No disrespect to Palace, they're a very strong, fit, physical side, and they played well in patches, exploiting weaknesses particularly down the flanks – however Liverpool controlled that game for the most part, and certainly should've gotten at least a point. That Palace got the late winner, and the manner in which they did, was disappointing to say the least, but it might well prove to have been a blessing in disguise.
Very few people go through their lives without facing adversity; without being in a position where they feel harshly treated, or think that they've not gotten what their work has deserved. Dealing with that adversity, adapting your approach the next time, or handling something slightly differently; making sure the same fate doesn't befall you again, that's how people evolve, improve and progress.
Liverpool, despite the heady dreams of fans, weren't going to win every single game following Klopp's appointment, nor was it likely that we'd go unbeaten. Setbacks were always going to be a factor; using them as learning curves is key. Klopp, despite a very good start, has already had to accept that you can lose at home to an un-fancied side in the Premier League. That a side with less skill, can out-muscle and/or outpace you at critical moments, and regardless of how big a club you are, if there's no real fear factor, there will be no respect for your reputation.
Jurgen Klopp: "I can't forget this fucking loss to Crystal Palace."

Brilliant. pic.twitter.com/e7jk2RMJVG

— Outside90 (@Outside90) December 2, 2015
To have such a fact (probably one of which he was already aware) spelled out so clearly, in your fourth Premier League game and only the second at Anfield, and after destroying Chelsea the previous week, was a timely reminder that the road won't always be smooth. You'd better be equipped to deal with everything that's thrown in your way, particularly in this league where the result is king and many managers feel that any means necessary are justifiable in achieving that end.
The six Premier League games since Klopp took charge, have seen him have to deal with top Premier League outfits such as Manchester City, Chelsea and Tottenham. Over the next few weeks, when up against the less fancied teams, just what the Crystal Palace experience has taught Klopp will be put to the test. We'll learn what those nagging voices inside his head have been pushing him to do so that his team doesn't fall at the same fences, whether he's listened to them and whether they were right.
Arriving in a whirlwind of flashes and headlines, the beaming blond from the Black Forest has firmly established himself as Liverpool boss, and is already a huge fan favourite. His words, his actions, his personality, and his results have refreshed and reinvigorated a club that had begun to eat itself in the months prior to his appointment. Can you imagine Rodgers picking out one defeat in seven to agonise over? No, I didn't think so, he'd be riding the crest of a wave and predicting the title. Klopp gets it! The work isn't done, it's just begun. It's nowhere near the end of the beginning, never mind the beginning of the end. You must always work harder, you can always improve; with him at the helm, there is no ceiling!