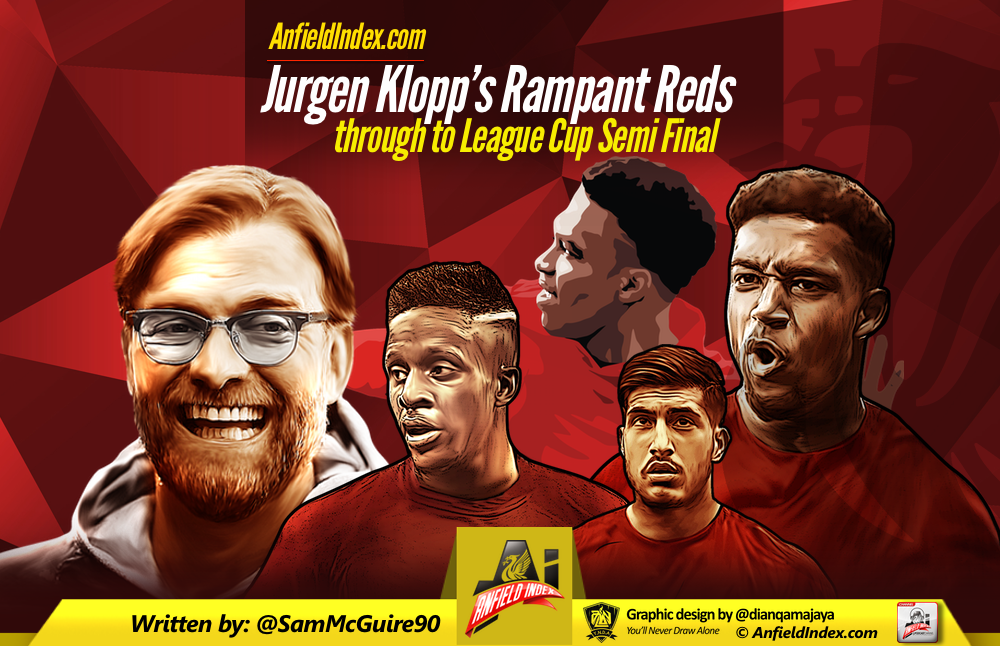 Jurgen Klopp's Rampant Reds through to League Cup Semi Final
Jurgen Klopp has Liverpool fans all over the world doing their best impressions of The Joker. We're all sat manically laughing at what we have just witnessed yet again because that's all you can do. It's surreal. A mere two months ago, Liverpool looked blunter than a spoon and here we are now having scored thirteen goals in three matches against Chelsea, Man City and Southampton. Liverpool turning up to yet another tough away fixture and not just winning, but doing it emphatically and with style.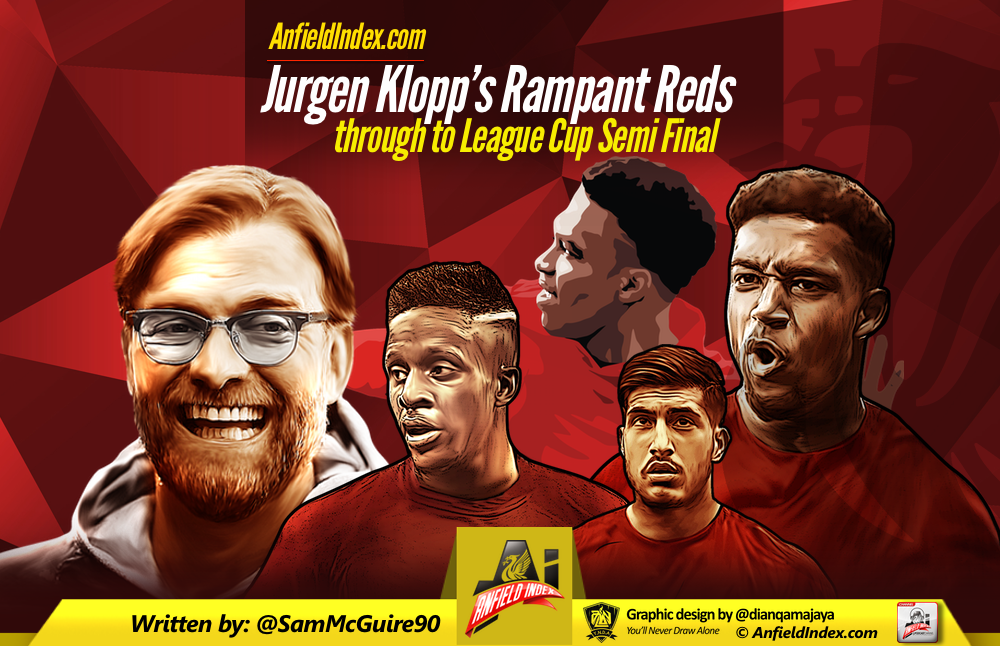 What can we take away from tonight's emphatic victory?

Dancing Danny sends fans delirious. The main man is back. Sturridge marked his first start since the Everton match (Rodgers' last game in charge) with two superbly taken goals. He is like an assassin in front of goal and that is what Liverpool have lacked for some time. Well, at least since he was last fit to start.
Sturridge, alongside the Brazilians, will be the player that sets us apart from the likes of Tottenham and Southampton in the long term. He is the player that makes the difference. The game changer. The match winner.  If he stays fit he will fire us into the Champions League.
He was on the peripheral for the opening twenty minutes and looked unsurprisingly rusty. Yet it was like somebody flicked a switch on when Liverpool built an attack and he sparked into life. It was great movement for both goals. The first actually unnerves me on how accurate it was and the second goal I could watch all day. Perfection in anticipation as Gags likes to say. 
Belief has been restored. Under previous management, there was an acceptance that if we conceded first it was probably going to end up as a defeat and it would not just stop with the one goal. It was more of a when and not if it happened. Under Jurgen though, things have changed.
In his eleven games in charge, Liverpool have fallen behind in five of them; Rubin Kazan, Chelsea, Palace, Bordeaux and Southampton. However in these five games they have only conceded more than one once (against Palace) and they have only lost one of those five games (again to Palace). It's also worth noting that despite conceding in the first half we have never gone in at half time trailing.
These things go unnoticed because we are winning matches but it's a great record to have and it breeds confidence before eventually you have a squad that feels invincible. Even at 2/3-0 down you will have players believing they can win games and that is all you can ask for.
Defensive solidarity. This overlaps with belief being restored, but under Klopp Liverpool have only conceded eight goals in eleven games. This with near enough the same defence that Brendan Rodgers was using when we were averaging conceding two goals a game towards the end. It is this defensive foundation that is playing a part in Liverpool winning games. It is simple yet effective; don't concede and you cannot lose.
Confident squad. Emphasis on squad. The Liverpool side that hit Southampton for six was not our strongest XI. This side was missing Simon Mignolet, Nathanial Clyne, Mamadou Sakho, Jordan Henderson, Philippe Coutinho and Roberto Firmino. That's arguably six starters. Many looked at that side tonight and thought it lacked creativity and we went on to record our biggest win of the season against a full strength, top seven Premier League side, away from home.
It was important for Sturridge to score tonight but the hattrick for Divock Origi will do wonders for him. There was talk of him being loaned out to a German team in January but if he keeps putting in performances like that he won't be going anywhere.
Connor Randall started off a little unsure of himself but grew into the game. It's a great learning curve for him. Brad Smith came on and grabbed an assist with a cross that probably had Christian Benteke erect.
A confident squad eases the pressure on the first team players to have to play every single week. There is going to be less pressure on the likes of Alberto Moreno, Nathanial Clyne, Emre Can and Daniel Sturridge to have to play. It's a squad game.
Going for the jugular. As Liverpool fans we have all become a little too familiar with having thirty shots in a game, getting three on target and scoring one goal therefore finishing a game with fourteen shots, seven on target and six goals is a foreign feeling.
Other managers at 4-1 would have sat back and seen out a good win, but Klopp isn't any manager and he is slowly moulding this side into his image. He is a perfectionist. The players are showing real hunger and desire to impress him and in front of goal tonight, they were near perfect. Clinical, rampant and ruthless. It's the sort of result that's been coming. The 3-1 against Chelsea should have been more and the 4-1 against City could have been eight had it not been for Joe Hart.
Tonight's result against Southampton won't be an anomaly. Klopp's Reds will be rampant.