Please Note: This article was written before the Manchester City game and therefore no stats from that game are used in this article.
Have you ever looked at a team sheet, seen a player on it you didn't rate, and think "S***, we're in trouble now"?
I know I have. Mind you, I think as LFC fans, cowering in terror at some of the names we hear announced on our team sheets has become pretty much an occupational hazard in recent seasons. We have been truly blessed as a club to have so many legends and great players (picking even a best 11 is horrendously difficult when you consider that you would only be able to pick two from Rush, Dalglish, Fowler, Keegan, Hunt, Toshack, Liddell, Owen, Torres, amongst others), but we've had our share of stinkers as well.

But how much of this is down to gut reaction, and how much is based on fact? Do we really always win when Gerrard plays, do we always lose when he is absent?
This thought is what prompted me to look at the stats for our season so far on how players have contributed to team wins, draws and defeats. Who has been on the pitch for our wins, and absent for our losses. Who do we miss the MOST, who should we REALLY want to see on our team sheets each match?
The results are surprising. But, before we get to that, first, let's set the control. Liverpool FC have played 31 games this year. We have won 13 of them (a win percentage of 42%), drawn 6 and lost 12 (39%), accumulating 45 points overall. In the process, we have scored 42 goals and conceded 38.
Second, we have to set some ground rules first. After literally almost five seconds thinking, I decided arbitrarily that I would only count players that had made at least 10 appearances. The only justification for this I can offer is it seemed a nice round number. This means that the likes of Suarez, Carroll and Spearing are not counted (although they might be by the end of the season). I have also omitted players that have departed the club, because frankly I don't want to go and get their stats!
Furthermore. I couldn't get stats for time on the pitch, so I haven't been able to control for sub appearances as much as I would like. Coming on in the 90th minute in a 3-0 win gives you the same credit as getting the winning goals. Plus playing more games means, obviously, you can deviate less from the team average. Reina and Skrtel's record mirror LFC as a whole precisely, as they have played every game. I don't have the stats or the software to compensate for these factors – maybe others do.
That's it. Now for the results. How have players contributed to our wins and losses?
Win percentage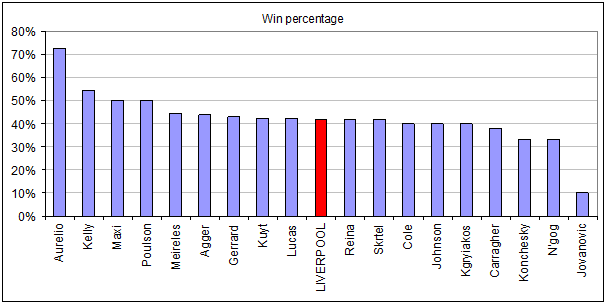 Fabio Aurelio is the clear leader here, featuring in 8 wins in only 11 appearances for the season, giving him a healthy win ratio of over 70%. But, before we get too excited, he has been sub on 7 occasions, meaning that he has started only 4 games. Martin Kelly, with 6 wins from 11 appearances and only 1 sub appearance, has a win percentage of 55%. Next up are Maxi Rodriquez and, perhaps surprisingly, Christian Poulson, both having win percentages of 50 per cent. The clear loser here is Jovanovic, who has been on the winning side just once in 10 appearances.
Loss percentage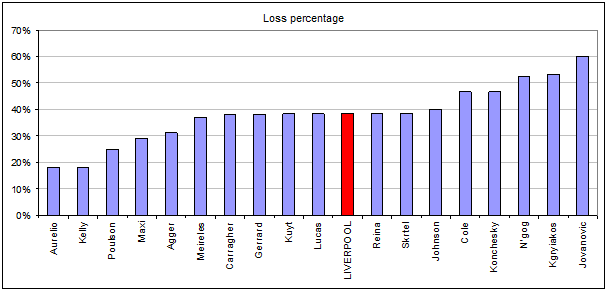 The results of the win percentage got me thinking that its not just about wins, its about avoiding defeats. Here, there are 5 players who are present in many more of our defeats than average – Joe Cole, Paul Konchesky, David N'gog, Sotoris Kgryiakos and Jovanovic. No real surprises there.
On the positive side, the usual suspects are present, with Agger now making a bold case for us being happy on his inclusion, being on the losing side 31 per cent of the time and the winning side 42 per cent of the time. Maxi again performed well, being on the losing side just 29 per cent of the time in 24 appearances. And, despite the reaction of my gut, we apparently shouldn't fear the inclusion of Poulson, who has featured on the losing side just 3 times in 12 appearances in the Prem (3 as sub).
Net point contribution
I was now wrestling with how to reconcile all these factors. How can you control for the number of appearances, proportion of sub appearances, wins and losses? There is never going to be a single metric that can demonstrate all aspects of a player's contribution.
Still, I've had a go. My solution – and I'm sure there are better ones out there, so feel free to tell me your thoughts – has been to tally the points they have gained and taken them away from the points they have forfeited through being on the pitch during defeats. The precise calculation I have used is:
((Number of wins played in*3)+(Number of draws played in*1))-(number of losses played in*3)
Such a calculation doesn't control for the impact of sub appearances, but it at least allows a players contribution to the ratio of wins and losses to be reflected, and gives extra weight to those who have played more games.
The results are below: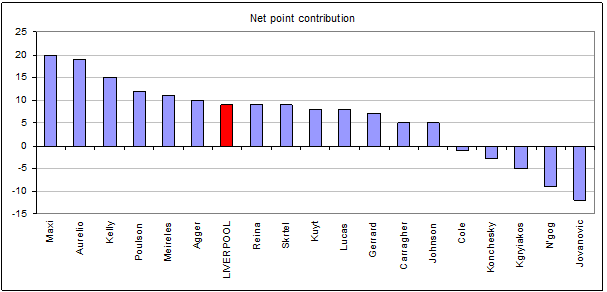 We now have a clear winner. Maxi Rodriguez. In his 24 appearances, he has a net points contribution of 20, having played in all but one of our 13 wins (sub appearances aren't really a factor, given he has only been sub 4 times). In total, he has been on the pitch when we have gathered 41 of 45 points. At the same time, by playing in just 7 of our 12 defeats he has been on the pitch for 21 points lost out of 36. This is a key factor in this performance, as while other players such as Raul Meireles have also gained 41 points by playing in 12 wins and 5 draws, by playing in 3 more defeats his net contribution is lower.
By way of comparison, Gerrard has played fewer games (21) and been on the winning side fewer times (9) and been on the losing side more (8).  His net point contribution is just 7 (31 points gained while he has been on the pitch, against 24 lost). For other players, Jamie Carragher has won fewer games (8) and lost more (8) than Maxi, to make a net point contribution of just 5. In the negative column, we find 5 players – Joe Cole, Paul Konchesky, Sotoris Kgryiakos, David N'gog and Jovanovic.
Based on this, I nominate Maxi Rodriguez as our player of the season so far, and the player we should be most keen to see on an LFC team sheet.
Please Note: This article was written before the Manchester City game and therefore no stats from that game are used in this article.