For far too long, we have complained and been critical of our full backs for not being good enough. At left back, ever since John Arne Riise left the club, we have been left wondering how good Fabio Aurelio could have been, had he not been made of glass. Jose Enrique has never really convinced anyone that he is the real deal, and with the likes of Paul Konchesky and Aly Cissokho in between, it is safe to say we haven't exactly been blessed with top class options.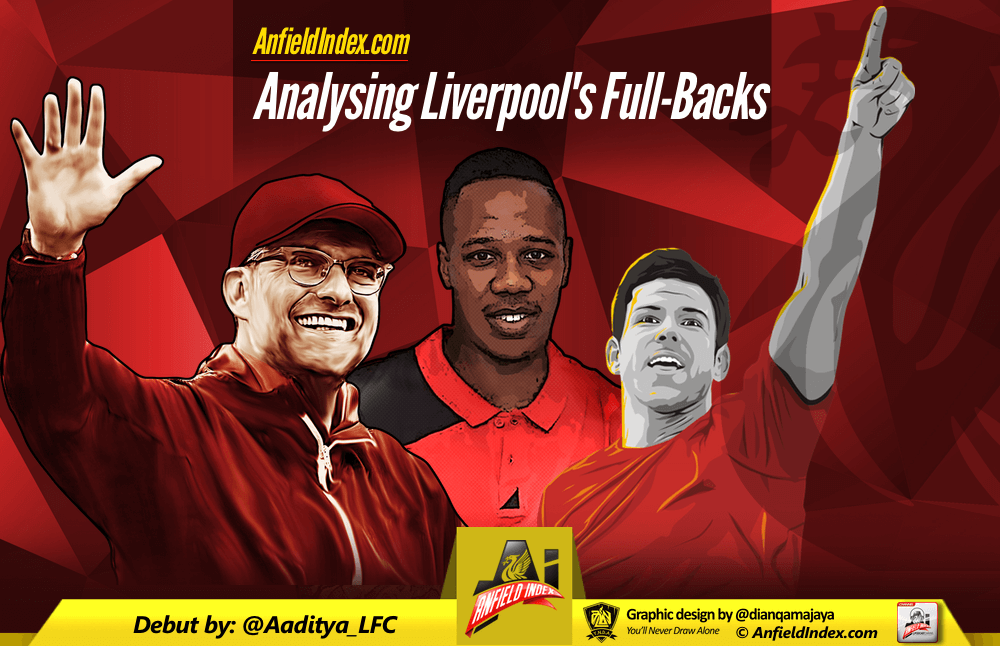 At right back, I absolutely loved Steve Finnan when he was here. As underrated as any Liverpool player ever, but his value to the side was immense. Arbeloa was sold for reasons that I cannot comprehend to date. As a Liverpool fan, no player has frustrated me as much as Glen Johnson. He was blessed with a whole lot of ability, both defensively and going forward. But, at times, when you saw Johnson on the pitch, you would want to tear your head off, as to how someone can flatter so much only to deceive at the end.

Post the times when we played Finnan and Riise at full backs, now is probably when we can be most satisfied. Two young lads, absolutely brimming with energy, possessing natural ability, and delivering at a level scalable to their potential.
Nathaniel Clyne is 24. Alberto Moreno is 23. If the promise they've shown in our games under Jurgen Klopp is anything to go by, we're in for some absolute treats.
The two are as contrasting as full backs get. For starters, Moreno plays on the left and Clyne on the right. But, even in terms of the way they go about their play, they are like chalk and cheese. In many ways, the difference can be seen in the way they make their impact.
Moreno is a lot more showy and 'for the cameras' than the Englishman who quietly goes about his business. You'd never see Clyne do something like this.
I must confess that every time I've watched him play this season, I've fallen a bit more in love with Moreno. Young Joe Gomez inexplicably started the season ahead of him, but to be fair to Gomez, he took his opportunity with both hands. But, you always knew that, in the long run, Gomez was never going to be our left back.
Moreno got 70 minutes of game time in our first five league games this season. The defeat at Old Trafford meant Rodgers had to go to him to play at left wing back, after a change in system to three at the back against Norwich at Anfield. Moreno was absolutely flying down the left flank for 60 minutes, provided an assist for Danny Ings's goal. But then, we went back to four and that meant his freedom was curtailed with more defensive responsibility. That move characterized the way Rodgers used Moreno. Uncertain, and in a lot of cases, incomprehensible.
Moreno, in many ways, hasn't looked back since. But I don't think anyone will deny that Klopp's arrival has galvanized the little Spaniard. Now, it is an absolute joy to see him gallop up and down the flank, with his blistering pace.
Of all of Rodgers's signings over the last couple of seasons, I am most thankful for Clyne. Playing him at wing back was becoming comical, because going forward, he was looking lost for ideas on a lot of occasions. Defensively, I have no qualms at all. As solid a right back as any in the league, but going forward, his decision making is suspect though, and with more time under Klopp, I thoroughly expect that to improve.
One huge difference with both of them under Klopp and under Rodgers is their passing. Both have a lesser pass accuracy but what is striking is the type of passes they've been making. Clyne's pass accuracy under Rodgers was 79% and is 75% under Klopp. Under  Rodgers, 58% of his passes were moving forward. That is at nearly 65% in the game he has played under Klopp. It isn't too much different with Moreno, although the numbers are much more contrasting. Under Rodgers, 87% pass accuracy, but only 38% of the passes moving forward. Under Klopp, 77% accuracy with 63% of the passes going forward.
They have their weaknesses, no doubt. Moreno's positioning has been found out time and again, most notably in the game against Chelsea, where Ramires stole a march on him to head in a cross to give them the lead in that game. Even in the 6-1 thrashing of Southampton, it was a cross from the right flank which was headed in at the far post area, that Moreno should have been guarding. Also, for someone who goes forward as much as he does, Moreno's final ball is still very scratchy. he does produce the odd moment of quality, but his crossing numbers are woeful. If those improve, Liverpool and Spain have one hell of a left back for themselves.
With Clyne, his impact moving forward is minuscule. His decision-making is questionable. He has shown in his time at Southampton that he has a good cross on him, and is capable of doing this:
So, there is enough reason to expect Clyne to offer much more moving forward than what he is right now.
They've got their weaknesses. They've got their unmissable strengths. In Alberto Moreno and Nathaniel Clyne, Liverpool have a full back pairing capable of becoming greats at the club.