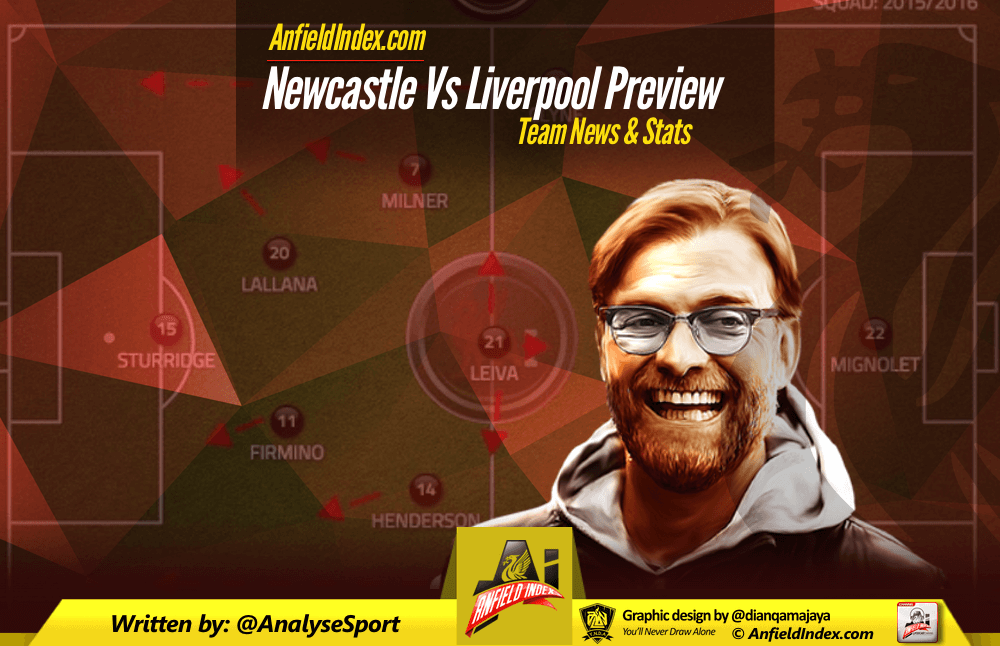 Newcastle Utd vs. Liverpool: Team News, Key Stats & Predictions
Klopp's Liverpool continue to impress, moving up to sixth in the league with three points against Swansea at Anfield, before thumping six past a full strength Southampton side at St Mary's midweek in the Capital One Cup Quarter-Final. Steve McClaren's Newcastle, on the other hand, are probably alongside Aston Villa as the worst team, on form, in the Premier League. They were very lucky to take three points against Bournemouth, and many reports are suggesting the former England boss has two games to save his job. In fact, it is a recurring theme this season: Garry Monk, Jose Mourinho and now Steve McClaren were three managers whose jobs were on the line when the Reds played them. In fact, if you were a bettingexpert, you'd probably go for Klopp's team to win by two or more goals.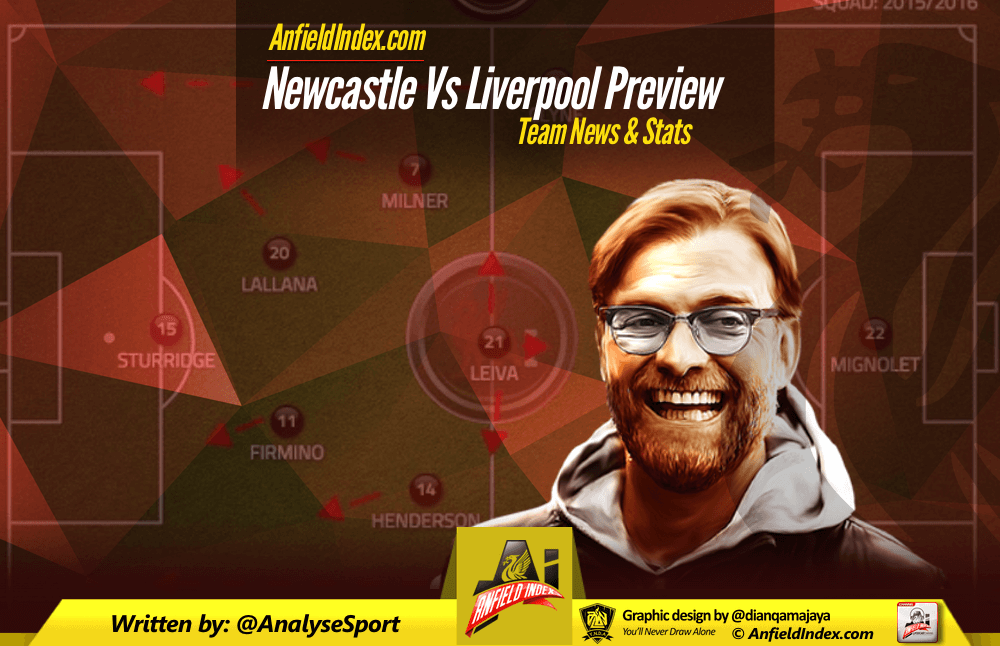 Team News:
With Emre Can missing through suspension, after picking up a booking against the Saints, Liverpool might see their captain return for this match. However doubts do remain about Coutinho, who has missed the last three matches with a hamstring injury, Klopp said this in his pre-match press conference:

"I like optimism, really, but with Phil we were too optimistic. Sometimes it happens like this and there is nothing to criticise — he has tried everything he can.

"He trained nearly normally but he doesn't feel comfortable and we have to take care of this because the muscle is a dangerous thing when you always feel it a bit.

"He is training and we will wait. I can wait every day, it is no problem. If someone tells me, 'now he is available,' and next time he will play with us, no problem. Yesterday, no-one gave me this sign so today we have to wait again."
Sakho is still out, along with long term absentees Ings, Flanagan and Gomez.
Newcastle have one of, if not the longest injury list in the Premier League, with only Bournemouth or Arsenal challenging them for this unwanted award. The Magpies are missing: Good, Krul, Obertan, Taylor, Tiote, Williamson, Riviere, Lascelles, Aarons and Haidara.
Possible Line-Up:
Key Stats:
Attacking:
Main points:
Liverpool are currently mid-table when it comes to shots on target volume, with 67, but rising rapidly.
It is the Reds' conversion rate on those aforementioned shots on target that is the issue: 8.7% of all attempts.
They also need to improve their big chances, with only 19 all season, although that again is rising quickly, with five being created at Man City, but only at home to Swansea last weekend.
Newcastle are struggling in all areas: total shots – 132, big chances – 14, and shots on target – only 46.
Defending:
Main Points:
The Reds' defensive errors (19 in total) continue to hamper a relatively secure unit, who have favourable figure in all areas, including: shots in the box conceded, set pieces, big chances and even goals conceded.
Newcastle, however, are quite the opposite, rarely conceding errors on the ball that lead to shots or goals, but still leaking a high volume of shots in the box (134 – worst in the league), big chances (29) and goals (30).
Other match facts from StatsZone:
Of games to have been played at least 34 times in Premier League history, this fixture has the highest goals per game average (3.14 – 132 goals in 42 games).
There have been a total of seven red cards shown in the last seven top-flight meetings between these two sides (the last six all for the Magpies with the one before that for the Reds).
Indeed, only Liverpool v Everton (20) and Liverpool v Manchester United (16) have produced more Premier League red cards than the clashes between Liverpool and Newcastle (14).
Daniel Sturridge has bagged six goals against Newcastle in the Premier League (including four in his last three); more than against any other side.
Steve McClaren met Jurgen Klopp twice in the 2010/11 Bundesliga season, with Klopp's Dortmund winning both games against Wolfsburg, 2-0 at home and 3-0 away.
Press Conference:
Prediction:
Every ounce of logic, including the Euro Club Index and Who Scored, points to a convincing Liverpool victory: the Magpies' injury list, their manager on the ropes, the defence is a shambles, the Reds are away from home having scored a bucket load of goals in their four previous trips away from Liverpool, Sturridge is likely to return and these matches usually contain plenty of goals. Probably a draw knowing my form for superstitious jinxing, but surely, in this case, logic wins, and we win by at least two goals.