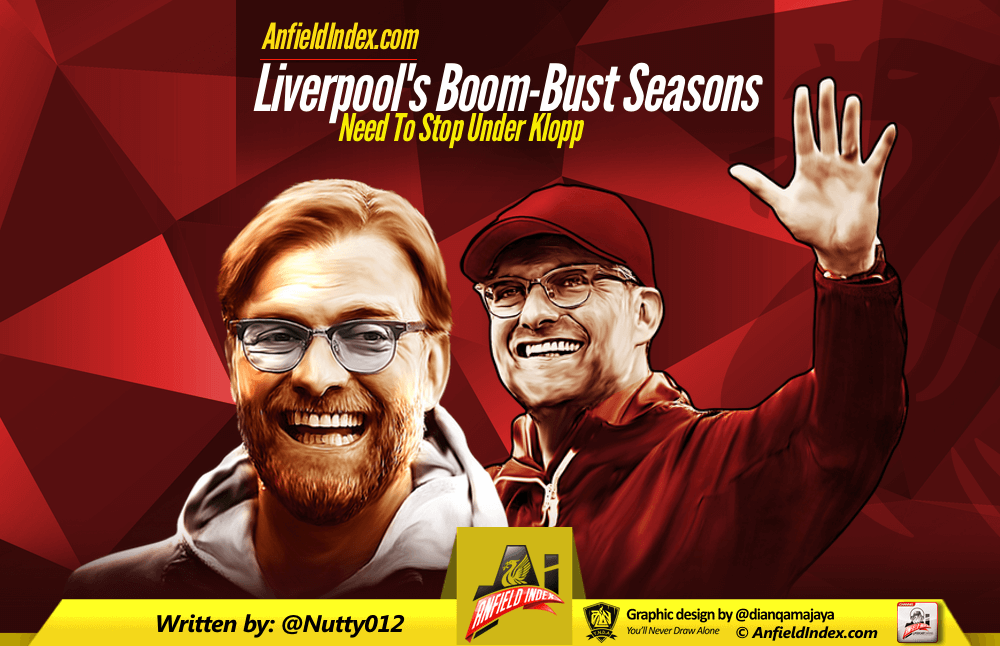 Liverpool's Boom-Bust Seasons Need To Stop Under Klopp
4th. 2nd. 7th. 6th. 8th. 7th. 2nd. 6th.
In the last 8 years, no other club in England has yo-yoed quite like Liverpool from the verges of greatness to the verges of mediocrity. Each league season tells their own story, and this context must be fully appreciated in each situation. But clearly a pattern has emerged of a club who have the potential to perform year to year at wildly different levels. This is a trend that we are starting to see continue under Jürgen Klopp too. After seven league wins in eight games, including brutal away performances against Chelsea, Manchester City and Southampton, the talk of the town is that a potential title challenge might be on the cards.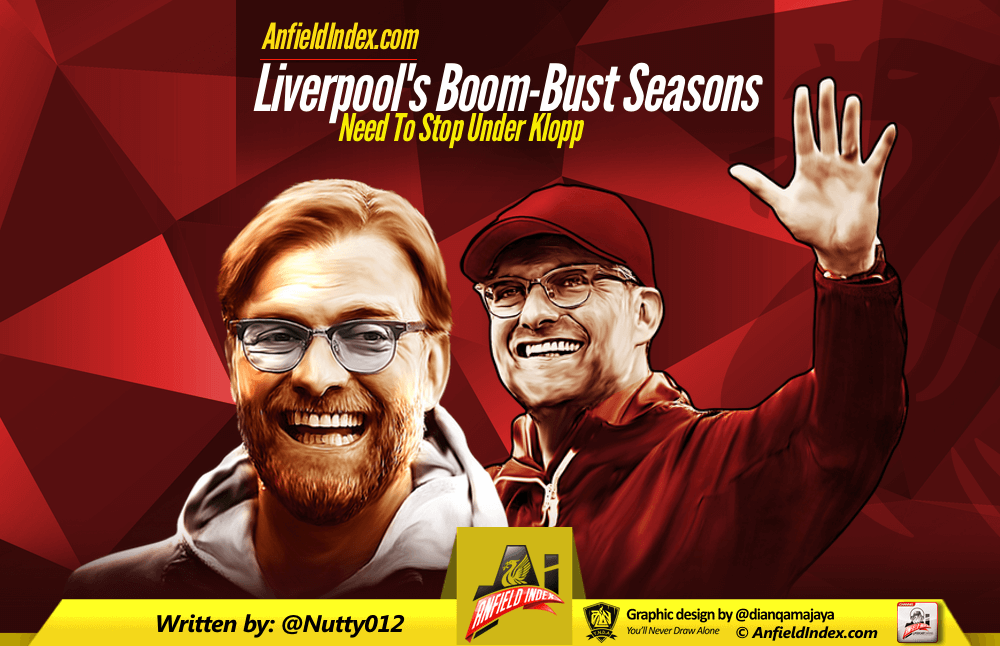 How is it that Liverpool are able to oscillate season to season between the extremes of success and failure, unlike any other club? I have isolated three factors that go some way to explaining both how, and why, this phenomenon happens: the reliance on star players, the history of the club, and the demographics of our current fan-base.
The power of superstars
The seasons of success have often been built upon the stellar performances of a series of high quality individuals. Firstly, it was Gerrard, Alonso and Torres, then it was Suarez and Sturridge, the SAS. Little needs to be said about just how good these players were for those years, but whilst in form they would have all been considered in the top 10 players in the world.
Obviously the seasons of success also contained stellar performances from a supporting cast of players, and this should not be ignored; in 2008/09, the spine of the team was immensely strong with Reina, Carragher, and Mascherano featuring, and 2013/14 was also big year for the likes of Gerrard, Sterling, Coutinho, and even Henderson and Skrtel.
However, when Liverpool reneged to mediocrity, they did so with almost the same personnel. The only differences were the departures to other clubs (Alonso, Suarez) or long-term injuries (Torres, Sturridge) of the star players. Sometimes, players are so fundamental to creating or galvanising to a team, that their presence brings out uniquely fantastic performances from the players around them. Remove the pillars on which the team was built, and the whole team collapses into that mediocre rubble.
Clearly, Liverpool's surges up the table had been propelled by a series of key players, that have then been lost all too soon, and replaced all too badly. Liverpool's model of success on the pitch has been a completely unsustainable boom-bust cycle – unless the club heavily invests whilst it is performing well, they will never be able to assert themselves at the very front of the pack. As it is, Liverpool are reliant upon a couple of star players, who after dragging us up the table will want to further their ambition elsewhere, as the club fail to recruit suitable team-mates, leaving us back at square one.
The power of history
As Liverpool fans we are just about as used to the stories our most successful era decades ago, as we are used to being mocked by rival fans for living in the past. However, I would argue that our connection to our own history is one of the reasons why our return to the top is often been discussed (to the fury of rival fans) as a matter of when, rather than if.
The scale of our success was so great in the 70s and 80s that all those victories have a gravity that is still influencing how the club perceives the game today. Sometimes it affects us badly – we assume that players will want to play for us, sometimes for less money and less chance of medals (not to mention worse weather), and we subsequently miss out on that player (see: Alexis Sanchez).
However, the false arrogance of the club is not so bad when it can match up with a high performance level, and infect the players and the squad. We are always told about how football is a game of confidence. Liverpool players have far too long lacked the same confidence as Manchester United, that same confidence that drives them on to so many injury time winners, that confidence that convinces other teams to give up before they had even started. The confidence that makes them winners.
But it's a confidence that can return so easily to Liverpool, because of our history. Whilst Tottenham may currently have more points, and have been in better form than Liverpool all season, they are now at worse odds at every bookmaker for both a title win, and a top four finish. Tottenham's inferior history does not lend anyone, fans, players, or pundits, to believe in them, even if logic dictates one should.
On the other hand, as soon as Liverpool get any winning momentum, the fans and players can click into gear so easily; the confidence comes flooding back. Liverpool as a club know how to win, history has taught us how to win. History has also taught our opposition, just as with Man United's, how to lose. Once the team is ignited by some strong form, this confidence fires the team to greater heights than might be possible at a different club.
The power of fans
Liverpool fans come in for a lot of stick, normally from within our own fanbase, but recently even from their manager. You have your out-of-towners, the day-trippers, who are often held personally responsible for the demise of Anfield's atmosphere. This conveniently ignores how the decline of home atmosphere in the league is really a general trend around the League: commodification of football and fans has priced out the often working class, "hardcore" fans, and encouraged people with no ambition of doing any supporting to come for a taste of various grounds' "atmosphere", rather forgetting that atmosphere is meant to be created by them themselves.
However, Liverpool's dissatisfaction with its own support shows that as a fan-base we hold ourselves to perhaps higher values of support than many other teams with similar size support. This is perhaps down to the aforementioned history of the club, but the history of the fans does diverge from the pure successes of the team. We pride ourselves on the 'Famous European Night at Anfield', we pride ourselves on 'You'll Never Walk Alone', we pride ourselves on the community of support that the club has developed from its darker moments in history.
But occasionally, the sleeping goliath of Liverpool support gets awakened, and we get to see what our version of "proper support" looks like. When we manage to meet our own standards for good support, there is nothing quite like it. The Liverpool support form the 2013/14 season has been the high bar in my lifetime for support for a large English team in the Premier League era.
It must have absolutely terrified the travelling teams seeing thousands of Scousers lining the roads of Liverpool, singing songs for hours before kick-off. On the other hand, just try to imagine being a Liverpool player arriving to a fanfare of burning passion – you would feel invincible as a player, seeing generations of fans accustomed to ruling the world shouting your name, burning their unwavering belief in you into your very being. The support was unheard of, but it was completely appropriate for the type of unheard-of title challenge that Liverpool were mounting. Just look through the videos and pictures on this Liverpool Echo article for a full appreciation of what we can do as fans.
My latter two points have rather illustrated why Liverpool will always have the conditions to propel itself to the top of English football again. However, it is true that we won't get there without the performances on the field. As the positive upturn in our cycle of competence restarts with Klopp's recent arrival, there are some suspicions that Liverpool have finally got a manager who might be able to arrest this cycle, leaving Liverpool back at the podium of elite clubs. Klopp's history of creating sides un-reliant on indviduals, where the team is more than the sum of its parts, gives room for optimism. As with all these things though, only time will tell if Klopp can break Liverpool's boom-bust cycle.