A disappointing result, and a disappointing weekend, however turning the result into a positive we were missing in my eyes first team players like Mamadou Sakho, Emre Can, Jordan Henderson, Philippe Coutinho and Daniel Sturridge.  Five players who make a difference.
You would still like to think a team in some people's opinions who are genuine title challengers should still be able to get a win against a struggling team low on confidence such as Newcastle United.  And I would agree with that, I would however say when your creative players, who can play with zip in their passes and are athletes who can pressurise the opposition are not there it becomes a much more difficult proposition. This article looks at where I felt we struggled the most: in the central midfield.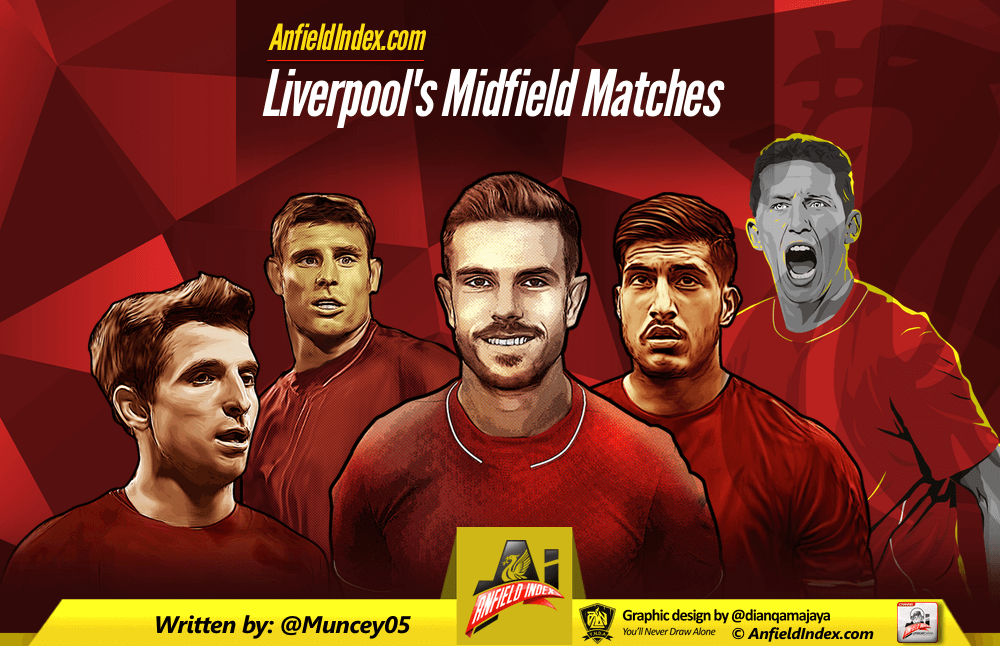 On Sunday, Liverpool had in the engine room, Lucas Leiva and Joe Allen, with James Milner and Jordan Ibe playing in wider roles but cutting in when in possession.  Allen's and Lucas' strongest attributes are to sit in front of their defence.  Lucas is the more adept of the two at breaking up opposition play, with vital tackles or interceptions; he is limited in his passing range though when in possession, occasionally can play a long diagonal out to his full-backs but more often than not keeps it reasonably simple, little short passes into the more creative players.
Welshman, Joe Allen, is a defensive midfielder who likes to get on the ball and has a wider passing range than Lucas, however is not as strong defensively.  Allen is neat and tidy in possession, but again does not have the range or passing ability of two former defensive players who Liverpool looked to sit in between the two central defenders when we were in possession and set the tempo, hitting a number of different types of passes, Xabi Alonso and Steven Gerrard.  So on Sunday, when Allen or Lucas went to pick up possession from Martin Skrtel or Dejan Lovren, it either meant a slow rolled pass into Milner or the full-backs or a simple pass back into either Skrtel or Lovren, slowing the play up and making it far easier for Newcastle to press or defend.
When you look at Liverpool's current midfield options then you have strengths and weaknesses in all of them, whichever way you play, either in a three, four or a five man midfield.  But I do feel the players who play centrally need to have a balance to their skill sets.  For me, a central two of Allen and Lucas is very limited in an attacking sense, especially if ahead of them you do not have the creative talents and vision of Coutinho and the finishing abilities of Sturridge as happened on Sunday.
Liverpool play at their best when there is speed and tempo in their game, with options and movement and the ball being passed quickly when not in possession. Players getting to opposition players quickly to make sure they play hurried passes. None of these characteristics match Allen or Lucas games; you could play one as the holding man, allowing others to press and create but not both in a central two.  Emre Can and Jordan Henderson have these attributes, both are real athletes, have passing ranges and are good at pressuring the opposition.  James Milner has the energy and ability to cover the ground and can pressure the opposition, but his ability on the ball and passing ability worry me. If I was to play Milner in the first eleven, then the majority of his starts would be on the right hand side of the midfield, where he can a deliver a decent cross (as long as it is not a corner) and provide cover to his full-back defensively, working up and down the flank, but in my view is not a player I would like as a regular central midfielder.
For what it is worth I believe with the current group of players and the form of the players, I would play a three man midfield with Coutinho and Adam Lallana in front of that three, and then Sturridge as the main striker; if Sturridge is not available I would play Roberto Firmino as the most advanced player.  As for my three in midfield, I would play Lucas as my most defensive with Jordan Henderson and Emre Can playing centrally advanced of Lucas.  This gives the solidity of Lucas defensively and his job, when in possession, is to give it to Can and Henderson to dictate the tempo, and then to be in place when we are not in possession to press, which Lallana also does very very well.
I appreciate my midfield has no place for current captain James Milner, who was only signed last summer, but as I have said in this article, I think our strength is playing a three in midfield and playing narrow, with other players more suited in those positions to start than Milner.
I still believe in Klopp but Sunday showed the squad is still lacking quality in certain positions when suspensions and injuries hit, but I still believe Liverpool are a serious Champions League contender and could be in the shake up for the title dependant on others.