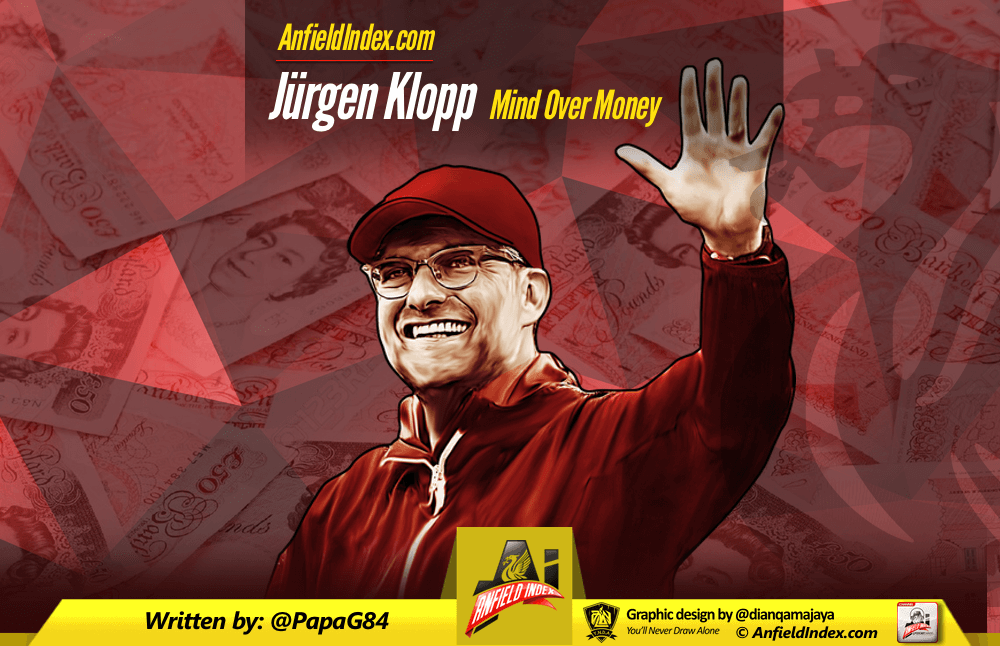 Jürgen Klopp - Mind Over Money

Football is a 21st century sport, a game dominated by its financial wealth, in particular the affluent English Premier League. Liverpool are the eighth richest club in Europe, yet for as long as I can remember, we've been known as a club unable to financially compete with the elite clubs. In reality, that's not been the case; it's precisely where we've squandered the funds available, on both management and personnel that has negated our impact on the pitch.
I, like many other supporters, feel the need for the club to spend the right quantities of money, on select quality additions. For years we've brought in extreme bulk, a conveyer belt of contrasting styles and skill sets. In that time the majority of the higher priced signings have largely been unimaginative, making little to no use of our scouting network. At times we could have signed two or three players, of real quality. Yet we've spread our funds over seven or eight of mediocrity, or what were deemed calculated risks.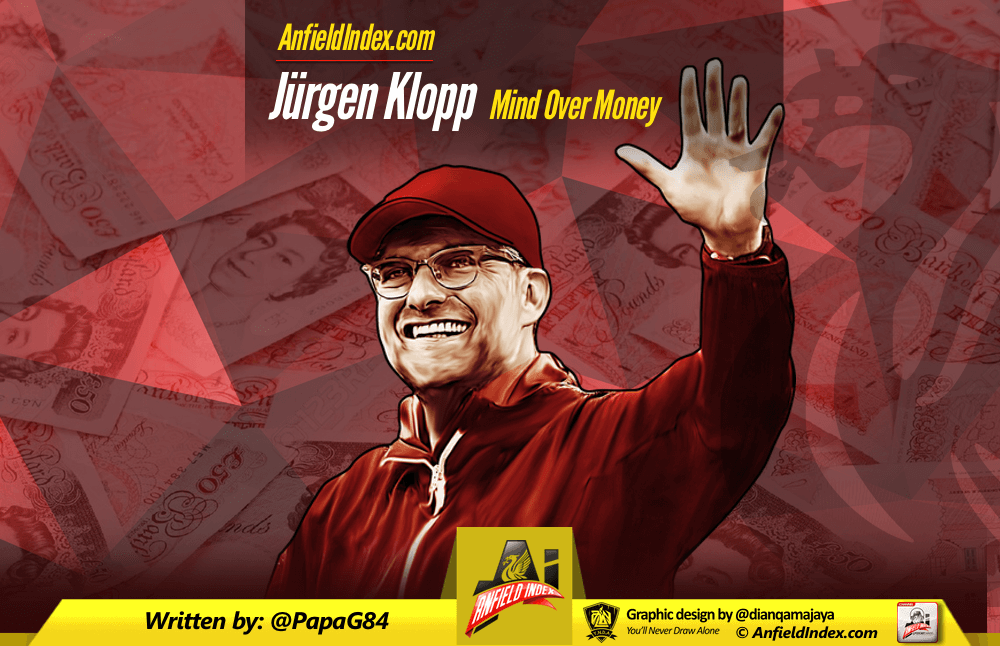 Of the signings in excess of £20 million (with the transfer committee in place), we've brought Lazar Markovic, Dejan Lovren, Adam Lallana, Chrsitian Benteke and Roberto Firmino. For me just two of the above warranted their price tags, the first and last. Whilst neither is yet to display their full potential at the club, (arguably both for mismanagement under the previous coach), I believe both will, given time and the full backing of Jürgen Klopp. The jury may still be out for Benteke (a debate unlikely to hasten anytime soon), but it's clear he along with the Saints' duo, were significantly overpriced for the end product they deliver.
I do shudder a little to think what kind of a player Klopp would have signed with such funds. £20 million for a centre-back, £25 million for an attacking midfielder and over £30 million for a striker. He could have built a spine so strong, it would hide many of the weaknesses in our current squad. A spine to make us competitive both domestically and as a platform to grow into Europe. Yet here we're with an injury prone leader in defence (Mamadou Sakho), a young yet to be fully developed German international in midfield (Emre Can) and enigmatic rarely fit striker up front (Daniel Sturridge). We're relying on players that for one reason or another cannot be fully counted on, which makes the job all the more difficult.
The argument is why, after tens of millions do we still lack a formidable spine and squad of the required standard to compete and when will that change. We all know of the fractions between Brendan Rodgers and the transfer committee. It's a discussion so prominent to why we've felt in constant transition and why we have such an unbalanced squad. The talented committee were signing players unwanted by the manager and the manager players who simply weren't good enough.
Step one to breaching the all important gap to the top four and discussing cup wins was making a managerial change. Instead of progressing we were going backwards and I had truly feared for years in the wilderness. With Jürgen Klopp's appointment, I'm now thinking about when we'll win another trophy, not if we can. I'm confident about the players we'll sign, rather than scared. I have full and unequivocal faith in Klopp, something even post 13/14 I hadn't had with Rodgers.
Before the defeat against Newcastle, many argued we had a squad capable of competing for the title. Then subsequently, a squad not capable of top four. That's the nature of the game, most supporters live in the moment, no reflection just immediate reaction, which is only magnified by social media. In truth the squad isn't ready for the title, but with the players at his disposal definitely able to achieve top four. Especially when you consider the impact a manager like Klopp has already shown he can have on each and every player in the squad.
So why do I want higher profile signings?! Simply because when you look at our squad, we're distinctly lacking in game changers and leaders on the pitch. With the exception of Mamadou Sakho and an emerging Emre Can what leaders do we have? What players do we have that can rally a struggling side, that can inspire a victory from the jaws of defeat? Or a player capable of that sublime moment of magic, game changing magic? Philippe Coutinho certainly does, as does Daniel Sturridge and potentially Firmino, but who else? Not enough in my view.
One could argue, if you build a strong enough squad with a man manager of the calibre we have, then it's about a collective team effort, not star individuals. That is likely the mindset of Jürgen, who in his time at Dortmund, built a wonderful side on a shoestring budget, with the help of others (two of whom, Buvac & Krawietz, joined him at Liverpool FC). Clearly we don't have a director of football, let alone one of the stature of Michael Zorc, but that doesn't mean we can't find talent to develop.
As discussed earlier the merits of the committee have been in doubt, but looking further the signs are positive. Emre Can, Philippe Coutinho, Pedro Chirivella, Alberto Moreno and Daniel Sturridge prove that. Yes all were signed from high profile clubs, but that's just a snapshot of the quality that can be signed for reasonable fees, with huge potential gain. It's not always that simple, there are of course failings during their tenure. But if Jürgen is happy to work with the team we have, who are we to doubt him?
That doubt and unexpected fear goes hand in hand with the majority of Liverpool supporters' mindset. It's learned behaviour, over years of the rollercoaster ride that you gain from supporting the club. It's now time to find that hope and belief once more. Jürgen may not be a miracle worker, he may be able to take this current set of players so far, but you cannot help but look at the side he created at Dortmund and wonder.
The style, intensity and the strategy you've seen glimpses of at Liverpool, are nothing compared to his peak Borussia side. He created a team to be feared, but also universally admired. He can and will do the same with Liverpool given time. His philosophies are already taking shape, but cannot fully until signings are made and a shake up of the unsuitable and unadaptable happens.
You may not see it upon first glance, but not just one, or a handful of things has changed at the club, absolutely everything has. Klopp has restored faith in the fans, the players and most surprisingly rivals. Opposition clubs are starting to stand up once more and fear our side, thinking it's not a matter of if, but when we'll be competing for titles once more. Jürgen lives, breathes and sleeps football, soon all supporters will too.