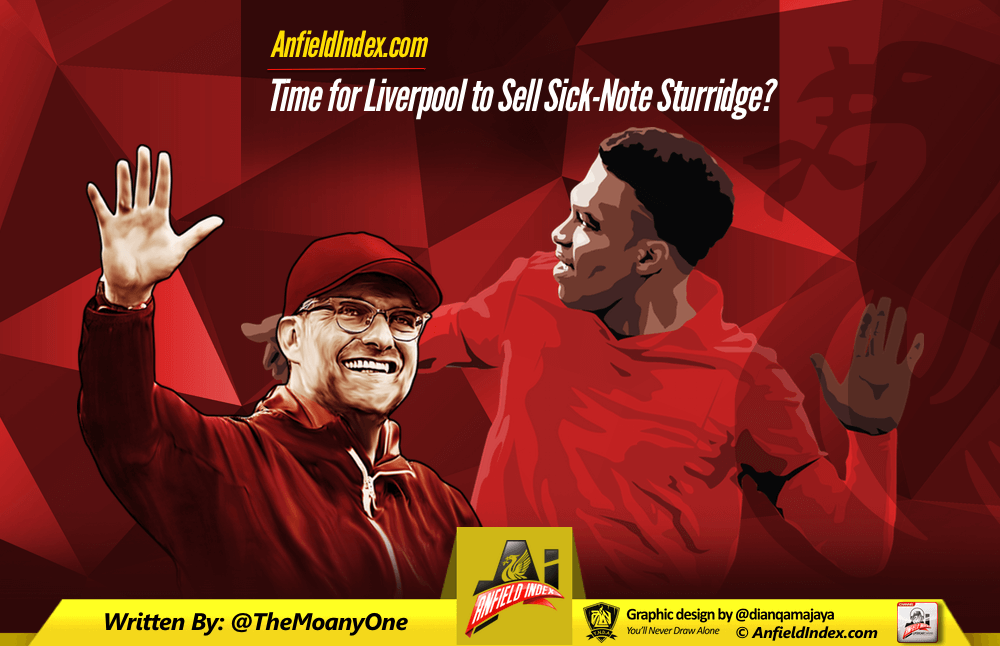 Time for Liverpool to Sell Sick-Note Sturridge?

So the man made of glass Daniel Sturridge is out injured again for Liverpool. Is it now time that Liverpool cut their ties with Sturridge and say thanks for the goals and the memories but we can't afford to have a player on our books who spends more time on the treatment table than out on the pitch? I saw on social media recently that Sturridge has only played something like sixteen or seventeen games for Liverpool since Luis Suarez was sold to Barcelona the summer before last. To put his injury record into perspective, if Sturridge was in any other job apart from football and had the kind of sick record he has, he would be sacked. Now I know Liverpool aren't going to sack Sturridge but I definitely think it's time to cut our losses with him.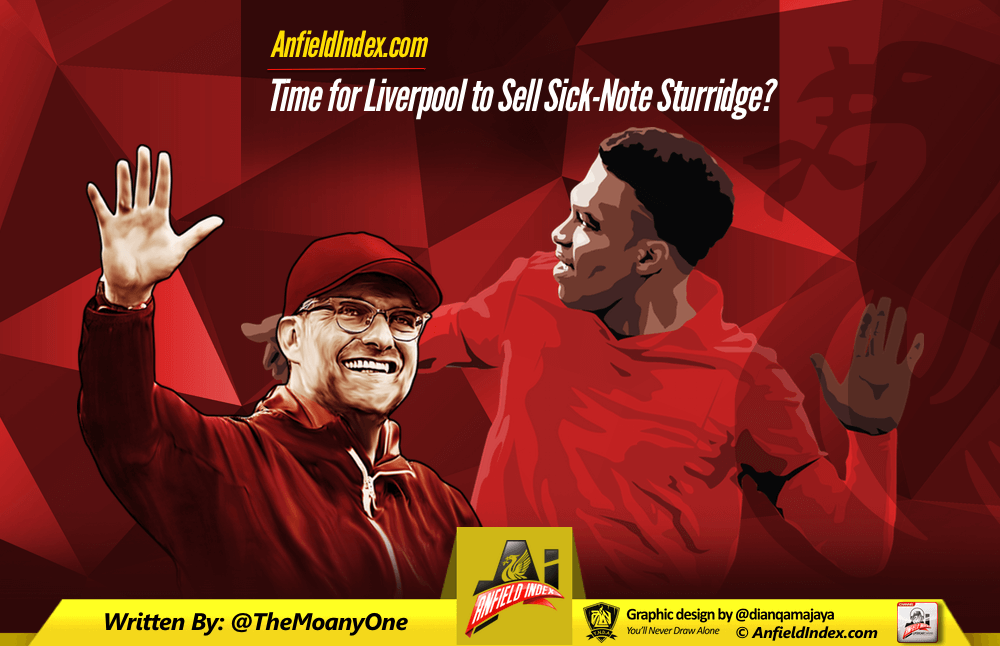 I know it's an unpopular opinion amongst Liverpool fans and not that many fans think the same as I do, but how long are we fans expected to wait for Sturridge to become fully fit, to be of sound enough mind to play ninety minutes for Liverpool on a regular basis. We've already been waiting nearly eighteen months for him to play against Southampton. Unlike last season I don't think Sturridge been missing from the Liverpool team on a regular basis is as big a loss as it was last season. Liverpool have strengthened the striker position over the summer with the arrivals of the Belgian duo Christian Benteke, Divok Origi and Brazilian Roberto Firmino.
There's no doubting that Daniel Sturridge is a quality player. Look at his goals against Southampton recently in the Capital One Cup when he wasn't even half fit. He took his goals brilliantly and not like a player who has missed so much time off with injury. I also know that Sturridge gives Liverpool a different option up front, something they don't get with Benteke. His goal to game ratio for Liverpool is first class. He has broken records the short time he has been at Liverpool and if he stays fit I have no doubt he will go on to break many more records at the club. But the if he stays match fit is a big if. All these continuous injuries he's had over the last eighteen months I'm sure have affected him mentally. He wouldn't be human if they didn't. And if they have how do Liverpool and Jürgen Klopp go about getting his head right? I don't normally pass any heed to what ex players say about current players at the club but recently both Steven Gerrard and Jamie Carragher have both said that Sturridge needs to be right in his own head before he even considers playing a match. It sounds to me that he needs molly codling and as a professional footballer that's simply not good enough.
So, if Liverpool were to sell Sturridge who do they sell him to? Do they sell him to a club in the Premier League or do they sell him to a European club? I can guarantee that both Manchester club's would love to have him on their books, Chelsea would be the same, especially as they're struggling for goals this season. Arsenal and Spurs would snap him up in an instant. Would Liverpool really want to sell Sturridge to one of their rivals? Would it be seen as a smart move on their behalf? In my opinion it would be. After all if Sturridge can only manage two games every eighteen months, it wouldn't be a bad move. Liverpool would definitely make the money back they paid for Sturridge if they were to sell him regardless of his injury history.
And if Liverpool don't sell Sturridge what do they do with him? Do they continue to stand by him and hope that he somehow manages to overcome his injury nightmare? Do Liverpool buy another striker to cover the loss of Sturridge? Do the club change his contract to a pay as you play deal? Would Sturridge be willing to take a pay cut or a change to his contract? If he does accept any changes to his contract, does he have the mental strength to overcome the last eighteen or so months? Will he be the same player that he was when he first joined Liverpool, the player who scored twenty goals along side Luis Suarez?
Finally if Liverpool do sell Sturridge, who do they bring in to replace him? Can Jürgen Klopp attract someone to the club that can settle quickly into the team? Would the club's owners be willing to back Klopp in the transfer market or would they insist he sells players first before buying anyone? And if Klopp does bring in a new striker, would it be his way of saying he has lost patience with Sturridge? Or does he wait until the fans lose patience with him before selling him? Or does he use the players he has already at his disposal? Look at how Firmino and Liverpool played at Manchester City with him being the main attacker. Does he give Origi a decent run in the team with Coutinho and Firmino playing along side him or does he stick with Benteke up top and try and make the attacking line work with him as Liverpool's main striker?
Personally I would sell Sturridge on, cash in on him and use the money to buy another twenty plus goals a season striker. With Jürgen Klopp at Liverpool strikers will be lining up to come to Anfield. Players like Marco Reus, a player Liverpool fans are dreaming of coming to the club or Alexandre Lazzette another who has been linked with Liverpool recently. I would hope that the owners would back Klopp to the hilt, after all they let Brendan Rodgers waste money on some very sub standard players. With so many games coming up between now and the end of January I think it's vitally important that Liverpool sort out the striker problem sooner rather than later and who knows maybe a front combination of Divok Origi and Roberto Firmino is the way forward and Christian Benteke can be our impact substitute. As for Klopp losing patience with Sturridge I feel thats already happened if his playing through the pain comments are anything to go by.
Whatever happens Klopp has his work cut out. If he gets rid of Sturridge he's going to upset a certain section of fans. It seems when it comes to Sturridge whatever he does he's not going to keep all Liverpool fans happy. Let's hope whatever he does he gets it right.