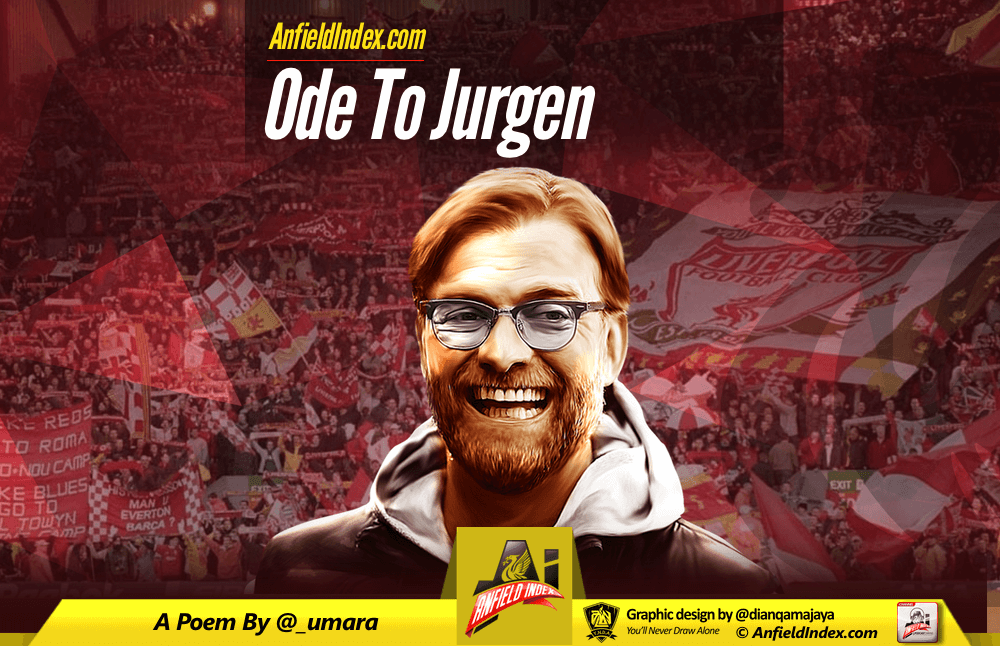 Ode to Jurgen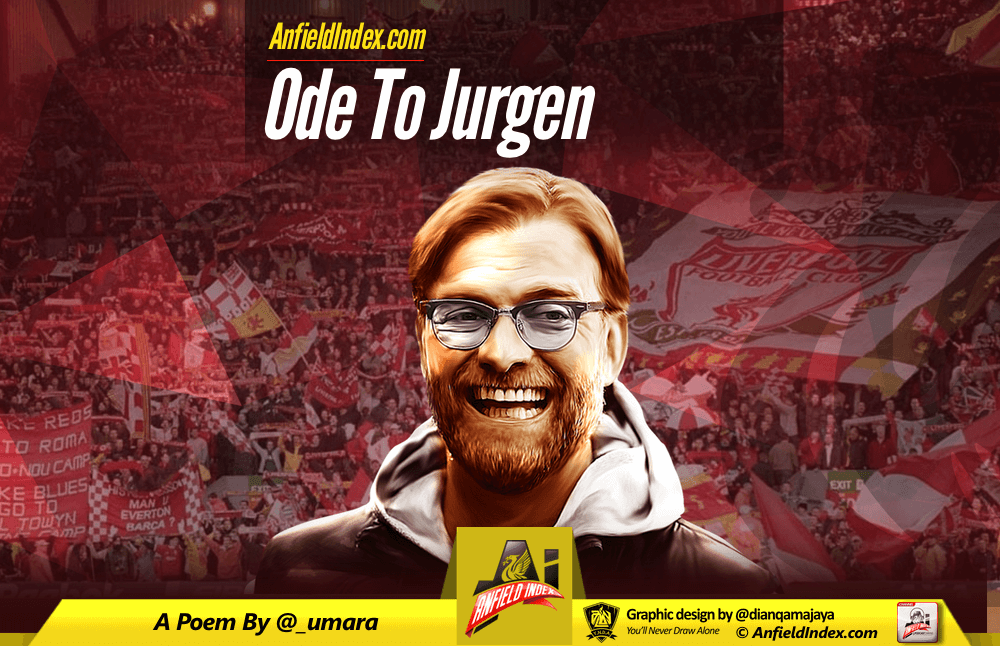 From the Black Forest he rose into footballing glory,
At Mainz Jurgen Klopp began his story,
At Borussia Dortmund he found his fame,
Suddenly, the world knew his name,
Two titles, three cups, and a champions league final,
German football had found a new idol.
Bold, quirky, the master of Gegenpressing,
Fun, passionate with some snappy dressing.
But the Dortmund journey would come to an end,
The club lost a leader but mostly a friend.
After a short sabbatical, Jurgen began to itch,
He yearned to see his team back on a pitch,
Hints were dropped of the Premier League,
Excitement ensued; a media stampede,
Speculation, conjecture and theories resulted.
Then Brendan was sacked; catapulted!

Into oblivion the Ulsterman went,
Thierry and Jamie were left to lament,
"Klopp to the Kop" had been the cries all summer,
The Reds had their wish; to everyone's wonder.
With a huge personality and a smile to match,
The German took charge of his Anfield patch!
The world now took notice of LFC,
We had a world class manager. Finally!
The media frenzy was a sight to behold,
Reporters, photographers all waiting to be told,
"When is the press conference?" "A photo or two?"
Klopp in demand, form an orderly queue.
Now was the time for talking on the pitch,
Away to Spurs was first on the list.
Klopp's campaign was underway,
But no goals were scored at White Hart Lane,
It ended with a point and squeaky clean sheet,
Mignolet twice saving the Reds from defeat,
Against Southampton, three points it seemed like,
But Mane cancelled out Benteke's strike.
Sterner tests were yet to come,
A trip to the champions would see Klopp undone,
How wrong could we be? Chelsea played off the park,
Benteke and Coutinho providing the spark,
Mourinho's Blues left with dented pride,
A win at the Bridge to a champion side.
The Reds were on a high; on cloud nine you might say,
But Palace at Anfield took three points away,
Some fans left early, Klopp felt alone,
His first defeat; a humbling milestone.
The international break seemed to last for an age,
A trip to the Etihad, LFC's next stage,
A tough match to answer the clubs detractors,
Would the recent defeat be a major factor?
The hell it would! Three goals just like that,
Even Skrtel joined in with a hell of a whack!
Two big wins for Klopp's Reds on the road,
Fix that home form and crack that code.
Swansea up next but at home, not away,
A penalty from Milner saved the day.
Six goals at Southampton in the Capital One Cup,
And LFC looked like a team on the up.
Newcastle away would be an easy ride,
Gather momentum, get into our stride,
Surely we'd win with goals galore,
Maybe score three, four, five or more?
A kick in the guts the Geordies provided,
A 2-0 loss left feelings subsided,
An angry Klopp made his emotions quite clear,
His irate demeanour had the press in fear,
Many lessons to be learnt in this bitter defeat,
But one thing Klopp gave us all is belief.
Because Jurgen is different and knows the score,
He'll chop it and change it and add a bit more,
Fixing what's broken and playing to strengths,
Push out the stragglers and go to great lengths,
From doubters to believers he wants us to be,
The players, the fans, the entirety.
Because LFC is the next chapter in his story,
And Jurgen Klopp is the man to lead us to glory.