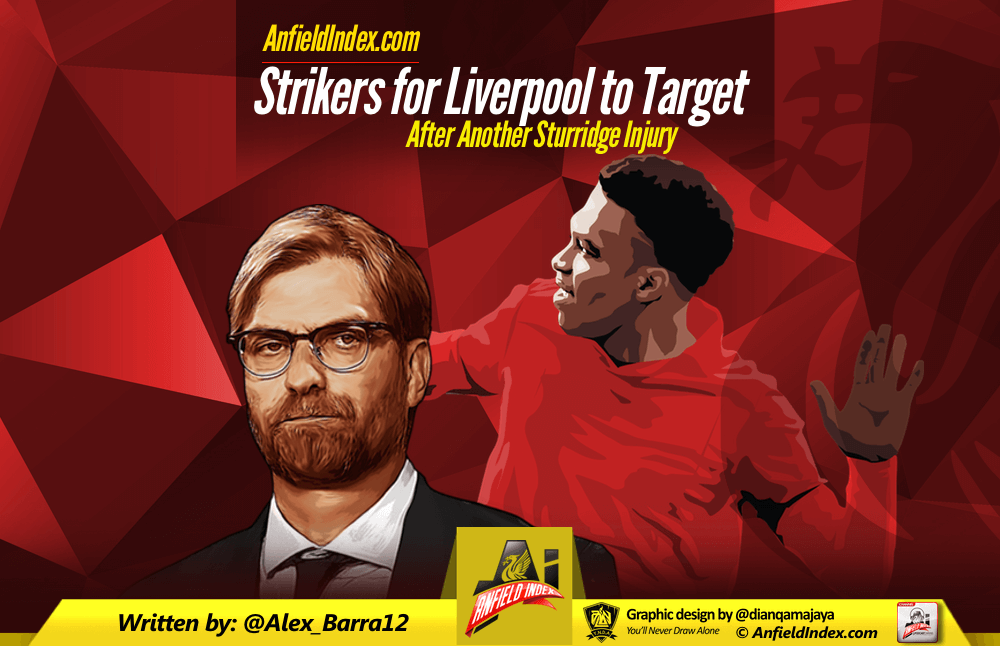 Five Striker Options for Liverpool to Target
Another day. Another Daniel Sturridge injury. The frequency and consistency of the frail, yet undeniably talented Daniel Sturridge has hit Liverpool hard, and following a promising yet inconsistent start under Jurgen Klopp, it's clear that the German's men require a bolster of firepower to increase their goal output.
Roberto Firmino has been the most impressive of the attacking complement, yet he is best suited to being the attacking tip of the triumvirate behind the striker. Christian Benteke, while a potent weapon, is yet to show that he will work under Jurgen Klopp, and lacks the mobility, pressing or mental awareness to bring out the best from those around him.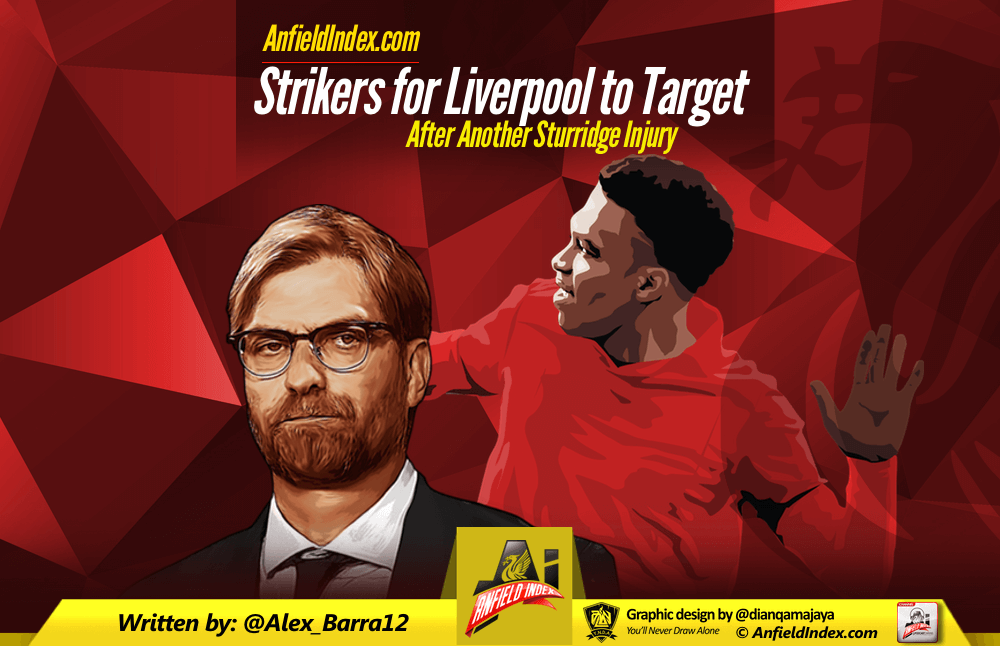 Therein lies the problem; Jurgen Klopp's teams have always had the multitude of attacking weapons; where Robert Lewandowski provided the key goal threat, the likes of Marco Reus, Mario Gotze and Henrih Mkitaryan all made their presence known amongst the goals. So Liverpool could opt to leave Roberto Firmino as the shadow #9, surrounded by a selection of blistering, quick-footed attackers to make the jobs of the opposing centre halves nearly impossible, or instead opt for a more traditional striker to be the tip of the spear, in a presence similar to Daniel Sturridge, who can make use of the multitude of chances from those behind him. Here's a selection of possible, and plausible, targets, both central and wide.
Kevin Volland
First, the least traditional, yet possibly most effective, addition Liverpool could make in January. With Hoffenheim rooted to the bottom of the Bundesliga table; incredible considering they've finished in the top half of the table in the last two seasons, Kevin Volland has shouldered a lot of the attacking burden, playing as the centre forward for much of the season. Having scored 5 goals and assisted 1 in 14 appearances, his form, much likes his club's, hasn't been as impressive as previous seasons, and much of it has to do with the absence of his partner in crime; Roberto Firmino, who linked up with him so well in previous seasons.
His ever-developing role as the #9 means he can slot into Daniel Sturridge's position seamlessly, while his versatility means when Sturridge is fit, he won't be forced into a position on the bench as an impact sub. Instead, he can be deployed on the right side of the attack, linking up with Roberto Firmino in the kind of close, intricate, one-touch play in and around the box that both thrive on. He also makes 1.6 tackles per game; ahead astronomical leaps and bounds to Daniel Sturridge's 0.4 and Christian Benteke's measly 0.2 in the Premier League. Adding the dangerous pace, combined with the goal presence without having to sacrifice a key cog of the pressing system would prove to ease the burden on the likes of Firmino and Lallana, while adding to their final ball.
With Phillipe Coutinho's supply and the ability to beat the line, Volland's presence adds a well-needed goal threat without having to sacrifice a player; in fact it would add an element to Liverpool's attack which could make it that much more formidable.
Michy Batshuayi
Adding to the Belgian contingent already at Anfield, the arrival of Michy Batshuayi would certainly bolster the ranks of pure, goalscoring #9's who have adorned the Liverbird on their chest. Certainly more Romelu Lukaku than Christian Benteke, Michy is much more than simply a physical, header-oriented attacker; his movement is intricate and clever, and his awareness in front of goal has seen him become Marseille's most important player following the departure of long-serving talisman Andre-Pierre Gignac.
He's been used by the French club as the tip of a 4-2-3-1; meaning he is more than capable of leading the line alone flanked by attacking midfielders, as Jurgen Klopp's system demands, and his goalscoring record of 10 goals in 17 Ligue 1 appearances is substantially better than his compatriot already at Liverpool, Christian Benteke. The real crux though lies with the ease of playing style; he doesn't hinder his fellow attackers, instead using his movement to get on the end of chances they create, and doesn't require pacy wingers to hurl in crosses; the anti-thesis of a Jurgen Klopp side. Instead, and much like Lukaku, he finds pockets of space and finishes with aplomb, and would be more than willing to go up against the frail, often incompetent Premier League centre halves who wouldn't be able to deal with his movement inside the box.
The sticking point? He's Marseille's only recognised striker, so a substantial sum will be needed to pry him away from the French giants. One to look for in the summer, then, most definitely.
Mauro Icardi
Speaking of waiting until the summer, the addition of Mauro Icardi, one of the most prevalent and phenomenal goalscorers in Europe, would add the kind of finishing touch to Jurgen Klopp's attack that would reap goals, goals, and more goals. His time at Inter, though clouded in a portion of controversy, is offset by his phenomenal goalscoring record; one which saw him reach a tally of 45 goals in 100 Serie A games, including last season's 22 goals in 45 games.
He's not the quickest, nor the strongest, but his movement mirrors the likes of Robert Lewandowski and Luis Suarez in terms of his ability in front of goal. Most of his goals come from inside the 18 yard box, including a fair share which come from first time finishes; something that this Liverpool side is desperately lacking. With the presence of a proper finisher inside the box; one who is able to move off the centre-backs and in accordance with the likes of Firmino and Lallana, possibly even a Leroy Sane or Kevin Volland, Icardi would be able to incisively carve out space for his fellow attackers to occupy and put the lethal finish on the final ball as it enters the area; a far cry from the stagnant and often lethargic Benteke.
There is a catch though, a quite substantial one in regards to the fee any suitor of the Argentinian; as Inter Milan are adamant they will not sell their prized striker; one who could lead them to the elusive Serie A title they've been chasing since their Champions League win under Jose Mourinho. They've got the manager to be stubborn too; in Roberto Mancini, so any price tag would be substantial.
Luciano Vietto
A name touted by many Liverpool fans in the summer; for good reason; much like Icardi and Michy, Luciano Vietto's movement is what offsets him from the masses of strikers, able to get into goalscoring positions inside the box and most important, able to finish them emphatically. His goalscoring record at Villareal is what piqued the interest of Atletico Madrid – among a host of potential suitors – as the diminutive Argentinian scored 20 goals in all competitions in his first season in La Liga.
His turn of pace, intelligent movement, ability to play in others and poacher's instinct drew comparisons to compatriot Sergio Aguero, and though it may seem premature, the two have very similar bases upon which to develop. Vietto hasn't settled into life well at the Vicente Calderon, behind the pecking order to Antoine Griezmann, Jackson Martinez, and even a phenomenally talented young star Angel Correa, but has started games in the Champions League and scored important goals in both European and Spanish competitions, notably the equaliser in the Madrid derby. Should Vietto find himself craving first team football, despite the link to the manager who first signed him to Racing Club in Argentina and gave him his first appearance as a 17-year old, Liverpool should most certainly swoop.
This deal, however, would be a longshot for a few reasons. Despite his poor adaptation to life in Atleti, he cost the club £20 million pounds and it would take a substantial amount of money to force them to part with a striker who could very well be a tremendous future success at Atletico, especially if the connection with Diego Simeone continues to be present. It would be decidedly unlikely, but a lot can happen between now and the summer.
Alexandre Pato
A recent link, and a welcome one amongst many fans, the former Milan star has faded out of many people's minds at the culmination of his time at AC Milan, which was hampered by an ACL injury. Since, then, however, he has remained mostly free from any repeat injuries, and his prowess in front of goal has rekindled as well. At Sao Paolo, he's recently re-developed the cutting edge in front of goal that saw him make his debut as an 18-year old striker for AC Milan, while they were still at the pinnacle of the Serie A.
Recent links to the striker's move has many intrigued, and his reputation alone is enough to spark the interest of Liverpool fans in desperate need of another quick, mobile striker. He's been deployed for the Brazilian national team from the flanks too, meaning his versatility can come into play in a fluid attacking four, and at Sao Paolo, he wouldn't command a very high price; less than £15 million in all probability.
It may perhaps be the biggest gamble in terms of guaranteed talent, but with something to prove and an injury slate largely clean since his return to Brazil, Alexandre Pato could be the talisman to rekindle Liverpool's fluid, fast attacking style; one which Jurgen Klopp would surely relish in.