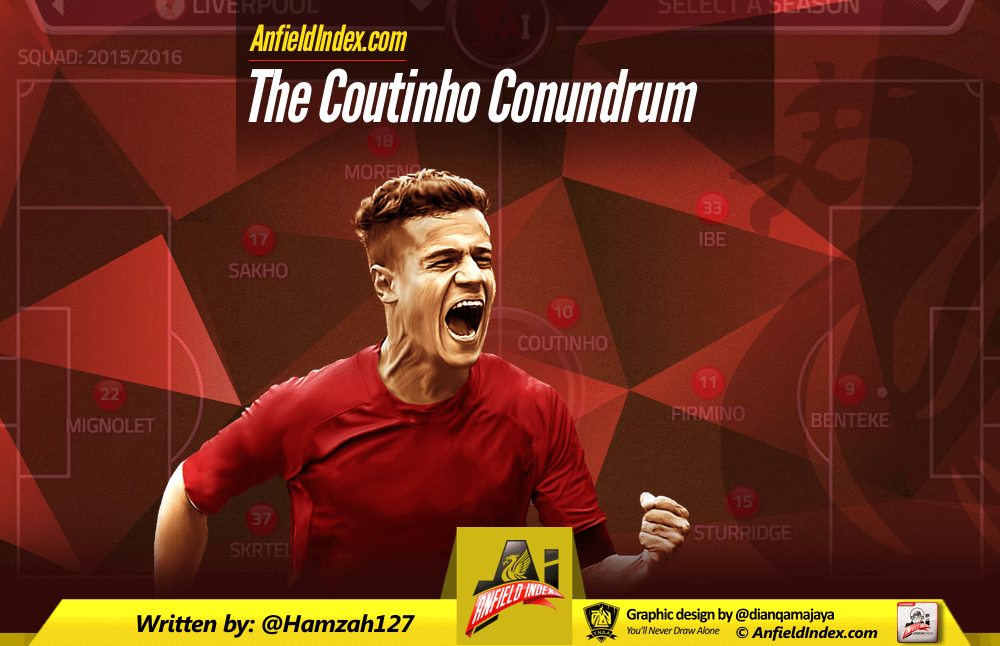 The Coutinho Conundrum
In recent weeks, Liverpool have put on three stellar displays: dismembering Chelsea, Manchester City and Southampton all away from home, and yet there have also been some dire, and rather boring affairs – the Newcastle and Sion matches, and to an extent the Swansea match were all too familiar and brought back bad memories of the last few weeks of Brendan Rodgers' campaign and the lacklustre season before it.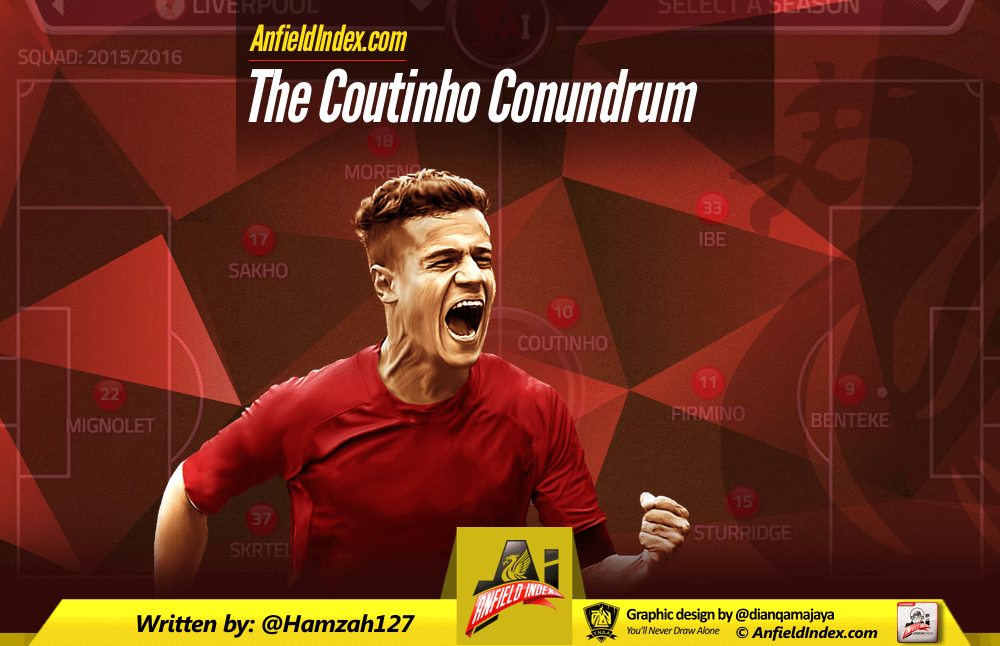 In these games, there seemed to be a distinct lack of creativity from deep, and this has been a recurrent theme over the past few seasons. Liverpool have struggled to break teams down when they sit back, and also struggle to create chances without Phillipe Coutinho on the field. In this article, we are going to look at both Liverpool's lack of creativity without Coutinho and also, the more long term issue of struggling to break down teams who sit back, without a specialist creative centre midfielder.
Firstly, Liverpool's creative deficiencies without Coutinho will be analysed; this season in the league (excluding the West Brom match) Liverpool have created 169 chances, and a staggering 80% of these are made when Coutinho is on the pitch. Of these chances, Coutinho has created 17, (i.e. 10% of all chances made), resulting in a chance being created whilst he is on the pitch every 7.4 minutes.
When Coutinho is not on the pitch though, the team looks markedly different; in the 351 minutes in the league played without Coutinho (excluding West Brom again), Liverpool have only made 34 chances in that time. They struggle to create chances and resort to a heavy possession style of play, where the ball is passed across the back line frequently to no real penetrative effect.
Coutinho is the key for Liverpool creatively, he fills in for the lack of creativity from deep, and provides the accurate, quick short passes that are required to break down a team sitting back. This links back to the issue of poor creativity within the team; in terms of energy, the midfield that Liverpool have is impressive, and players like Henderson and Can both chip in with assists over the course of the season. The problem is however, neither of these are natural playmakers, and neither are Allen or Lucas – all of these players are very good at recycling the ball, but none are known specifically for their creative output – people may point to Henderson's goal against West Brom and Can's assist against Southampton for evidence, but overall they do not provide enough chances that the team – and the strikers specifically – need to score goals consistently.
Liverpool may have had 28 attempts on goal against Albion, but of these, only Lallana's effort in the last 10 minutes, Coutinho's volley over the bar and Henderson's goal stick out as genuine clear cut chances. Despite some critics saying so, the problem is not just the strikers, nor the attacking midfielders, but to an extent the centre midfielders.
Critics may point to Benteke's lack of movement, but in reality, the ball should be coming into him in areas where he can just take a touch and shoot, or just shoot first time. Liverpool have become reliant on Daniel Sturridge who constantly makes darting diagonal runs across the opposition's defence, but most normal strikers are not of his level and expect the ball to be placed in areas where all they have to do is finish the chance off. Liverpool should be creating chances for the strikers, not the strikers creating chances for themselves – as Sturridge often does.
By controlling possession in front of the opposition's back four and not opening clear spaces up, it becomes much easier to defend, what Liverpool require though is a faster, more direct approach – much like the one taken by Coutinho, where he looks to pass the ball forward as much as possible, and in front of the receiving player – as lots of passes to feet lead to a stagnant, slow style of football which is much harder to score goals with. The direct approach cannot solely come from Coutinho though, the onus should be on a centre midfielder to fizz the ball forward quickly – not necessarily aerially – in front of the striker, in order to catch the opposition unaware and not give them a chance to settle into a defensive game plan.
To break defensive teams down, it is important to be able to apply pressure on the opposition from multiple areas on the pitch, currently the pressure applied is only in the final third when a player like Coutinho has the ball, and a striker is making runs behind the defensive line. In order to apply pressure consistently on the opposition, a creative centre midfielder is required to be able to dictate the play and choose which areas to play the ball into in order to create chances.
The top teams in the Premier League and Europe usually have a well established creative centre midfielder, often alongside a more defensive minded one; Barcelona used to have Xavi perform this role, but Busquests and Rakitic currently share this role, Real Madrid have Modric, Kroos and sometimes Kovakic, whilst Bayern Munich and Juventus have Alonso/Thiago and Pogba (formerly Pirlo) respectively. Let it be known, I am not at all suggesting we need to have one of these centre midfielders which will fix all of our problems, but I do believe that many of Liverpool's problems stem from there, as the team relies too much on Coutinho to create chances, and without him the team struggles. If there were another very creative player alongside him, or behind him, then there would be less pressure on him to create chances, it would make creating clear goal-scoring chances easier, which would eventually make breaking down teams who sit back – a recurrent issue that Liverpool struggle with – much easier.
The best way to find out how to fix the issue of being stagnant in front of rigid defences is to look to other teams in the league; in this case Arsenal are the best example – they used to struggle with this particular issue, and were accused of trying to walk the ball into the goal, but this season, in order to have a more direct attacking threat, Wenger moved Cazorla to centre midfield – with Coquelin assuming the defensive role alongside him – and this allowed Wenger to fit in more of his best and most attacking players (an issue that Liverpool struggle with too) into one balanced side. By placing Cazorla at centre midfield, Arsenal had a creative output from deep, who can control the pace of the game, and also create quick chances on the break as well as play direct passes from deep into the forwards to create chances. Liverpool on the other hand do not do this, as the midfielders are very happy to slow the game down, sometimes do not make the runs from deep in midfield into the final third and do not play the ball directly through the middle – the most direct way of getting the ball into the striker who can then score.
Supporters often mention that Liverpool have still not replaced Mascherano, but the same could be said of Alonso and Gerrard too; it was incumbent on the club to find a playmaker who could replace Alonso after his departure, and Liverpool often relied on Gerrard for his creative output instead – Gerrard performed this role nicely in 2013/14 where he not only controlled the tempo of the game, but directly contributed creatively, accumulating 13 Premier League assists over the course of the season – his long raking passes helped switch the play and speed the attack phases up – something Liverpool today could really use – some impetus from deep.
We know that Liverpool are reliant on Coutinho, and also it does not look as if the creative tools from deep are available, so what can Liverpool do to stop being so reliant on Coutinho and to also fix the long term problem of struggling to break teams down.
One solution to fixing the creative problems from deep could be playing Coutinho further back, as a central midfielder – this could work in both a 4-3-3 and 4-2-3-1 system – this would give more space for players like Firmino and Lallana in the no.10 position to exploit and work off the main striker – be it Benteke or Sturridge – if Firmino or Lallana can play well in this position, they most likely will get assists and take the burden off Coutinho.
The issue with this is that there is a loss of physicality in midfield, and a defensive midfielder would be necessary alongside Coutinho – meaning a centre-midfielder may have to be dropped – at home this may not be so much of a problem as Liverpool are expected to dominate possession and control the game, and potentially could play without a defensive midfielder – however away from home, this would leave the midfield rather weak and susceptible to being overrun.
In the instance above, the ball could be played out extremely quickly from the back, from Mignolet, to Sakho (known for his direct passes into midfield) into Coutinho, who can pick out any one of the four players in front, ideally putting the ball in front of them and dragging a defensive player towards him in the process, creating space and potentially a chance. This formation could also be re-jigged into a 4-3-3 or a 4-4-2 diamond too.
Another, more simple solution is to look into the transfer market, and buy a deep-lying creative midfielder. This would directly take the creative responsibility off Coutinho's shoulders, and share it out. Then Coutinho can play in his preferred attacking-midfield position, and benefit from quick balls being played either into him or in front of him, so the phase can be quick and swift – like Klopp wants to play – instead of him having to drop deep as he does often, or receive the ball with his back to goal, so he cannot be an instant threat.
The role of a creative centre-midfielder cannot be understated, they are the crux of the team and should control the pace of the game and provide the pass to create an assist – effectively assisting the assist maker. My personal inclination would be to try and find a player in the transfer market; Kovacic would have been my ideal choice, but with him at Real Madrid it seems Liverpool may need to look elsewhere, perhaps Halilovic, Marchisio, Gundogan etc. or maybe even a bigger name.
Perhaps Can and Henderson may step up though, if they do, the creative burden on Coutinho would be lessened and the issue of creativity from deep may be solved – that is if they decide to play the ball forwards more often and drive forward with the ball frequently too. If the problem of creativity from deep is solved, then we can expect Liverpool's problems breaking down teams who sit back to be reduced – although it is worth noting that there also needs to be a greater effort from the wingers, strikers and attacking midfielders to make more runs to stretch the defences and create openings for potential chances too.
With Coutinho returning to full fitness we can expect to see the team play better than the recent West Brom and Newcastle performances, but it is certainly about time the rest of the team stood up and started pulling their own weight, and trying to contribute through creating good chances of their own making and goals too.