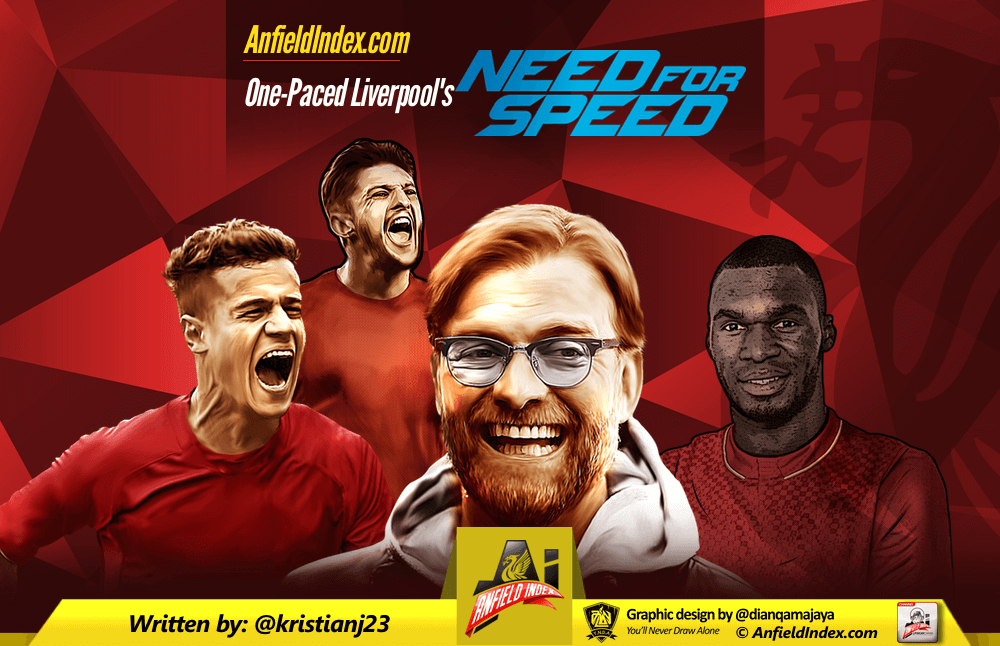 One-Paced Liverpool's Need for Speed

When great attacking sides are mentioned, one quality above all springs to mind – pace. Barcelona's front three of Lionel Messi, Neymar and Luis Suarez are synonymous with bursting runs past labouring defenders, while Alexis Sanchez and Eden Hazard lit up the Premier League last season as they left hapless opponents in their wake.
So when the Liverpool lineup for the West Bromwich Albion game was announced, I was more than a little concerned by our front three.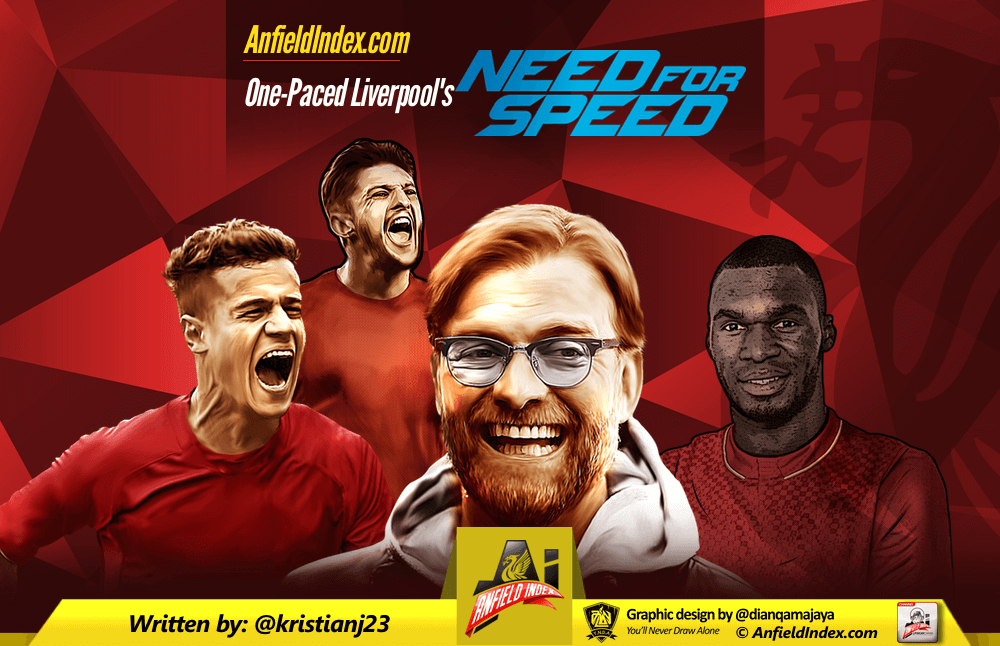 Christian Benteke, Philippe Coutinho and Adam Lallana each have their own unique qualities, but none of them are blessed with searing pace. In fact, the quickest players in the starting XI on Sunday were our full-backs, Nathaniel Clyne and Alberto Moreno.
Only when Jordon Ibe and Divock Origi arrived on the pitch did Liverpool begin to make inroads behind the West Brom defence, which sagged deeper and deeper as the game wore on. Ibe wasn't overly impressive, but he forced Chris Brunt to backpedal on multiple occasions while Origi's direct running paid dividends with the equaliser, albeit in a rather fortunate fashion.
The issue surrounding pace wasn't only apparent against the Baggies. In fact, it's been a significant problem ever since the summer of 2014, when the baffling decision to replace Luis Suarez with Rickie Lambert and Mario Balotelli was made.
Raheem Sterling was often the sole Liverpool player to beat defenders last season and the continued absence of Daniel Sturridge leaves the current side looking painfully pedestrian, which is in stark contrast to many of our top-four rivals.
Arsenal have pace in abundance, with the aforementioned Sanchez lining up alongside the likes of Theo Walcott and Alex Oxlade-Chamberlain. Manchester City's Sergio Aguero and Sterling are frighteningly quick and while Jesus Navas is by no means in the same bracket in terms of quality, his pace is still a major weapon.
One of the main reasons that Manchester United have been so poor this season is their chronic lack of speed and Anthony Martial remains their only forward player with any distinct pace.
For anyone doubting how effective pace can be, just take a look at Jamie Vardy. He isn't everybody's cup of tea and his skillset is limited, but he has shown just how significant speed can be in a league full of mediocre defenders.
The continued absence of Daniel Sturridge leaves the current Liverpool side looking painfully pedestrian.
Oddly, Liverpool seem to have found a way to play without pace away from home, when there is an abundance of space beyond the opposition's back four to exploit. I'm sure Manchester City and Chelsea were happy to play a high line against Lallana, Coutinho and Roberto Firmino, but the trio combated their lack of pace to astounding effect with intricate passing and clever movement.
However, the same approach at home has led to Liverpool banging their head against a brick wall. Although sides do sit deep against us at Anfield, they know they can squeeze high when Christian Benteke is playing as he will not latch onto through balls. Pacey forwards force teams to retreat deeper and deeper, which allows the likes of Coutinho to pick the ball up in more advanced positions.
On the two occasions that Liverpool have played two forwards with genuine pace upfront, we've scored nine goals. Sturridge and Danny Ings helped the Reds to a 3-2 win over Aston Villa, while Origi lined up alongside our No 15 in the scintillating 6-1 victory at Southampton.
With four goals in his last four appearances, perhaps it's time for Origi to give us the injection of speed that's so desperately required.