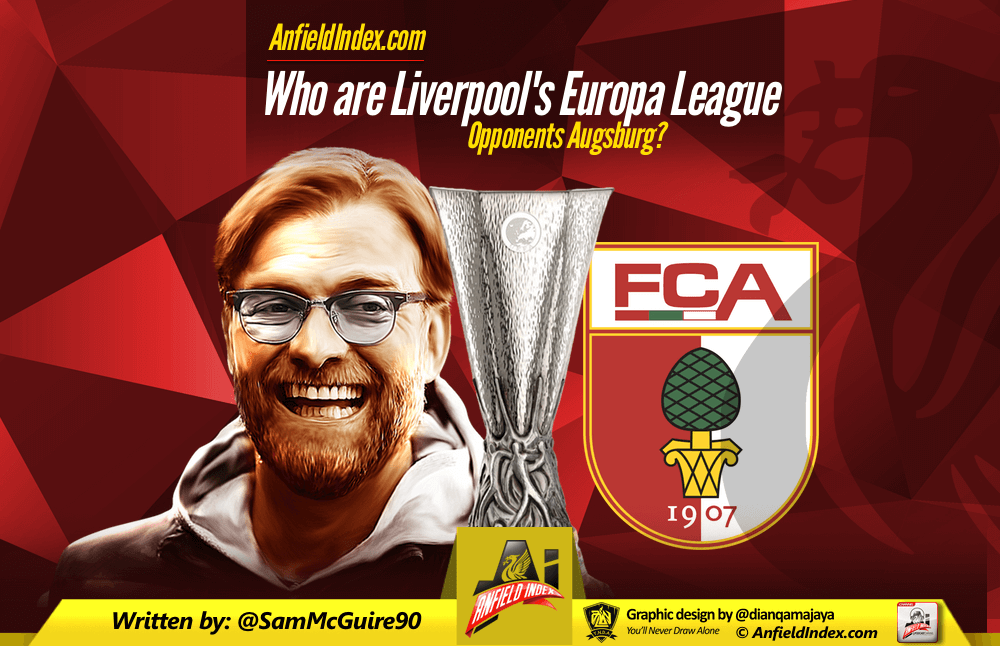 Who are Liverpool's Europa League Opponents Augsburg?

Just who are these German minnows?
For those unfamiliar with the Bundesliga a match against Augsburg may seem like a walk in the park. The German outfit currently lay in 13th place, a mere 4 points ahead of bottom side VFB Stuggart in the table having lost half their 16 league games they've played this season.

The table doesn't tell the whole story though. It won't be a walk in the park.
They lost two of their first three league games 1-0 and in both of these games they had chances to take the lead. They had the possession, they had the chances but they just lacked that end product. Their next defeat in the league was to juggernauts Bayern Munich. A 2-1 defeat was unfortunate as Bayern were awarded a questionable penalty decision, the sort the big sides seem to get at home.
Up until the end of October Augsburg were really struggling in the league but a turning point arrived after an emphatic 5-1 defeat to Dortmund. Since this humbling defeat the Bavarian side have played 10 games in all competitions losing 2, winning 8 and drawing the other 2. In this spell of games they've scored 24 goals and conceded only 11. This when they've came up against the likes of Schalke (won), Wolfsburg (drawn) and Athletic Bilbao (narrowly lost 3-2), all better clubs on paper but all have been troubled when facing Augsburg.
How did they qualify for Europe?
It's one of those stories commentators love to tell. Small club come good.
A 15th place finish in 2012/2013 was backed up by an 8th place finish in 2013/2014 and then they finished the 2014/2015 season in 5th place ahead of a Schalke side and Klopp's Dortmund to crown a great season for the club.
The 14/15 was a tough season for the club. They seem allergic to draws having picked up only 4 in their 34 league games, winning 15 and losing 15. Their goal difference was 0 as their league campaign was very bitty. Their manager Markus Weinzierl has set them up to keep them in with a chance of winning games and it's this tactic that helped them qualify for Europe.
Any players to look out for?
Raul Bobadilla. Argentine born Paraguayan international who to put it politely is a bit of a tank. Liverpool fans may remember him from when The Reds faced Young Boys a few seasons back.
Despite their poor start the striker has scored 10 goals in 24 games already and is a threat both in and around the area. He combines pace with strength in the air to make him a real handful for most types of defenders. He's also considered a set piece specialist to he's not to be taken lightly.
Who is their manager?
As mentioned above, their manager is Markus Weinzierl. Though he's not a household name in England yet he's highly thought of in Germany and there are rumours both Bayern Munich and Bayer Leverkusen are keen on him when their respected managers leave.
A manager that's won nothing other than promotion and has very little European pedigree taking over at one of the country's biggest clubs? English clubs tried it but the pressure became too much for the likes of Brendan Rodgers and David Moyes but you could see the German clubs persisting with it till it paid dividends.  There are of course parallels to be made with Brendan Rodgers.
His managerial record isn't amazing but he has beat Pep's Bayern Munich on two occasions, both times 1-0. He did get out of a tough Europa League group considering Augsburg are debutants this season and he has managed to turn around their form so they're managing to win games in both the Bundesliga and the Europa League.
He's definitely one to keep an eye on in the future.