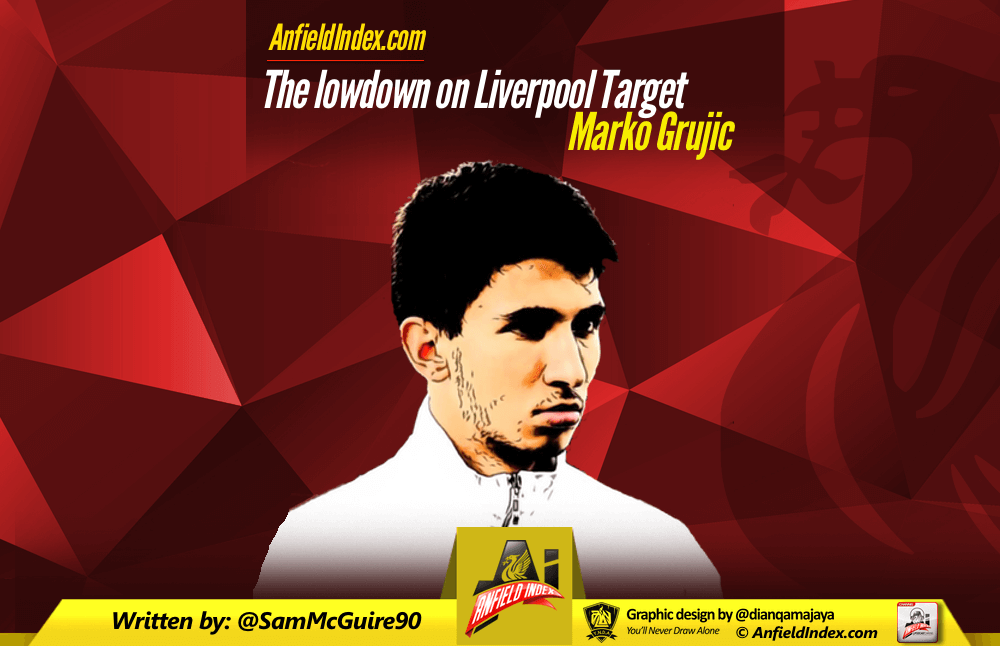 The lowdown on Liverpool Target Marko Grujic
Rumours surfaced early last week that Liverpool were in talks with Red Star Belgrade over the signing of their talented midfielder Marko Grujic. I'm going to go out on a limb here and saying not many people watch the Serbian League so to most this player is a bit of an unknown. There's something refreshing about being linked to a player the masses haven't already formed an opinion on. It causes a buzz on social media as people clamber for whatever information they can find on him.
I was lucky enough to be followed by two Serbian journalists who happen to be Liverpool fans and they've sent me videos of Marko and answered the many, many questions I've had on him. One of which even informed me Liverpool have supposedly been monitoring Grujic since he was 11 and Klopp knew all about him at Dortmund from the age of 15 so it's a match made in heaven now he's at Liverpool.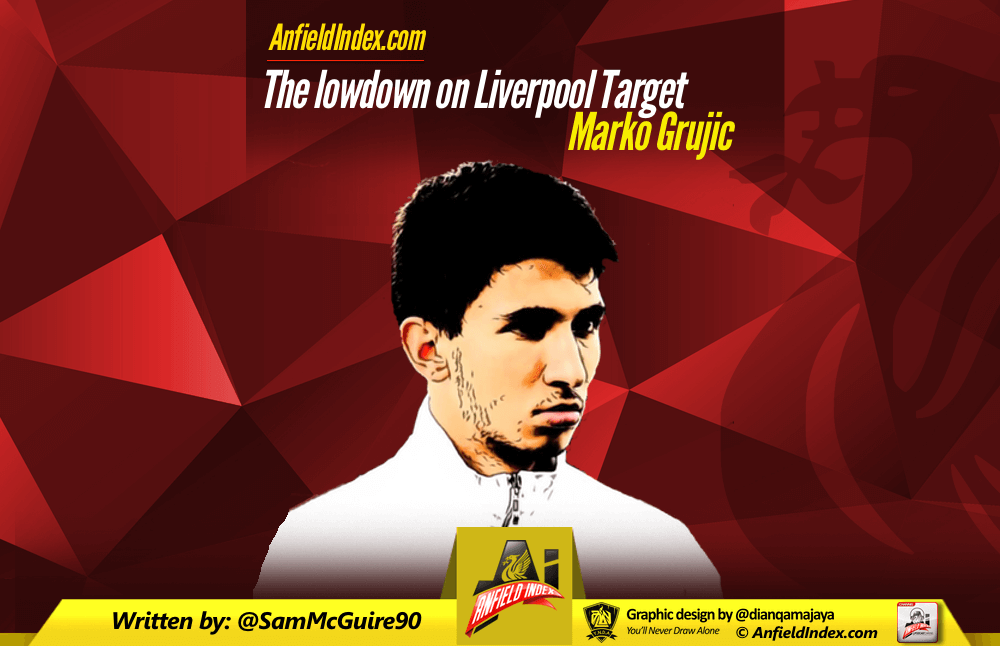 What is Grujic like?
Basically he's a bit of a monster. The sort of central midfielder that thrives in the Premier League. He's not going to shy away from the physical side of the game but at the same time he's not a hatchet job sort of player. It'd be foolish to look at him, all 6ft3 of him, and think he's just a limited midfield man. He's not. He makes a mockery of your stereotypical big centre-midfielders. He's the next mutation.
He's good in the air and even better with the ball at his feet. He has this burst of acceleration you wouldn't usually associate with a big man and he seems comfortable in all areas of the pitch. So much so it's caused the two Serbians I speak with to clash over their opinions of him. One seems to think he'd be better a little deeper so he can dictate play whereas the other thinks he could be used further up the pitch as a goalscoring threat.
It's easy to see why he'd be considered a goalscoring threat from midfield, what with 5 goals in 30 games and another 6 assists to his name in his debut season at Red Star, you can see the appeal and it's understandable as to why the 19 year old has a bit of a reputation. He's been likened to Paul Pogba, Nemanja Matic, Sergio Busquets and even Steven Gerrard whilst being linked to Man United, Chelsea, Real Madrid and Inter Milan.
Yes the video below is a YouTube one but do give it a watch if you want to see what sort of player Grujic is. It's not the best way to form an opinion of a player but it does highlight what he can bring.
After seeing that goal 45 seconds into the video it's blatantly obvious where the Steven Gerrard comparisons have arrived from. He's like a more polished version of a raw 19 year old Gerrard.
For somebody so inexperienced he comes across as a wise head during games. If it's scrappy in midfield he's often the one to get the ball and bring some authority to their play. He'll win the ball back and instead of passing it he's the sort of player to drive at the opposition. If you're a defender and you saw this unit running at you you'd backtrack quicker than Skrtel. It's a strength and it's one he's likely to utilise in the Premier League.
Is the deal likely to happen?
The Serbians need the money. The reported fee of £5 million may not be much in the Premier League but it's a hefty sum for Red Star Belgrade and it means they don't have to sell their other talent, highly rated forward Luka Jovic. It's one or the other.
There are rivals for his signature though and they include Italian giants Inter Milan, Anderlecht, VFB Stuggart and Zenit. Inter aren't in a position to buy him in January so that rules them out despite them using Red Star Dejan Stankovic as a middle man as they try to broker a deal. You'd imagine only Zenit can match Liverpool financially but the other two can offer the midfielder first team football. Which may be vital as If reports are to be believed the player's father wants assurances over his sons playing time with Liverpool's poor track record with Serbian footballers being brought into question (Lazar Markovic and Milan Jovanovic). The player himself by all accounts is keen on a move to Anfield having spoken to both Klopp and Buvac numerous times and is keen to join up with The Reds in the summer.
Is he one for now or for the future?
He ticks both boxes. He's still very raw, he'd need to adapt to the pace of the Premier League but I do think he'd be able to contribute now. Obviously his form would be inconsistent, it's what you expect from a player that doesn't turn 20 till April but he's got all the traits needed to dominate in the league much like Nemanja Matic, Yaya Toure and Patrick Viera did. It speaks volumes about the midfield your building when Jordan Henderson would be considered your lightweight midfielder which would be the case if he, Grujic and Can lined up as a midfield three. You've got a three man midfield there who are all physical and all have an abundance of quality on the ball.
At £5 million it could turn out to be a bargain in the next few years.