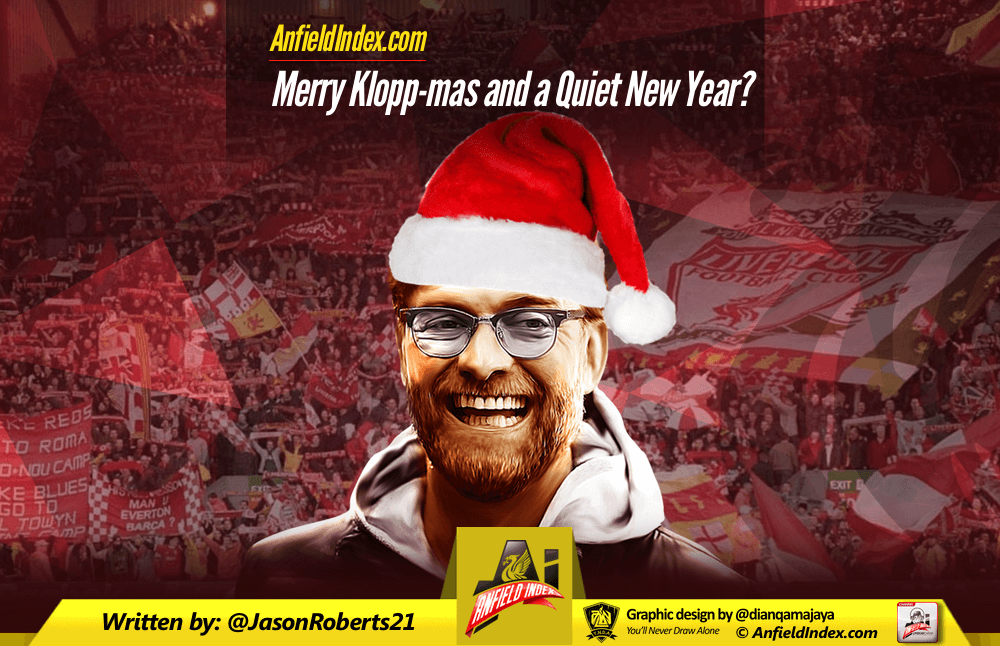 Merry Klopp-mas and a Quiet New Year?
The countdown is on and the big day is nearly upon us. Excited boys and girls are writing their lists, checking them twice (at least!) and hoping that when the time comes, they'll be screeching with excitement over the presents that they have been dreaming about for months, delivered by the jolly red man on his trusted vehicle of dreams.
I am, of course, talking about the opening of the January transfer window and Ian Ayres moped exploits en route to closing massive transfer deals left, right and centre ……. What do you think I meant?!
After all, this is the first opportunity Liverpool have had to bring players in under the management of Jurgen Klopp, so surely we can expect a flurry of activity as he looks to make his mark on the squad right??

At the risk of bursting the excitement bubble … maybe not.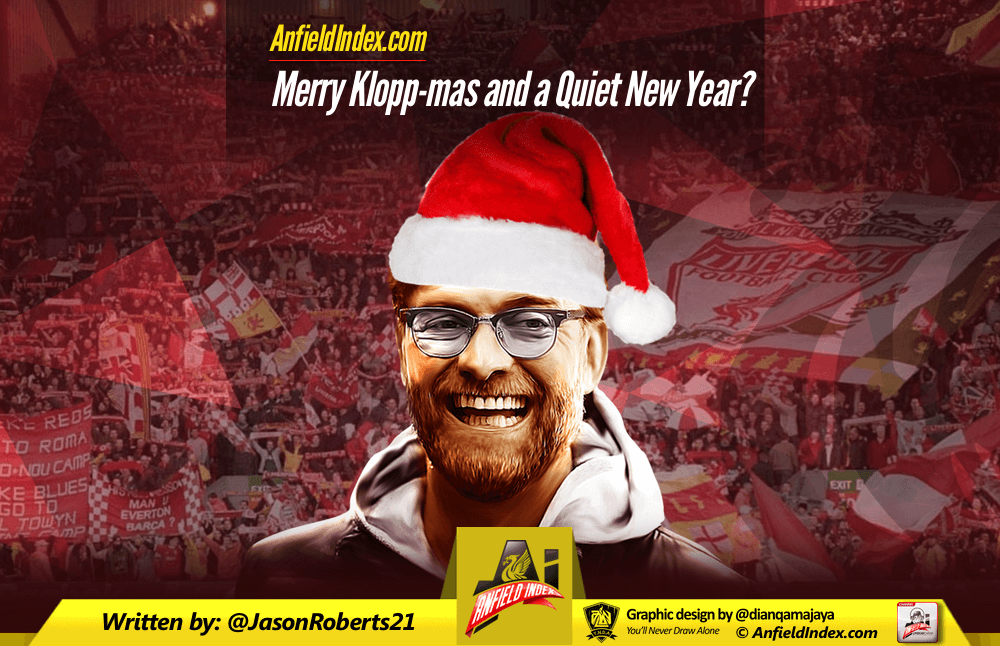 You see, whilst Liverpool are being linked with new players on a daily basis (as per normal), the noises coming from the man himself indicate that it won't be a busy January as he looks to further assess the players we already have. Setting aside the myth that January is a notoriously difficult window where it is impossible to bring in quality additions *cough* Suarez, Rodriguez, Coutinho, Sturridge *cough*, when you consider the position that Jurgen finds himself in, would it really be a surprise if we weren't busy?
This is a man who prides himself on his ability to improve players. Taking rough diamonds, giving them a polish and creating something special. There are plenty such players in the current squad who could fall into that category. Players who the club have paid money for and have yet to reap the rewards from (I would name names, but it surely applies to the majority of our signings in recent times, right?). Let's play a bit of devil's advocate –
Maybe Klopp feels that he's seen enough quality and potential in the current crop to be satisfied that, between now and the end of the season, he has sufficient tools and an adequate amount of polish to compete at the top end of what is a very open league. At least in the summer he can look back, analyse the season as a whole and make decisions on players' futures in the knowledge that those he decides to move on and replace have had plenty of time to adapt and prove themselves to him. There will have been ample time for senior players to stake their claims, in addition to younger players showing they are ready to permanently make the step up.
Who's to say that he's not looking at our injury list, seeing the likes of Danny Ings, Joe Gomez and Jon Flanagan there, thinking "Why should the club spend money to bring players in in January, when I haven't had the opportunity to give these guys a chance yet?"
Who's to say that he's not looking at the list of players we have out on loan and saying to himself "Why should the club shell out millions when I haven't personally seen what Markovic, Ilori and Ward have to offer?"
Who's to say that he's not looking at Jose Enrique and thinking "This guy can be Liverpools best left back in decades?"
Too far? … Ok, sorry! … But I'm sure you get my point.
As supporters we are likely unanimous in our agreement that the squad that he has inherited needs improvement. Be it a new goalkeeper to replace the frustrating Simon Mignolet, a new centre back to displace the opinion dividing Martin Skrtel, a defensive midfielder to finally seal the fate of the human boomerang Lucas Leiva …… we could go on and on. However the key to this all is timing.
Whilst we may well have had a gutful of certain players who we feel have outstayed their welcome and are desperate for change, we might have to remain patient and trust that our German maestro can successfully navigate us through the season with our current crop, until a thorough assessment can be carried out in the summer.
We might not get the presents that we asked for this time round and our lists may need to be put in a drawer for a later date. If you believe what Jurgen Klopp is insinuating, then there's more chance of seeing the real Santa Claus this Christmas than there is of seeing photos of exciting new signings leaning on random objects around Melwood in January.
But don't worry, no matter what, it looks like we'll still get our winter fix of Ian Ayre …… apparently there'll be an image of him shaking hands with Simon Mignolet doing the rounds soon enough.
A new contract for big Migs hey? ……
MERRY KLOPPMAS EVERYONE!!